---
This article is in partnership with Ulta Beauty.
With the season changing so quickly, it feels like summer just packed its bag and ghosted us. Whether we're ready or not, the new season calls for a new shift in mindset, style, and hair routines. When it comes to taking care of my natural hair, what I do in the summer is simply not enough for the fall and winter. The cool crispness of the season tends to bring about more dryness and hydration becomes a top priority. In these uncertain times, who knows what the next few months will look like, so here's what you can do now to prepare your hair for the next few months.
First things first, we'll need to rack up on all our hair needs, and Ulta Beauty is making it easier for all of us with their Gorgeous Hair Event . As one of their biggest sales of the year, you can expect up to 50% off of brands like PATTERN Beauty (today for 24 hours only all PATTERN Conditioners are half off), The Mane Choice, and so much more. Their sale is available online, curbside pickup, and in-store starting October 4 until October 24. Make sure you grab your mask and hand sanitizer and get everything you need for half the price.
I already grabbed a few of my favorites products from Melanin Haircare, which is new and exclusively available Ulta Beauty, and PATTERN Beauty to show you how I get a hydrated and juicy twist-out . It's one of my favorite styles because it can be worn as a protective style and a curly fro'.
Check out my step-by-step routine using Black-owned products from Ulta Beauty.
Join our xoTribe , an exclusive community dedicated to YOU and your stories and all things xoNecole. Be a part of a growing community of women from all over the world who come together to uplift, inspire, and inform each other on all things related to the glow up.
Featured image by Krissy Lewis for xoNecole.com
Krissy Lewis
Freelance writer, content creator, and traveler. She enjoys the beauty of simplicity, a peaceful life, and a big curly fro. Connect with Krissy on social media @iamkrissylewis or check out her blog at www.krissylewis.com .
Boost
Nov 02, 2023 08:00 AM EST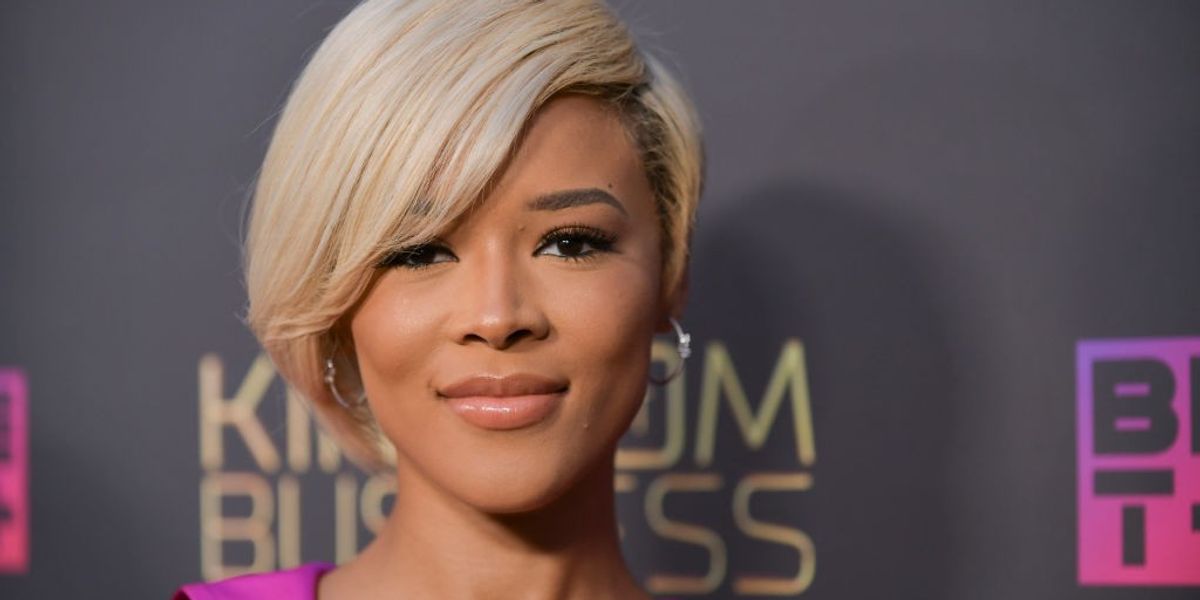 This post is in partnership with BET+.
Kingdom Business is back for its second season, with even more sermons, songs, and serpents. The series picks up where it left off, with actress Serayah as Rbel caught between the stripper pole and the pulpit. With the first lady of the church working desperately against her, Rbel must find a way to live her dreams and honor her friend while figuring out her faith in the process.

Season one served a collection plate of rivalry, deceit, and revenge –– among many other tribulations. Between the 28-year-old's acting, conviction, and harmonious voice, here are a few reasons why season two of Kingdom Business is a must-watch.
If the Spirit Doesn't Move You, Serayah's Singing Voice Will
Rbel, formally known as Rebecca Belle, is a stripper whose life forcibly takes a turn after suffering a tragedy. Through her quest to find the truth, Rbel finds herself at odds with the head of a local church, First Kingdom's Denita Jordan, played by the legendary Yolanda Adams . Rbel unknowingly emerges as what a faithful Christian embodies: a perfectly imperfect human who works every day to try their best while leaning on God. Although struggling with her faith, each ballad sung by Rbel can be felt, as the lyrics relate to personal struggles we all endure in different ways. Gospel songs hit differently when your life is in shambles, and chile, Serayah is singing new life into folks.
Serayah is a Formidable Opponent to The Yolanda Adams
As one of the best-selling gospel artists of all time, it's no easy task to take on the role of a person on the opposing side of greatness. Serayah's Rbel does an excellent job meeting Jordan at her level while shining through her solos. Throughout season one, Rbel emerges as a top streaming artist, an accomplishment that begets something of a holy war.
Serayah's Acting Range is Engaging
As a former stripper trying to make a name for herself in the gospel industry, you can imagine the struggles that could come with it. Rbel goes through a range of emotions, all understandable and relatable. Despite several crises of faith, Serayah ensures Rbel delivers a humbling performance that makes the audience root for her redemption.
The Kingdom Business Soundtrack is Everything
Streaming now on Spotify , Tidal , and Apple Music , the Kingdom Business: Season 1 soundtrack is one you'd want to add to your playlist for high and low times. Aside from four soul-soothing songs from Serayah, the soundtrack also features singles from co-star/Hamilton's Chaundre-Hall Broomfield, gospel artist Chandler Moore, and legend Yolanda Adams.
Serayah's Rbel Makes You Root For Her
With First Kingdom beginning to crumble under the pressure of lies, infidelity, and deception, Rbel's window to take that top spot seems wide open; however, the end of season one showed us the Spirit had other plans. Whether you believ e or not, Serayah's Rbel makes you want to see her win. Who doesn't love a good underdog with a laid 22" bust down? Whether she seeks Him or not, God is proving to be on Rbel's side. But is it enough to turn everything around for her? Will Rbel lean on faith or fear?
With secrets coming to light, success within reach, and the devastating conclusion of season one, you don't want to miss season two––especially with more guest collaborations. Kingdom Business returns to BET+ on Nov 2.
BET+ Original | Kingdom Business | S2 Official Trailer youtu.be
Let's make things inbox official! Sign up for the xoNecole newsletter for daily love, wellness, career, and exclusive content delivered straight to your inbox.
Featured image via Getty Images

What started off as a hobby for Sierra, the founder of City Girls Golf , has transformed into a movement for women in the Washington DC, Maryland, and Virginia (DMV) area. "I came up with the idea of City Girls Golf a year ago. I was learning how to play golf, taking lessons, and going to tournaments in different states to learn the game." Sierra continued, "I noticed that I didn't see a lot of women involved, and it made my journey in golf a lot harder because I didn't have a community of women like me to be social with or practice golf with," shared Sierra.
Taking matters into her own hands, she founded City Girls Golf with the purpose of creating opportunities for women of color to not only learn how to play golf but to also get involved in the golfing industry as a whole.
"The first event we ever had was with a group of my friends. We did a golf clinic, and I created a TikTok about it, which gained over 60K views," she said. "We had so many ladies sharing interest in attending the next event, and now we're hosting events every week."
Today, the organization has an engaged following on Instagram of 39K followers, which is a testament to the necessity for communities like this. What makes this organization so special and crucial today is the access to resources and the supportive community for Black women to explore their talents in the sport of golf.
Typically, when people think of golf, there's two things that may come to mind: 1) Tiger Woods and 2) How expensive the sport is, which is why golf is recognized as "a rich man's sport." According to Forbes.com , "77% of golfers are men, and golf courses that allow women often restrict the days and times when women can play, or have separate holes for women." From the attire to the equipment, someone who's looking to get involved in golf may have to consider spending "$10,000, if not upwards of $15,000, or $20,000 per year if you decide to pay for everything", according to Stitch Golf .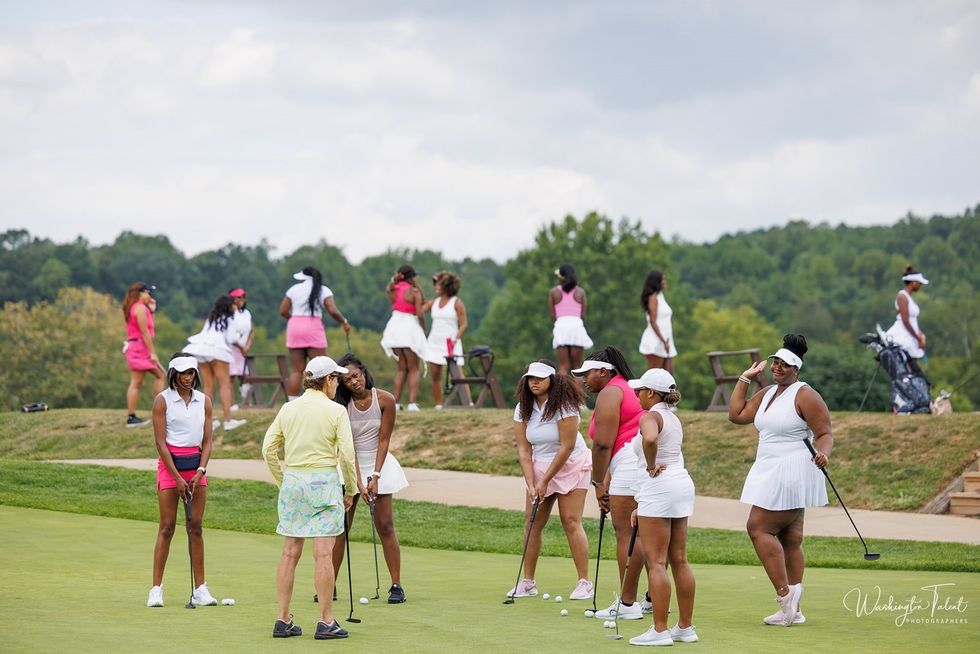 Photo by Washington Talent Photographers
As the #1 community for female beginner golfers, City Girls Golf is breaking barriers in golf one swing at a time by making the sport affordable. Most of their events cost about $65 per person for a one-hour and 30-minute session, and equipment is provided. Just come cute in your pink and white and ready to play!
"We're based in the DMV area. However, I see the participation of women of color in golf all over the nation. I love that City Girls Golf is playing a key role in showing representation, inspiring women all over to get involved and to not be scared just because you're a beginner. We're all about making it fun!" In a candid conversation, Sierra chatted with xoNecole to discuss the journey of growing City Girls Golf, the impact it's had on Black women, and how there is power in seeing pink on the golf course.
xoNecole: How did you decide the name City Girls Golf?
Sierra: While growing up in New York City, I didn't see golf courses in my neighborhood until I moved to the suburbs. The golf scene is huge in the suburbs. In the city, you don't really see many golf courses or opportunities to learn about the sport. The name "City Girls Golf" came about to empower women who lived in the inner cities to play. That's why we strategically named the organization City Girls Golf, so women who live in the city can be exposed to the sport and can get involved.
xoN: What is the purpose and power behind having more women in golf today?
S: It's great for networking , representation, and breaking barriers . We've participated in numerous tournaments, and people still come up to us, sharing how shocked they are to see so many young women of color playing golf. The representation is still not present in the golf industry, which is why I prioritize sharing what City Girls Golf is doing on social media. We're very aggressive with our marketing and post content to normalize it. We're constantly sharing content of women of color playing golf, getting involved in the sport, having fun, and looking pretty in our outfits. We're always posting to continue spreading the message and to gain respect in such a male-dominated industry.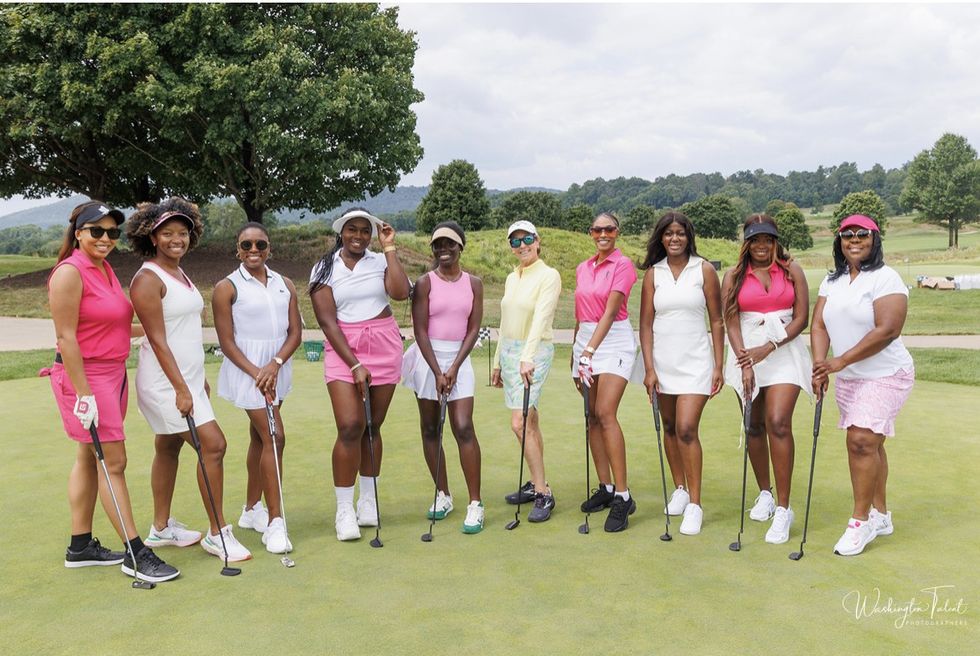 Photo by Washington Talent Photographers
xoN: What are the core values of City Girls Golf?
S: Authenticity. We want everyone to show up as their authentic self. A lot of times, golfers think they have make a certain type of money, act a certain way, and look a certain way, but that's not always the case. We believe everyone can show up as their authentic self.
Women of color. All of our events are catered predominantly to women of color, and we curate spaces for women of color to join and learn golf.
Community. We believe in wearing pink and white to represent City Girls Golf. When all the girls wear pink and white, it shows we're unified, one community and one team. Also, the color pink symbolizes strength, femininity , and this is needed more in the golf industry.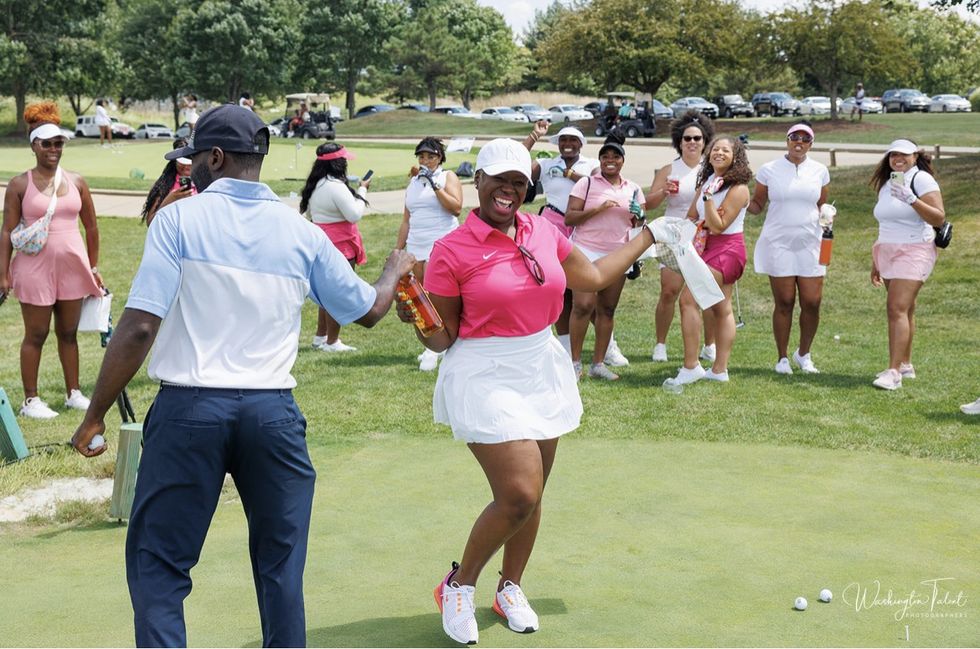 Photo by Washington Talent Photographers
xoN: How do you think playing golf translates into your confidence as a woman in your day to day?
S: Golf is already a challenging sport. As a woman in a predominantly white male industry and playing a sport, I've never seen any of my family members or anyone in my social circle play, I'm already challenging the system. Learning golf, in general, takes a lot of confidence because, in the beginning, you suck. It's a hard sport and extremely humbling because you see everyone else hitting the ball, but you can barely get the basics down. However, it does take someone with a lot of confidence to stay persistent in learning and persevering until you get better. Personally, playing golf has boosted my confidence . It helps me in different aspects of my life, such as talking to anyone and feeling comfortable in different rooms.
To get involved with City Girls Golf's follow them on Instagram and head to their website to sign up for their email list to know about upcoming events. To become a sponsor and further support their mission, send your information to citygirlsgolf@citygirlsgolf.org .
Feature image by Ashley Jean Creative