If you're a fan of E! News, you may have noticed the series recently added some new brown faces to the mix in an effort to keep the network young, cool and diverse. Former MTV host, Zuri Hall, is one of three correspondents who are the network's super cute fresh faces.
---
So who is Zuri Hall, and did E! subscribe to the new age method of casting by discovering her on a reality show, Instagram or Vine? None of the above!
Hall is more than qualified for her new position at E! Her resume includes being an alumna of The Ohio State University and an EMMY award-winning journalist. Before E! she was the co-host of FUSE TV's pop culture show Trending 10. She's also appeared on VH1's Big Morning Buzz Live and Fashion Police.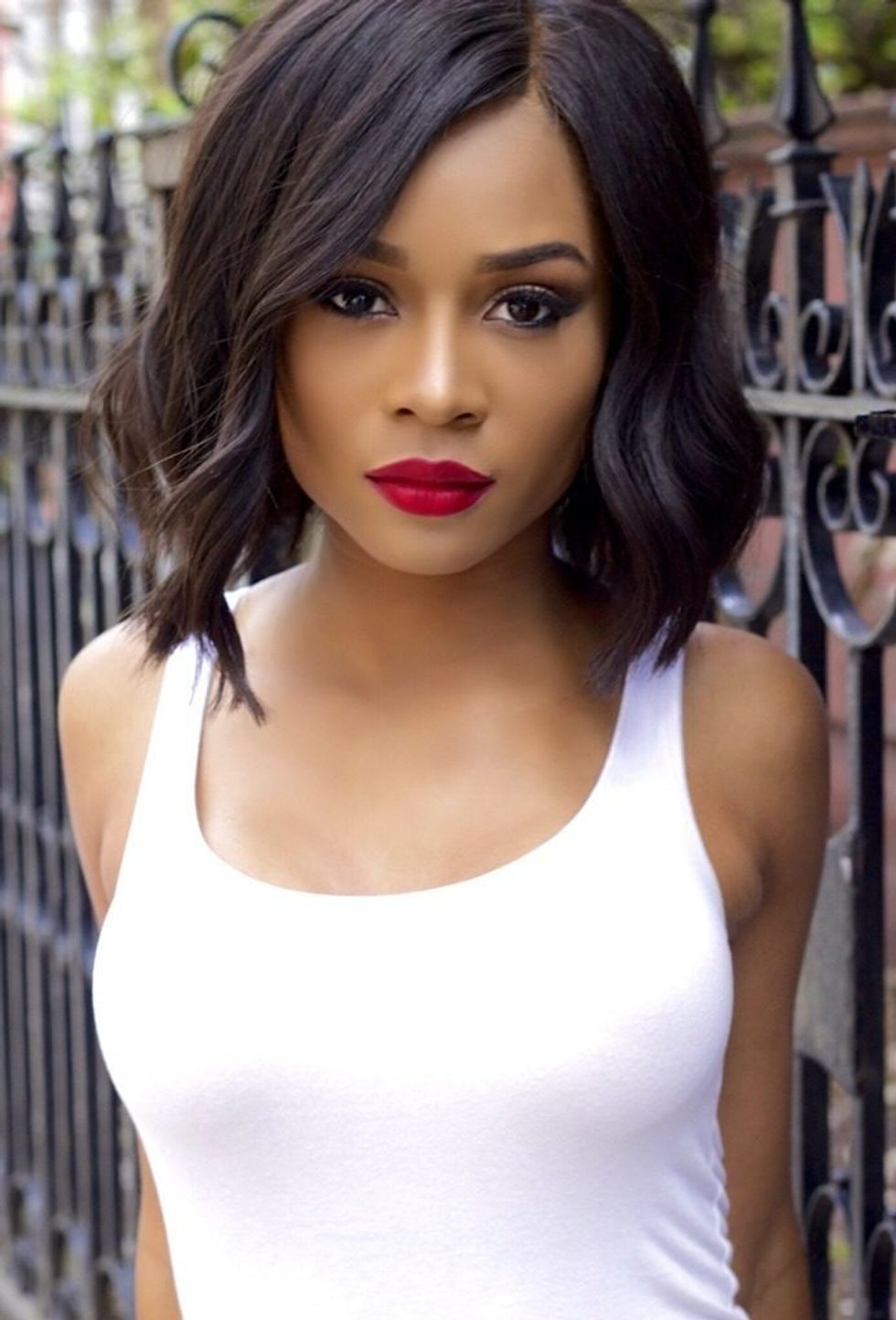 At the age of 28, Zuri's accomplishments are mind blowing. Somehow she's even found time to launch the women's empowerment movement, "AlphaBabes," and is a frequent YouTube vlogger, where she keeps the details of her life super transparent. You wouldn't just take out your weave for anybody, but she proudly flaunts her natural curls to her nearly 100,000 subscribers like they're her girlfriends, and you definitely aren't talking about your man with just anyone but Zuri and her bae, professional soccer player,Mettin Copier, are most definitely on our list of #RelationshipGoals. The couple fearlessly answers questions via YouTube about their international long distance, interracial relationship and much more.
If you're not already an AlphaBabe or one of Zuri's loyal YouTube subscribers, come meet your new best friend!
In her interview with xoNecole, Zuri shares her tips for maintaining her self-confidence as well as an epic story of how betting on herself landed her an Emmy.
So many young professionals are using social media as a means to get discovered and get on television. Can you share how you transitioned from local news into a national role as a host on Fuse?
While I was working at a local news station in Dallas, Texas, I was looking to take that next step in my career. My goal had always been to be national by 25-years-old. An agent that I was working with at the time submitted me for an on-air position at Fuse, but we never heard back. I couldn't stand to just give up on the opportunity. I dug into the rabbit hole of the Internet until I found the contact info for one of the behind-the-scenes employees on the Fuse team. Instead of a cold call I sent a "cold e-mail" saying: "You don't know me, but..." And God bless her, she read the email and liked it and my demo reel enough to pass it along to her boss--who ended up being the man who decided they should fly me to NYC and test me out. He eventually became my boss when they offered me the job!
There was a sea of submissions, professional casting calls, and other talent flooding people's inboxes. But that random shot in the dark got me in the door! I felt like the stars were aligning, because that opportunity was meant for me. Other jobs weren't, and I was bummed every time. But when something is FOR you, I believe nothing can keep it away from you IF you do your part to the best of your ability. One of my favorite quotes is from The Alchemist: "When you [truly] want something, all the universe conspires in helping you to achieve it." For me, I look at it as my faith in God's favor in my life. I'm truly blessed, and I'm so thankful and humbled by the ways in which He's worked in my life.
[Tweet "When something is for you, I believe nothing can keep it away from you if you do your part."]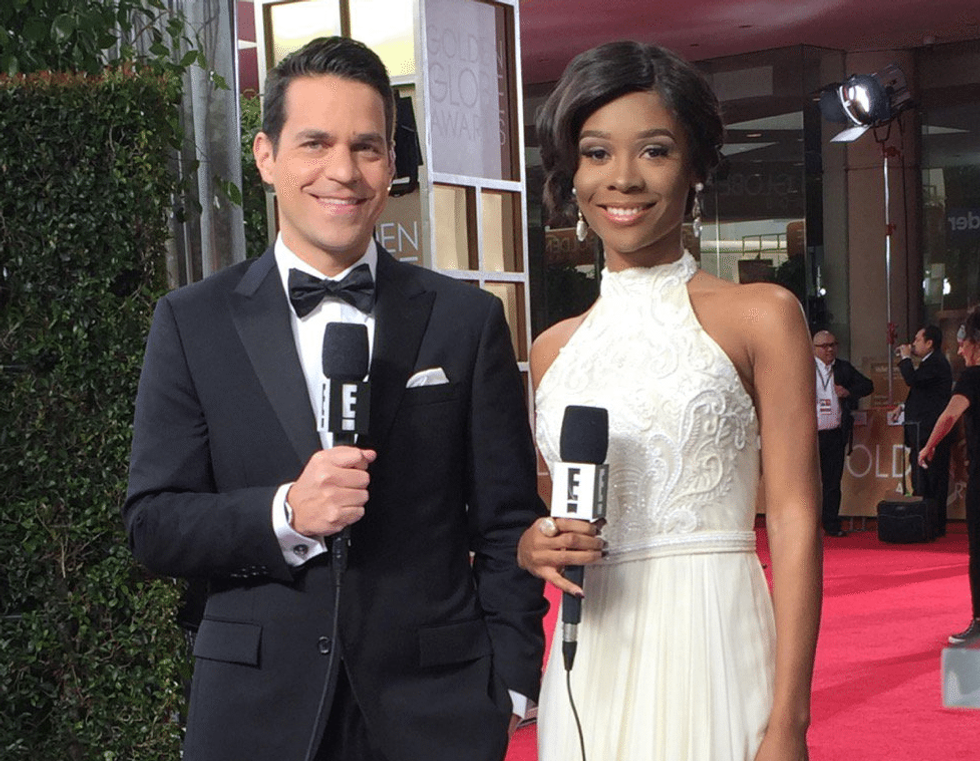 Zuri Hall hosting the red carpet of the 2016 Golden Globes
Congrats on your new gig at E! I'm sure the correspondent job wasn't just listed on LinkedIn! Can you give insight into whether opportunities of that caliber come about because of a manager or agent? And as you continue to rise in your career, how involved are you in seeking after and securing new opportunities?
It's definitely not a job I stumbled upon on LinkedIn (laughs)! Developing and utilizing professional relationships is a major part of any industry. Being represented by a well-connected agency is a major help. My agent knew the position was going to become available, and when she told me about it, I jumped at the opportunity. She's amazing and played an important role from start to finish with negotiations for my deal at E!.
However, I didn't start my career with an agent. You have to pay your dues, build a reel, and then you attract agents, managers, publicists, etc. that want to work with you and represent you.
An agent can get you into a room, but your talent is what keeps you there.
So you have to be sure you go after opportunities you truly feel you're ready for; have faith in yourself and own it.
What are #AlphaBabes, and what was your inspiration behind starting this movement?
The #AlphaBabe is all about strong, sexy, smart, millennial women. I looked out into the media and I saw examples of us. I absolutely feel like I embody what I think an #AlphaBabe is as well as women like Kerry Washington and Amal Clooney. It's all about celebrating women's creativity and smarts; I thought it was time for us to put those attributes on a pedestal. It's not always about who's the hottest or the prettiest or who's look of the day is killing it; that's fine, I love style, I love to get dressed and be a girl, but I also love to have meaningful conversations. I love to learn about other women's stories, where they've come from and how hard they've work because it was a struggle for me to be where I am today. For me the #AlphaBabe movement is about glorifying and glamorizing the grind. It's hard and you have to hustle, but there's something very attractive about committing to your craft, paying your dues, working hard, and being acknowledged for that and not only for being a pretty face in a cute dress or whatever frivolousness we tend to glorify in society these days.
You're very transparent about sharing your relationship with your boyfriend Mettin on your YouTube channel. Many celebs are open about their love life when things are great, but as soon as they break up, they want the public to "respect their privacy." Do you ever worry that being so open about your relationship might negatively affect it in the long run?
Nope! I've always been an open book in regards to my life. And that's a commitment that I knew I made as soon as I decided to share my life on YouTube. I uploaded my first video with my boyfriend knowing very well that if we breakup, it isn't coming down cause it's getting great views! You have to be able to be transparent about that. When you commit to vlogging and putting your life out there, you can't just decide to stop answering questions once the truth gets uncomfortable. My boyfriend and I talked about it and we decided it was something we were okay with doing. God forbid anything should happen between us but that's life. My HeyZuriHall YouTube channel is me sharing my life. Even the parts of our relationship that I'm open about, I never get too specific because at the end of the day, it's still a relationship and we want to keep that intimacy and some sort of sanctity. So we don't put everything out there, but if there's ever anything I need to address, I'll address it.
How did you meet your boyfriend, and how have you made your international long distance relationship work?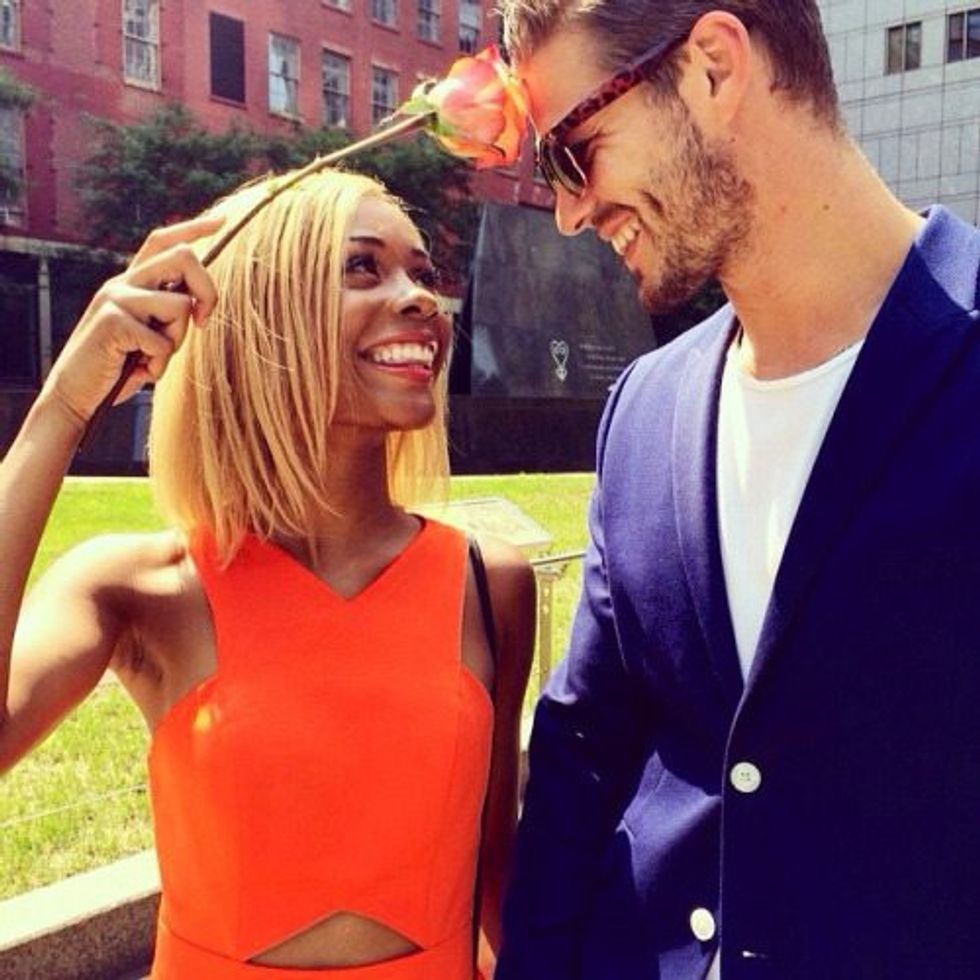 Mettin was a professional soccer player in the Netherlands. As fate would have it, he ended up playing in Ohio. We met one summer while I was working at a local news station. We hit it off and started hanging out. It was great, then we were like wait, you're not from here! He was going back to the Netherlands, which was the plan before he met me but we decided to keep dating because, why not. I was used to long distance relationships because I was always moving for work. No matter who I was with if we lasted longer than six months, it was going to become long distance because I moved to a new city every year. Mettin and I decided to give it a go and somehow it worked! We were long distance for a year and a half.
[Tweet "When you meet that right guy, you can't stop him from trying to be with you."]
He's going to make it happen and there's not going to be any excuses because he wants to be around you. Just as much as you're trying to meet him in the middle, he's trying to get there also. Was it tough not seeing someone I loved for months at a time, yes. But did we love each other enough that it was worth it? Absolutely. In the beginning, we were seeing each other once every couple of months, and now he's here! Well…he's in New York right now, but we're in the same country so that's progress! Relationships work when two people want it to work.
Looking back on your early 20s, what do you wish you would have known that you would share with other young professionals?
I would have told my younger self to stand up for the professional acknowledgement that I truly believed that I had earned or deserved. In my early 20s, I was definitely more meek and shy. When I felt like I deserved to be acknowledged and it didn't happen, I would go into my shell and mope about it but not articulate it.
[Tweet "People will only treat you the way you let them. You get what you deserve when you demand it."]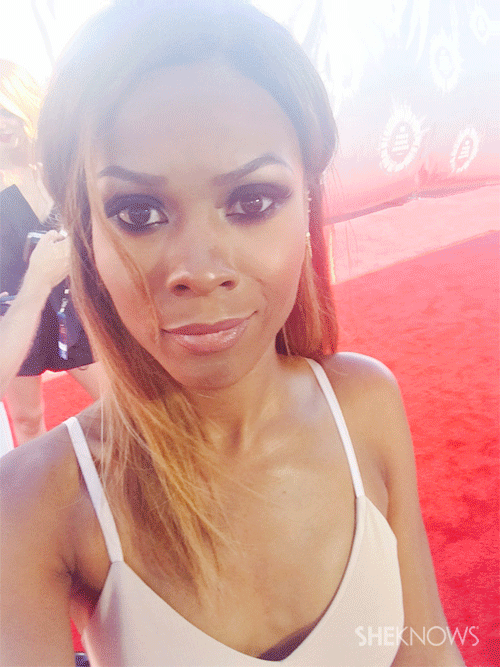 If I would have been able to set boundaries and say, "No, what you're doing is not okay and this is why…" I feel like I would have gotten the things I wanted much quicker and with a lot less heartache. It took me a long time to realize how to stand up for myself. I would encourage others to stand up for what you believe in, because no one's going to do it if you don't. Don't let people get over on you. Force yourself to step outside of your comfort zone, you may feel weird or awkward when you have to tell people, "I didn't appreciate it when you spoke to me like that" but in the long run, you'll thank yourself. Learn to say "no" early on because if you say "yes" your whole life, you're going to be very disappointed at the end.
Tell us about winning your EMMY!
It was the Indiana Regional EMMY for the Lower Great Lakes Chapter. It was for "Outstanding Talent" in the host category. The experience was an example of me really believing in myself. The way EMMY nominations work, someone has to pay for you to be considered for the nomination. It happens in that way so people aren't just randomly submitting. But just because you paid to be considered, it doesn't mean you'll get nominated which happens to the majority of the people that submit for the process. So my station only had an alotted amount of funds to nominate employee work, so I ended up submitting myself. I really believed in my work, so I put the money to have myself considered for the nomination, then I got the nomination and I won the EMMY.
I was broke, I was just starting out but I was willing to put money on myself.
It was one of those situations where I fought for that, and I banked on myself and if I didn't, then I would have never had that amazing experience of sitting there in the audience with a lot of other amazing anchors, editors and producers and hearing my name called. It was such a great life lesson; no one has to get the vision but me because at the end of the day, no one has to execute it but me.
That's so perfect that you say that because xoNecole was born out of Necole believing in herself and the vision of the new site. She was just tweeting all about "bet on yourself…"
It so easy to hop on a bandwagon, but it takes a special person and a special team to see your vision before its real. If you don't have that team or support system, that's okay because only you have to get it.
That's why I love Necole's transition; it's such a beautiful thing. I love that she's putting her heart and her soul into the new site because I can relate to that. I get chills just thinking about when I read her letter explaining her thought process behind the change because that resonated with me.
Oftentimes, we want something, we feel it in our soul, we know that it's right for us, we know that it's what we should be doing, but outside influences make us second guess ourselves. Instead of executing we wonder, "what if…?" or "it's just not going to work." How do you say no to all of those negative influences and keep all of that out of your mind when you're the only person that understands the six month mark or your five year plan? People who can do that are the most brave and courageous people. They're who I respect, admire and aim to be like.
You can read more about Zuri Hall by visiting her official website, ZuriHall.com, or subscribing to her youtube, HeyZuriHall