---
Black women value their friendship tremendously and for good reason. Our bond as sisters can often save us, be safe spaces for growth, vulnerability, and overall just a place to feel love. It is a truth that can be felt even when you look at Black films and shows , where subject matter is often centered around relationships between Black women. In short, we are what keeps each other going. But we can also feel trapped by our friendships, uneasy at what to do when we feel ourselves outgrowing a relationship, or wondering if as Gabrielle Union said , "Your day ones have been hating since day one."

Because there are many levels to friendship , it's essential to decide how to navigate your friend circle and access what friend works in what place in your life. Therapy has allowed me to realize that there are circles and layers to myself, and the same should go for my friend circles. And when discussing self-care, learning to decipher what a friend is, and how they differ from associates, can genuinely help you.
Consider these questions when assessing your friend circle:
Featured image by Shutterstock.

Yasmine Jameelah
Dubbed one of the "21 Black Women Wellness Influencers You Should Follow" by Black + Well, Yasmine Jameelah continues to leave her digital footprint across platforms ranging from Forever 21 Plus, Vaseline, and R29 Unbothered discussing all things healing and body positivity. As a journalist, her writing can be found on sites such as Blavity, Blacklove.com , and xoNecole. Jameelah is also known for her work shattering unconventional stigmas surrounding wellness through her various mediums, including her company Transparent Black Girl. Find Yasmine @YasmineJameelah across all platforms.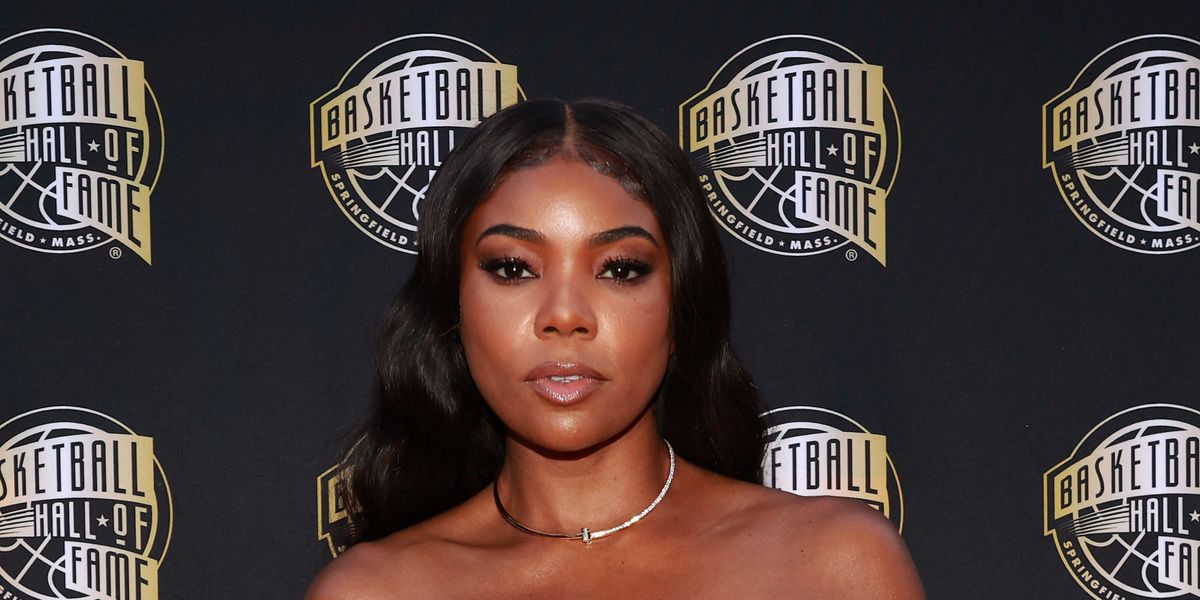 Whenever Gabrielle Union graces the movie screen, she immediately commands attention. From her unforgettable scenes in films like Bring It On and Two Can Play That Game to her most recent film, in which she stars and produces Netflix's The Perfect Find , there's no denying that she is that girl.
Off-screen, she uses that power for good by sharing her trials and tribulations with other women in hopes of helping those who may be going through the same things or preventing them from experiencing them altogether. Recently, the Flawless by Gabrielle Union founder partnered with Clearblue to speak at the launch of their Menopause Stage Indicator, where she also shared her experience with being perimenopausal.
In a xoNecole exclusive, the iconic actress opens up about embracing this season of her life, new projects, and overall being a "bad motherfucker." Gabrielle reveals that she was 37 years old when she was diagnosed with perimenopause and is still going through it at 51 years old. Mayo Clinic says perimenopause "refers to the time during which your body makes the natural transition to menopause , marking the end of the reproductive years."
"I haven't crossed over the next phase just yet, but I think part of it is when you hear any form of menopause, you automatically think of your mother or grandmother. It feels like an old-person thing, but for me, I was 37 and like not understanding what that really meant for me. And I don't think we focus so much on the word menopause without understanding that perimenopause is just the time before menopause," she tells us.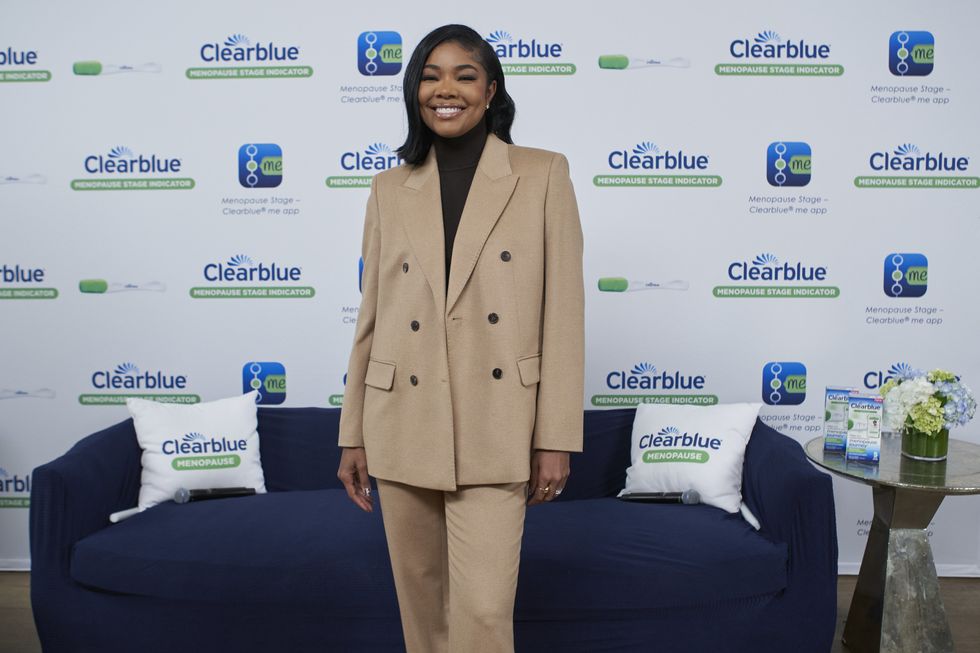 Gabrielle Union
Photo by Brian Thomas
"But you can experience a lot of the same things during that period that people talk about, that they experienced during menopause. So you could get a hot flash, you could get the weight gain, the hair loss, depression , anxiety , like all of it, mental health challenges , all of that can come, you know, at any stage of the menopausal journey and like for me, I've been in perimenopause like 13, 14 years. When you know, most doctors are like, 'Oh, but it's usually about ten years, and I'm like, 'Uhh, I'm still going (laughs).'"
Conversations about perimenopause, fibroids, and all the things that are associated with women's bodies have often been considered taboo and thus not discussed publicly. However, times are changing, and thanks to the Gabrielle's and the Tia Mowry 's, more women are having an authentic discourse about women's health. These open discussions lead to the creation of more safe spaces and support for one another.
"I want to be in community with folks. I don't ever want to feel like I'm on an island about anything. So, if I can help create community where we are lacking, I want to be a part of that," she says. "So, it's like there's no harm in talking about it. You know what I mean? Like, I was a bad motherfucker before perimenopause. I'm a bad motherfucker now, and I'll be a bad motherfucker after menopause. Know what I'm saying? None of that has to change. How I'm a bad motherfucker, I welcome that part of the change. I'm just getting better and stronger and more intelligent, more wise, more patient, more compassionate, more empathetic. All of that is very, very welcomed, and none of it should be scary."
The Being Mary Jane star hasn't been shy about her stance on therapy . If you don't know, here's a hint: she's all for it, and she encourages others to try it as well. She likens therapy to dating by suggesting that you keep looking for the right therapist to match your needs. Two other essential keys to her growth are radical transparency and radical acceptance (though she admits she is still working on the latter).
"I was a bad motherfucker before perimenopause. I'm a bad motherfucker now, and I'll be a bad motherfucker after menopause. Know what I'm saying? None of that has to change. How I'm a bad motherfucker, I welcome that part of the change."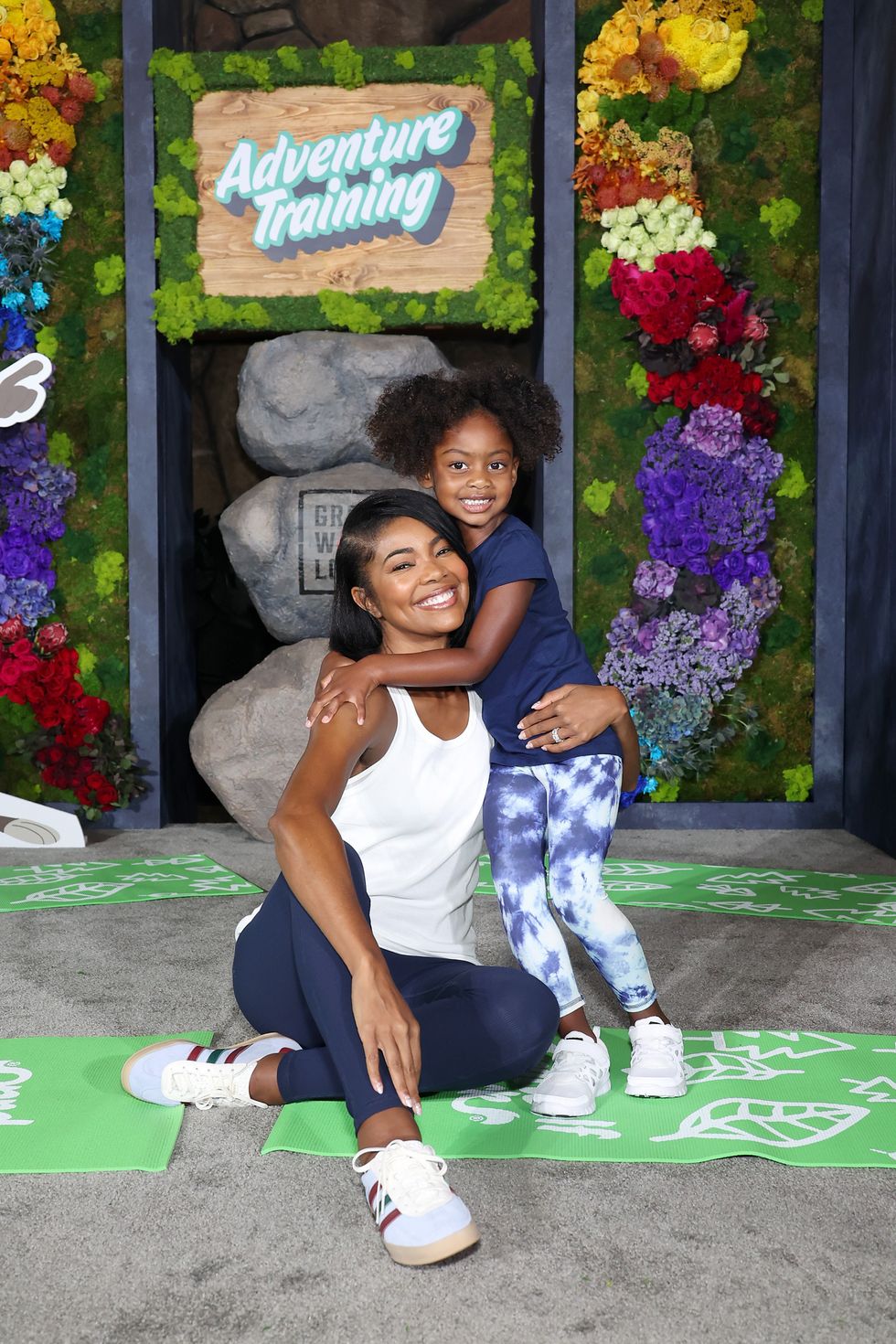 Gabrielle Union and Kaavia Union-Wade
Photo by Monica Schipper/Getty Images
"I hope that a.) you recognize that you're not alone. Seek out help and know that it's okay to be honest about what the hell is happening in your life. That's the only way that you know you can get help, and that's also the only other way that people know that you are in need if there's something going on," she says, "because we have all these big, very wild, high expectations of people, but if they don't know what they're actually dealing with, they're always going to be failing, and you will always be disappointed. So how about just tell the truth, be transparent, and let people know where you are. So they can be of service, they can be compassionate."
Gabrielle's transparency is what makes her so relatable, and has so many people root for her. Whether through her TV and film projects, her memoirs, or her social media, the actress has a knack for making you feel like she's your homegirl. Scrolling through her Instagram, you see the special moments with her family, exciting new business ventures , and jaw-dropping fashion moments. Throughout her life and career, we've seen her evolve in a multitude of ways. From producing films to starting a haircare line to marriage and motherhood , her journey is a story of courage and triumph. And right now, in this season, she's asking, "What's next?"
"This is a season of discovery and change. In a billion ways," says the NAACP Image Award winner. "The notion of like, 'Oh, so and so changed. They got brand new.' I want you to be brand new. I want me to be brand new. I want us to be always constantly growing, evolving. Having more clarity, moving with different purpose, like, and all of that is for me very, very welcomed."

"I want you to be brand new. I want me to be brand new. I want us to be always constantly growing, evolving. Having more clarity, moving with different purpose, like, and all of that is for me very, very welcomed."
She continues, "So I'm just trying to figure out what's next. You know what I mean? I'm jumping into what's next. I'm excited going into what's next and new. I'm just sort of embracing all of what life has to offer."
Look out for Gabrielle in the upcoming indie film Riff Raff , which is a crime comedy starring her and Jennifer Coolidge, and she will also produce The Idea of You , which stars Anne Hathaway.
Feature image by Mike Lawrie/Getty Images

I tried sliding into my crush's DMs like Vanessa Hudgens successfully did to her soon-to-be husband, Cole Tucker, after she met him during a Zoom meditation group call. For me, it was akin to a backfired romance in a Mara Brock Akil comedy series.
At the wiser age of 30, I stopped side-eyeing online dating and acquiesced to the possibility of finding love in the digital realm. My one rule: He has to take the lead . I wouldn't strike up a single conversation once the confetti cues burst that we're a match. That rule trotted out the door once I swiped on a presumably tall, brawn, and accomplished venture capitalist sporting a million-dollar smile.
The clock was ticking; our match would expire in mere hours if one of us didn't take the gambit. Screw it . I made the first intro, and the suave VC responded. Turned out we had a close mutual friend, too.
He had an upcoming business trip but said he'd reach out once he returned. I never heard from the VC guy until one year later when I mistakenly ambled into what felt like a zombie ambush at an intimate Thanksgiving gathering our mutual friend held. Then and there, I vowed never again to take the lead at the precipice of dating !
At 36, however, I surreptitiously stumbled across a mutual acquaintance who left me breathless at one of my girlfriend's husband's 40th surprise birthday celebration.
Featured image by Delmaine Donson/Getty Images