---
Scottie Beam is living beyond her wildest dreams. One year since making her most fearless career move yet, the Hot 97 alum sits alongside Joe Budden, Remy Ma, and Brandon "Jinx" Jenkins on Revolt TV's State of the Culture.
The unfiltered show on all things hip-hop was three episodes in, and garnering over one million views, when I met up with the media personality in midtown Manhattan at the dawn of fall. Sporting a JAY-Z 4:44 T-shirt on what she deems a chill day in her schedule, Scottie breaks her stride on 7th Avenue when she runs into a former coworker, who seizes the chance encounter to celebrate her success beyond the building she called home for 10 years.
However, once she and I decided on an impromptu dinner at a Friday's nearby, she cuts no corners to discuss her latest win. She, instead, takes her time revisiting a season in her life that didn't seem to hold much promise at all.

As the daughter of WBLS veteran Shaila Scott, the Bronx native, née Deanii Scott, naturally developed a deep passion for music as a child but resisted patterning her steps after her mother's. "I fought it a bit," she reveals. "I didn't think that my talent was in radio, and I wanted to find something else I was really good at only to come right back around to the radio station."
At 17, she started out as a KISS FM street team member and later joined Hot 97 when the iconic R&B station folded in 2012. At that time, a day in the life looked like setting up tables, grabbing a mic, and giving voice to the audience fueling the station where hip-hop lives. "Now that I think about [it], it was a great time, but back then I hated it," she says, describing the job as both electrifying and exhausting.

While, in retrospect, the street team granted her an opportunity to build the foundation for her rise in the years to come, Scottie entered college unconvinced that she had a future in radio and soon began to sink under the pressure of pinpointing her purpose. "I was drowning," the onetime Clark Atlanta University student explains. "I didn't know exactly what my calling and existence on this earth was. That's how deep it went."
"I didn't know exactly what my calling and existence on this earth was. That's how deep it went."
Miles from her support system at home and unable to find one on campus, Scottie made the decision to drop out of school her junior year. "I hit this dark road where I just quit and locked myself in a room," she tells me. "I was severely depressed. I did not want to be here anymore. I didn't think anything would be missing if I did not exist. That was my darkest time."
In search for the deeper meaning of her life, Scottie returned to New York, and tried her hand at fashion as an employee at Vinnies Styles, all while holding down her spot on Hot 97's street team. "I got in, and then I realized that I was trash at making clothes, so I was like, What exactly am I supposed to do?" she recalls. "I've tried everything – anything that I thought I was good at."
Though Scottie fought to zoom in on what she wanted to do, her work ethic was never called into question. When she landed an unpaid internship at Columbia Records (after concealing her status as a college dropout), she tested her stamina to the extreme. "I'll work until I'm tired. Until I have no more hands, no more feet, or no more voice," she stresses. "Once they eventually found out [that I lied], they kept me around because they knew I worked hard."
Within two summers, Scottie made her presence felt at the label but ultimately discovered she had little interest in the business of music. "I just love music," she emphasizes. "I love the artistry and the way it makes people feel and putting people on to that."
As she inched closer to the essence of her passion, Scottie began to grow weary of staying still at Hot 97. "I think it's important to set time limits on certain things, especially things that you know you don't want to do forever," she says. "I've seen people do 10, 15, 20 years on street team, and I didn't want that to be me."
Since she couldn't muster the funds to travel between New York and her home in Piscataway, New Jersey, Scottie slept at the station many nights. With little money to her name, she also forwent food on several occasions. "I was tired of that kind of struggle," she expresses.
With no desire to abuse her mother's support, Scottie was ready to chart her own path—even if that meant giving up music. After lying on her resume once again, she secured a fashion merchandising job at Adidas. The day she planned to quit street team, however, the universe intercepted with bigger plans: Angie Martinez was interested in Scottie joining her team as a digital producer.
"That's favor. That was God," she says with conviction. "He knew I was going to hang that sh*t up. I was done, but even if you say it's over, it's really not over until God says so. A lot of people will quit on you, but God won't."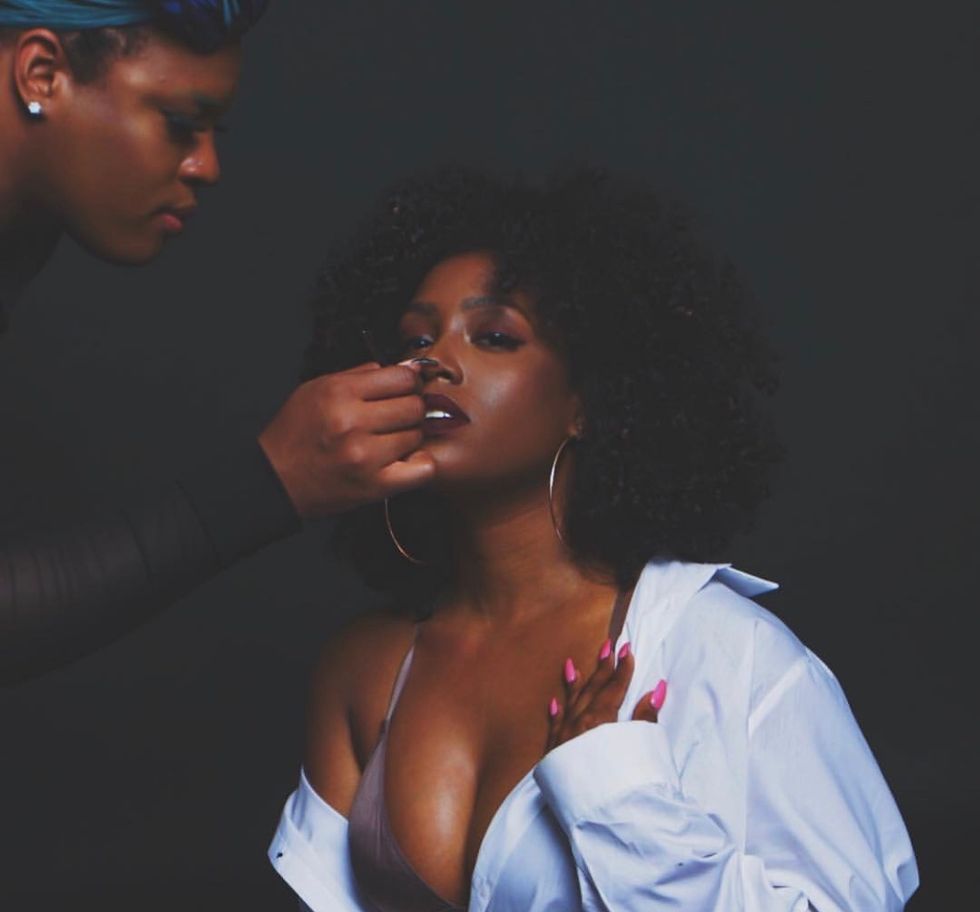 Pink Pig Productions
"Even if you say it's over, it's really not over until God says so. A lot of people will quit on you, but God won't."
Under the influence of the Voice of New York, Scottie got a dose of the impact she could one day make behind the mic. "Angie has taught me so much," she reflects. "Seeing how much of a boss she is, how serious she takes this craft, really pushed me to at least mirror some of the things that I learned."
Responsible for generating content on social media, Scottie spotted a gap she wanted to fill. "I don't see a lot of Black women talk about music, unfortunately. Not a lot of Black women have voices, period, in this industry," she explains. "I decided to give it a try."
When Angie Martinez made the decision to join Power 105.1 in 2014, marking the end of an era at Hot 97, Scottie dug deeper into her goal as a digital producer for Ebro In The Morning. "That's when I really started to realize what it is that I wanted to do," she reveals.
Dedicated to amplifying unsigned artists, Scottie curated playlists on her own time and took hold of the chance to produce Hot 97's Who's Next showcase. "Putting people on to new artists was one of my favorite things to do, so having the opportunity to do that every month was a gift," she reminisces.
When I ask when it all became unfulfilling, Scottie notes that the walls of the station began to close in on her as the desire to be limitless blossomed. With no room for growth, the only thing left to do was stare at the ceiling. "It was the biggest honor ever to sit in that building," she assures. "I learned so much, but it was time."
Moved by Nina Simone's musings on freedom, Scottie submitted her two-weeks' notice in May 2017. "I never felt I could exist without [Hot 97]," the former digital producer admits. "I felt like it defined me because I thought that that's what careers were supposed to do: the brand is supposed to define you and when it doesn't anymore, you find another brand. Then, I realized that I was the brand."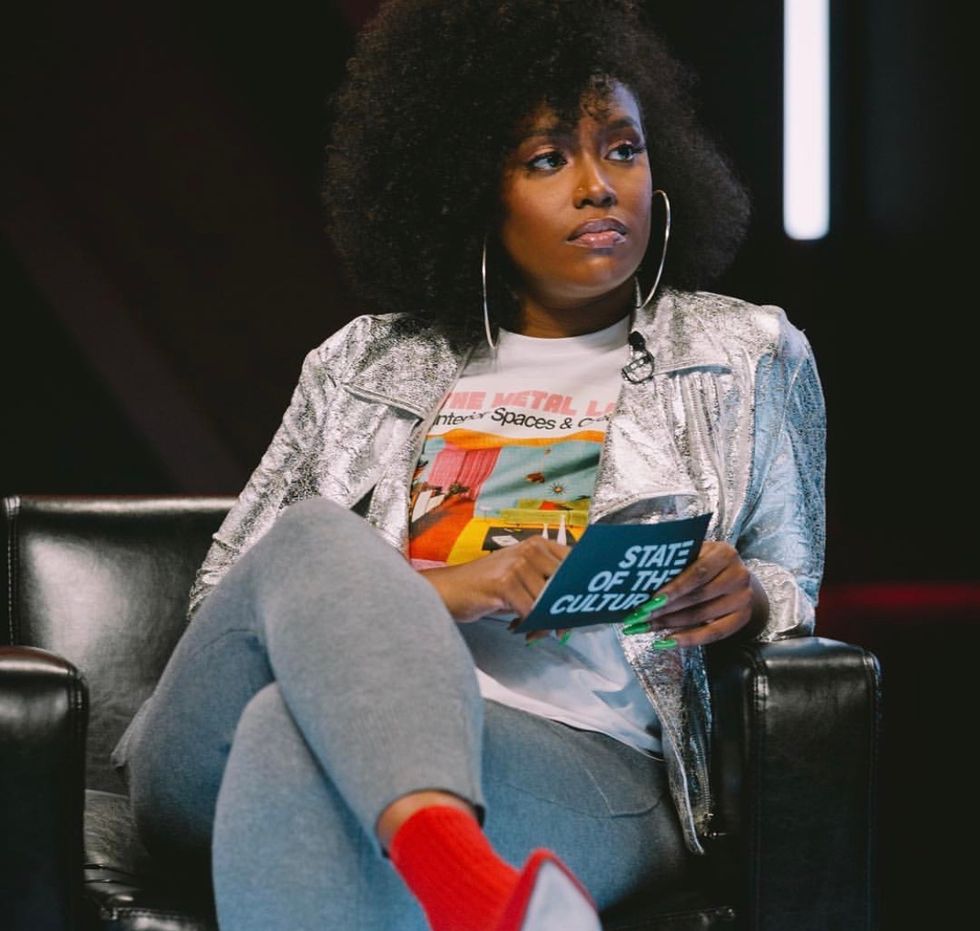 Revolt TV
"I realized that I was the brand."
In the months to come, Scottie landed opportunities to work with Revolt TV, HBO, and Nike. She would later host Broccoli City Festival 2018 (marking hosting a first in her career) and narrate Reebok's "Flipping The Game" podcast centered on women in the sneaker industry.
In between her success, she also collided with sheer disappointment. In November 2017, the radio personality landed her own weekend show with New York City's Satori Radio and was promoted to the prime time slot a mere month later. Before the end of January, however, the online station shut down entirely, leaving Scottie in a funk. "It's really the name of the game in radio," she chimes on the harsh reality. "One day you're on air, the next could be your last."
Throughout it all, Scottie spun one verse from J. Cole's "Premeditated Murder" into an affirmation: Keep grinding girl, your life can change in one year. "His music was definitely the reason why I decided to get out of bed some days or why I decided to try again or take an opportunity I wasn't confident about," she shares.
As she navigated wins and losses, Scottie poured into a mounting fan base of Black women tuned into her personal journey as one of five voices behind the Black Girl Podcast. "Ebro had always taught me that when it's your show, you have to be transparent. Nothing is to be left off the mic," she says when discussing the nature of the show.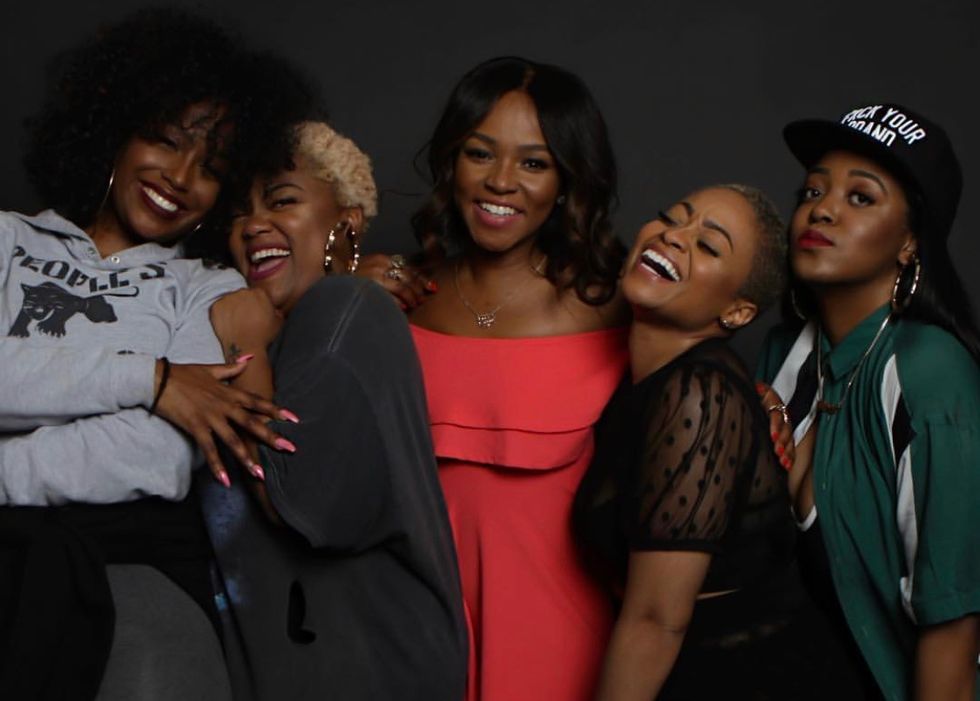 The ladies of 'Black Girl Podcast'
Pink Pig Productions
The audio series – also hosted by Hot 97 alumni Gia Peppers, Sapphira Martin, Rebecca "Bex" Francois, and Alysha Pamphile – has drawn more than one million downloads since its premiere in December 2016, unlocking a deeper dimension to Scottie's ever-crystallizing destiny. "It helps Black women feel seen, and I didn't know I was that passionate about it until it was happening," she muses.
It's a zeal she carries with her as a panelist on State of the Culture, which she tested for numerous times before gracing YouTube and television screens this past September. "Easily, I'm the most hated," she insists. "I've gotten some crazy, crazy letters."
And yet, whether discussing sexual abuse or double standards attached to women, Scottie has no plans on muting her voice to make others comfortable. "The color of my skin and my gender have already pissed people off, so why stop there?" she says. "My heart is in this work. There is no way that something can be ugly or stomped on when it's made with nothing but love and true intent."
As Scottie and I wrapped up our meal, she reveals she still has no map to guide her on her road to success—but this time, she's perfectly fine with that. "None of this was my vision. I just wanted to create. I just wanted to do stuff that meant something. I wanted to do something that people would remember," she says. "I want one person to feel like if she went through this sh*t and went through a bunch of failures, there'll be a win somewhere. I'm sure I'm not done failing, but I also know I'm not done winning either."
To keep up with Scottie, follow her on Instagram.