The beauty industry has been SHOOK since early September.
The 8th marked the Friday your favorite bad gal and secret bestie, Rihanna, launched her eponymous makeup line Fenty Beauty. The collection that would change black girls and makeup shelves everywhere.
---
Unless you've been living under a rock, you can't escape the discussion about Fenty Beauty. Everyone is talking about it, and rightfully so. The brand is all that! One of the main praises is the wide range of foundation shades, namely the darker tones. Rihanna met the demand of the cries from women who felt their voices were unheard by makeup brands, who didn't care to cater to their complexions.
A couple of weeks ago, when Make Up For Ever shared their "40 shades is nothing new to us" post, some people felt it was Fenty Beauty shade. After Rihanna responded with the comments "Still Ashy" and "Shook," her fans filled the comment section with posts claiming Makeup For Ever had "casket ready" shades, among other insults, and I grew curious of how the two brands measured up against each other. I already owned Make Up For Ever, and decided to get Fenty Beauty to put them both to the test.
For an entire day, I wore Fenty on the right side of my face and Make Up For Ever on the left. My skin type is combination and I tend to get oily in the t-zone area on my nose, forehead, cheeks, and chin.
To start, I used a blurring primer by Becca, then applied each foundation with a flat kabuki brush and used the Fenty Match Stix Trio (the concealer, contour, and highlight set) and Trophy Wife Killawatt highlighter to complete the look. I documented the performance of each foundation in the morning, afternoon, and night to see which would perform best.
Here's what I found: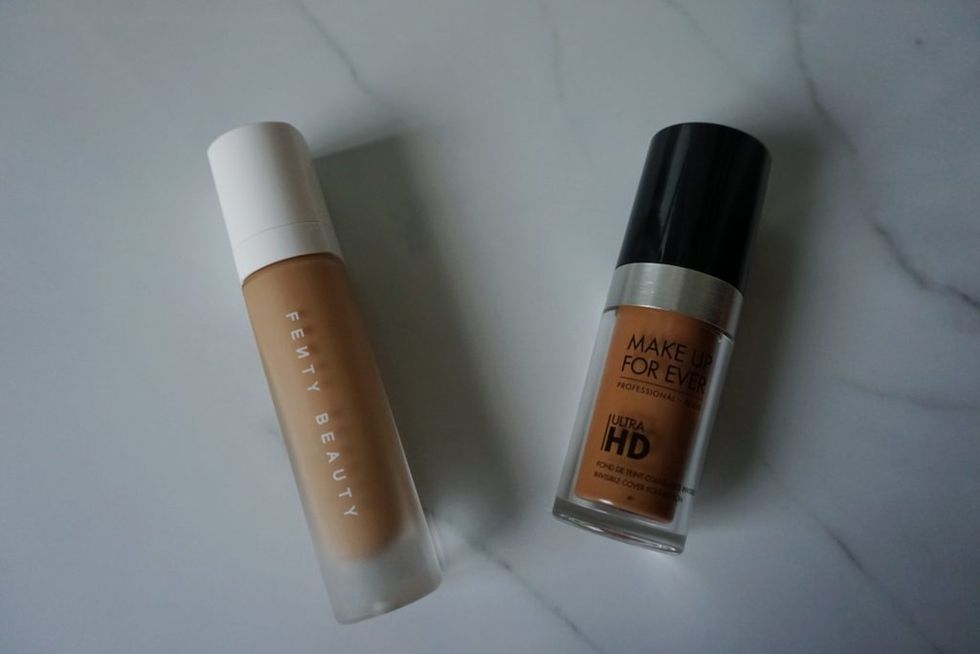 Shade: 360 (it's honestly a smidge too light for my preference, I'm going to swap for one shade darker)
Finish: Matte, smooth natural finish
Coverage: Buildable to medium coverage
Price: $34
Review: I love Rihanna (drops mic). I kid, no, but seriously I do. It was so hard for me to get my hands on this foundation, and I could shoot myself for selecting the wrong color when the restock was briefly available online again for 2.3 seconds. All biases aside, the Pro Filter really does give you a natural "filter like" appearance without your skin looking overly cakey or dry. I had a smooth finish all day, and with a couple of oil blotting touchups my skin still held on to the soft matte look. There was little to no transfer and Trophy Wife had me glistening for the gawds all day long.
Shade: Y455 Praline
Finish: Natural dewy finish
Coverage: Buildable to medium coverage
Price: $43
Review: I already owned the Ultra HD foundation and have always loved it. I really like the way it makes my skin look dewy and healthy while still providing good coverage. It applies smoothly and dries down with a dewy finish. There was a bit more transfer with this foundation because it's not matte, but nothing that would be considered a deal-breaker. Still a top pick in my foundation stash.
Here's how both held up throughout the day:
9am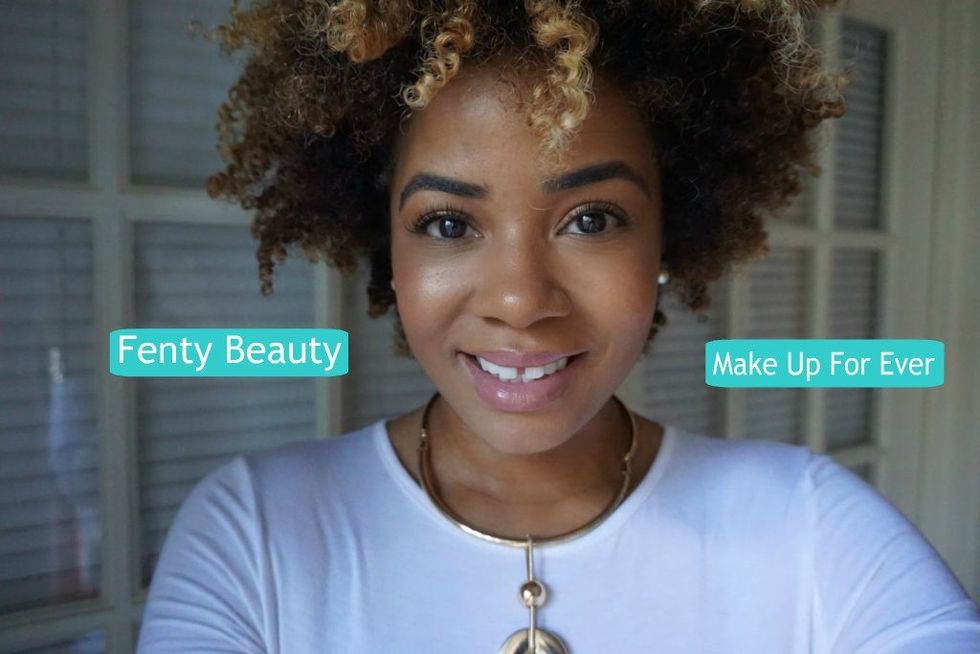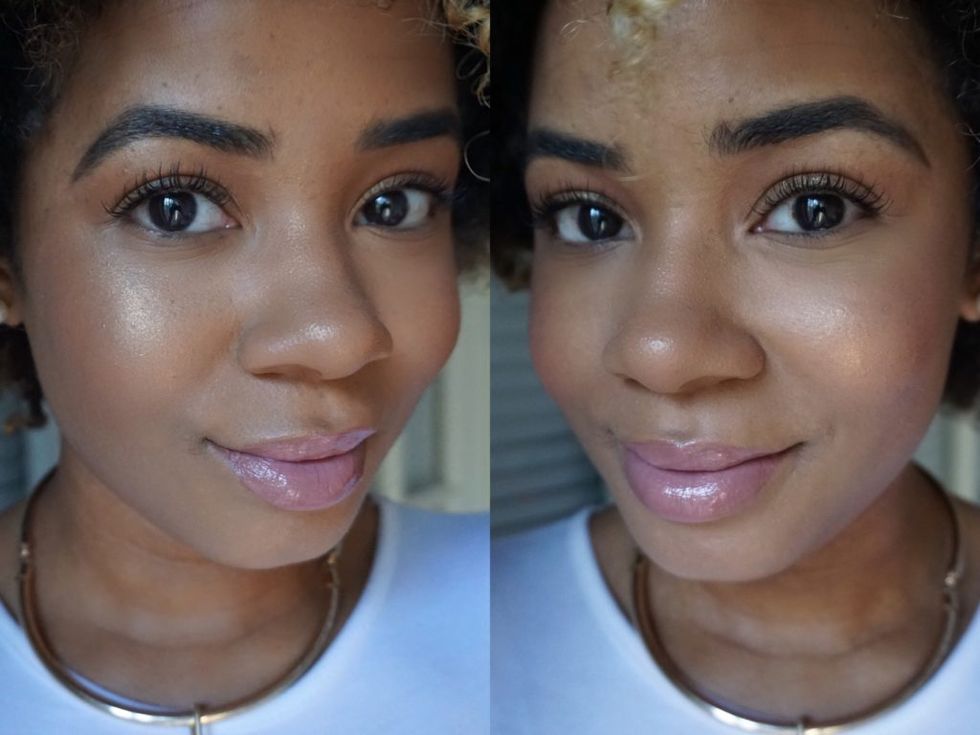 (Left: Fenty Beauty, Right: Make Up For Ever)
1pm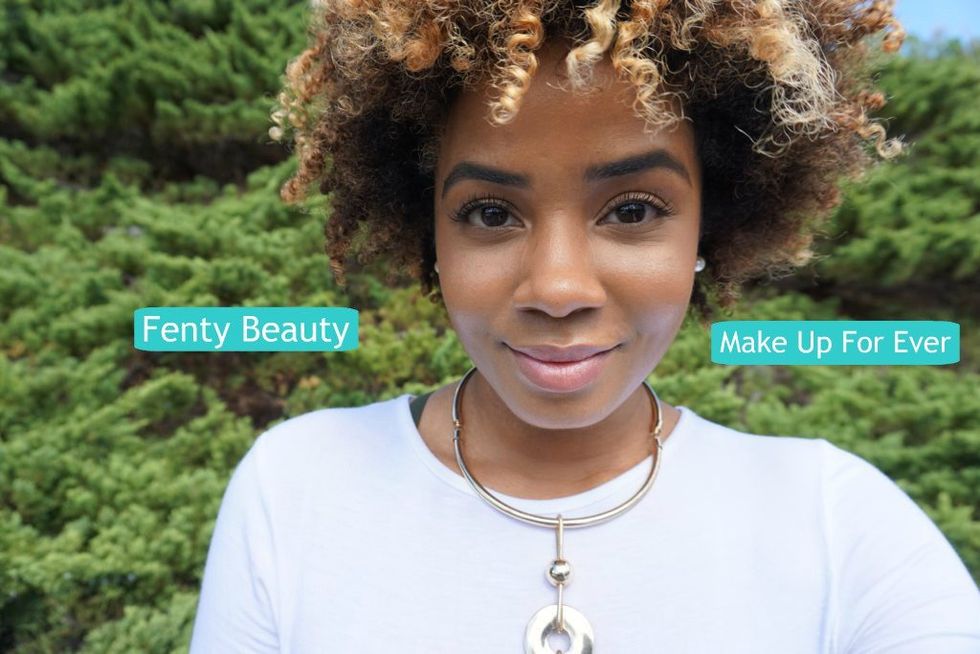 After the first time blotting for the day.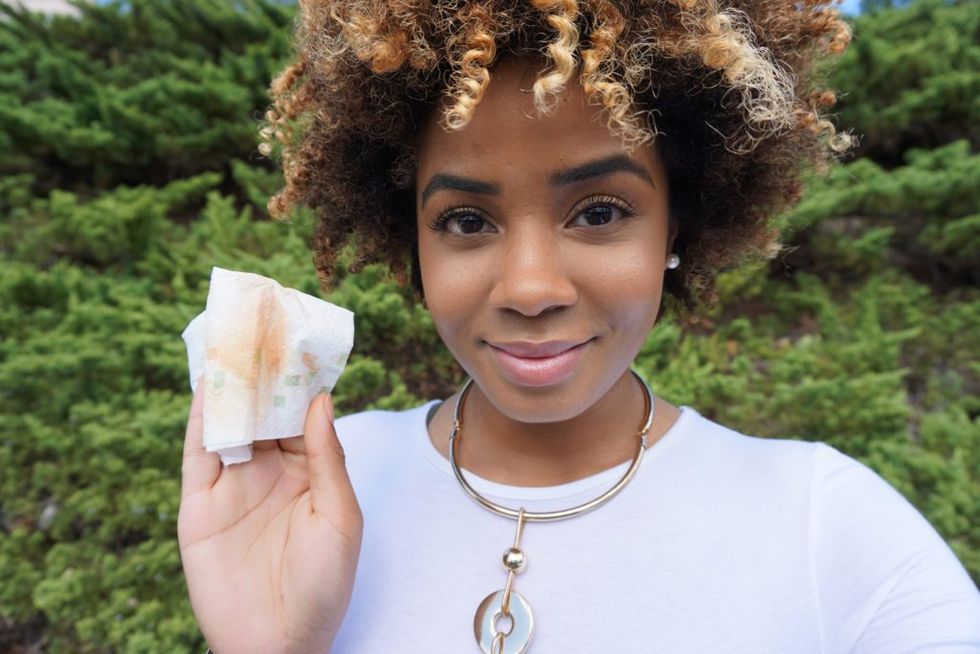 6pm

Final Thoughts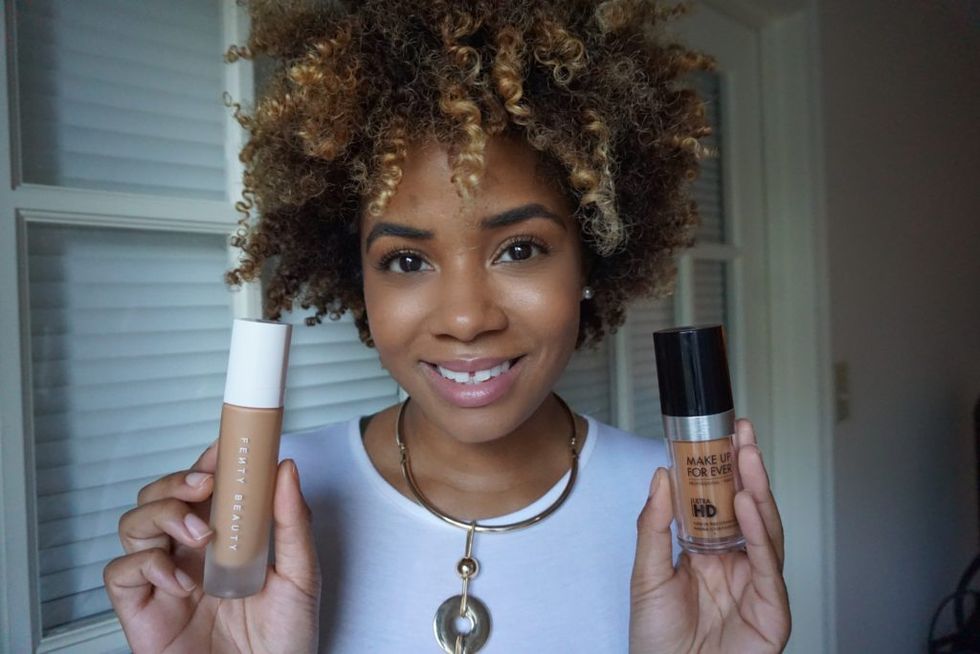 Both foundations were very similar. They leave your skin looking like skin, they are both buildable, and provide a natural-looking coverage, while still allowing your skin room to breathe. The only difference I noticed throughout an 8-hour day was that the Make Up For Ever side of my face got a little dewier (or oilier in my case), and the Fenty Beauty was a little less oily and nine bucks cheaper. That's it. They both performed well and it all boils down to your preference of wanting either a matte or dewy finish.
I'm giving a round of applause to Rihanna and her team for bringing Fenty Beauty to life and paving the way for other women to trail blaze down a lane that caters to all skin tones from light to dark. Although both brands have similar foundations with a wide range of shades, there is enough room for everyone. It all boils down to preference and what your needs are from a makeup line.
Have you tried Fenty Beauty and Make Up For Ever? What are your thoughts?