Everyone has that one date that they will always remember and wish they could forget. From everyday people to celebrities like Regina Hall, no one is exempt from a bad date. The Honk for Jesus actress recounted the worst date she's ever had during a recent appearance on Jimmy Kimmel Live.
She revealed that she was set up on a blind date by a friend to help her "walk into her femininity."
"She sets me up on a date and we got in an argument the very, very, very first time and last time we went on a date," she said. What did they argue about? The one thing that most couples (and in this case two singles) argue about. Money.
"He said if he gets married, he didn't want his wife to work," she explained. "And I was like, what if your wife wants to work? And he said, 'no.' So then I said, what if your wife, what if I want a job to buy you an expensive watch or a car and he said, 'well we can't spend over $500 on a gift unless we discuss it with each other.' And then I said then it's not a surprise."
She continued to question her date about his thinking regarding his future wife not working and noticed that he was beginning to contradict himself.
Regina Hall on Getting Unsolicited Pics in Her DMs, Worst Date Ever & New Movie with Kevin Hart www.youtube.com
"This is where it got confusing. He says to me because that money should go towards the children. If we have kids," she said. "And I said, you weren't counting on my money anyway so why does my money have to go towards the kids? I'm supposed to not even be working. Now you're already counting on my money to go on children that I don't want."
While the blind date didn't go so well for the Girls Trip star, the guy did ask her out again. "He did call me to go out again, but I knew there was no future," she admitted.
At 51, Regina has had a famed career in Hollywood. However, she has managed to keep her relationships under wraps. During her appearance on the late-night talk show, she didn't share whether she was dating but she did mention the status of her DMs.
"I used to check them and they were like unsolicited penises," she revealed. "I would open them just to be like, 'oh' and then…a lot of people were free with themselves."
Let's make things inbox official! Sign up for the xoNecole newsletter for daily love, wellness, career, and exclusive content delivered straight to your inbox.
Featured image by Robin L Marshall/WireImage
Keep reading...
Show less
Regina Hall is known as a timeless beauty in Hollywood, but as the old saying goes, "beauty comes from within." And that's something the 51-year-old Girls Trip star lives by thanks to her mother. "My mom used to always say, 'You're only as pretty as you act,'" she said in "The Beautiful Issue" for PEOPLE.
"A beautiful world comes from a beautiful heart; that's probably the best way to be beautiful. I've dated some men that haven't all been traditionally handsome, but then you fall in love and you're like, 'They're such a good human being.' They actually get more beautiful."
The Black Monday star also shared that she felt the most beautiful "when I'm really in love." "I think it just comes together. I don't know that it's something you seek," she said about finding love. "When I've been in relationships, I feel like I've met a guy out or maybe through a friend. I've never used technology, but I think it's so individual."
Regina had a close relationship with her mom Ruby who died last year. The actress dedicated a Mother's Day tribute to her that same year. "My Everything... Missing you every second. Loving You Forever and Ever and Always. Happy Heavenly Mother's Day Mommy 💔," she wrote.
"I had a really great relationship with my mom," she told People. "She just was everything. She loved life, so I remember to do that now."
Back in 2019, the actress made an appearance on Jimmy Kimmel Live and shared a hilarious story about getting high with her mom. Regina's dog Zeus had passed away and her mom visited her daughter during that time. The actress said she was giving her dog weed and decided to try it with her mom. However, they took too much than recommended, which resulted in them freaking out.
"I called my friend on the phone and I said, 'Listen, I think Mommy is having a stroke,'" Regina said. "I was distraught 'cause I was like the dog, now Mommy."
She called an ambulance but didn't tell the doctors that they ingested marijuana. "Well, no; my friend was doing a prayer, and she said, 'Did you take your stuff,'" she said. "Then we were downstairs, and she said, 'I think you b–es are high.'"
Regina Hall Got Way Too High with Her Mom
Let's make things inbox official! Sign up for the xoNecole newsletter for daily love, wellness, career, and exclusive content delivered straight to your inbox.
Featured image by Dia Dipasupil/Getty Images
Keep reading...
Show less
Christmastime is here and what better way to spend the most wonderful time of the year than cozied up in blankets with a cup of hot cocoa watching a classic holiday film? Of course, there's an almost overwhelming abundance of options available for one to watch during this time, but what makes Christmas particularly special is the return of tradition and nostalgia.
That is why xoNecole has compiled a list of some of your favorite Christmas films from over the years that'll be sure to make you laugh and feel comforted during the holidays.
Let's make things inbox official! Sign up for the xoNecole newsletter for daily love, wellness, career, and exclusive content delivered straight to your inbox.
Feature image by JGI/ Jamie Grill/ Getty Images

Keep reading...
Show less
The legendary, and somehow 50-year-old Regina Hall has been on her press rounds to promote her latest project, new TV series Nine Perfect Strangers. The show is based on the New York Times best-selling book of the same name by Liane Moriarty and filmed in Byron Bay. "We shot it in Australia, which is gorgeous. It's so pretty I thought it was CGI," Hall explained.
And with the actress resurfacing happy and as hilarious as ever, with quarantine now behind her (a time where she has said she's struggled), she can finally address the top-tier birthday video she released for her 50th this year. The conversation surrounding it has followed her around everywhere she goes, a recent visit to The Ellen Show being no different.
While chatting with frequent guest-host tWitch, she opened up about the milestone.
"I am very happy because the option is death. You're either going to get older every year or you're going to die. So, I'm happy to be alive and honoring what you do gain. There's a lot of, like, wisdom and I do think it's beautiful to age."
tWitch showed the birthday celebration song Hall had released online as the two continued to discuss, eventually touching on why she used the word 'bitch' to refer to herself in the song, noting that the word can also mean a female fox or otter. To that, her reply went in the aging flex hall-of-fame:
"I'm in fox season."
One of the best qualities of Hall is her comedic style, which tows the line of dark humor, and just plain ole funny. This has been the same about her since the Scary Movie franchise, where she got her biggest break. And sis has been working ever since, with more projects up her sleeve. She tells ESSENCE:
"The fact that I've been able to work throughout the years, as Scary Movie celebrates 21 years, I feel like there is no greater due that someone can give you than to continue to have you working. I feel really, really blessed in that way. It's good. I'm still here. What else could I want?"
Last October, Hall secured a first-look deal with Showtime to develop projects under her own production company, Rh Negative, thus expanding her relationship with network, coming off the news that her comedy series Black Monday had been renewed for a third season. Of the deal, Hall says:
"I've wanted to produce for a second now. I find great scripts that would be wonderful for myself and really for other people. There are a lot of things and a lot of opportunities for writers and it excited me to be able to create those opportunities and to create programs and movies that people would enjoy—stories that haven't been told or perspectives of stories that haven't been told."
Can't help but to love and support her!
Watch the clip of Hall discussing her 'fox season' below:
Are you a member of our insiders squad? Join us in the xoTribe Members Community today!

Featured image by Bennett Raglin/Getty Images for BET
Keep reading...
Show less
Last week, I asked, "
How Black Will Oscars' Night Be
?" And just as I predicted, it was pretty Black! The 94th Academy Awards made Black history several times over on Sunday night. Not only that, but ratings were up 56% over last year's all-time low. There is a lot to celebrate about what went down at the Oscars this year! But what's been on everyone's minds and Twitter fingers ever since was the Slap heard 'round the world.
xoNecole was in the Dolby Theater for our parent company Will Packer Productions'
making history as the first all-Black producing team
in the Oscars' 94 years--and yes, the moment was shocking and confusing, with guests reacting much like those at home, wondering was the presumed Best Actor Will Smith doing a bit when he walked onto the stage and open-handed slapped Chris Rock after a joke about Jada Pinkett-Smith's bald head? It was quickly clear that it wasn't, with those of us up in the theater's rafters looking to Twitter for a replay of what exactly went down.
But we should not forget some truly amazing moments in Black history that went down at this year's Oscars.
xoNecole was on the red carpet talking to your faves about what this moment meant for Black people, Oscars host Regina Hall, Best Supporting Actress Aunjanue Ellis, Oscar winner H.E.R., Oscar winner Ruth E. Carter, presenters Chloë x Halle and more:
Oscar Winner Samuel L. Jackson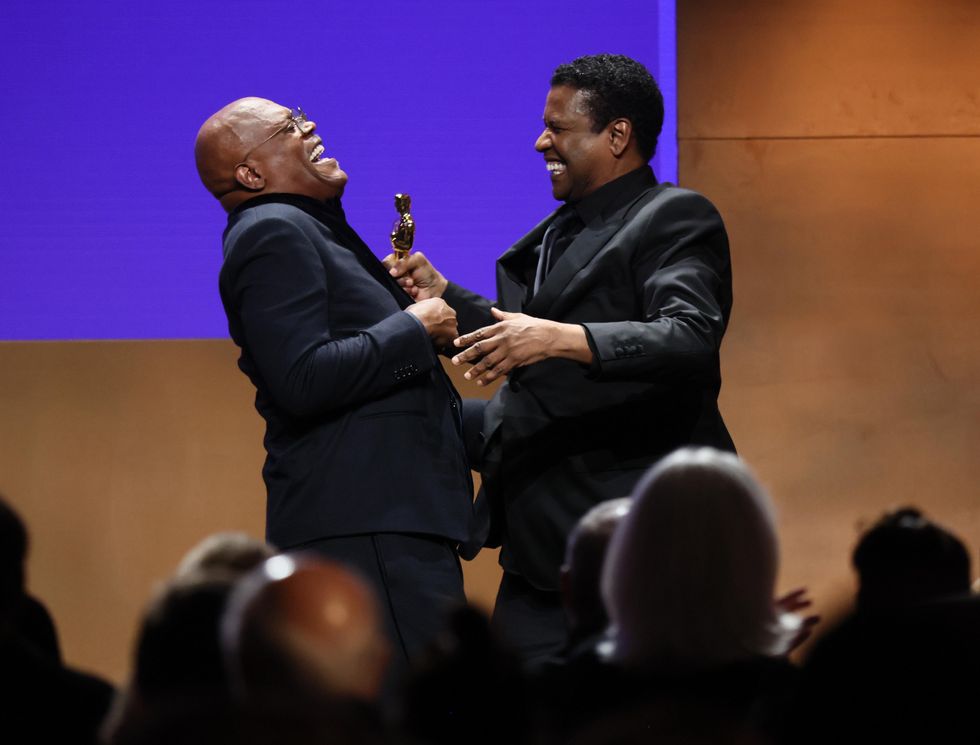 Samuel L. Jackson celebrates his Oscar with Denzel Washington
Mike Coppola/Getty Images
At The Academy's Governors Awards the night before the Oscars, Denzel Washington presented his peer and friend Samuel L. Jackson with this year's honorary Oscar. The 73-year-old acting veteran has been on our screens for most of his life, alongside Washington and Spike Lee. After being nominated for Supporting Actor for his role in Pulp Fiction, Jackson now has his first Oscar!
Blue Ivy Gave The Opening Performance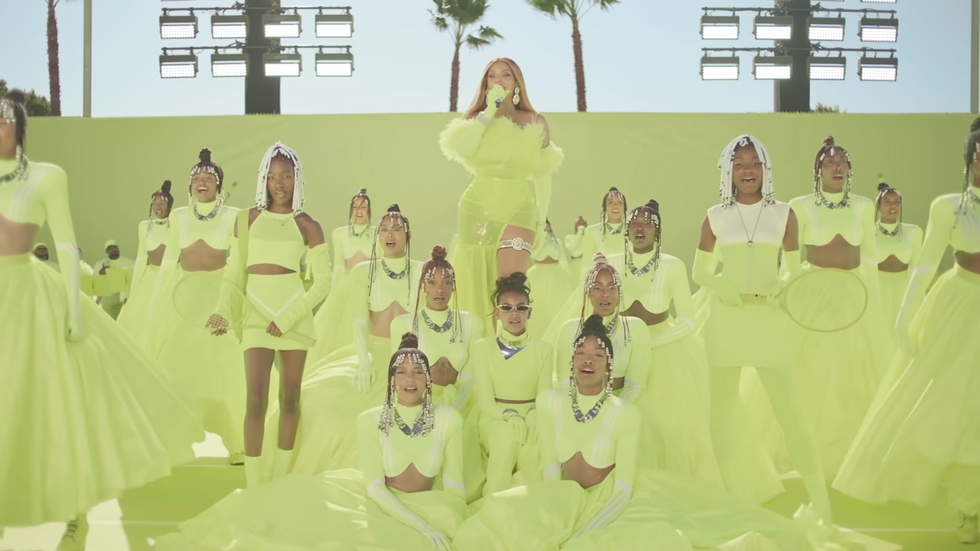 Baby, Blue Ivy was MOVING, okay? Dance moves on point. An icon. A legend. We didn't deserve it, but I'm so glad Blue Blue let her mom sing background for her debut performance at the Oscars. She can add this accolade to her illustrious Emmy, Grammy and literary awards.
'The Queen of Basketball' Received Best Documentary Short 
One of the early, exciting moments from the pre-taped show was when The Queen ofBasketball won for best documentary short (just as I predicted!). The floor vibrated as the family of Lucy Harris, the first woman to ever play in the NBA, celebrated the Oscar win in her honor. Sadly, Lucy passed just months before the nominations were announced, so she never got to see how her pioneering story would reach international acclaim. "Hallelujah! Thank you, Jesus!" Her family and loved ones shouted out from the rafters above and behind me in the Dolby Theater. Their energy and joy were electric! And Director Ben Proudfoot ended his acceptance speech with an appeal: "President Biden, bring Brittney Griner home!" A Black history moment and icon we should never forget. Watch the Oscar-winning documentary short below:
Ariana DeBose Won Best Supporting Actress 
The first award of the (televised) night went to Ariana DeBose for Best Supporting Actress in West Side Story, (as predicted) making her the first Afro-Latina, openly queer woman to win the award. Quoting her famous musical in her acceptance speech, she said "So to anyone who has ever questioned your identity, or you find yourself living in the gray spaces, I promise you this: there is indeed 'a place for us.'"
Megan Thee Stallion Is The First Female Rapper To Perform 
One of the more pleasant surprises of the evening was seeing Megan Thee Stallion performing the hit song from Encanto by Lin Manuel Miranda, "We Don't Talk About Bruno." While you may remember the famous performance from Oscar winners Three-Six Mafia of "Hard Out Here For A Pimp," Megan's performance was the first-ever by a female rapper in Oscars history. Keep doing it big for the Hot Girls, Meg!
A Disabled Black Woman Was Defended Against Ableism and Misogynoir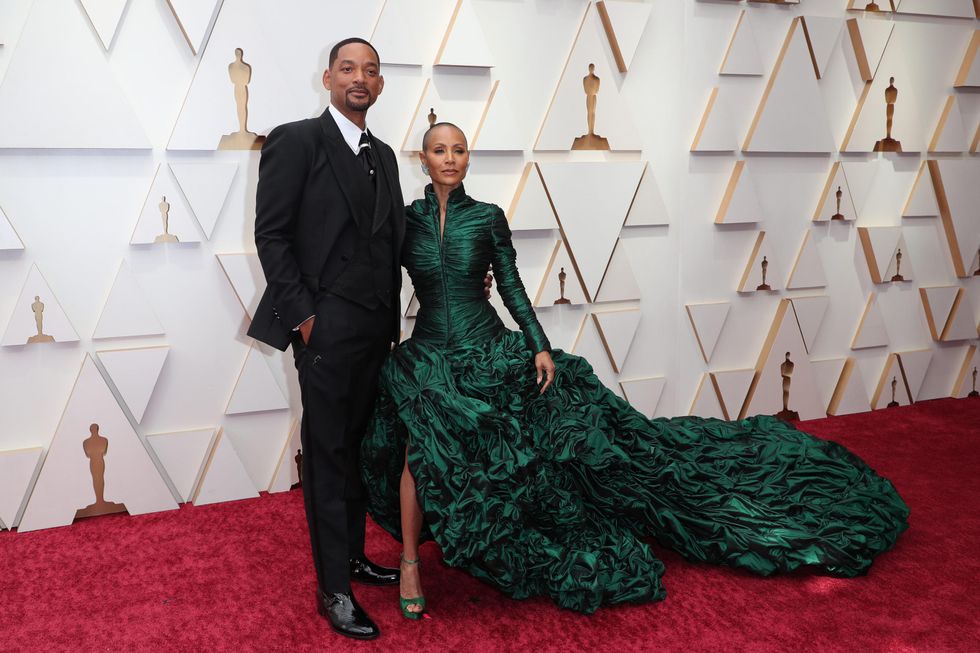 WILL SMITH, JADA PINKETT SMITH
THE OSCARS® – The 94th Oscars® aired live Sunday March 27, from the Dolby® Theatre at Ovation Hollywood at 8 p.m. EDT/5 p.m. PDT on ABC in more than 200 territories worldwide. (ABC)
For too long, comedians like Chris Rock have built their entire careers on mocking how Black women look, talk, dress and act and we're always expected to take it because it's "just jokes." I'd wager that part of what seems to be so offensive to people in the aftermath of the Slap is not that Chris Rock got popped in the mouth for mocking a Black woman's appearance, it's that this violent, ableist, misogynoiristic 'joke' is supposed to be acceptable. Open season on the most unprotected and disrespected people in America, the Black woman, is assumed, and how dare Chris Rock face consequences for it? Alopecia is an autoimmune disease. Jada Pinkett Smith is disabled. A Black disabled woman was defended against ableism and misogynoir in front of the world on Sunday night. While we'll have to wait for Jada to speak specifically on how she felt about the offense or the defense, I hope more 'comedians' think twice before mocking Black women for a white audience's laughter and actually try to be funny next time.
Keep reading...
Show less
Exclusive Interviews
"I do share a lot, but I don't share everything."
Latest Posts