New York Fashion Week has finally returned to its in-person fashion shows. The magic, glamour and thriving energy is back after quarantine changed everything last year. While most people were sequestered at home fighting boredom, music superstar, Saweetie used the lockdown to cement her dreams. Through content creation, catchy new music and building her brand, Saweetie explored various business endeavors and began to execute her philanthropic goals.
---
Leaning on the expertise of her grandmother, Roxane Harper, who is an entrepreneur, author and investor, Saweetie and her "Glam-ma" created a foundation that equips Black and Brown communities to learn about financial literacy. They are set to launch the Icy Baby Foundation this fall.
Managing her time wisely during quarantine gave bloom to the elevation of her brand and star power.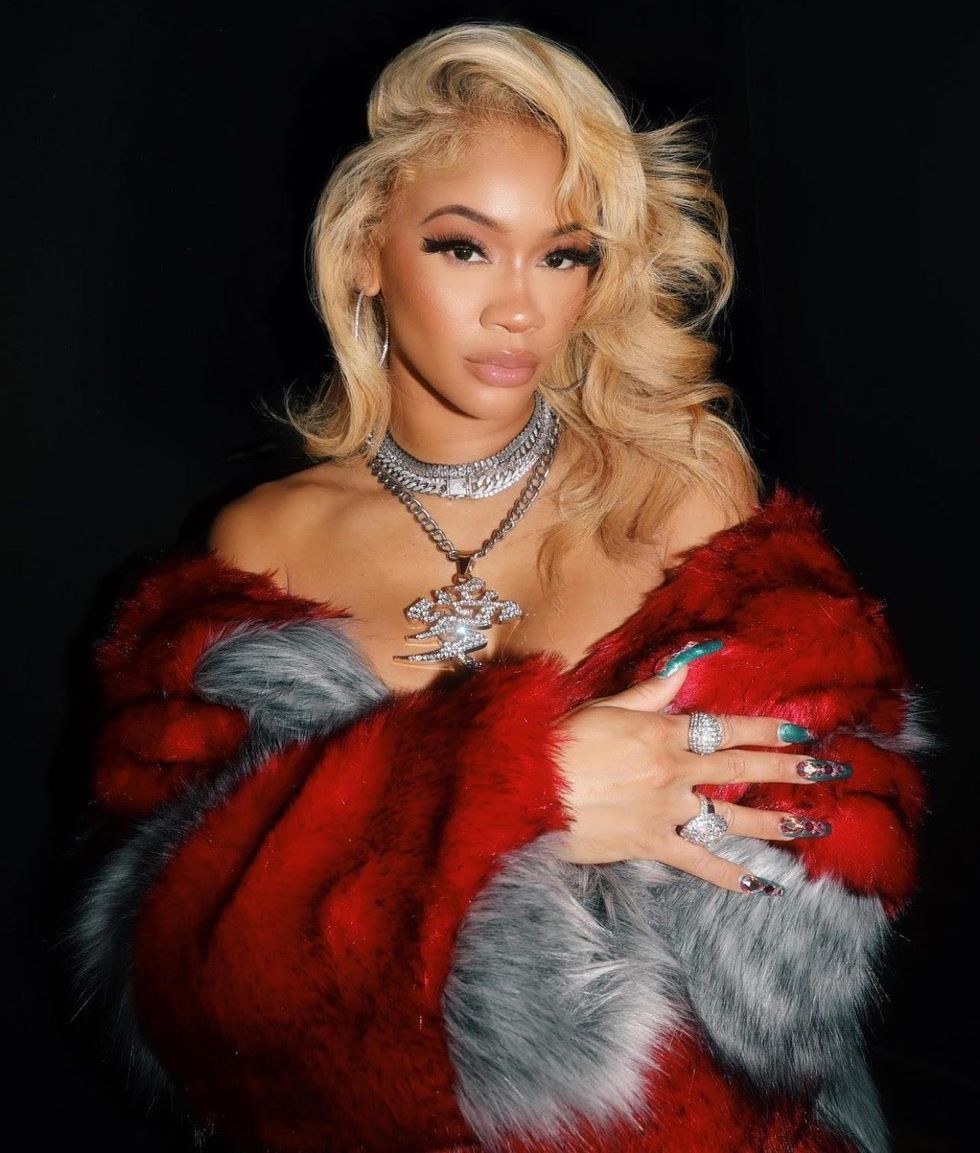 Courtesy of the artist
In one year, Saweetie has become more than just an entertainer, she is now a desirable powerful influencer for top brands. She has been invited to attend several shows during NYFW, including Tom Ford, Kim Shui, Christian Cowan and more. To adding icing on the cake, the "It" girl and queen of content is starting her first day at Fashion Week with a major announcement.
Today, MAC Cosmetics introduced Saweetie as its newest Global Brand Ambassador. MAC snatched up the popular rapper and appointed her as their latest M∙A∙C Girl. Saweetie will join the brand in a long-term global capacity.
"I am so excited about my new partnership with MAC. When I was young, I remember admiring the way my mom would organize her MAC products in the silver MAC travel bag. I would always sneak and play with her lipsticks and products. I loved the creativity of makeup even back then. Now I can't believe I have my own collection. This is definitely a full circle moment," said Saweetie.
"Saweetie is one of those people that truly does it all – musician, CEO, actress, TV show host, gamer, viral sensation, the list goes on – she is an extreme talent and is relatable…she is all of our 'best friends,'" said Drew Elliott, SVP, Global Creative Director, MAC Cosmetics.
"Saweetie's message of self-confidence and female empowerment is the perfect match for a brand like M∙A∙C that has always embraced unapologetic self-expression with open arms! Saweetie IS a MAC girl, because she is a boss, a winner, an artist, and she knows exactly what she wants…and goes for it. I'm obsessed."
As MAC's Global Brand Spokesperson, Saweetie will contribute her wit and beauty as the face of MAC's upcoming renowned collections and key campaigns. In addition, Saweetie will work with MAC Makeup Artists to showcase her signature looks, share beauty secrets and her lifestyle with MAC fans.
"All of the things that happening are like a dream come true. I'm excited about all the shows during NYFW and thankful to be invited. I also hope that designers, stylists and creatives of color can also be given more opportunities to showcase their talents on these type of large platforms."
Fans can see Saweetie's first piece of content for the brand on her Instagram @saweetie and follow @maccosmetics on IG for more updates.
Featured image courtesy of the artist