*Editors note: this article contains information about sexual assault, child pornography and rape. Please read with care. If you have experienced sexual violence and are in need of crisis support, please call the RAINN Sexual Assault Hotline at 1-800-656-HOPE (4673). If you are thinking about suicide, please call the National Suicide Prevention Lifeline at 1-800-273-TALK (8255) or the Suicide Crisis Line at 1-800-784-2433.
---
On June 29th, R&B singer and producer Robert Kelly, best known by his stage name R. Kelly was sentenced to 30 years in prison by New York Federal Court after being convicted in September of 2021 on charges of racketeering and sex trafficking. The sentencing was announced after many of his victims tearfully shared the impact his graphic abuse of them has had on their lives. This conviction and sentencing come nearly thirty years after the singer began facing allegations ranging from rape, possessing child pornography, marrying a then-15-year-old Aaliyah, having his own sex cult, and more.
In the weeks leading up to the sentencing, xoNecole spoke with four Black women activists who work diligently to address sexual violence within the music industry and writ large on R. Kelly's conviction. Now that Kelly has been sentenced, we're sharing our conversations with each one, condensed below: author and founder of the Me Too movement Tarana Burke (featured in the docuseries Surviving R. Kelly and the Russell Simmons documentary On The Record) and the founders of the #MuteRKelly movement Kenyette Barnes and Oronike Odeleye (who also appeared in Surviving R. Kelly ) and author and activist Sil Lai Abrams, who shared allegations against Russell Simmons in The Hollywood Reporter and the HBOMax documentary On The Record.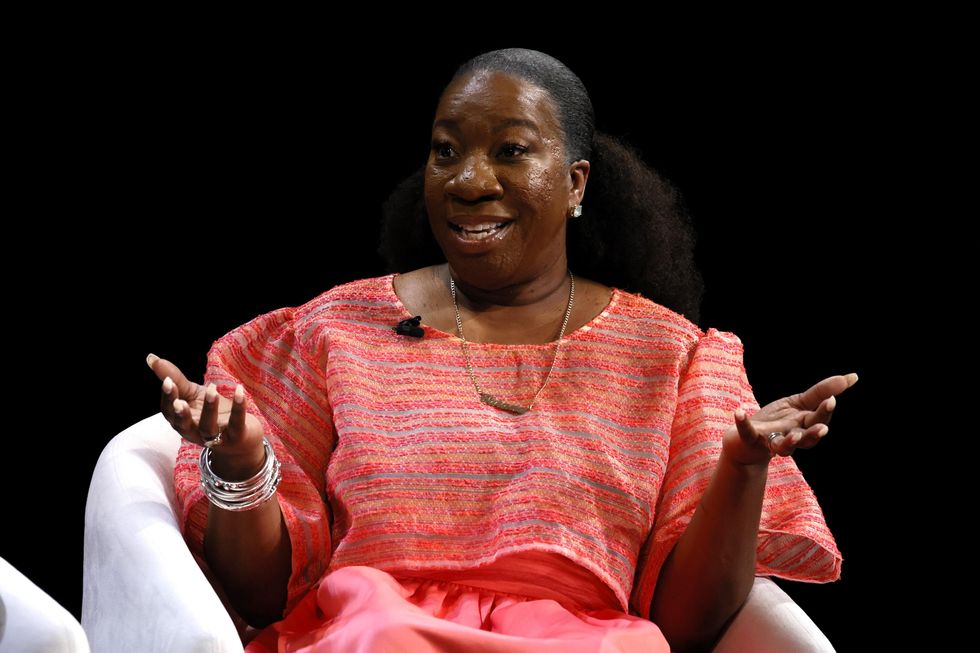 NEW YORK, NEW YORK - JUNE 07: Tarana Burke speaks onstage at the TIME100 Summit 2022 at Jazz at Lincoln Center on June 7, 2022 in New York City.
Photo by Jemal Countess/Getty Images for TIME
xoNecole: I also invited journalist and Surviving R Kelly documentarian dream hampton who declined an interview but did provide a statement:
"As someone who wants to believe in restorative justice, I think this could have been the beginning of actual healing and justice had R Kelly, at any point, admitted to the harm he's caused for decades. His victim should have a financial fund from which they can draw to rebuild their lives. He could have changed the culture by being accountable in this way. He could have opened up a conversation where predators and abusers could enter too. Which is radical. But no, he'll have his sentence meted out to him by a broken system. He will continue to have the currency of love and devotion by countless Black people, even as he spends these years in prison. It is all a shame."
xoNecole: What was your initial reaction to the news of R. Kelly's conviction?
Tarana Burke: I was asked this question when [Harvey] Weinstein was convicted when [Bill] Cosby was convicted and it stays the same: these convictions are not a victory. I understand the catharsis for the survivors. There is a duality, that you have an immediate sort of excitement that feels like we have *something.* Right? You can't help it. I think that's human nature. That feeling of we have something, especially as Black women. Because we never get anything. So, I think there's that first wave of that.
And then there's the immediate slap in the face – especially if you engage in anything public, like social media or walking down the street – of the rejection of that. So my reaction came in stages, is what I'm explaining. That first stage of sort of surprise and relief that we got something. And that something is acknowledgment of that – even from a f-cked up system – an acknowledgment that our trauma and our pain deserve acknowledgment. It deserves accountability. You have that first wave and then you get slapped in the face with "no, it doesn't." I don't know if we even had sixty seconds of whatever that first wave was. I get settled in just the catharsis of the survivors. It's like they get a chance to breathe after holding this sh-t for so long. They get a chance to be like, "I get to hold something."
Sil Lai Abrams: I was not surprised because the conviction was the result of decades of lobbying by activists and advocates. In many ways, his social currency in the Black community was diminished in a way that would enable a conviction to occur in the criminal legal system. To dream's point, the system as it exists is not one that takes into consideration the needs of survivors or even those that have caused harm. He's being used as a totem in many respects and I believe that his conviction in some way shields other people who cause sexual harm because I think that society can look at him, point to what will occur with him, and say, "You see? The system works because R. Kelly went to prison." When in fact, his incarceration does nothing to address the systemic nature of sexual violence and the very broad ways in which harm affects our entire society.
Oronike Odeleye: Honestly, my first reaction was relief. I was relieved for his victims because they have been gaslit for years about the abuse that they've suffered. I was also relieved for myself. This has been a long journey that I did not mean to embark on [as a founder of the #MuteRKelly movement]. It's been emotional and hard, so I'm glad that my part was over and now someone else can take over. And I was relieved for our community because for so many people, a lot of the visceral and emotional reaction they had to this was not necessarily about R. Kelly but about their own interactions. Their own experiences of abuse and trauma that they had carried, a lot of the secrets they had carried and they wanted to see justice play out. I was relieved for everyone involved.
Kenyette Barnes: It was very complex emotions. There was sadness of course because no one wants to be a part of perpetuating a broken system that over incarcerates Black bodies. However, thirty years has gone by and nothing has been done. And on several occasions, I believe that Robert Kelly had the opportunity to fix this in some way and didn't. So my feelings were sadness because I feel like why did it get this far? My next emotion was a sense of relief for the survivors. They had been fighting for years. The #MuteRKelly movement had put that advocacy on a global stage. And through strategic organizing had resulted in a financial boycott of his music. We received some backlash and unfortunately, this accountability included the criminal justice system.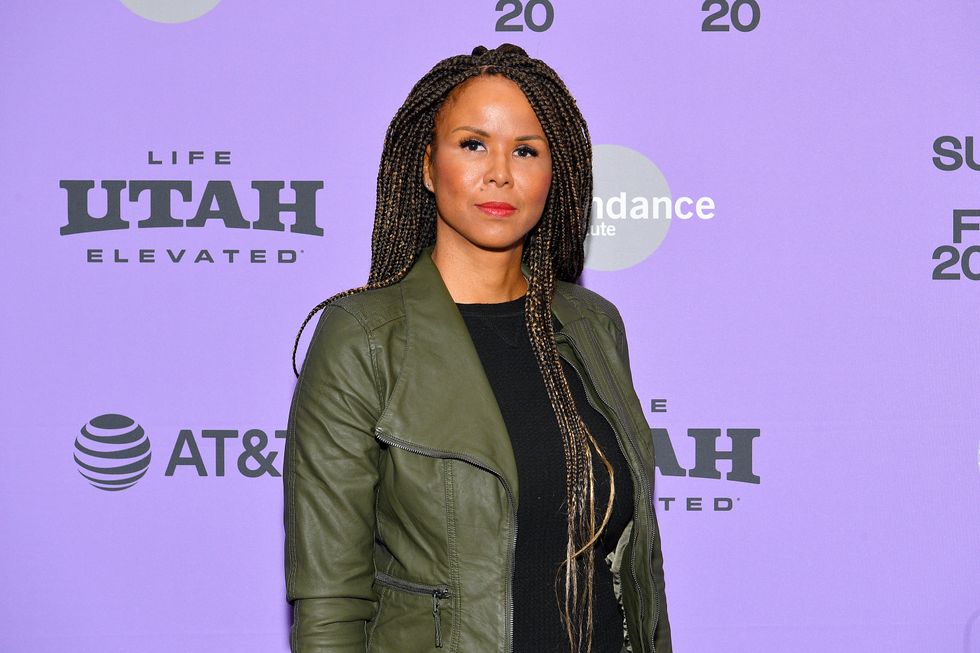 ​PARK CITY, UTAH - JANUARY 25: Sil Lai Abrams attends the 2020 Sundance Film Festival - "On The Record" Premiere at The Marc Theatre on January 25, 2020 in Park City, Utah.
(Photo by Dia Dipasupil/Getty Images)
xoNecole: It's been nearly thirty years since allegations against R. Kelly first started. Why do you think it's only now that we're seeing a conviction?
TB: There had to be like six exposés. I feel like The Miami Herald did one. The Chicago Tribune did one. The Village Voice did one. And so, it's not from lack of media coverage. It's not from a lack of raising voices. Every Black woman journalist that I know has been raising their voice across social media. More than one social media campaign. Because #MuteRKelly preceded #MeToo going viral. People conflate those two. The #MuteRKelly hashtag started in August of 2017 after the article came out in Buzzfeed. It got amplified after the #MeToo movement went viral [in October 2017]. So, it took all of that and then the documentary to get people to pay attention. But it was like we had to stand on our heads and light ourselves on f-cking fire in order to get one singular Black man. There's this narrative about the Black man being targeted. It's so crazy because that was the singular person. And to your point, we've been talking about him for nearly twenty-five, thirty years. And it took that because of that famous Jim DeRogatis quote from The Village Voice where he says the one thing that he's discovered in all these years that he's been chasing R. Kelly is that nobody in America matters less than Black girls. I'm paraphrasing the quote, but I'll never forget reading that quote. This is a sixty-something-year-old white man from Chicago who writes about rock n' roll, who just on his own was so bugged out about how no one was paying attention to R. Kelly.
SLA: The #MuteRKelly campaign is really the driver behind this push for accountability, this incarceration, without which I don't believe this would've occurred. It took a certain amount of critical mass to come together. They had built a groundwork and a framework for the campaign in the years preceding the #MeToo era. So when #MeToo exploded in 2017, it just facilitated his downfall, so to speak, because there was such a tremendous body of work, of evidence that had been collected and been disseminated for at least three years, I think. So, I believe that is a large part of why this has happened.
In addition, our views around sexual harm have evolved. And even now when someone is now "legal," [i.e. age 18+] that is no longer seen as a shield against allegations or recognition of predatory behavior. So, for example, you could see an 18-year-old in a consensual – "consensual" – relationship with a 45-year-old and people don't respond the same. People will call that out and note the disparities in power between the two parties. And I think that's a big part of it. There is a very slow shift that's going on in online discourse and I think that's very healthy. I think another reason why change is happening is because many of the barriers that existed before such as all-powerful public relations agencies and representatives for some celebrities are no longer as effective because social media has had a democratizing effect upon those who recognize harm is occurring.
OO: I think so much has changed within our society. The way we talk about sexual abuse, the way we think about rape. The way we now have vocabulary around grooming. The way that we understand consent. The way that we talk about adulthood and childhood are different than when these allegations first came out thirty years ago. So, I think we are in a place now, to really reckon with all the things that he's been doing. I think the time that it came out, the idea of these rampant groupies I guess a very dominant idea. We did not think about women's bodies in the same way. We really thought about women's bodies as the spoils of war for rich and famous men.
KB: Because they were Black girls and we didn't give a damn. Even in the space of defending Blackness against white supremacy, that Blackness is Black masculinity. It is not Black femininity. We look at rates that over 60% of Black girls are going to be a survivor of sexual assault before her 18th birthday. Sexual violence as a practice tends to be intraracial.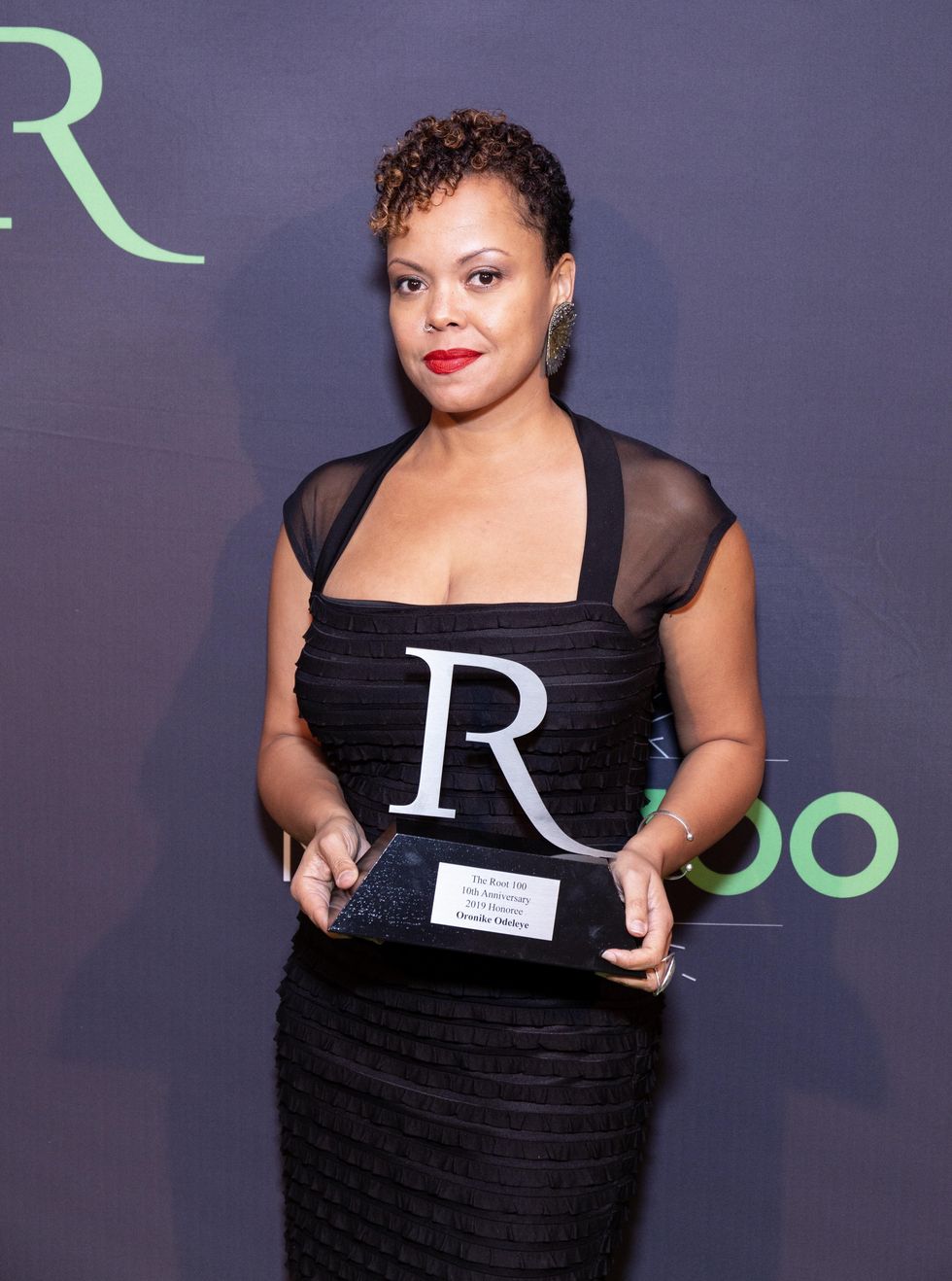 NEW YORK, NEW YORK - NOVEMBER 21: Oronike Odeleye attends 2019 ROOT 100 Gala at The Angel Orensanz Foundation on November 21, 2019 in New York City.
(Photo by Arturo Holmes/Getty Images)
xoNecole: Why do you think the #MeToo movement hasn't taken off in the music industry the same way it's taken off in Hollywood?
TB: This idea though that Hollywood was broken wide open is not true. I think the cases that we saw were really huge. Weinstein was obviously the big one and there's several more behind that. And for one Weinstein, there's 25 that we don't know about. And that's why they keep trickling out little by little and they just get less and less attention every year. Because people care less and less every year. So the question of why hasn't there been a case as big as Harvey Weinstein in the music industry? I don't know. Most people when they ask this question they're asking about hip hop and R&B. I have heard horrific stories off the record that artists have shared with me or industry folks have shared with me and I've said why won't you come forward? And they're like, "There's no way that my career would recover if we did." In fact, there were people who would not come forward about R. Kelly even though R. Kelly doesn't even have a career, because they were scared of the retribution inside of the industry. So, I don't know what the music industry is set up in vs. Hollywood in terms of the way people's careers are controlled. But if we're talking about white women vs. Black women, Black women just have way less protection. And I think Black women have way more to lose. Even if you look inside Hollywood, how many Black women in Hollywood have come forward? And the ones that did come forward, look what happened to them.
SLA: The music industry has always been one in which personal relationships can facilitate success even with individuals with no talent. There isn't a requirement of any type of education. The barrier to entry is very, very low in many respects. Which is a good thing. At the same time, in the way in which people are connected to each other and the amount of money that's at stake, people are unwilling to go against the status quo. They're not willing to speak up because they don't want to have their money messed with. I believe that society is a cesspool of relationships that are highly interwoven and interconnected, the music industry in particular is just particularly patriarchal. It's particularly rife with nepotism in a way that really encourages groupthink and group movement.
OO: Well, I don't know if I would agree with [the framing of that question]. I think that it has in fact put artists and record labels on notice that the community is paying attention. Right now, I'm seeing so much conversation around Trey Songz. We're seeing so much conversation around Chris Brown. We're seeing so much conversation about Tory Lanez and violence against women. So I think everyone is hyper-tuned in and paying attention now. And so I think people now are way quicker to call these things out when they're seeing it and to come forward.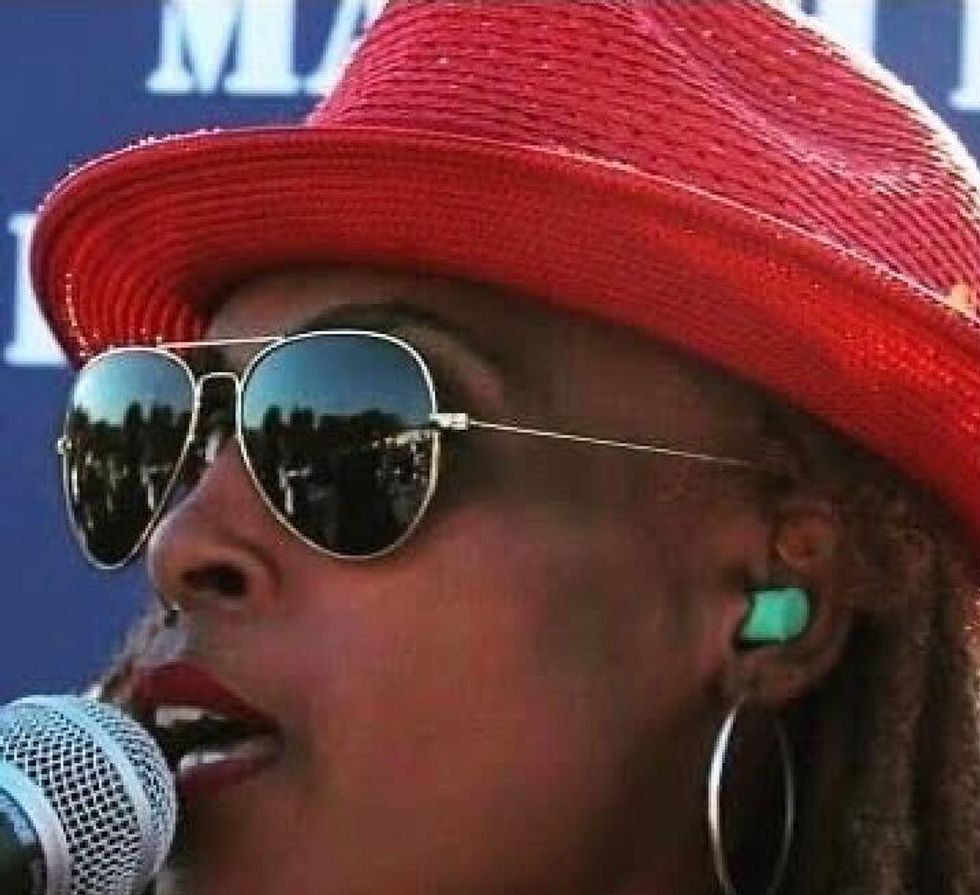 Kenyette Barnes
Photo courtesy of Kenyette Barnes
xoNecole: Even with the conviction of R. Kelly which has been a long, long time coming, the culture that created him and allowed him to thrive still exists. What do you think it'll take to finally dismantle rape culture within the music industry and writ large?
TB: This is the magic question. I think we have to have a huge culture shift and I think it has to happen from multiple directions. The example I use all the time is cigarettes. A little over thirty years ago, we could smoke on airplanes. Most people under a particular age don't remember that. I remember when you could smoke on airplanes, in clubs – everywhere. And that's how I grew up. Sitting in the back of my father's car with the windows closed and he was smoking a cigarette. Then there was a huge concerted effort to shift how we thought about smoking cigarettes. And it's obviously a very different paradigm, but the reason that I use it is because when I think about how they came at that, it was political, because laws had to change that said you can't smoke in public places. It was a public narrative. We had major campaigns but also you don't see the Marlboro Man anymore. Cigarette smoking was cool because everybody did it everywhere. It was a part of the culture that was just sort of ingrained. The way that rape culture is so ingrained that it's natural to us. So there was a political intervention, there was a cultural narrative intervention. There was a research intervention. All of a sudden there was all this research on how second-hand kills. Obviously, people still smoke now. But the culture around smoking today and the culture around smoking thirty years ago are completely different. I think about shifting rape culture the same way. We need multiple interventions.
SLA: Going back to what dream said, I think that there needs to be a space in our society where people can actually acknowledge the harm that they've caused in a way that's not going to be met with highly punitive measures. We have to look at the ways in which sexual harm is fostered. It happens everywhere, the music industry is an easy scapegoat. I honestly don't have an answer if I knew what it would take I would be extremely wealthy. I don't have the answers, I have some ideas but everything is connected to something else. I'm a huge advocate for restorative justice and our existing system just doesn't work when it comes to facilitating some kind of redress, for harm period, but particularly for sexual harm. As dream had said, because Robert refuses to take responsibility, it doesn't even open the door to any type of restorative action. But also, I don't want to forget that we can posit about restorative justice and restorative practices and how I think that would be an appropriate way to proceed, but the people whose voices matter and who's going to drive restorative justice are his survivors. So if his survivors don't want that to occur, I can't offer that as a unilateral response that's going to address things. Some might want to see him incarcerated. That's their choice. I'm not going to shame them for it.
KB: I think what #MuteRKelly did was a direct attack at the music industry. And it was one of the first campaigns that really directly targeted the sexual oppression of Black women and girls. I think we're going to have to continue those conversations. I think we're going to have a call-in of the entertainment industry. We saw people like John Legend and Chance the Rapper really speak against this, but we need more.
If you have experienced sexual violence and are in need of crisis support, please call the RAINN Sexual Assault Hotline at 1-800-656-HOPE (4673).
Let's make things inbox official! Sign up for the xoNecole newsletter for daily love, wellness, career, and exclusive content delivered straight to your inbox.