---
I don't know about y'all, but whenever Golden Globes and Oscar nominations come out, more times than not, I'm rolling my eyes. As a self-professed movie buff who fully enjoys the art of acting and filmmaking, sometimes I am utterly baffled by who gets a nod and, more importantly, who doesn't. But in order to stay focused on what this article is really about, I'll avoid the rabbit hole of getting into the politics of award shows and how, so very often, many artists get overlooked. Instead, let me first say "big ups" to Ms. Cynthia Erivo's Best Actress nomination for her portrayal of Harriet Tubman in Harriet, along with co-writing and performing the song "Stand Up" in the film (something that could gain her the much coveted EGOT title if she wins). That's dope. Truly. And then let me get to what made me smile, big time, as I scanned the nominations list. Matthew A. Cherry.
Just 48 hours ago, this is what he tweeted.
I'm nervous and anxious about tomorrow y'all can't even lie. Doubt I'll be able to sleep tonight.

— Matthew A. Cherry (@Matthew A. Cherry)1578848898.0
Then yesterday...this.
Wow! And to have @IssaRae announce it! It feels like a dream. Huge thanks to our great team @BruceAlmighteee… https://t.co/55GJ40sO3x

— Matthew A. Cherry (@Matthew A. Cherry)1578922840.0
(Fun fact: Issa Rae plays Zuri's mom in the film. Ah, the circle of life!) Man, you would think this guy was my little brother (he's only 38), first cousin or somebody I sat at the lunch table with in grade school every day, if you went by how excited I was to hear the news of his Oscar nod! Honestly, I think a part of the reason is because, back when I used to run a friend of mine's business connect Twitter, I followed Matthew and engaged with him some. When it comes to pop culture and slick jabs, he's hilarious. He also comments back quite a bit. Although I'm getting ahead of myself, I've got some proof of that. A little over a month ago, my godchildren's mom wrote him about how much his now Oscar-nominated animated short film Hair Love resonated with her. And, true to fashion, he replied.
@RissiPalmer Wow. Amazing. Thanks for sharing.

— Matthew A. Cherry (@Matthew A. Cherry)1575645131.0
There's a Scripture that says, "By humility and the fear of the Lord are riches and honor and life." (Proverbs 22:4—NKJV) Matthew's apparent display of humility alone is enough to make this nomination make total sense. But there are a few other reasons why I am absolutely thrilled to publicly acknowledge what he and his film have accomplished.

'Hair Love' Is Beyond Sweet—and Very Necessary
If, for some reason, you've never seen Hair Love before, take out a moment to check it out right now (right here). Even though it's an animated short, I still won't give the storyline away. What I will say is that, when I first checked it out, one of the first things that came to mind was the cute animated character on Sesame Street who used to say, on repeat, "A loaf of bread…a container of milk…and a stick of butter" while running an errand for her mother. Why does that little girl still stand out to me? She had a beautiful deep chocolate skin tone. She also had a natural. And she loved herself. Fast forward to all these years later and that's what immediately came to mind when I first looked at Zuri—also chocolate, also rockin' a natural and also loving herself. Not to mention her having two parents who loved her and each other too (yes!).
Being that Hair Love is animated, it's something that all ages can immediately connect with; that was a brilliant move on Matthew's part. Yet there are so many subtle messages that I really appreciate too.
Again, without giving too much away—there's a little girl who struggles to style her hair but never once complains about its amazing texture. There's a father who adores his daughter and has a natural style too. And, there's a mom who is attentive enough to know that both dad and daughter need help—not because natural hair is "difficult" but because mastering any art form requires knowledge, technique and patience.
Hair Love reminds us all that Black love comes in so many forms and is to be recognized, honored and celebrated. By us, most of all. That is what will make this film timeless. A classic well beyond this year and its well-deserved Oscar praise.
Matthew Is a True Creative. That Deserves Nothing but Respect.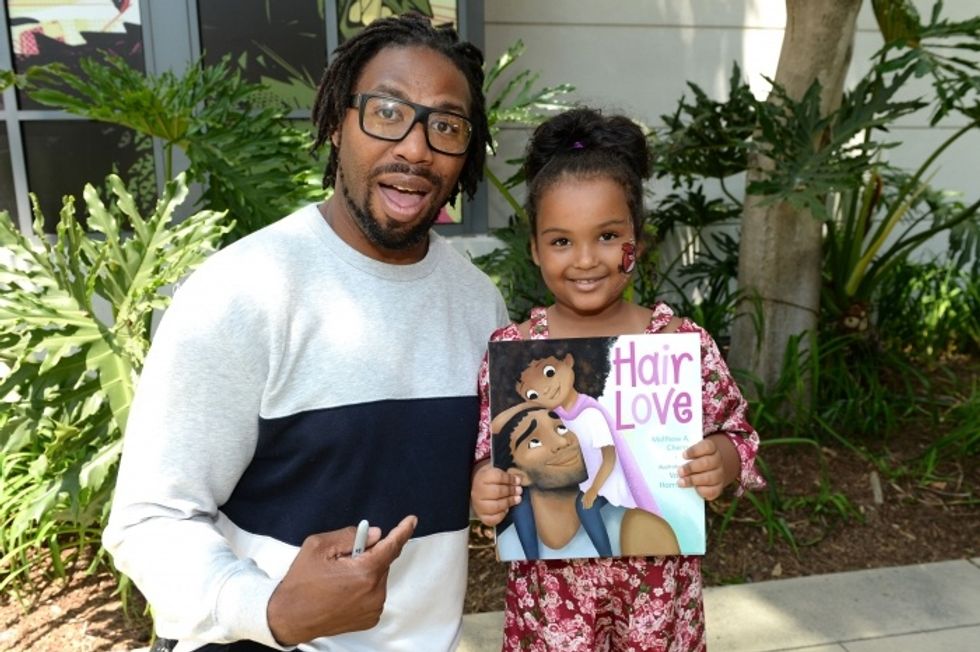 The cool thing about filmmakers, writers and directors is, oftentimes, you "see" them without even really knowing it. If you've ever watched the movie The Last Fall (Lance Gross, Nicole Beharie), Matthew both wrote and directed that (if you haven't, it's pretty good, by the way). Michelle Williams's music video "Believe in Me" and "Say Yes" (featuring Beyoncé and Kelly Rowland), he directed those too. If Chloe X Halle's song "Warrior" is your jam, he also directed that video (you can check out more of what he's accomplished, thus far, via his website). But I really started checkin' for him right when he was ready to put Hair Love out into the Universe.
I remember back when Matthew was raising money for his animated short film. It was a Kickstarter campaign a few years ago. One of the things that stood out to me in his campaign's presentation, was this oh-so-very-relevant point that he wrote for it—"This story was born out of seeing a lack of representation in mainstream animated projects, and also wanting to promote hair love amongst young men and women of color. It is our hope that this project will inspire."
Inspire. That's the signature trait of a true creative; they are able to inspire others.
When someone is able to use their own creativity and ingenuity to influence and invigorate others to ultimately do the same for someone else, that's when you know, without a doubt, that they are operating in their gifts and soaring in their God-given lane.
Last I checked, Hair Love has gotten a whopping close-to-11 million views on YouTube alone. But again, if you haven't yet checked it out, devote seven minutes or so of your life. I'd be shocked if it didn't make you smile, reflect and, if like my godchildren's mom, you can personally relate, even shed a tear or two. I'd be floored if it didn't straight up inspire you.
Inspire you to either start or finish a project.
Inspire you to seek out someone who's willing to invest in your dream.
Inspire you to attempt something—even if you don't have all of the answers…or resources.
Inspire you to trust that your idea, your talent and your passion are enough.
Inspire you to take a risk, keeping in mind that, like Matthew has just proven…risks oftentimes come with great rewards.
Matthew A. Cherry, I've also noticed that you're an NFL alum. It really is amazing how paths can shift but all for the better, isn't it? Black king, please know that every member of the xoTribe salutes you today and couldn't be more proud. There is a profound respect that we have for you showin' us all some "hair love". Embrace all that is coming. You deserve it.
Now excuse me while I go and rub a little Chebe butter on my hair, pick it out and grin. Just like I'm sure little Zuri—and her parents—are doing right at this very moment. In Matthew's honor.
Want more stories like this? Sign up for our newsletter here and check out the related reads below:
This Is Why Your Natural Hair Ain't Growin'
10 Natural Hair Products To Add To Your Routine
One But Not Equal: Natural Hair Is Not The Same
Wake-Up Call: Here's How To Make Your Dreams A Reality
Feature image by Kickstarter