We all can remember where and how we were at the height of the pandemic. Quarantined, maybe with cabin fever, and if we were lucky, cozied up indoors spending rare and uninterrupted time with our loved ones. Such was the case for singer and actress Kelly Rowland, who was pregnant with her second son Noah throughout most of 2020. It was a precious time for the singer, who tells xoNecole how refreshing it was to spend so much quality time with her adorable family. However, when it was time to go back to work, she found it much harder to return to the grind.
---
Rowland, like many moms, has struggled with "mom guilt," but is seeking joy in finding the balance. That's what inspired her new children's book Always with You, Always with Me, which she co-wrote with author and educator Jessica McKay. The book tells the story of a mother and son who find themselves missing each other throughout the day when they're apart. The mom creates a simple and sweet rhyme for the two of them to recite whenever they think of each other: "Always with you / always with me / mommy and child / together we'll be."
Rowland told xoNecole at her exclusive book launch in New York City that she considers every mom to be a working mom. "Whether you're at home with your children all day or not, you are working," she says. "You're focused on their schedules, feedings, and their playdates. Being a mom is a job, but you love it. Moms are making things happen in their children's everyday lives." The former Destiny's Child member admits that her favorite at-home vibe is when the house is full of kids. And when she's called to travel away for a gig or appearance, she makes it a point to show her eight-year-old son Titan why her sacrifices matter.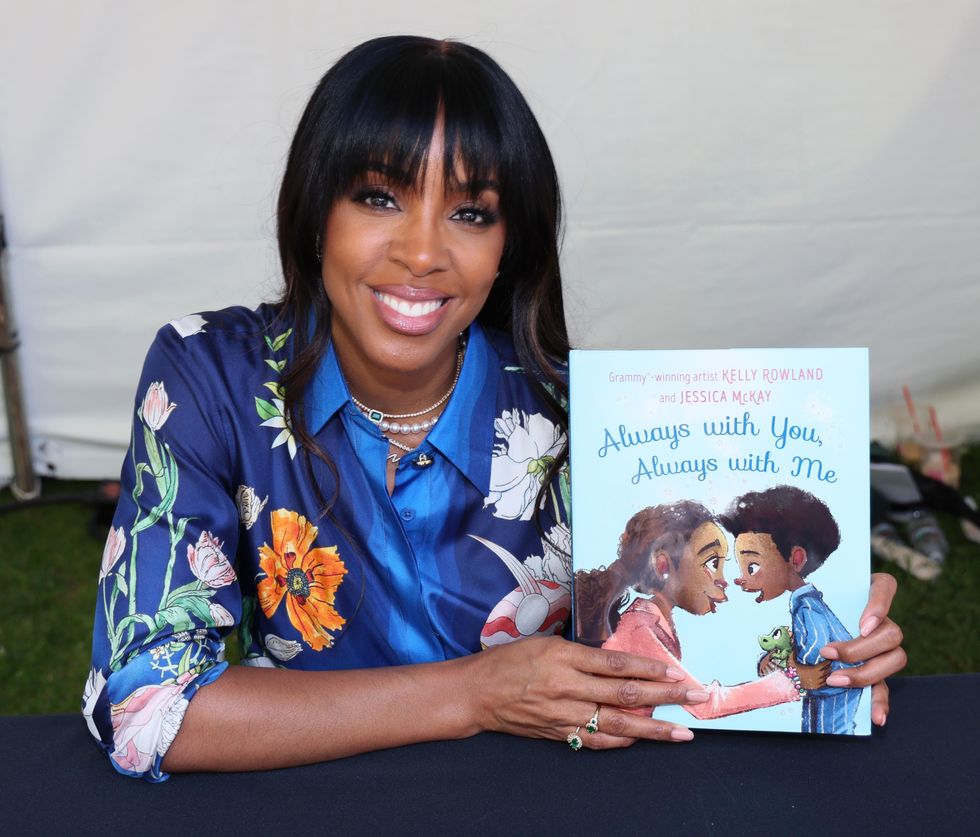 David Livingston/Getty Images
One day, before she was scheduled to head out of town, Titan said he wished she could stay home instead. She gave him the assignment of going around the house to count his blessings, prompting him to open the fridge and notice all the food, turn on their running water, and appreciate the vast wardrobe in his closet. "I told him that mommy and daddy work hard for those simple things for you," she explains. "I know there are times when I won't be here and it sucks. And when he's missing me, I feel the same way. That's why the mom in the book is crying [when she has to leave home for work.] That's literally me every time I leave the house."
Rowland took pride in the making of Always with You, Always with Me, not only because of the topic but because of the memories with her late mother Doris that are reflected in the book's message. "Now having had my mom and losing her, [I always feel her presence] during Christmas and Valentine's Day. Sometimes, she just comes around and I can feel her spirit. So her traces of magic are always there for me. It's what seals the bond." Rowland also said that spending time in the Houston hair salon owned by Tina Knowles-Lawson, aka "Mama T" introduced her to so many boss moms that inspired her. "There were artists, lawyers, doctors...just busy women who were really just figuring it out while having a family. This book is dedicated not just to my kids, but to them too. I see them, I feel them, and I get it."
When we asked Rowland what she'd tell moms who are experiencing a bout of mom guilt or just going through a stretch where the balancing act just isn't working out, her advice was simple: "Give yourself grace," she says. "Just know that every day won't be an easy day, but we got to sometimes fake it until we make it. Just say, 'I'm here, I'm earning for my child and their betterment.' That in itself is a lot."
Always with You, Always with Me is now available wherever books are sold.