I'll be the first to say that Tinder gets a bad rep. It's been deemed the "hookup app" from those looking for something fun to do on any given night, and though it can certainly be used for a weekend rendezvous or a risqué meet and greet, for those who are really looking for someone special, it can be the answer to your solving single prayers.
---
When I see stories about social media and dating they are typically horror stories, but my experience has been the opposite--I actually found love through Tinder.
Around this time last year, I was preparing for one of the worst let-downs ever; the guy I was in love with had a wife, a girlfriend, and me... Horrible. When his girlfriend (whom I was told was his groupie) filled me in on what was going on, I cut things off. I had accepted a position with an amazing company and would be moving soon anyway. It hurt, but I had amazing friends to distract me. One weekend, while en route to New Orleans for Mardi Gras, my friends suggested that I download Tinder. I had heard of it, but I was over love and trying.
My friends suggested it for a good laugh, and if you have ever been on the app you know that you see a little bit of everything and definitely things that are worthy of a screen shot and conversation in your friends only group message. So I swiped right, entertained a few guys, and unmatched some more, but one day--about a month after downloading the app--I got a message and continued a conversation with a guy that wasn't like the rest. Just like me he was educated, intelligent, and open to love if it led to that. We messaged each other for 11 hours, which led to him asking for my number. We talked until 5am, a stretch for someone who is a grad student, but I didn't want to stop talking to him. The very next day, he informed me that he was passing through where I lived to pick a friend up from the airport, and he asked if I wanted to meet. I prayed I wasn't being catfished, but something about this felt right. We met, and just like the conversations on the app and the phone call, we clicked right away.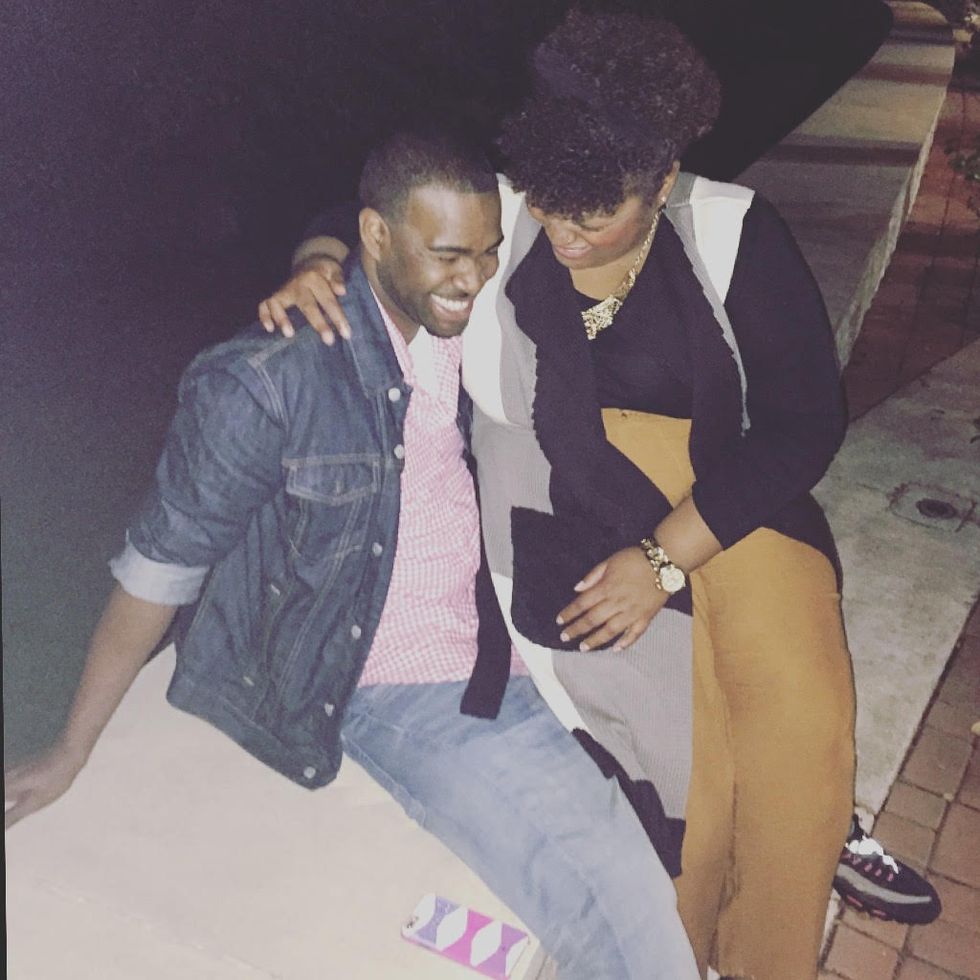 The pictures didn't do him justice; I was in awe. We talked all night and has an amazing time. After that he came to see me almost every other day until I went on another girls trip/conference. I knew I was catching feelings fast, but it felt like nothing I had ever experienced. We talked through my travels even more than before and he didn't miss a beat. He picked me up from the airport upon my return and took me directly on a date. His effort was something that I had never experienced, and after having my heartbroken was something that was needed. We spent so much time with each other that not only were we falling for each other, but we were becoming best friends. Although I initially told him I was moving and that we should just be friends, that quickly went out the window as we decided that we wanted to make it official.
That was almost a year ago, and being his has been one of the best decisions that I have ever made.
Who would have thought that swiping right would have led to this? I am in love with my best friend, and I met him on a dating app.
I owe Tinder for my happiness, and if you're open to love there's a chance that the right one may just be a swipe away.
For those who are beginning to jump back into the dating pool and are looking for something real over temporary satisfaction, here are a few tips on how to make Tinder work for you. (Yes you!)
1. Don't Fall For the Wrong Type
Realize that Tinder is full of all types of people. Depending on the area that you are in you may not see what you define as prince charming on the first swipe. But this can give you the opportunity to explore people that are outside of your comfort zone. Someone who is not from your hometown, not the same ethnicity as you, or someone who you normally wouldn't talk to. Thats a good thing, comfort zones sometime hinder us and keep us away from an awesome catch or at the least bit an interesting good time.
2. Don't Get Caught Up In the Swipe Right Hype
Tinder gives us plenty of options to swerve someone we are not interested. Utilize this option! From swiping left to un-matching, if you aren't feeling the vibe, let it go. Its cool, there are plenty of fish in the sea waiting to be swiped.
3. Let Their Actions Do the Talking
So you're swiping away and you're getting that "I'm ready for something more than just Netflix and chill" feeling. How do you know that the person who matched with you is possibly feeling the same? Conversation indicators! If your conversations are normal, you're talking about your background, your goals, things you like, things you don't, and this leads to the question of a date, this person is probably interested in something more that can lead to something serious. If the conversation leads to something sexual extremely quick, that is a big red flag. If the conversation leads to them asking to come to your house after five minutes of conversation, that is probably also a red flag.
4. Move At Your Own Pace
Conversations are going well, and you're getting tired of going back and forth to the app to communicate. He asks for your number, but when is the right time? Honestly the right time to give your personal number to someone is when you feel comfortable doing it. That could be a day, it could be weeks, or longer. It honestly depends on you. But there is a handy feature called Google Voice, where you can create a phone number that is forwarded to your phone and you can text and talk without ever giving out your personal number. I have some friends that have used this option for a precaution.
5. Go Public With It
If everything is a hit and you get to the point where mutually you are ready to meet and to go on a date, the biggest thing that I would suggest is meeting in a public place and making sure that someone knows where you are going and the name of who you are going with, just as a safety measure. My first official date with my Tinder boo was dinner and a movie, but it could be as simple or extravagant as you both desire.
6. Keep Calm, It's Just A Date!
Last but not least, set out to have fun! Dating is a fun experience, and even if the person doesn't end up being "the one", at least the person became a story to tell your friends about!
Update:
The love of Maurisha's life is now the answer to her forever. In 2017, Tinder Bae put a ring on it in an unforgettable way. Since he was a drum major back in the day, he decided to pop the question at the Magic City Classic and she said "yes"! The couple recently made things official-official by tying the knot in February 2019.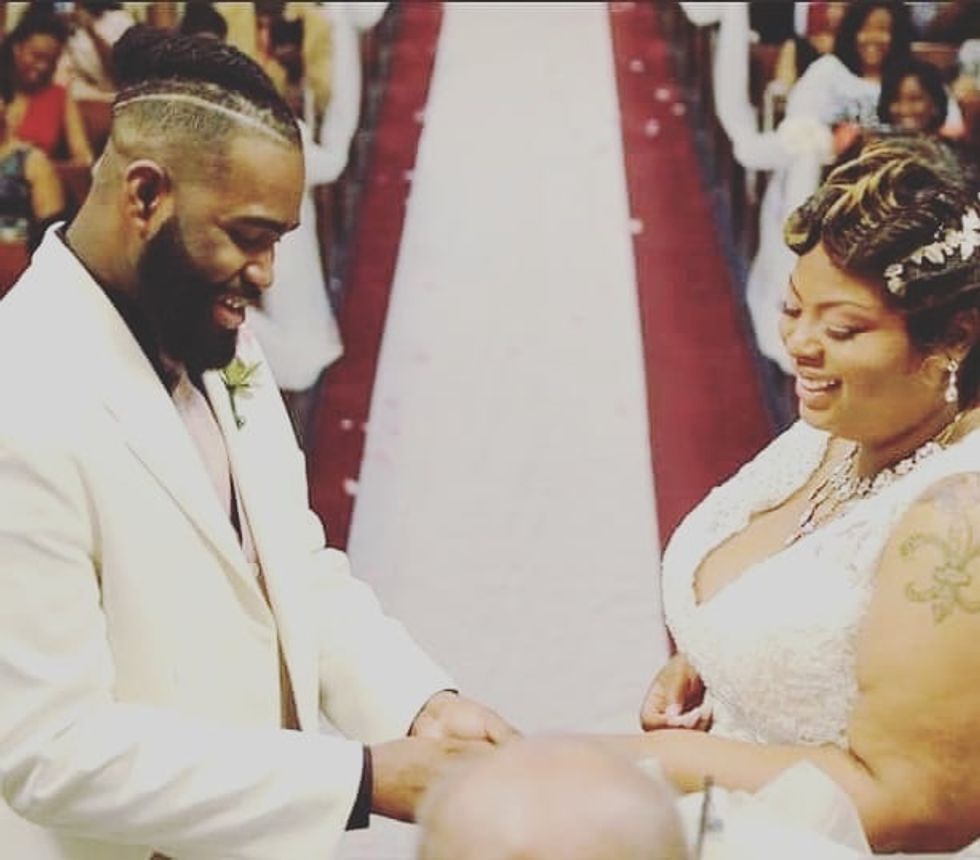 Maurisha Ross/Instagram
And this August, the two soulmates will be welcoming their first bundle of joy. Congrats to the beautiful couple!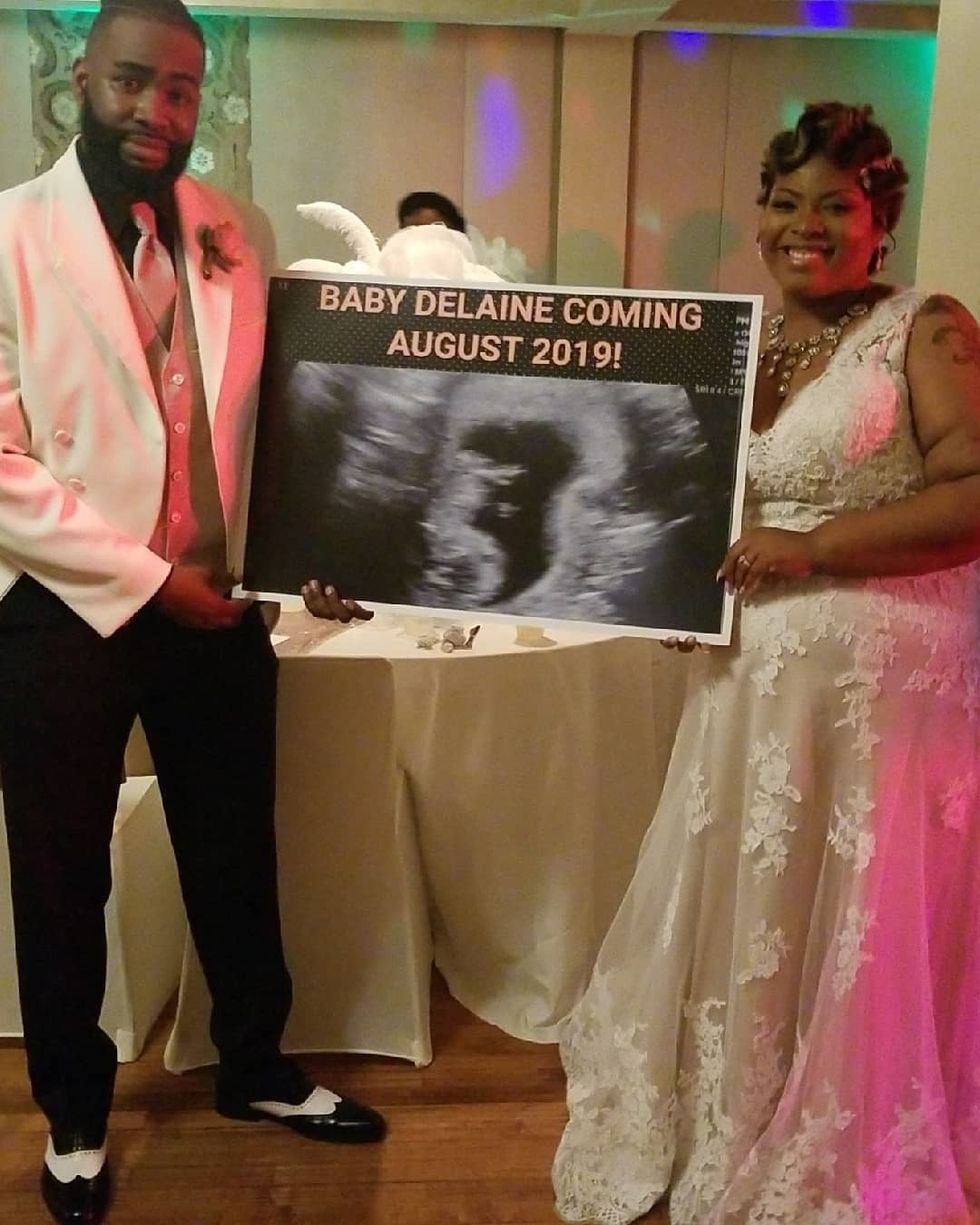 Maurisha Ross/Instagram
Originally published January 31, 2017; Article has since been updated.