The words "reality TV" used to make me cringe when they were used to describe the docuseries, Couples Therapy on Showtime, that my husband Dale and I took part in. I'm no reality television star. I've never thrown a drink in the face of an associate called 'friend' or confessed my disdain for another person during a pre-taped confessional. No, I'm just a woman, a mother, a wife – and ultimately a person that was desperate to have a positive impact on my marriage by any means possible.
---
To some it may be "entertainment," but for us, it is quite actually our reality that just so happens to be on TV, and without it, I am not sure where we would be today had we not taken this unconventional journey towards our healing and understanding. No, we are not "fixed," but we are fixated on being a better version of ourselves for the betterment of our marriage, ourselves, and our family.
When COVID-19 reared its ugly head and the world seemed to shut down all around us, my husband and I found ourselves left with the responsibility of looking within our relationship and making some difficult assertions. The fighting, the bickering, the misunderstandings – they all became too much and one day I found myself Googling in desperation for info on a therapist who could come to our aid. Because of the circumstances that we all found ourselves in with the lockdowns, that task proved to be impossible, and we were left to figure out things on our own; for better or for worse.
That's when we learned about the docuseries project, Couples Therapy. It was advertised as an in-depth look into the relationship dynamics of several couples, with a seasoned, licensed professional at the helm, guiding them to their collective healing.
At the time we had tried relationship therapy a couple of times before to not much success, but we knew that we needed some form of intervention to help guide us out of our own heads and emotions, and this program, though not specific to us at the time, seemed the best tool available to help us along our journey.
We both quickly became fans of the show, and more importantly, fans of psychologist and psychoanalyst Dr. Orna Guralnik, who seemed both patient and wise, as she offered insight and guidance to the couple on the show who seemed to be as much in crisis as Dale and I were at the time. Certain aspects of the show really hit home and before you knew it we were actually taking notes and engrossed in the show in a way that I hadn't expected.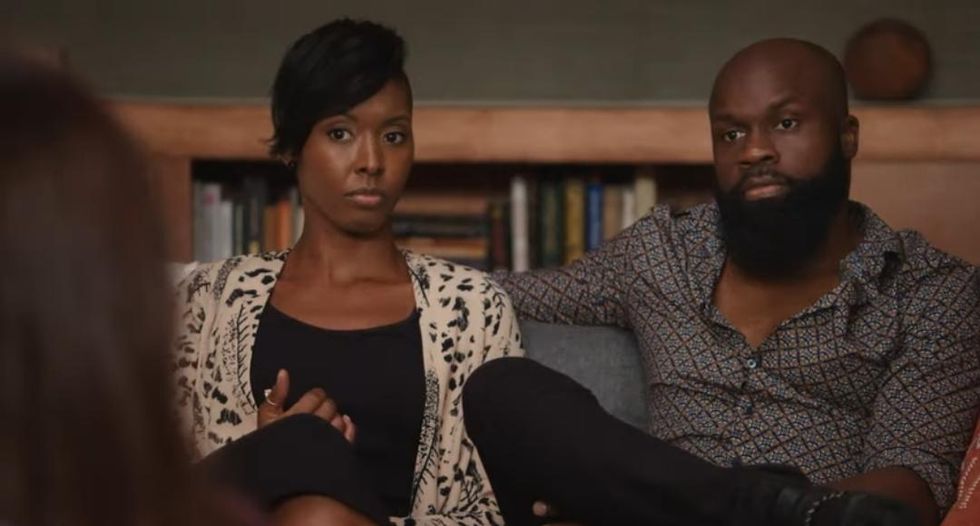 Courtesy of SHOWTIME
One day while perusing the internet an ad popped up, informing me that Showtime was on the hunt for participants for the third season of Couples Therapy.
Blame it on algorithms. Call it fate. Even regulate it to just dumb luck, but I took that as a sign that I should apply – and I did. Within a couple of weeks, we were contacted by someone on the production team for the show and after an arduous application process, we were finally chosen as one of the season's featured couples and before you knew it, we were laying our entire relationship on display for the world to consume.
Though I naturally had a bit of apprehension about what we were about to get ourselves into, I was ready to try anything to be the version of ourselves that we were when we said "I do" a mere year prior. We dove headfirst into the process and were open and honest in a way that genuinely surprised me, as did the result.
And what was that result?
For starters, I went into the process not knowing just how much work would be needed to be done on myself by myself. I tell people all the time that relationship therapy is 80% individual work and 20% couples therapy. You must commit to working on yourself and identifying the unhealthy patterns and traumas that have created what are now your personality traits. The coping mechanisms that we form due to the unaddressed issues that we hold on to from within are evident in everything that we do – from our relationships to how we view ourselves.
I knew that there were aspects of my personality that were a direct result of the experiences I've encountered throughout my life, but I never knew how profound the trauma response was when it came to who we are as people. I didn't consider many of the things that I went through as being traumatic, but that was simply because we were trained to normalize these occurrences and not give them the proper contextualization that they deserved. I learned how they not only impacted me but also how it impacted my husband and as a result, our marriage.
I also learned that you have to go into therapy with the goal of connecting with your spouse in a manner that is mutually beneficial and honest. At the time, I so wanted to be heard that I often found myself waiting for Dale to finish his thought just so I could defend myself or make my point. I wasn't listening, and neither was he and we played the tit-for-tat game mercilessly until Dr. Guralnik redirected our communication efforts and showed us how to speak and listen with intent and focus.
Couples Therapy showed me that as imperfect as my marriage is, it's mine and is something that I am proud of and am willing to fight for. No, we are not "healed," and no, all of our problems did not magically vanish from our union, but we left that experience with a new appreciation for each other and an understanding of how we may have gotten to the point that we found ourselves in, in the first place. Therapy changed the dynamics of who we individually were and as a result, our marriage and our family benefited greatly.
As Black folks, we tend to shun therapy and look at it as a process that would demonize and label us, instead of the life-changing, helpful tactic that it is. It's always frowned upon to "put your business out there" to be judged and criticized, and oftentimes we are left trying to figure things out on our own, bumbling around with no real direction when real help is only a phone call away.
Would I do it all over again if ever given the chance? Heck yeah! I walked out of that situation with a renewed, optimistic viewpoint of my marriage, and with the tools necessary to make it everything it was destined to be. Do we use those tools effectively daily? I would have to admit that we don't. But we are constantly growing and morphing into better versions of ourselves.
For that, I am thankful.
Featured image courtesy of SHOWTIME