---
Last Sunday kicked off this year's International Women's Month and what better way to do it than uplifting the little queens in our lives? This past weekend, an Instagram live video of an Atlanta hairdresser (who we now know as Shabria) speaking life into a beautiful brown-skinned girl named Ariyonna went viral and proved that not all heroes wear capes. In the video, Ariyonna is seen breaking down into tears after saying "I'm so ugly," which ultimately proved to be a touching moment for women across the internet. Shabria captioned the post:
"While doing her hair she had alllll the energy in the world then out of nowhere she stares at herself and gets soooo discouraged 😢 it broke my heart into pieces because she has the GREATEST energy and the most beautiful smile and heart ! She comes from a great home & loving mother . I just think when kids go to school they learn and pick up sooo much different things that they don't know the definition but they know the feeling ! Keep her in your prayers and keep lifting up our future!!!"

The video has since amassed millions of views and thousands of comments from celebrities like Jada Pinkett Smith, Michelle Obama, and Viola Davis, who expressed their mutual support for the young queen in heartfelt messages. Director Ava DuVernay wrote:
"In tears over this. Somebody told this child this and her heart broke and her confidence broke and she believed it. Thank God for this beautiful spirit in her life to tell her differently. This video shows how deeply we harm each other. And fully we can lift each other up."
Among Ariyonna's supporters was also Hair Love creator, Matthew A. Cherry, who launched a massive social campaign that rallied creatives to show their love for young Arianna through artwork and Black Twitter showed up and showed TF out, sis.
"You are beautiful. You are loved" The artwork of Ariyonna, the little girl who told her hairdresser… https://t.co/lTI0JNr4vg

— Dionne Grant (@Dionne Grant) 1583623175.0
While this year may have gotten off to a rocky start, I'm pleased to say that this is the type of wholesome, Black AF content I like to see on my timeline.

For more stories that are poppin' in the news this week, click below!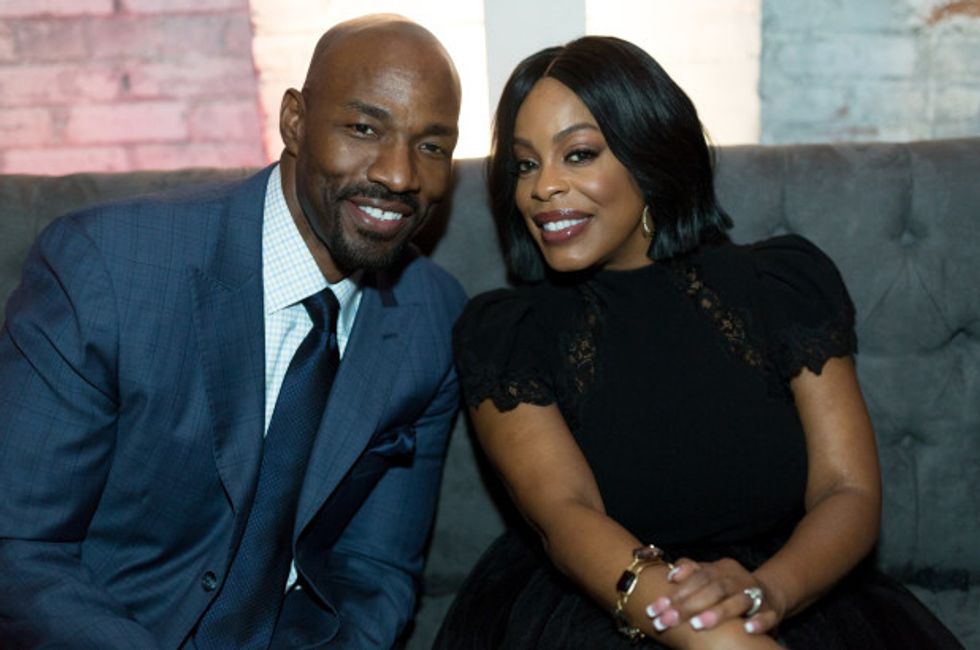 Getty Images
In October, Niecy Nash and her husband, Jay Tucker, announced their split after 8 years of marriage and this week, the couple seems to have amicably finalized their divorce, proving that not all breakups have to be bitter.
Page Six reports that in their separation, Niecy will retain ownership of their Bell Canyon California home and 2016 Tesla while Jay will walk away from the marriage with a 2011 Ford F-150 Truck and one final payment of $185,000 from his former spouse.
While the couple's romantic journey may have come to an end, they have done so as friends and both waived their rights to spousal support. They wrote in a joint statement on social media:
"Our union was such a gorgeous ride. And as we go our separate ways now, we feel fortunate for the love we share — present tense."
Omar Epps just teased a new movie with Mekhi Phifer and Larenz Tate and no one film should have all that chocolate.
In a cryptic Instagram post, the actor wrote:
"Been hard at work trying to create something incredibly special for all of you! We're one step closer... 💥🐐💥 Stay tuned...."
While we're not sure what these three have in the works, we're definitely here for all of it.
This viral Tik Tok video has gained more than a million views and 134K likes on Twitter and this Black beauty blogger is at the helm.
Jacinda Pender's lip tutorial series is everything we didn't know we needed and she recently sat down with Allure to break down the details behind her iconic glossing methods. She told the publication:
"This is [for] whenever I'm in the mood for a dark glossy lip look, which is rare. If I had the time, patience, and energy to rock this badass glossy ombré look, I definitely would. It's such a sexy look that radiates such strong dark, mysterious, and vampire energy."
In the post, Jacinda is seen applying the f*ck out of an ombre lip that is perfect for both a work slay or a night out on the town. Since the success of her short video, Jacinda says that fan support has done wonders for her career in the beauty industry.
"I just want to say THANK YOU guys for supporting my lip swatch series because it's allowing me to partner with companies that will remain nameless and opening doors for me, thank you."
To recreate the look, here's what you'll need:
Reports reveal that Indio, California officials are not here for your germs and will postpone Coachella until October due to the coronavirus outbreak. Coachella and Stagecoach are the latest major music festivals, following the Ultra Festival and Miami and SXSW 2020, that have been affected by the viral disease.
The announcements come as the list of confirmed cases of coronavirus in the U.S. rises to 116.
This unique hair trend is living proof that the internet was made for Black creatives. Don't @ me.
After seeing Ciara's stylist masterfully spell the word "melanin" in her hair, social media user Shanell Khan decided to recreate the look. Much to dismay, they don't sell block letters at the hair store. It was then when Shanell used her ingenuity to bring the celebrity-inspired look to life:
"I really missed my nephew and then it Hit me...That light bulb moment lol: [Children's] Wooden blocks. Like why didn't I think about this before? I ran to the store and I was soo happy when I stumbled across these with the letters already written on them (I was soo excited !!! I had a quick dance 😂🤣 my close friends know the excited dance 💃🏾 the workers at the store probably thought I was cray cray 😅😂🤣😅) I bought some brown beads and got a carpenter to make the huge round ones. Shout out to him!!"
Featured image by Instagram/@lilwavedaddy.