There's something special about a man that's willing to share his birthday with you.
When your boyfriend decides to propose on his day, you know he's the one.
---
Ashley and Chea didn't have marriage in mind when they began dating six years ago, but for the couple, being happy and committed to one another was their end goal. Ashley tells xoNecole her story of planning a birthday/going away party with her girlfriends for Chea, as the two planned to move across the country from Columbus, Ohio to Orange County, California.
In the midst of giving details to her loved ones, Ashley had no clue what was going on behind the scenes as Chea was planning to pop the big question on his own birthday. The couple let us in on one special someone who knew about the engagement all along–their six-year-old daughter, Amirah Lee, who was able to build a daddy-daughter bond over the big secret. Ashley also opens up about who she had envisioned marrying, but why she's more than content with who she's planning on spending the rest of her life with.
"I was set on marrying a black man that burned incense and listened to Lauryn Hill and Dwele in the late hours of the night like myself. Instead, Chea came into my life with every topical difference possible. Our souls have always been aligned and that is what spoke to our hearts when we met."
Grab a tissue, delve into Ashley and Chea's engagement story, and see just why she said yes.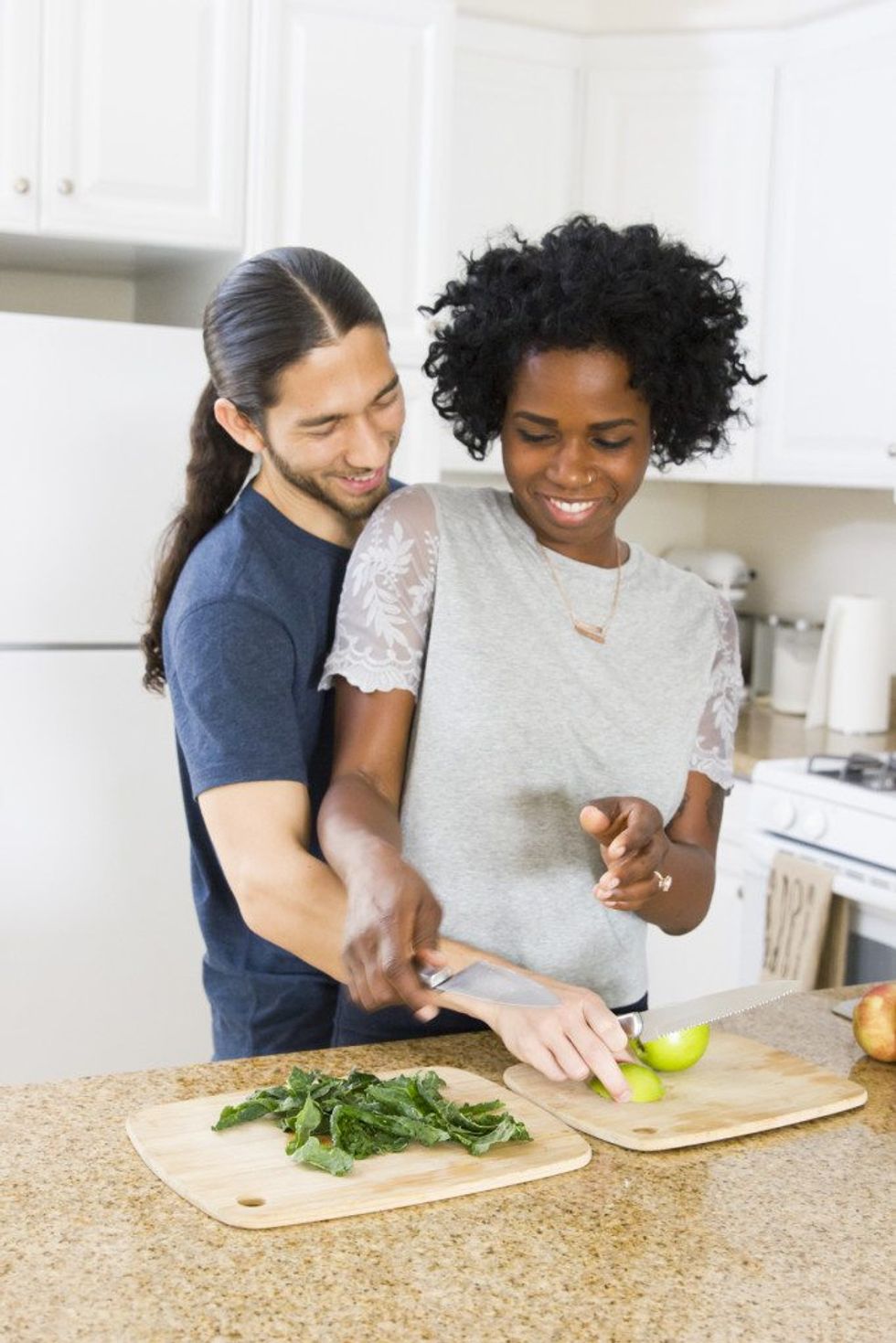 Coming from two totally different lifestyles growing up, what did you see in Ashley six years ago?
Chea: I saw a number of strengths in our differences. She is unmatched in her willingness to love and give. Her love and loyalty is so strong and honest. She gives all of herself to me and the people she loves. Seeing how she treats others is such a telling story of a person's nature. There is nobody more honest with their feelings than her.
This is an ability I learned in my youth. My parents are different; different ethnicity, nationality, personality, and age. My parents divorced when I was three-years-old, so there were two different parenting styles and lifestyles I was exposed to during my childhood. I picked the qualities that I agreed with from each parent like a la carte at the cafeteria. This is the culture that the younger generations exhibit–Generation A La Carte. Take what you want and make the best out of it.
In your story you said you had envisioned being with someone who was the opposite of who Chea is. When did you throw all of that out of the window and fall in love with him?
Ashley: Luckily for me, Chea and I were friends for about four years before we ever dated. I was able to get to know him on an honest and authentic level. I didn't even realize he liked me until one of my friends told me. He is one of those people who is nice to everyone so I never second guessed his gestures or advances. My mom is actually the person who told me to date him. She told me to, "forget about what I thought I wanted and to allow what God wanted for me to come into my life."
On a day where people came to celebrate you, you flipped the script and now share an engagement date on your birthday. Why did you decide to do it then?
Chea: In hindsight, there are so many reasons why it makes perfect sense. For starters, I'll never forget our engagement date and anniversary! But more importantly, the date was a great setting to share our news with everyone important to our family. People attended to celebrate my birthday and our going away party as we were moving the next week from Ohio to SoCal and after about six years, it was due time for me to ask Ashley to marry me. Basically everyone that needed to be there was in attendance, and I was able to surprise everybody with the engagement, and most importantly, Ashley with her ring.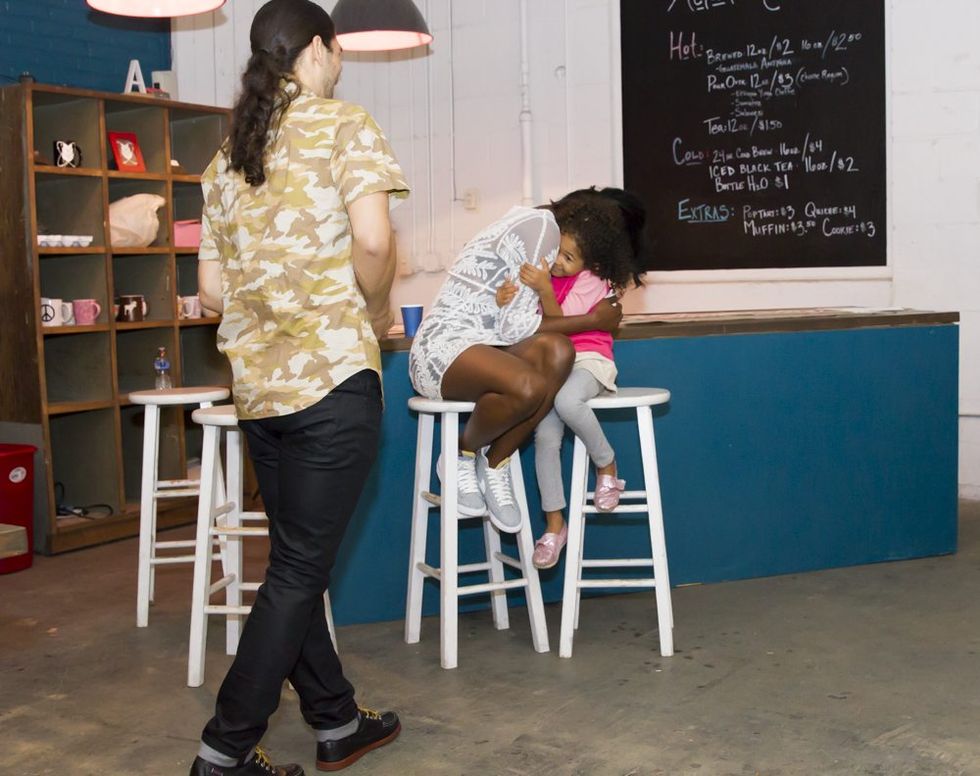 You were definitely surprised at the proposal. How were you feeling when he asked you to marry him?
Ashley: Well initially, I hid behind my six-year-old daughter because I was overwhelmed [laughs]. I honestly wasn't expecting him to ask me to marry him, especially because we were about to move across country for his new job. However, when I finally looked up and looked him in the eyes, I just felt loved. A very honest feeling of being honored by the man I dedicated myself to years ago.
How many people were in on the secret, and what did you say to your daughter to keep her quiet for so long?
Chea: Jerreau is one of our close friends that I brought in on the arrangements to make sure I addressed all of the fine details. Aside from the usual suspects being our parents, Amirah our daughter was the only other person that knew about the engagement ring. She was the first person to see the ring when I purchased it about two months before the engagement party. It was a risk telling her, but she is smart and mature enough that I saw it as a challenge for her. We talked about the importance of everything and it being a surprise. She loves being challenged and luckily she kept the secret well.
Give us a peek into your wedding day. What's it looking like? Are you going big or small?
Ashley: A peek into our wedding day would be a peek into our personalities and love. There will be 150 guests, bigger than I initially wanted but smaller than the 350-guest list it could have been. The best way to describe it would be an urban, industrial, vegan, earth friendly day. The reception and ceremony are both being held at Strongwater Food and Spirits in Columbus, Ohio our hometown. It has cement floors, exposed bricks and beams, bistro lighting and large windows. I'm doing a simplistic decoration of succulents and vintage books. A dessert table with all of Chea's favorite candy and Rum Mule as our signature drink. It will be laid back with lots of love, variations of tacos and really good music. I know our guest will leave feeling like they just left a party at our home–a very intimate wedding experience.
What do want your daughter to know about love?
Chea: Love is a byproduct of the positives you give in life to people, nature, the universe, etc. Love is the positives of living. So don't focus on finding love, focus on living your life with love. The rest will come.
Ashley: I want my daughter to always know that love is healing. Love is something that inspires you to be better and do better. An energy that holds you accountable and responsible for yourself and others. It can be challenging but never demeaning or destructive to your spirit or body. I want my daughter to know that as long she loves herself and from that comes respect, she will receive what she projects.
[Tweet "Don't focus on finding love, focus on living your life with love. The rest will come."]
Check out Ashley's big moment on Chea's big day below.
Do you have a tear jerking proposal story that you would like to share? Contact us at editor@xonecole.com, Subject 'Proposal Story.' Include photos and video (if possible)!