No matter how much you love your family, there are some things you will never (ever) discuss. According to Will Smith, unfortunately, most of those things are regular topics of discussion on his wife's show, Red Table Talk.
---
A few days ago, the most recent episode of the popular Facebook Watch series was released where Jada, her mother Adrienne, and her daughter Willow got real about the power of female masturbation.
While at the Red Table, Jada revealed that before meeting her husband and starting family, she was burdened with an unlikely addiction. The actress explained that her green dragon may not have been drugs or alcohol, but it certainly had horns:

"Back in the day I had a little porn addiction, but I wasn't in a relationship when I had a porn addiction, believe it or not, thank goodness… Maybe I'll say now that I had an unhealthy relationship to porn at one point in my life where I was trying to practice abstinence."
Jada explained that her habit of diddling Miss Daisy was likely the result of an internal or emotional conflict.
"It was actually, like, filling, like, an emptiness. At least you think it is, but it's actually not."
In fact, Jada said that based on her own experience, she can totally understand why male-centric sex has been the wave for so long. She explained that after doing some research on the effects of pornography, she has a better understanding of how watching too much of it can cause you to create unrealistic expectations for your mate.
"Actually reading, like, some of the effects of pornography, like the idea that it gives you false expectations as far as sexual interactions, I can definitely see that with men, how a woman should always be willing and ready. She should be ready to have sex however he wants, in any position, anywhere, and you should enjoy it no matter what. And it shouldn't just be joy, but it should be exhilaration."
She explained that in porn you don't have to worry about mess, inconvenience, or pleasing your partner for that matter. Although it may seem like a win-win, you can also be setting yourself up for a major loss.
"In pornography, you're never tired. There's never a 'no,' so I can definitely see how that can create an unrealistic expectation."
Needless to say, Will was not here for this publicly private and mildly uncomfortable conversation between his mother-in-law, wife, and daughter. Although Will has been extremely supportive of his wife's endeavor since the launch of her show, when he was asked about her comments on Jimmy Kimmel Live!, the charming character actor turned into a man of few words. He said: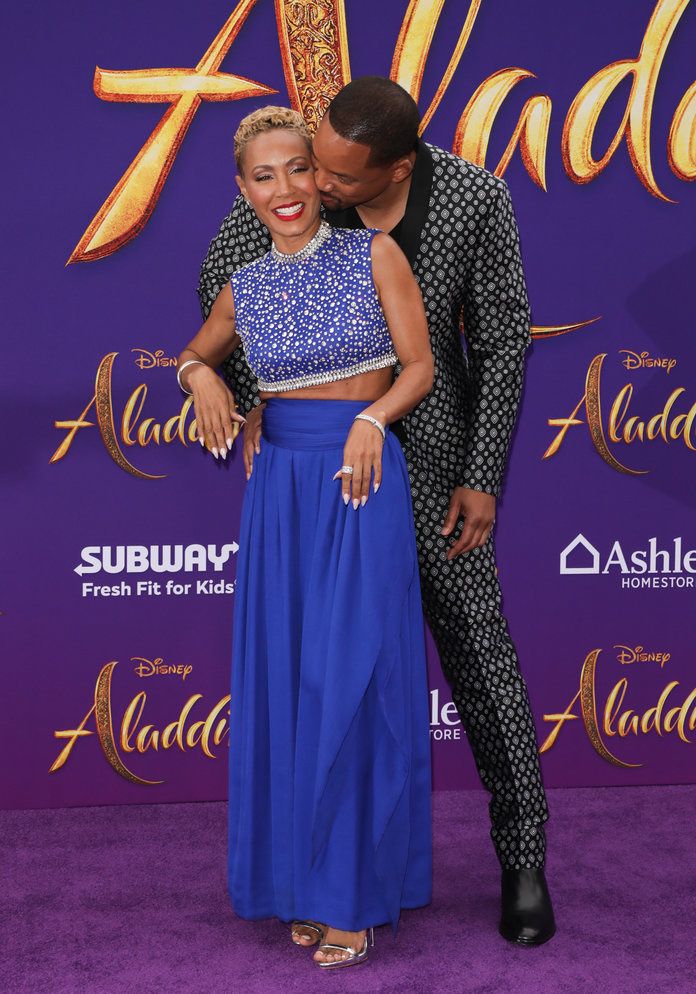 PAUL ARCHULETA/GETTY IMAGES
"No, I don't watch it. They're telling all our business. It's actually fantastic, the episodes I could bear. And they sit down, and it's really wide open, raw conversation across the generations about a cornucopia of topics."
Regardless of if her husband can manage to listen to these intimate conversations all the way through, Jada says that she's going to continue to take it there (and beyond). According to the 47-year-old Girl's Trip actress, the only things that are off-limits at the table are religion and politics; everything else will continue to be fair game. She explained:
"We're sharing our stories. We're sharing our experiences... We're just communing together... It's a safe space for vulnerability."
To watch the full Red Table Talk episode, click here!
Featured image by VALERIE MACON/GETTY IMAGES.