In 1998, a 23-year-old lyricist from South Orange, New Jersey released a project that would influence and inspire women of color for years to come. Every chance we play Lauryn Hill's record-breaking solo album, The Miseducation of Lauryn Hill, we experience the magic all over again.
The relevance of her first and only solo studio album is undeniable and is especially relevant to the narrative of women of color. The album takes us on an authentic and raw journey through what it means to be a Black woman. In commemoration of the album's anniversary, we've taken the time to give you an analytical track-by-track review of what Lauryn Hill's album meant and still means to women of color.

"Intro"
This 47-second track sets the scene for Lauryn's narrative, where a teacher, played by politician and poet Ras Baraka, takes attendance in a classroom setting. At the end of the role, Baraka calls Lauryn's name as the audio fades out. Her absence implies the overall theme of her "miseducation" in the project. Genius.com implies that this could be an analogy to her, like all of us, missing some of life's most important lessons by not staying present.
"Lost Ones"
"Lost Ones" is the audience's first time hearing Lauryn's signature Caribbean influence on the album, and also serves as one of the greatest diss tracks of all time. The subtle innuendos throughout the track elude to her messy break-up from a former lover, as well as her split with her longtime group members after leaving the Fugees. "Lost Ones" is a bold f*ck you and a testament to women's increasingly progressive emancipation from their oppressors.
"Ex-Factor"
The definition of insanity is continuing to do something repeatedly and expect a different result. We're all pretty f*cking crazy because I don't know one person who can't relate to the eerily familiar lyrics to "Ex-Factor."

"I keep letting you back in/ How can I explain myself?/ As painful as this thing has been/ I just can't be with no one else"
The song has been frequently sampled in popular songs, including recent hits like Drake's "Nice For What" and Cardi B.'s "Be Careful," frankly because it's so damn relevant. We are all guilty of being swindled of our hearts from someone who said they would die for us, leaving us to wonder: But would you live for me tho?
"To Zion"
"To Zion" answers a question that has been relevant to women since the dawn of time. Can we have both? Women are often told that once we decide to have a child, our professional and personal lives are no longer worth fulfillment. In the song, Lauryn candidly discusses the decision she made to keep her baby, Zion, despite her dreams, and in return, Zion has given her the greatest joy in her life.
Lauryn really lets all of her femininity hang out on this track. She refutes critics who told her to use her head, and did what women do best: used her heart. In this track, she depicts the love between mother and child and proves that this connection is the truest reflection of God's grace.
"Doo Wop (That Thing)"
This track is the quintessential 'check yourself, before you wreck yourself' anthem for people of color. "Doo Wop (That Thing)" is a requiem of protest for exploited black bodies, and the lyrics still ring true today; especially in the age of social media, where women are so often caught up in mainstream media's depiction of who we are supposed to be that we forget who we are.

"Superstar"
Now, this side of Lauryn, I love. Yes, we know her as the ultimate soul songstress of many generations, but she also spits heat on this album, yo. She checks the mainstream music industry for transforming hip-hop into an inauthentic commodity that encourages mark ass tricks that aren't true to the game to get a foot in the industry.
"Final Hour"
We see a more theoretical Lauryn on this track as she discusses the juxtaposition between spirituality and materialism. She continues to relay biblical references on this track and warns us to be careful about what we value. She mentions Psalms 73, which says that in the end, living a life close to God is imperative because prosperity, if evil, is temporary and will receive their judgment in the "final hour."
"When It Hurts So Bad"
So often, we are told to trust our gut. But everything that feels good, ain't good for you, sis. Lauryn touches on the vulnerability of a woman and her emotions, and how the combination will lead us to seek out things that aren't good for us. Lauryn loved a man, like we all did. But how often are we caught up chasing what we want so much that we miss out on what we truly needed.

"I Used to Love Him" (featuring Mary J. Blige)
This duet between the songstresses, who were both super hot and going through very public break-ups at the time of the album's release, was straight flames. Lauryn and Mary were faced with the conclusion that we all eventually have to realize: true love shouldn't hurt. The vocalists sung a tune of pain and redemption that is all too relevant to the realities of black women.
We dim our light for the sake of our lovers and over time we forget that we can shine without them.

By the end of the song, Mary and Lauryn find healing and strength in knowing that their life was more than being the lover of a foolish man and that their creator was in full control.
"Forgive Them Father"
This song depicts a story about the forgiving hearts of women. Although she has been oppressed and betrayed by those she loved, this song is a prayer that those who hurt her seek blessings. This is another nod to biblical context as she references Cain and Abel, as well as Jesus and Judas.
"Every City, Every Ghetto"

We dive into Lauryn's nostalgia and get a peek at her adolescence in this track. She reminisces about the challenges she encountered and the memories she garnered after growing up in what she calls "New Jerusalem."
Nothing Even Matters (featuring D'Angelo)
This song encompasses her overall theme that love conquers all. She and D'Angelo's soulful melody creates an image of intimacy that is relatable to anyone that's ever been in love.
"Everything Is Everything"
Lauryn hasn't shied away from getting political on 'em, and this track is no exception. The track discusses social injustice and the challenges that inner-city youth encounter daily. The song is host to a comforting message that even though things are f*cked up now, change will come eventually.

The track also features a young John Legend, who was virtually unknown at the time on the keys.
"The Miseducation of Lauryn Hill"
This song is about the progressively feminist idea that women should be able to choose their own destiny. She, like many of us, went out in the world to find herself and found out that the answer she was seeking was inside of her the whole time.
"Can't Take My Eyes Off You"
This Frankie Vallie and The 4 Seasons remake is a tribute to pure infatuation. "Can't Take My Eyes Off You" is not only a love song, but a piece of hardcore gentrification in the name of black love. What more can you ask for?
"Tell Him"
This is probably my favorite song on the album, as it relates to my own personal relationship with God and the man I plan to spend the rest of my life. To me, God is love. Love is patient, love is kind, and love is forgiving: the same qualities that I seek and hope to exhibit in my every relationship that I encounter. Lauryn compares the love that we share with others to the love that was shown when Jesus spared his life for us. That's pretty deep.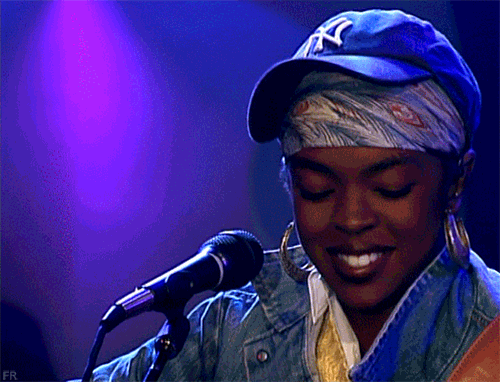 I grew into womanhood listening to this album, but only now can I understand why each song resonates so deeply with me. She was telling my story. I, too, have loved and been loved by a man, scorned and betrayed, and found my own piece and joy within myself.

Featured image by Giphy