Julia Rock
Julia C. Rock is a certified professional resume writer, employment interview professional, and career consultant. In 2013, Julia launched Rock Career Development to help job seekers and career changers take the guesswork out of the job search process and reach their career goals. For entrepreneurs looking to offer careers to others, Julia provides startup advice and guidance on available resources. Tapping into her finance roots, she also conducts financial literacy seminars for religious organizations and other local groups.
Looking at the title of this article, some of you might already have an answer in mind: No! Absolutely not. No way. That would just be foolish, right? Who would give up their steady paycheck in the middle of the healthcare apocalypse? But the truth is, it's a little more complicated than that. Given we spend the majority of our time at work on a daily basis, it's important to consider more than just the paycheck and benefits when you are assessing whether or not you should quit your job right now. If you're in the midst of making this decision, I've got you covered with some key things to think about or act on before taking the leap:
1

.

Consider why you want to quit your job.
Is it for a better opportunity? Is it due to a toxic work environment? Are you trying to avoid upcoming layoffs? Are you simply no longer happy? Is your mental health being affected? Determine the real reason you want to leave. It's important to be as honest with yourself as possible.
2

.

Evaluate other options before leaving. 
It's easy to hopscotch right into handing in a resignation, but I recommend evaluating what else can be done before walking out. All organizations have their challenges, and if the challenges where you are can be resolved, it saves you from taking on new issues at a company you're not familiar with. If it's your work subject matter that presents the issue, discuss your role with your manager to see if there are opportunities to shift your focus.
If your workload has increased significantly and you are unable to meet the new requirements, discuss with your supervisor what work needs to be prioritized, and what work can be distributed to the rest of the team. If it's an issue with your direct supervisor, investigate whether you can be moved to another team within the organization.
3

.

Determine your game plan. 
Create a defined path forward for leaving your job. Identify the companies and specific positions you may want to pursue. Conduct a self-evaluation to assess the work that you will find fulfilling in a new role. Take an inventory of your existing network and current connections to determine who may be able to make introductions at your potential employers or help you secure the new position. It's also important to revise your career documents (resume, LinkedIn profile, cover letter) to align with the positions you are applying for, incorporating relevant experiences and accomplishments to ensure you will be able to stand out in the candidate pool.
4

.

Assess your financial stability. 
Are you in a place right now where you can be unemployed for a period of time? Unless you have another secured offer in place in writing, quitting your job can prove to be risky from a financial standpoint. Determine whether or not you can take on the financial burden of being without employment for an undefined period of time, given there is no guarantee of when you will be able to lock in a new role. Evaluate whether you have an adequate amount of savings to sustain you while you're unemployed, as the job search can take anywhere from three to six months. If not, you may want to consider holding out at your workplace a little longer.
5

.

Evaluate the mental and emotional toll of finding new work. 
Given 2020 was an extremely difficult year, and 2021 may not see much improvement until probably Q2 or Q3, determine whether you are ready to take on the emotional impact of a job search and starting a new role. It takes time to get up to speed in a new role, earn credibility, and build new experience. Therefore, evaluate whether or not quitting your current role will bring you additional anxiety and stress in the midst of the pandemic.
So if you were seeking an easy "yes" or "no" answer to the question "Should you quit your job during a pandemic?", there isn't one. It truly is a personal decision based on your personal and professional goals. Yes, you can absolutely quit your job successfully during the pandemic because companies are still hiring, but it does require you to take time to evaluate your choices and weigh your options before leaving your job.
Are you a member of our insiders squad? Join us in the xoTribe Members Community today!
Featured image by Shutterstock
So you've made it through the application process and scored the interview. Great! But now what? Are you ready for the interview?
When it comes to finding the job of your dreams, applying for the job is only half the journey. Think of the interview as your opportunity to solidify a company's decision of hiring you. The interview process is their version of saying "maybe", which isn't a "no", so it's important to maximize their interest in you. For those of you intent on securing the dream job bag, the key is in the preparation. And to help you get prepared, here are three key tips you'll need to rock the interview and get that offer!
1

.

Research, Research, RESEARCH!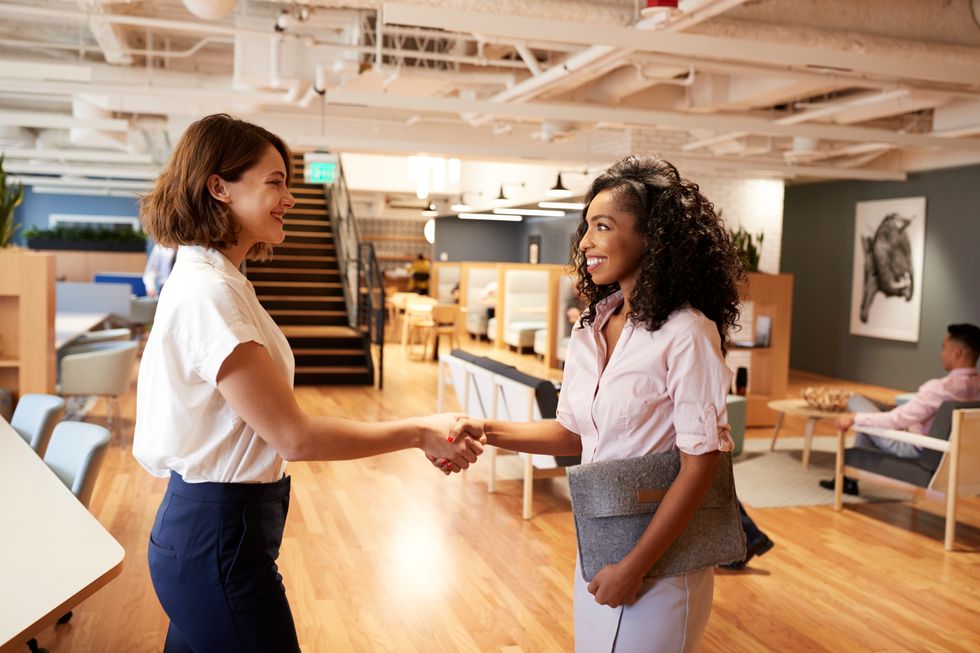 Getty Images
When you are preparing for an interview, the first major key to success is doing your homework. This doesn't mean just looking at the company website and the "About Us" section. Invest some real time into learning all that you can about the role itself, the company, and the overall industry. Read current news about the company in the press, talk to current and former employees, and gather insight from online forums and review platforms such as Glassdoor. Research industry trends and who the company's major competitors are.
If you are able to get the names of your interviewers in advance, read up on them as well! Take a look at their LinkedIn profiles to get a sense of not only their background and careers, but also any major initiatives they may currently be working on at the company.
Conducting this research will not only provide you with valuable information about the company's culture and values, i.e. "who" the company is, but also what their priorities are and what they look for in the candidates they hire. This helps you to anticipate some of the interview questions you may be asked and prepare confident answers.
In addition, as a segue to Tip #2, doing this research helps you to prepare thoughtful questions to ask your interviewer. It emphasizes that you've done your due diligence on the company and you have command of the industry subject matter.
2

.

Prepare To Ask The Right Questions
If you don't remember anything else that you read here, remember that you should never leave an interview without asking questions. EVER. Not asking questions shows a lack of preparation and interest. Not exactly the impression you want to leave on your interviewer, right?
But if you want to truly stand out from the other candidates and blow your interviewer away, you will need to ask insightful, thought-provoking questions that show you have done your research and have been diligent in learning about the company (and the interviewer). This means moving beyond the boring questions of "What's a typical day like?" or "What is the company culture?" Essentially, your questions should stimulate meaningful conversation with your interviewer.
Some good focus areas for your questions could be current changes at the company, competitive pressure and industry shifts, expectations for your role and your workgroup, and even the interviewer's career path. Here are a few of my favorite questions:
What does success look like in this role in the first 12-18 months? What are the first metrics you want to establish?
What excites you about the future of the company?
If I was to ask customers about the company, what do you think they would say?
I recently read about __________ in the news. How do you think that will impact the company's (growth/sales/expansion opportunities) in the short-term?
I saw that you have been here for __ years. What's the most important characteristic about the company that has kept your career here?
Each of these questions prompts the interviewer to think and deliver substantive answers vs. responding on autopilot.
3

.

Prepare To Communicate Your Value & Interest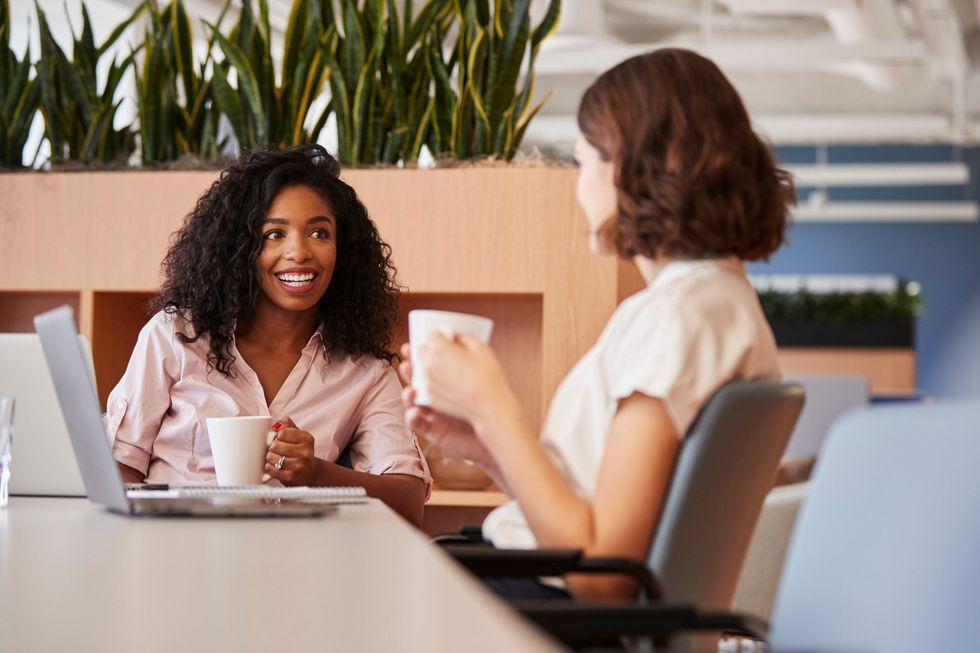 Getty Images
Not your typical interview tip, but probably one of the most important ones. The two most consequential questions that you will be asked in your interview are: 1) Why should we hire you? and 2) Why do you want to work here?
To clarify, you may not get asked those questions verbatim. But in most cases, your interviewers will find a way to ask those questions in one form or another. The reason is simple: They want to understand what you bring to the table and whether or not you truly want to work for them. So to be sure that you'll give rockstar answers to these questions, you will need to be prepared to communicate the value you deliver and the reason(s) this is your company and position of choice.
If you're wondering, "Well, how do I communicate my value?", this is honestly where you can "humble-brag" about your experience and major achievements. Applying for an Advertising Manager position? Highlight the fact that your last ad campaign increased sales by 25%. Looking to be a Finance Director? Discuss your cost optimization strategy that reduced operating expenses and improved profitability.
No matter the role you are going for, the key is to outline to the interviewer that you not only have the skills (because let's face it all the other candidates probably do too), but rather that you have translated those skills into meaningful contributions and RESULTS. This will help to set you apart from the other interviewees.
When it comes to communicating your interest in the company, you will want to have specific reasons. Vague answers such as "I am looking for a company that provides room for growth" or "I want to work for a diverse company" will not get you anywhere because they can apply to pretty much any other company in the market. The interviewer wants to know why you want to work THERE. So provide concrete, genuine examples based on your company research (there's that research again), and show how they align with your personal values and career goals.
Bonus:
Practice, and then practice even more!
You can prepare all you want, but if you don't practice, you may find yourself entering the interview room still lacking the confidence and poise you need. So take some time to rehearse the questions and answers. You can do it alone in the mirror or enlist the help of family and friends for mock interviews. The more you do something, the more natural it becomes. So the more you practice, the better your responses to the interview questions will flow. Practice will also help you to evaluate your posture and body language to ensure that your nonverbal cues are not off-putting or conveying the wrong message to the interviewer.
Preparing for an interview can feel time-consuming and potentially overwhelming. But remember that you're halfway there! They already like you, or else you wouldn't have gotten the interview. Just put these tips into action, and you'll be able to seal the deal and get the job offer!
For more information about Julia Rock, check out Rock Career Development or follow her on Instagram.
Want more stories like this? Sign up for our newsletter here and check out the related reads below:
21 Great Questions To Ask During A Job Interview
What To Ask A Potential Employer When Changing Careers
8 Tips To Update Your Résumé & Secure Your Dream Job
Originally published on July 1, 2019
If you're like me, you're probably running out of gas when it comes to working remotely. While it's convenient because you can roll out of bed and log into work, the lines have become very blurred between work and home. You end up working way more hours because there is no commute or true lunch hour to break up the day, and you can work until late at night and just get back into bed. Worst of all, your day is filled with back-to-back Zoom meetings where people don't know how to use the unmute button or chat function effectively. (How are they STILL struggling?)
After eight months of this routine, burnout may be starting to creep in. If you're wondering what you can do to better manage those feelings of exhaustion and overwhelm, I've got you covered! Here are some key tips that can help you stay energized:
1

.

Create calendar boundaries.
Don't go straight from your bed to your desk and log on to your laptop. Block time at the beginning of your day to have breakfast, work out, or just breathe. Don't answer any emails or schedule any meetings during that time. If someone seeks to schedule over your time, provide them with an alternate time block. If you're someone who needs to work late, block some time in your afternoon as well to ensure you're breaking up your day, giving your body and eyes a break, and you can refresh your brain before hopping back into it. You will not be able to work at your peak performance (or enthusiasm) level if you're working for 8+ hours without coming up for air.
2

.

Prioritize your work schedule.
You don't have to get ALL the things done at the same time. Speak with your manager to understand what work truly needs to be done and when. Understand what decisions are being driven by the tasks you're doing so you can put those items to the top of the to-do list. For the other items that are "nice-to-haves" but not essentials, you can put them lower on the priority list and get to them later. Prioritizing will allow you to better manage your workday so you can create balance and not unnecessarily overwork yourself.
3

.

Begin taking real lunch breaks.
Don't just hurriedly throw something in the microwave and continue multitasking. Block your calendar for your lunch hour, and actually go eat elsewhere. Sit at your kitchen table or on your patio. If your favorite lunch place is open for pickup, physically go and get your order (socially-distanced with a mask of course!) Take that time to rest your eyes from computer and phone screens and just enjoy the break.
4

.

Analyze your work schedule, and ask for something more flexible.
You may have heard this saying before: "We have not because we ask not." If you take an inventory of your work day, and you realize how it's currently scheduled is keeping you stressed and unproductive, ask your manager if there is an opportunity to modify your work times. Can you start later or earlier? Will that impact your deliverables or clients/work groups you serve? If the answer to both questions is "no", there is no reason why you can convert to a more flexible arrangement.
5

.

Get up and get ready. 
Make the choice some days to get out of bed a little earlier, shower and get fully dressed. Put on a full face of makeup and style your hair as if you were going out to the office. It seems simple, but this tactic can help you to feel refreshed and break up the monotony of being a workhouse in pajamas. You feel that extra burst of energy when you're dressed like a boss.
6

.

TAKE YOUR VACATION TIME!
If you have skipped over all my other tips, please read this one. Many of us have justified not taking vacation this year because we're in quarantine and can't REALLY go anywhere safely. But the fact is, you have PTO/vacation time for a reason. Just because you aren't physically going into the office doesn't mean you don't need a break away from work. And you don't have to justify taking your earned or allotted time off. It's part of your benefits package for you to use to its full extent. Even if you aren't ready to take a full week off or anything, just give yourself a day or two to relax. No work calls, emails, meetings, nothing. Just time for you to rest, relax and recharge.
While working remotely does offer many benefits, if we aren't careful, we may find both our mental and physical health suffering as a result. The major key to successfully managing (or better yet, avoiding) burnout is to prioritize self-care and setting boundaries. You are not a machine. Don't work yourself like one.
To learn more about Julia Rock, connect with her on Twitteror check out her company website, Rock Career Development.
Featured image by Shutterstock
For the longest time, LinkedIn was a relatively bland, ultra-professional, and let's just be honest, mostly white/non-POC social networking platform. You would see people share dry job updates, industry articles, with the occasional thoughtful quote sprinkled in. Now, LinkedIn looks very different. The content has become a lot more social and personal in nature, particularly as the global pandemic has kept us confined to our homes, forcing us to use virtual platforms to stay connected with one another.
This has opened the door for more intense and provocative topics typically left for platforms like Twitter and Facebook to take center stage. Enter Black LinkedIn.
In light of the tragic events we've seen this year in the deaths of George Floyd, Breonna Taylor, and Ahmaud Arbery, Black professionals are leading the charge on LinkedIn in sharing more fiery content, speaking out against racism, discrimination, and injustice, both in the workplace and in society. Being able to vent on LinkedIn created a space for Black professionals to grieve publicly about the events around us, get much-needed support, and create greater awareness for other racial groups.
Up until now, many of us were suffering in silence at work or just commiserating with small groups of friends, in text chats, etc. Now through LinkedIn, we are able to connect with the broader Black population around the world, those who have encountered similar situations, share our same feelings, and further amplify each other's voices to ensure we are being heard. This has sparked conversations with company leaders, business owners, and entrepreneurs of all races, shining a light on what the Black employees in their ranks are feeling on a daily basis while being expected to come to work and give 100%.
While in some cases, it appears that LinkedIn may have tried to silence some of our voices through content erasure or throttling, Black people have still continued posting unapologetically about our experiences.
You may be thinking "Well this is great, Julia. Thanks for sharing. But how do I actually get plugged into this space on LinkedIn, sis? Where do I get started?" Don't worry, I got you covered! Here are a few tips to help you tap into this network:
1

.

Start following and connecting with those who are helping to drive these important conversations around the Black experience.
Here are some folks who immediately come to mind:
Aaisha Joseph - Diversity advocate
Minda Harts – Best-selling author and advocate for women of color
Latesha Byrd – Career Coach and Talent Development Consultant
Keep in mind that some of the powerful Black people that you follow on other social media platforms also have very strong LinkedIn followings as well, and their posts can be forums for good discussions as well as finding others to connect with. You can then transition some of the conversations beyond LinkedIn to actual conversations or Zoom calls where you can further build relationships.
2

.

Search and follow relevant hashtags to see where the conversations are happening.
Some ideas are: #blacklinkedin (yes, there is a hashtag for Black LinkedIn), #diversity, #inclusion, #diversityandinclusion, #blacklivesmatter, #blackprofessionals, and #blackwomen. Don't be alarmed if there aren't thousands of followers on the hashtag itself. Review the content of the posts with the hashtag and also see WHO'S posting the content. You can also use the hashtags when you are posting content so that other Black professionals can also find and connect with you.
Remember, LinkedIn is not just about what you can get from the platform, but what you can offer.
3

.

Join groups and follow company pages focused on Black professionals. 
You can literally type in "Black professional" into the search bar on LinkedIn and find PAGES of groups and companies focused on the Black experience in corporate and in business. There are groups by geographic location/city, industry, etc. Take some time to review the company pages and check out some of these groups to participate in some of the conversations. If there are groups in your specific area, this may provide you with an opportunity to build your local network of Black professionals that you can connect with in person (socially-distanced, of course).
Are you a member of our insiders squad? Join us in the xoTribe Members Community today!
Featured image by Shutterstock
Ever feel like you've been completely forgotten at work? You're working all these long hours, continuing to execute, but it seems like no one is taking notice. You've made it clear that you're ready for the next step (and you've got the outstanding work product to support it), but still it doesn't seem like your voice is being heard.
Particularly with coronavirus still dragging on and many of us still very disconnected from our work teams, it's easy to get lost in the shuffle and feel overlooked. But is there anything you can do about it? Absolutely! I've got five options you can explore to help you get back on the radar:
Option 1: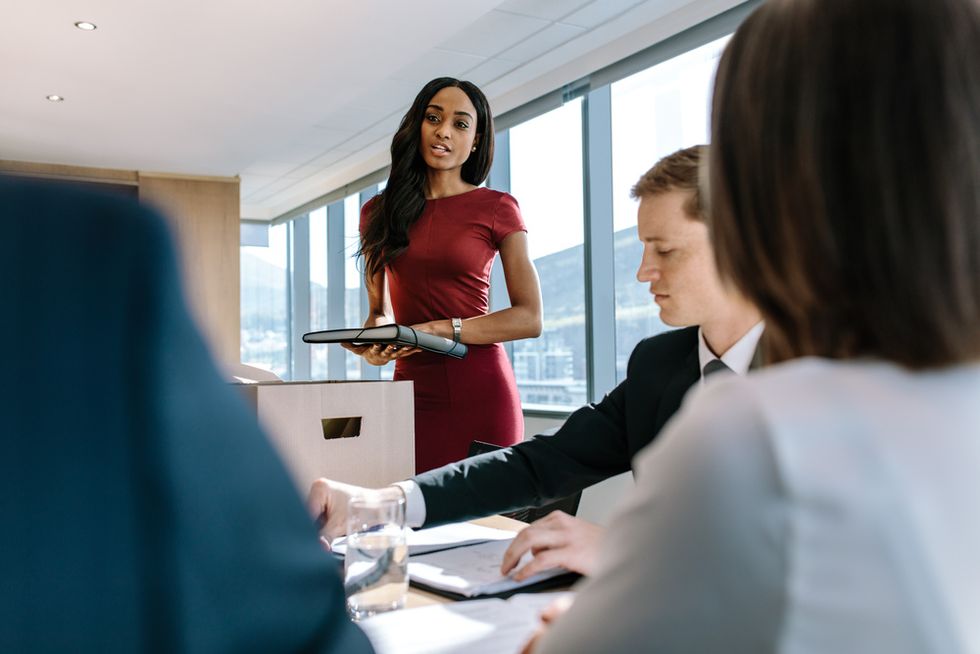 Shutterstock
Schedule a reconnect meeting with your immediate supervisor. Whether you're still working virtually or you're back in a physical office, get on your boss' calendar. In advance of the meeting, prepare your worklist, the status of outstanding items, and the results you've already delivered on your tasks or initiatives. This conversation will allow you to showcase the work you have done, but also make your boss aware of the areas where you need their support to be successful. It's on you to be proactive in engaging your supervisor if you're not receiving what you need.
Option 2: 
If you don't feel like the reconnect meeting is sufficient, schedule an update meeting with your supervisor and THEIR boss on one of your prominent or most impactful work items. If you have a hierarchical structure at your workplace and you don't want your boss to feel like you're going around and/or above them, discuss it informally before scheduling to let them know what you would like to cover in the meeting and WHY you think it's important. Your suggestion to meet with their boss may spur some renewed interest from your supervisor and kickstart the collaboration or support you have been missing.
Option 3: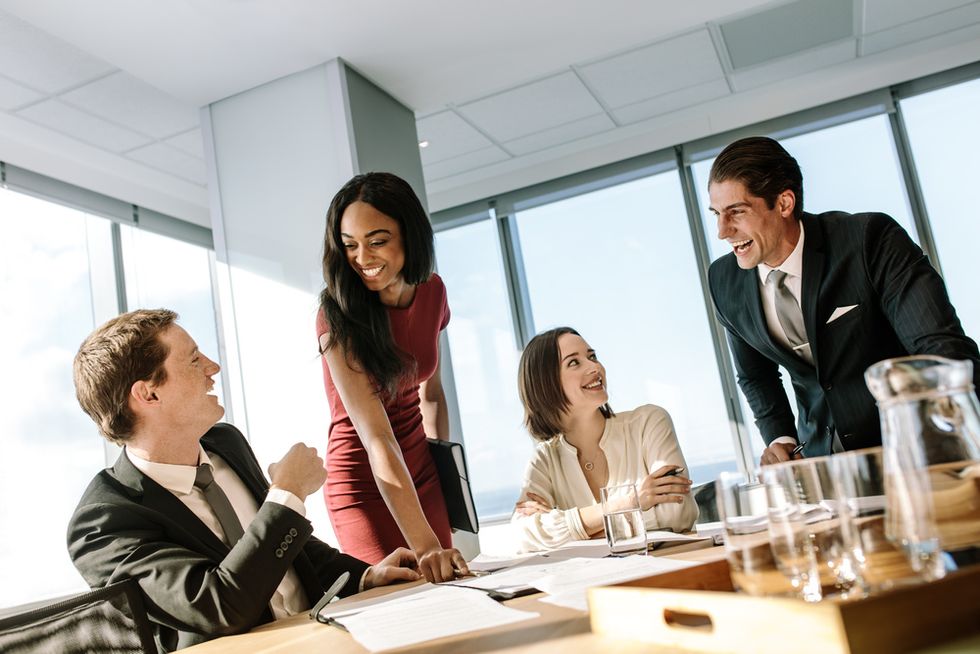 Shutterstock
Let's say you don't feel like the reconnect option with your supervisor or the update meeting with management are feasible to do alone. Another option is to partner with some of your other coworkers who may be working on similar or related projects to then create a joint review session with management. While the attention will not be solely on you, your work can be seen alongside others and can potentially spark separate conversations as management seeks to gain better insight into the results each of you have delivered.
Option 4: 
But what if collaborating with your coworkers on a joint review session isn't practical? Block some time to speak with your sponsor (if you have one at your company) about your current position and the roadblocks you are facing. Leveraging your sponsor's expertise and guidance can help you to think through solutions that may not have initially come to you. Also, given your sponsor is typically someone with what I call "corporate clout", they can tap into their networks at their level and help facilitate some additional "motivation" for your direct management to better engage with you and become more involved in your progress. Remember, your sponsor wants to see you be successful, so don't be afraid to use that lifeline.
Option 5: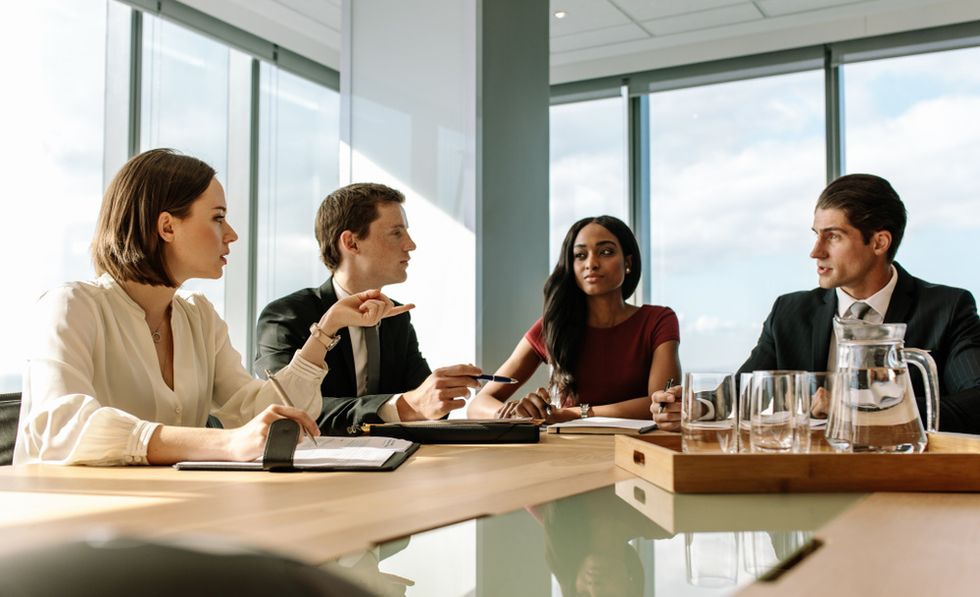 Shutterstock
"Julia! I don't have a mentor or a sponsor. What else can I do?" If you have a TRUSTED colleague at work (I repeat, trusted. You don't tell your business to just anybody), particularly someone who has been with the company a while and understands the management culture and unwritten rules, confide in them about how you're feeling. This person can help you to think through other contacts to meet with or ideas on how to better present your work product to ensure it gets the right attention from management. They can also share their network with you to help you find the sponsors and mentors you need, not just to resolve your immediate concerns, but also to provide support throughout your career at that organization.
I know it's frustrating to sit at your desk every day and feel like no one cares about the work you're putting in. But the fact is, YOU do. So use one of the above options to take ownership of your progress and proactively push for the attention and development you deserve. Even if you are planning to quit, you still owe it to yourself to get the recognition and resources you've earned while you're still at your current employer.
Never forget that you don't have to take things lying down. Stand up for your own career!
Featured image by Shutterstock
Picture it: You have reached the end of your job interview, and you think you nailed it.
You answered all of the questions confidently, and you had amazing answers for the two big ones: "Tell me about yourself" and "Why should we hire you?" Right before the interviewer ends the conversation and walks you out, they ask, "Do you have any questions for me?" Your response is, "No, I think we covered everything in our discussion. Thank you!" You leave, just knowing that you're going to get a callback. But you don't, and you're left to wonder why. The truth is, even though you may have initially wowed the interviewer, if you leave without asking them any questions, that can be your deal-breaker.
Asking questions at the end of your job interview can make the difference between scoring the job offer and receiving the automated "Thanks for your interest, but…" email.
Keep the Same Energy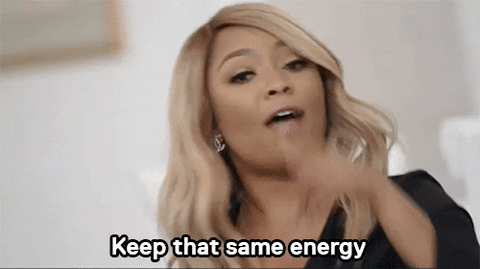 You may be asking why asking questions is important. Remember that an interview is essentially a professional first date. Two (or more) people come together to get to know each other, and they evaluate whether or not they are a fit for one another. If you go on a date, and you are the only one showing genuine interest, asking questions, showing that you've done your research, you may not be inclined to pursue the relationship any further. This is especially true if the person initially showed their curiosity about you before the date. The same applies for a job interview.
If you submitted a compelling application for a position at this company, and you've been selected for the interview, the company is expecting you to bring the same level of enthusiasm they saw on paper INTO the interview room. If the conversation ends up being one-sided, it indicates that you are not truly interested and you are not eager to learn more about them. It also gives the impression that you haven't taken the time to do more research to learn about them, reiterating the apparent lack of interest. At that point, they may no longer seek to bring you into the role as they are not only looking for skills, but also excitement about the opportunity.
Tailor the Interview Questions Accordingly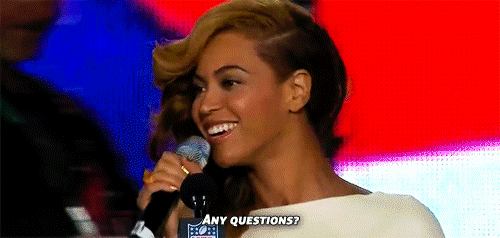 But I want to make sure that we're clear here: This does not mean you should just ask ANY questions of your interviewer. There are certain questions that should be addressed once you actually receive an offer, and then other questions that should wait until after you start the job. For example, the interview is not the place to ask detailed questions about the pay structure or the benefits package options. Those questions are best left until AFTER you have secured the position. The interview is where you can ask thoughtful questions about the role, the team, and the company. Back to our first date example: If the person is already asking about when you can move in together and when they can meet your parents and you haven't even decided to become a couple, it would be a huge turn-off, right? If the company has not yet agreed to offer you a job, and already you want a breakdown of what you can get out of them, it can rub them the wrong way.
However, if you need some ideas as to what kind of questions to ask, I have got you covered! You can check out another one of my other articles where I provide some of my favorite questions to ask in an interview. Below are a few more:

What are the skills/traits that your ideal candidate would have?
What are the most pressing/immediate tasks or projects to be addressed in this role?
What are some of the biggest challenges that someone in this position would face?
In your opinion, what sets XYZ Company apart from its competition in the marketplace?
Where do you see the company heading in the next five years?
What is the biggest change that you have seen at the company since you got hired?
It is imperative for you to deliver in the interview, providing outstanding answers to the interviewer's questions, and building rapport and highlighting your expertise. This is the reason advance preparation is critically important. But be sure to plan out your own questions to ask. This not only demonstrates your genuine excitement about the position, it also gives you one last shot to leave a memorable impression on your interviewer and give yourself an edge in the applicant pool!
Join our xoTribe, an exclusive community dedicated to YOU and your stories and all things xoNecole. Be a part of a growing community of women from all over the world who come together to uplift, inspire, and inform each other on all things related to the glow up. We drop xoNecole events and special opportunities into our Tribe first.
Featured image by Shutterstock

Article originally published on December 16, 2019.