Growing up in a Black household, I was taught that my butt should never grace the surface of a public toilet (if you know, you know). Even when I was a little girl, my mom made sure I knew to cautiously drape the commode with enough toilet paper so I wouldn't feel even an inch of the germ-laden porcelain. I mean, it was serious business.
And as an adult, squatting over a public toilet is practically second nature. When nature calls, I don't even think twice about it. The mere thought of my naked tush touching a toilet that has been sat on by hundreds (thousands?) of others is enough to make my stomach turn.
However, thanks to social media, I've learned that hovering over the toilet while going number one (and probably number two), can actually cause more harm than good. We've enlisted the expertise of Dr. Mukta Chauhan, DPT, pelvic floor physical therapist, and Dr. Sabrina Baxter, DPT, pelvic floor specialist, for their insight on this restroom woe.
​Can sitting on a public toilet cause harm to the skin?
"I would just say that the idea of sitting on a toilet seat with your bare skin and especially not knowing the hygiene condition of the toilet or how the person before you used the toilet…you can feel a little squeamish about it. I admit I am one of those people," Dr. Mukta said. "[But] we have millions of microorganisms that live on our skin anyway. So, it's not like we are harming ourselves by contracting more germs. But obviously, we want to stay clean. So, I personally like to either wipe the toilet seat or put toilet paper on top of it."

"But if people are mostly concerned about catching an infection [such as UTIs or yeast infections], your vulva is not coming in contact with the seat. It's a completely untouched part when you're sitting on the toilet," Dr. Mukta continued. "It's your thighs or the outer part of your butt that's touching the toilet seat. You're not going to catch an infection unless you have an open wound or something like that on your skin. Then you may have to be extra careful. But other than that, under normal circumstances, you're not going to catch an infection by sitting on a toilet seat."
​I've read that squatting while using the restroom can be detrimental to pelvic health. Is this true?
"I wouldn't call it detrimental – I myself have done it on occasion," Dr. Baxter said. "But I wouldn't make this a habit. Your pelvic floor muscles want to relax when you are ready to let go. [For example], when it's time to pee and poop, your muscles want to be turned off so that you can easily evaluate. Hovering over the toilet constantly can cause the muscles to work overtime, fatigue them and contribute to weakness down the road."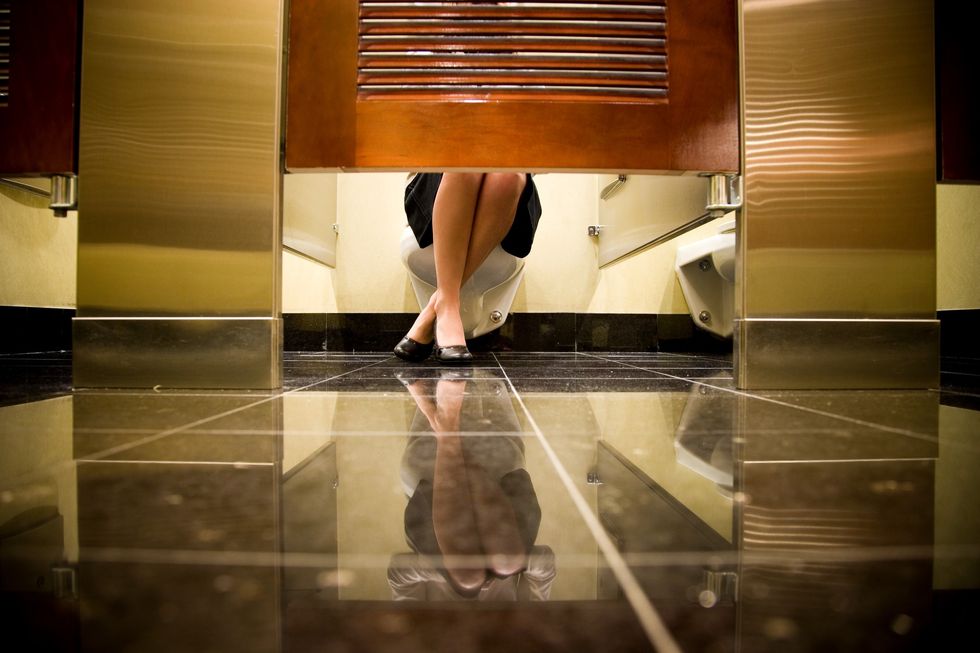 Getty Images
What does the pelvic floor consist of?
"The pelvic floor is a set of muscles that act as a hammock on the bottom of the pelvis," Dr. Baxter described. She explained that the pelvic floor is responsible for the five major functions below:
Sphincter control, [which refers to the] opening and closing of the urinary and anal sphincters
Sexual function ("Yes, better pelvic health means better orgasms!")
Stabilization, [which] stabilizes your pelvis, hips, and low back
Internal organs support ("Don't strain when you pee or poop-- you could cause a prolapse!")
"Sump pump," [which] circulates lymph, blood, oxygen, and nutrients
"Squatting over a toilet – especially if you don't have good strength in your legs – means that you won't be able to hold that position well without the help of your pelvic floor muscles," Dr.Mukta clarified. "Your pelvic floor muscles are actually contracting and stabilizing your posture and [you] are not going to be able to completely relax for you to void. The reason why we have some people develop similar symptoms as a UTI if they continuously use the toilet in a squat position is because of pelvic floor dysfunction."
​What is pelvic floor dysfunction?
"Pelvic floor dysfunction is basically when the pelvic floor muscles stay in a state of hyperactivity or overactivity for various reasons. [It occurs] when these muscles are not working at their optimum level," Dr. Mukta explained. "People think that leaking only happens when the pelvic floor muscles are weak, but a tight pelvic floor can cause leaking – if it's tight, it's not going to be able to completely close. Leaking, urgency [and] frequency, constipation, pelvic pain, nerve issues, burning sensations, pain with sitting, lower back pain, hip pain, groin pain, and buttock pain, can all happen because of pelvic floor dysfunction."
"And people may also realize that when they are hovering, they may have to push the pee out rather than keep it coming out naturally," Dr. Mukta noted. "That's just an indication that their pelvic floor muscles are not completely relaxed. You need to sit down completely so the pelvic floor muscles are able to relax so you can void fully. If you have any pain or burning sensations, leaking, urgency/frequency kind of symptoms, just go see a pelvic floor physical therapist."
Let's make things inbox official! Sign up for the xoNecole newsletter for daily love, wellness, career, and exclusive content delivered straight to your inbox.
Featured image by urbazon/Getty Images
If you're anything like me, moisturizing your body every day is a must. However, I must admit that the thought of oiling up my belly button has never, ever crossed my mind. I was recently scrolling on TikTok when I came across a video of a woman rubbing her navel with oil while discussing the benefits of doing so. Once I heard that it could ease menstrual cramps, my interest was immediately piqued. She also claimed that navel oil therapy can help with dry lips, problem skin, and fertility issues. As a lover of holistic healing, I decided to take a look into this.
This method, originally known as the Pechoti method or Nabhi Chikitsa, is an ancient Ayurvedic practice and believers claim that it can detoxify, nurture, and treat ailments in the body. According to the National Center for Complementary and Integrative Health, Ayurveda is an Indian holistic medical system "that's based on ancient writings that rely on a natural and holistic approach to physical and mental health."
Ayurveda practitioner, therapist, and holistic wellness educator, Navi Gill, describes this ancient therapy practice and how it can benefit everyday lifestyles.
Q: What's the importance of oiling the navel?
A: In Ayurveda, the practice of oiling the navel is an ancient one and a part of the therapies called Nabhi (navel) Chikitsa (treatment). The Nabhi is a vital energy point or center.
During pregnancy, the umbilical cord supplies nourishment to the child along with the surrounding blood vessels. These blood vessels also supply nutrients and blood supply to our extremities therefore it is also considered to be a very powerful and sacred physical and spiritual area of the body.
Q: Are there different oils for different purposes? 
​A: Always consult with a practitioner before starting to know what oil is best for you, but unprocessed sesame, sunflower, or coconut oil and ghee are generally okay to use. We don't typically use essential oils but if you do, you must dilute in a carrier oil before applying, never apply essential oils directly to the belly button.
For nourishment and reduction of anxiety and digestion issues, use warm ghee/clarified butter
For overall skin radiance, use almond oil or coconut oil
For inflammatory conditions such as rashes or acne, use neem oil
For cramping, use castor oil or ghee (you can add lavender, ginger, or rose)
Q: What are the different methods of applying oil to the belly button?
A: Nabhi Poorana or Purana: Pooling the navel cavity/depression with a warm herbal or medicated oil or even ghee (clarified butter).
Nabhi Basti: Building a circular well with black gram or chickpea flour and retaining warm medicated oil in the region for a period of time. This is usually done by an Ayurveda practitioner/therapist.
Nabhi Lepa: Lepa means paste, and in Nabhi Lepa, a medicated paste of herbs is applied to the navel area for a period of time.
Q: What are the benefits of oiling your belly button?
A: The benefits depend on the symptom we are trying to resolve, the type of oil used, and the person's constitutional nature. Typically feeling grounded, nourished, calm, clear, and relaxed are some of the benefits.

In Ayurveda, warm oil is used as a carrier for medicinal herbs to be absorbed deeper into the body. Typically, Nabhi Basti and Poorana are very supportive for Vata-related imbalances including gas, constipation, bloating, painful cramping, indigestion, and IBS symptoms.
Q: Is it safe to oil the navel? And how often should the navel be oiled?
​A: In Ayurveda, everything is done as a prescribed therapy and under the care of an Ayurveda doctor, practitioner, or therapist. As a general rule always check with your practitioner before starting and avoid any therapies during acute symptoms if you are practicing on your own as it may further aggravate your symptoms.
Q: How can one practice the Pechoti method? 
A: On an empty stomach or at least two hours after eating, use warm ghee or recommended oil for your symptoms, lay on your back and pool or apply a few drops to the belly button, and leave the oil in the belly button for 15 to 20 minutes. Gently massage the remaining oil onto the abdomen in a clockwise motion for a few minutes.
Then place a small ball gently only far enough to retain some oil and prevent staining of your clothing from the oil. To be on the safe side, wear something you would not mind getting stained like an old sleep or nightshirt. Leave the oil on overnight and shower as normal in the morning.
For menstruation, it's best to do this 5 to 7 days prior to the start of the cycle. During the cycle, we generally avoid any detoxification therapies as the body is already undergoing a cleansing process. For pregnancy, it's also best to avoid any practices unless advised by your healthcare practitioner.
Let's make things inbox official! Sign up for the xoNecole newsletter for daily love, wellness, career, and exclusive content delivered straight to your inbox.
Featured image by FG Trade/Getty Images
Whether you're getting dolled up to celebrate V-Day with your S.O. or staying in for a much-needed self-care day, spritzing on a sexy scent will have you living in your best soft girl era. If you're anything like me, you might choose your perfume based on your mood, the occasion, the time of day, or even your outfit. It's been said that a person's scent is just as important as their appearance.
With thousands of perfumes on the market, navigating different fragrances can be overwhelming. Your aroma can reveal a lot about you and selecting your ideal scent is highly personal. Different perfumes can give off different vibes – from bright and upbeat to complex and sensual. While finding the perfect perfume can take time, here are five tips on how to find your signature scent.
1. Get To Know Your Notes
Within each perfume or cologne, you find different "notes." These notes consist of three individual layers called the top, middle, and base notes. Each note serves a significant purpose and when mixed together, can create an enchanting, unforgettable scent. When you first spray perfume, the first note you will smell is the top note. The top notes typically last for about fifteen minutes before making way for the other two notes to dominate.
The middle notes start to appear once the top notes fade. Dubbed the "heart" of the perfume, the middle notes' goal is to cling to some of the aroma while ushering in new scents. These lovely notes make up between forty to eighty percent of most fragrances and will most likely be the notes that you will smell the most while you're wearing your perfume.
The final fragrance notes, which will settle into your skin for hours, will only appear after the top notes have worn away. After about thirty minutes, the base notes, which are usually a bit heavier and deeper, will then introduce themselves and add more richness to the perfume.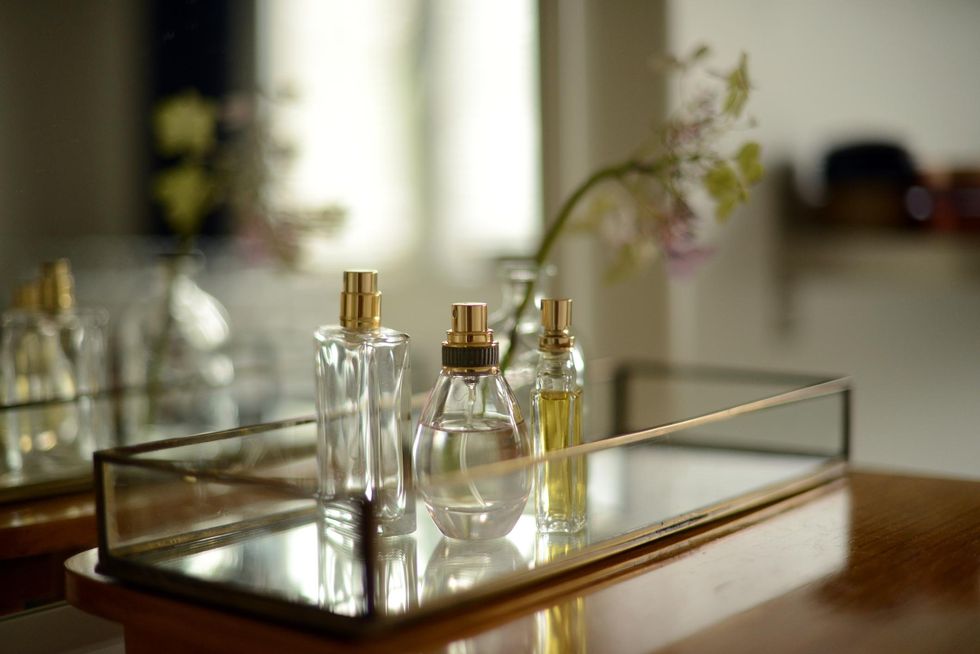 Kristina Strasunske/Getty Images
2. Narrow Down a Fragrance Family
Now that you know about fragrance notes, you can figure out which signature scent will speak to you the most. The perfume universe is mainly divided into four "families." Each scent family has distinctive characteristics, and you will often be attracted to one scent over another when it comes to choosing a perfume that suits you.
Floral – If you're wanting to smell like a bouquet of beautiful hand-picked flowers, then the floral scent family may be the perfect find for your signature scent. From delicate notes of daisy to gentle layers of ylang-ylang and lavender, floral formulations are full of class, romance, and luxury.
Fresh – With uplifting and exhilarating notes such as lemon zest and mandarin, the fresh fragrance family is commonly made of citrus, water, and green notes. Hence the name "fresh," these fragrances are usually associated with more clean vibes.
Oriental – Regularly referred to as "amber" fragrances, oriental perfumes are often associated with exotic and spicy scents. Softened with intertwining scents of jasmine, cinnamon, and orchid, this signature scent is often described as warm, decadent, and seductive.
Woody – Another warm family, woody fragrances are usually inspired by nature, blended with a slight masculine edge (similar to some aftershaves). Creamy, yet mysterious and sensual, these signature compositions are typically described as warm and dry – perfect for a night out on the town.
3. Determine How Long You Want It To Last
Fragrances come in four different levels of concentration. As the concentration gets higher, the price usually gets higher as well. With the highest concentration of perfume oils (between twenty to forty percent), parfum has the longest staying power – usually lasting on the skin for six to eight hours. Eau de Parfum has the second strongest concentration of perfume oils, normally between fifteen to twenty percent, and typically lasts about six hours after spraying. Eau de Toilette has less perfume oil, around five to fifteen percent, and lasts about three to four hours. Eau de Cologne has the lowest concentration of around two to five percent and lasts about two hours after application.
4. Sample the Scents
The most crucial part of finding your new signature fragrance is, of course, testing it out. While some fragrances may seem like love at first spritz, allowing the fragrance to sit on your skin is very important. Try spraying it on a pulse point or a spot where your skin is a little bit warmer, such as your inner wrist or elbow. Take a few moments and let the fragrance oxidate and play with your body's natural chemistry, revealing its true self over time. Try not to disrupt the scent by rubbing your wrists together.
As an additional tip: Don't try out a bunch of different perfumes or colognes at one time. Spread it out over a few different trips to the perfume counter. Also, make sure to take a sniff of the coffee beans, or even a part of your body that has no smell, to cleanse your olfactory palate in between scents.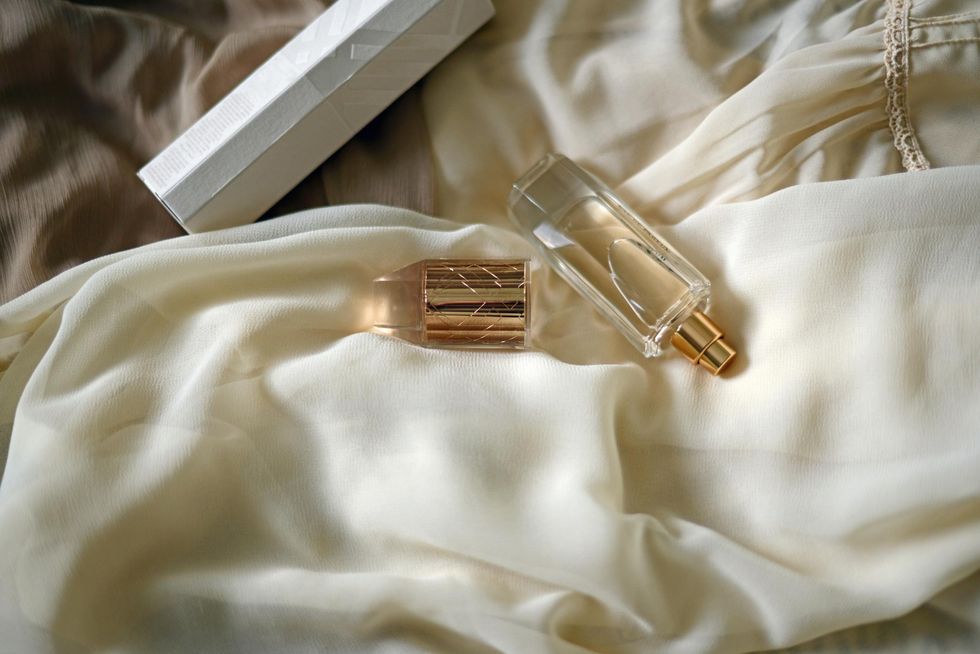 Kristina Strasunske/Getty Images
5. Choose a Scent That Reflects Your Personality
One thing is for sure: Your signature scent should reflect your personality and leave you feeling incredibly confident. Take your time, and learn about yourself, your style, and your taste before committing to a perfume. Do you love flowers and all things sweet? Or do you enjoy that "fresh out of the shower" scent? Then think about the purpose of your future fragrance – is it for every day, for evenings out, for special occasions, or for work? Additionally, once you nail down the notes that you are attracted to, it may be helpful to research perfumes you think may interest you – make sure to read the reviews and be aware of the different price points. If possible, relay this information to a retail fragrance expert and they can provide you with recommendations based on your profile.
Featured image by Eva-Katalin/Getty Images
Have you ever dreamt that your partner was cheating on you? Or that you were cheating on your partner? Let's face it: Dealing with any sort of scandal (even in your slumber), can leave you feeling confused or anxious af. Maybe you've already suspected your partner of cheating and your subconscious is trying to send you a sign. Perhaps your dreams are a result of unhealed trauma from a previous relationship? Or maybe you just ate too many tacos before bed last night?
Before you shake your S.O. awake to begin interrogating them, it's important to know that dreams of infidelity aren't exactly uncommon. In fact, according to this study of 1,000 people, 31% of the women have dreamt of their partner cheating and 23% have dreamt of them cheating on their partners. (So, if this has happened to you, you are not alone!)
According to the Sleep Foundation, some psychologists argue that dreams provide insight into a person's psyche or everyday life, while other psychologists find their content to be too "inconsistent or bewildering to reliably deliver any true significance."
Now, don't get me wrong, I do believe that dreams *may* convey real information and that they often reflect our everyday thoughts and feelings — as well as our deepest desires and concerns. However, that doesn't mean that each dream is to be taken literally. Cheating dreams could equate to you simply feeling a sense of neglect or abandonment in your relationship.
"When we dream, we are tapping into our subconscious mind," explains astrologer, Ashanti Ransom, also known as The Heaux Healer on IG. "We are dreaming about any and everything that you've ever thought of, seen, or imagined. The subconscious is such a deep place that almost anything can pop up in the mind's eye."
So, why do people dream about cheating?
"Because we are human, we all will experience nightmares from time to time," says Jacqueline 'Dr. Jac' Sherman, licensed clinical psychologist and intimacy and relationship coach. "Bad dreams about cheating can feel equivalent to a bad nightmare because the dream can cause emotional distress, and sometimes even cause sleep disturbances. Additionally, there is research that suggests that people who have experienced infidelity in their relationships are more likely to have bad dreams involving their partner betraying their trust by being unfaithful."
What are some of the potential meanings behind cheating dreams?
"Sometimes when you are grieving a traumatic situation like finding out your partner has been cheating, it can trigger abandonment wounds in your subconscious mind which may lead to nightmares," notes Dr. Jac. "Also, when a current relationship is going well and someone has been cheated on by an ex, they may be holding on to emotions such as fear, insecurity or worry that can create anxiety and bad dreams."
"When a person is deeply in tune with [their] mind, body, and soul, a dream of a partner cheating could very well be a message from your spiritual team that it's time to pay attention to what's happening in the relationship in waking life," says Ashanti. "It's almost like a warning. You also want to pay attention to what's happening in the dream. What is your partner doing? How are they acting? This may give you a clear indication of what could be happening. It may also be a play-up on your fears from a previous relationship that you haven't taken the time to heal properly."
Could cheating dreams be a result of a person's intuition or could they be unchecked damage from a past relationship?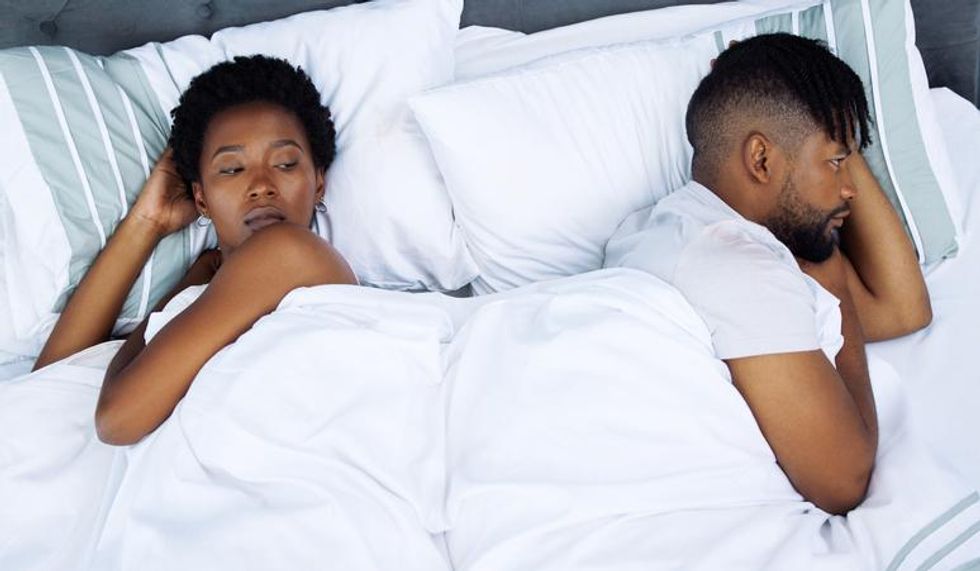 PeopleImages/ Getty Images
"Honestly, it can be a little bit of both. Sometimes past relationship trauma or infidelity can trigger emotions of jealousy, paranoia, and fear that can result in bad dreams," says Dr. Jac. "Additionally, our intuition can help us realize that something does not feel right. If someone is having an intuitive feeling that their partner is cheating, this might lead to more thought rumination about betrayal. As a result, their anxiety may increase resulting in bad dreams, and nightmares are a symptom of anxiety."
"Whenever a woman feels any type of uneasiness about a situation, I recommend that she follow her gut feelings," explains Ashanti. "However, the dating pool right now is leaving lots of suitors scarred mentally and emotionally so, it very well can be from past trauma. In my opinion, I feel like the dating generation right now is operating from a place of getting hurt or being hurt. Nobody wants to be the hurt person so everyone is trying to beat each other to it."
What do we need to do with these dreams about being cheated on once we have them?
"Most importantly, pay attention! Pay attention to how the dream made you feel when you were in it," Ashanti explains. "How did you react once you heard or saw the news unfold? There isn't much you can do because it may or may not have happened yet. I would also recommend talking to your partner. Look for that reassurance in your partner so you can feel some type of ease."
"If the dreams do not bother you, I would say do nothing, overall, they are just dreams!" says Dr. Jac. "If the dreams are bothering you emotionally and/or are recurrent, I would suggest journaling about the emotions the dream elites from you. Journaling helps to provide self-awareness and insight, so starting here can help you recognize any distress you may be feeling as a result of the dreams."
Here are four journaling prompts Dr. Jac recommends for a self-reflection process: 
What do you imagine this dream might mean for your relationship?
What do you imagine this dream might mean about your partner?
Is there anything from your past that this dream has triggered?
What emotion(s) do you feel after experiencing this dream?
Let's make things inbox official! Sign up for the xoNecole newsletter for daily love, wellness, career, and exclusive content delivered straight to your inbox.
Featured image by LaylaBird/ Getty Images
Over the last couple of years, social media and the internet has uncovered the various ways people decide to wash their bodies (some surprising, I must admit, and some not.) There have been numerous debates on whether we should use washcloths, suds up our legs, or even shower on a daily basis. Side note: Did you know that bathing with hot water can be detrimental? (I mean, is it really a shower if the water isn't scorching? Just me? K.)
Additionally, with hygiene routine videos (think sparkly body washes and exfoliators galore) dominating the YouTube and TikTok airwaves, finding the best way to wash your body seems to be all the rage right now. And while most of us have been bathing ourselves since we can remember, there's nothing wrong with updating your GRWM (get ready with me) routine.
In the name of #selfcare, medical and cosmetic dermatologist, DiAnne Davis, MD, FAAD, has provided tips and pertinent info that will help combat bacteria, battle B.O. and give our skin a healthy glow. Can I get an amen?
Between washcloths, loofahs, or using your hands, what's the best way to wash your body?
"I usually recommend a soft cloth or washcloth for showers, especially those areas that harbor, a lot of bacteria, which include the armpits, groin area, and feet," Dr. Davis explains to xoNecole. "Washcloths can always be laundered and reused versus loofahs that tend to retain a lot of bacteria and are not washable or able to be used after so many uses in the shower. Washcloths should be dry before each use. Reusing a damp washcloth is a no-no because it may accumulate bacteria which can be transferred to your body the next time you use it."
How often should people shower? Is it bad to shower every day?
"I usually recommend that people take showers at least once daily," says Dr. Davis. "While some dermatologists may recommend that you can shower less frequently, even three times per week, I will say that I do not recommend that you shower multiple times throughout the day because that can be extremely drying for the skin. It's also important to remember that showers should be less than 10 minutes and with lukewarm water because extremely hot water can also dry out the skin."
Is it important to use a separate washcloth for your face?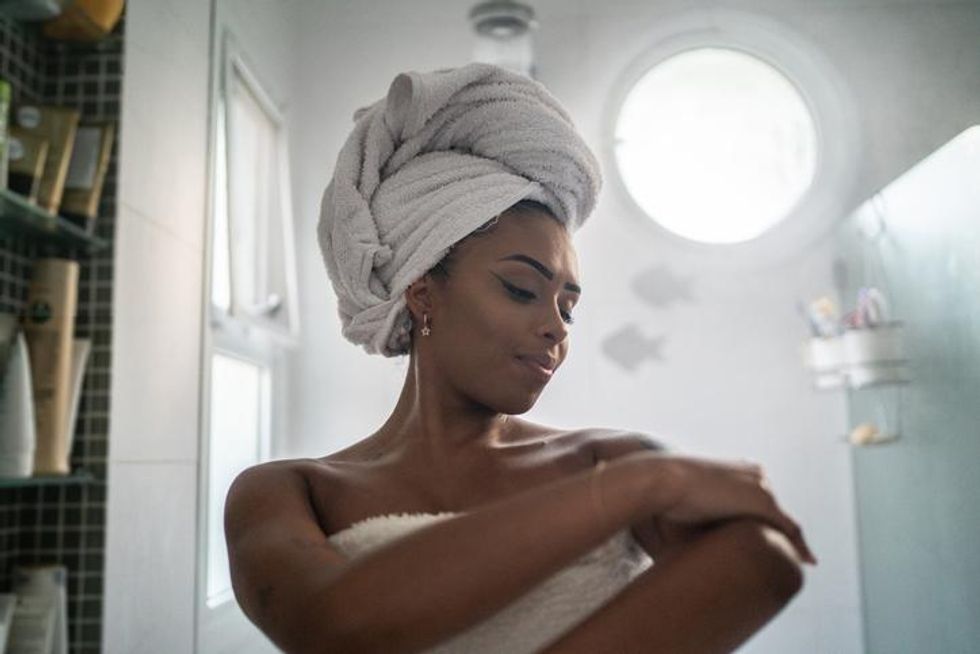 FG Trade/ Getty Images
"I think this is definitely a personal preference. What I explain to patients is that it is okay to use a washcloth for their body however, I always recommend that whenever washing your face [to] use your hands," says Dr. Davis.
What should we look for in a good body cleanser? 
"There are so many great cleansers on the market," notes Dr. Davis. "It may come down to if there is a specific concern that the patient has, which can help determine what may be the best cleanser for their body. For example, if someone has oily or acne-prone skin, they might want to look at a cleanser that contains salicylic acid to help exfoliate the pores and treat blackheads. However, if a patient has sensitive or dry skin, they may want to look for a cleanser with ceramides and/or colloidal oatmeal."
In terms of skincare, could you talk about the importance of moisturizing and how often we should moisturize? 
"Moisturizing your skin is just as important as washing it on a daily basis," elaborates Dr. Davis. "Moisturizers should be applied within the first two to three minutes after showering to not only moisturize the skin but also create a barrier to prevent transepidermal water loss and keep the skin hydrated and plump in appearance. It is wise to moisturize twice daily, especially if you have dry skin and/or during the winter season."
Let's make things inbox official! Sign up for the xoNecole newsletter for daily love, wellness, career, and exclusive content delivered straight to your inbox.
Featured image by LumiNola/ Getty Images
In season two of the hit drama series, P-Valley, we watched in awe as Mercedes (Brandee Evans) effortlessly glided up and down the pole, showing off her ultra-sexy dance moves in the privacy of her client's home – dubbing it as the "Mercedes Experience." If you've ever explored the idea of surprising your partner with a lap dance but cringed at the thought of embarrassing yourself, we're here to help.
The good news is, you don't have to be a pro to pull off a few sensual moves for your partner – you don't even need a pole! If you're interested in recreating a sexy moment from The Pynk or just looking to 'drop it like a thotty' for a lucky someone, we've talked to Zippora, a pole dance fitness instructor and personal trainer, for helpful tips on how to unleash your inner performer.
With over 10 years of experience, Zippora has performed stunt double work as Mercedes on the P-Valley pilot and as Anika Noni Rose's character in BET's The Quad. She's also appeared in the music videos of Lil' Baby and August Alsina, and has performed with Latto and Snoop Dogg. Keep reading for her pro tips on how to give a sexy lap dance to your partner.
Featured image by FotografieLink/Getty Images