After a disagreement, have you ever apologized to your partner, only to realize that things weren't completely resolved? It's probably because you were speaking a different language – a different apology language, that is. Many of us are very familiar withThe 5 Love Languages: The Secret to Love That Lasts, written by Dr. Gary Chapman, a popular relationship staple that categorizes the various ways couples love and communicate with each other (which includes words of affirmation, physical touch, gift-giving, acts of service, and quality time).
In The Five Languages of Apology (the updated version is calledWhen Sorry Isn't Enough), written by Chapman and Jennifer Thomas, we learn that expressing concern and regret in any relationship is just as important as demonstrating love and affection.
"It's important to learn your apology language, not only for the sake of yourself and having a deeper understanding of what you need," said Kiaundra Jackson, licensed family and marriage therapist and resident therapist on OWN's new hit show, Love Goals. "But it's also imperative to learn your partner's apology language too."
Relationships are all about reciprocity and having both parties work to make sure that their relationship is in a healthy spot, Jackson said. When you learn your partner's apology language, you can cut down on any excess drama that may happen when someone feels misunderstood, unloved or neglected.
The five apology languages are expressing regret, accepting responsibility, making restitution, genuinely repenting, and requesting forgiveness. In order to explore each of these apology languages more in-depth, keep reading for the meaning and an example of what each apology language looks like.
Check them out below!
1

.

Expressing Regret Apology Language:
The key to this apology language is to address the emotional damage that someone has experienced due to wrongdoing. Expressing regret and remorse is an essential part of any apology – especially when feelings have been hurt. "It's important to apologize when things go wrong," Jackson said. "It puts you in a place where you can comprehend what your partner is saying and can help you understand how to avoid certain situations moving forward."
An example of this apology language is, "I'm sorry I hurt you."
2

.

Accepting Responsibility Apology Language:
This apology language requires an admission of responsibility from the person who committed the offense. "I think this is a fundamental way to receive an apology," Jackson said. "It's important for your partner to take responsibility because it shows a deep level of self-awareness and the work that they've done within themselves."
An example of this apology language is, "I'm sorry I yelled at you earlier. I was wrong."
3

.

Making Restitution Apology Language:
Sometimes expressing regret and taking responsibility isn't enough – in some instances, partners might prefer to receive restitution. "For someone whose apology language is making restitution, their partner would have to start with offering some sort of make-up process," Jackson said. The make-up process should directly correlate with your partner's love language – for example, if their love language is acts of service, one way that you could express love and restitution, is to do something kind or mindful for your partner.
An example of this apology language is, "What can I do to make this up to you?"
4

.

Genuinely Repenting Apology Language:
Depending on the severity of the transgression, a sincere apology requires that the person verbalizes their commitment to avoiding repeated behavior. Not only does this apology language demand a genuine "I'm sorry", but it also includes a commitment to change. "It's important to say that you're going to change your behavior in a tangible way," Jackson said. "And ultimately, you can't just say it, you have to do it."
True repentance takes an extra step towards change, and an example of this apology language is, "I know what I did was wrong, and I won't do it again."
5

.

Requesting Forgiveness Apology Language: 
Sometimes, people want to hear their partners ask for forgiveness and while this can be the most difficult element of an apology, for many people, it can also be the most significant. While the wrongdoer is responsible for apologizing, the power of forgiveness ultimately lays in the hands of the offended. Before accepting a partner's apology, however, Jackson recommends taking a moment to process all of the circumstances.
"We know that forgiveness is an internal job," she said. "When forgiveness is requested too early and the person hasn't thought about what they need to forgive the other person for and how they're going to make that amendment within themselves, it can turn out to be a less-than-ideal situation."
Now that you're fluent in all of the languages of atonement, which one best fits your style? Click here to find out!
Featured image by Shutterstock
Originally published on March 23, 2020.
As many of us know, masturbation is a normal and healthy sexual activity laden with numerous physical, emotional and mental benefits. Not only does invoke those feel-good hormones, but it can also improve your health, sleep, and sex life. May is National Masturbation Month, an excellent opportunity to prioritize your self-pleasure and self-love, while indulging in much-needed me time.
Masturbation is a great way to learn about your sexual likes and dislikes (without putting yourself at risk for pregnancy and STDs), as well as helping to relieve quarantine tension and social distancing stress. As a matter of fact, with many of us still staying at home, with or without a quarantine bae, now is the perfect time to get more in touch with yourself (pun intended)!
However, as sex positive as our generation has become, there are still masturbation misconceptions that need to be put to bed. To help debunk some of the stigma and shame about this sensual form of self-care, we've enlisted the help of Dr. Donna Oriowo, (LICSW, CST) licensed clinical social worker, certified sex therapist and owner of AnnodRight.

Myth: Too much masturbation can ruin partnered sex.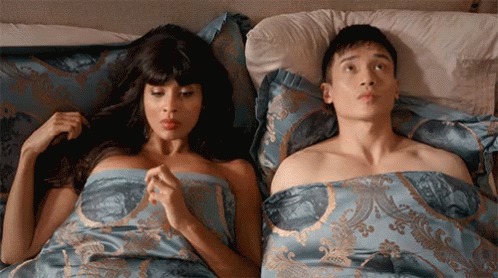 Fact: "It is false that masturbation will ruin sex with a partner -- the opposite is actually true," Dr. Oriowo said. "Knowing your body and what brings you pleasure, gives you the ability to speak to your partner about what you like, which in turn increases pleasure in partnered sex."
"We can debunk this myth by trying it out! Mutual masturbation, or masturbating with your partner, allows you and your partner to learn more about each other's body, while getting a better hold on what brings each other pleasure," Dr. Oriowo said. "You can masturbate each other, or masturbate in front of one another, which brings a new whole level of erotic play!"
Myth: Vibrators can numb your lady parts.
Fact: "It is true that vibrators can temporarily numb genitals. The key words here are 'can' and 'temporarily'. Everyone is not necessarily going to experience this," Dr. Oriowo said. "There are a couple of factors to consider, including the strength of the vibrator, the length of use, how flush the vibrator is against the skin, and how often the vibrator is being used. If you find that you're feeling a little numb, you can cut back for about an hour, and then you should return back to full sensation."
Myth: You shouldn't masturbate every day.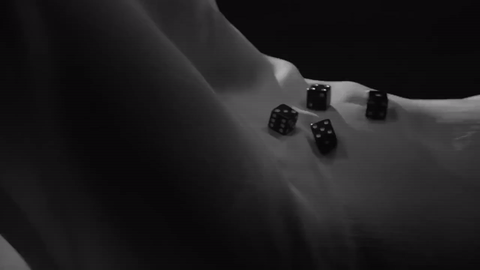 Fact: "I personally don't believe it's possible to masturbate too much, unless your 'too much' means that it gets in the way of your everyday life, including your ability to work," Dr. Oriowo advised. "It is definitely OK to masturbate every day – in fact, I personally challenge people to pleasure themselves every day during National Masturbation Month. Seeking pleasure on a daily basis is not going to ruin things. Do what you like!"
Myth: Women in relationships don't masturbate.
Fact: "I believe that even within the context of a relationship, masturbation should continue. Being able to bring yourself pleasure can actually serve as a moment of mindfulness and reconnection," Dr. Oriowo explained. "Additionally, our likes and dislikes will continue to grow and change as we move through each stage of life. Continuing to masturbate gives us a leg up on our new sexual interests, which in turn can help us inform our partners about our new desires and fantasies."
Myth: Masturbation reduces sex drive.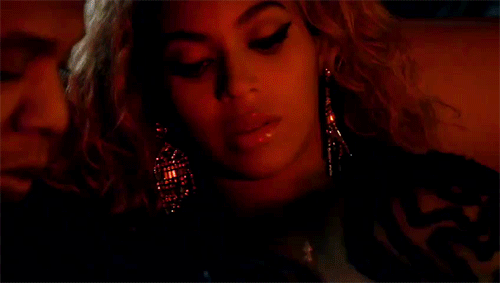 Fact: "Masturbation does not decrease your sex drive," Dr. Oriowo said. "It may offer temporary satisfaction, but it's like having a snack or a meal. Just because you ate breakfast doesn't mean that you won't be interested in lunch or dinner. As a matter of fact, similar to how breakfast can jumpstart your metabolism, masturbation can jumpstart you sex drive! You can actually find yourself in a sexy mood more often, which could lead to more masturbation and more partnered sex!"
As you become more acquainted with the magical gift that is masturbation, here are three expert-approved tips and tricks to help you take your solo sex session to the next level:
Set the Scene: If you are feeling extra romantic, try lighting candles or incense to engage your sense of smell. Playing music in the background is also a great way to get in a sexy mindset.
DIY Date Night: We could all use a little bit more love! Don't be afraid to treat yourself to a solo Netflix and Chill date. Pamper yourself with a nice meal, a glass (or two) of wine, and then get lucky halfway through your movie!
Switch It Up: Changing up your masturbation routine can help keep things spicy and exciting. If you only masturbate in certain positions, try out a new technique! Add new sex toys, try manual manipulation, or feel free to move from one typically-used room to another. Variety is the spice of life!
Want more stories like this? Sign up for our newsletter here to receive our latest articles and news straight to your inbox.
Featured image by Gif/Beyonce
Living in a time of an unprecedented health crisis has drastically reshaped the way we go about our daily lives. With shelter-in-place restrictions and nightly curfews in place, the pandemic has significantly challenged the way we used to interact with each other – including romantically. Now that social distancing and self-isolation practices are our new normal, you may wonder, 'Can I hook up with a quarantine bae?' or 'Is sex off-limits – especially with someone I'm not living with?'
Whether you're looking for "Mr. Right" or "Mr. Right Now", COVID-19 has made connecting in person nearly impossible. The 'Rona has forced many of us to stay indoors for an unforeseeable amount of time and while you may be tempted to indulge in some quarantine-peen, you may want to think again.
While coronaviruses aren't strictly transmitted through sex, the virus can spread through direct contact with saliva or mucus – which can include kissing, licking, breathing on each other and a whole host of other freaky acts.
Couples who live together have the least amount of risk, especially since they already share a living space – but what happens if you don't have an in-house partner to ride out the quarantine with (literally and figuratively speaking)? Or what happens if you're just looking for someone to connect with during these difficult and unpredictable times?
While it may seem that your love life is on lockdown, it doesn't have to be. Chanta Blue, sex and relationship therapist and co-founder of the Blue Counseling & Wellness Center, offers pro tips on how to navigate the new dating scene while abiding by the social distancing measures.
"Like many things in our society right now, COVID-19 has changed the landscape of dating, sex, and relationships in general," Blue said. "There is also this belief that if you are in the home with your partner, you should be having a lot more sex since you have more time. This can be the case for some folks, but for others the state of social distancing is very stressful, and sex is the last thing that they want to think about."
"On the other hand, there are a lot of folks who are single and are trying to find ways to help reduce feelings of loneliness and get their emotional and sexual needs met," she explained. "Prior to COVID-19, singles were meeting at bars and clubs, hooking up with folks they met on dating apps or simply going on dates. Now that all social events and establishments are closed, and the threat of contracting a [potentially] fatal virus is real, singles are limited to virtual platforms for romantic and sexual connections."
Social distancing doesn't mean social isolation.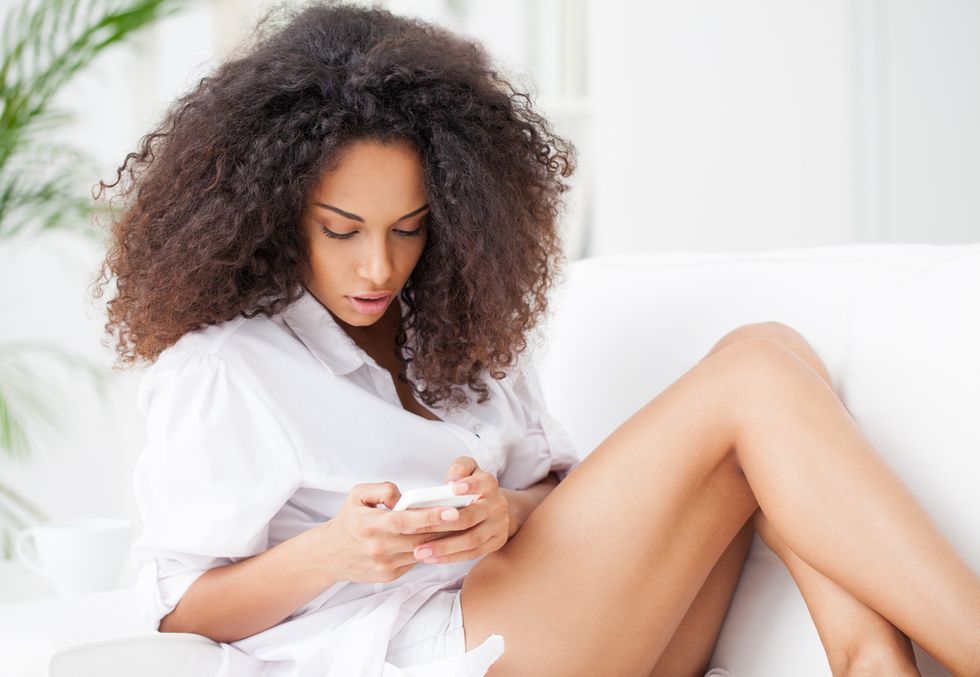 Shutterstock
Reports show that dating apps have hit an all-time high thanks to the quarantine – new matches are even taking their first dates digital! "Singles are finding that they have a lot more time to engage in online dating now that they can't go out to bars or restaurants," Blue said.
"When virtual dating, just like when dating in-person, it's still important to understand what you're looking for in a potential partner. Are you looking for fun and hookups, or are you looking for commitment and long-term connections? I encourage folks to look at their relationship needs on six different levels: intellectual, social, emotional, spiritual, physical and sexual. Then, start looking for your ideal partner."
Once you establish interest and rapport with a match, Blue suggests planning virtual dates to help get to know each other better. "If you have the space and privacy, set up a scene," she explained. "You can have picnics, watch movies together or go for long walks while video chatting."
Flood your brain with happy hormones.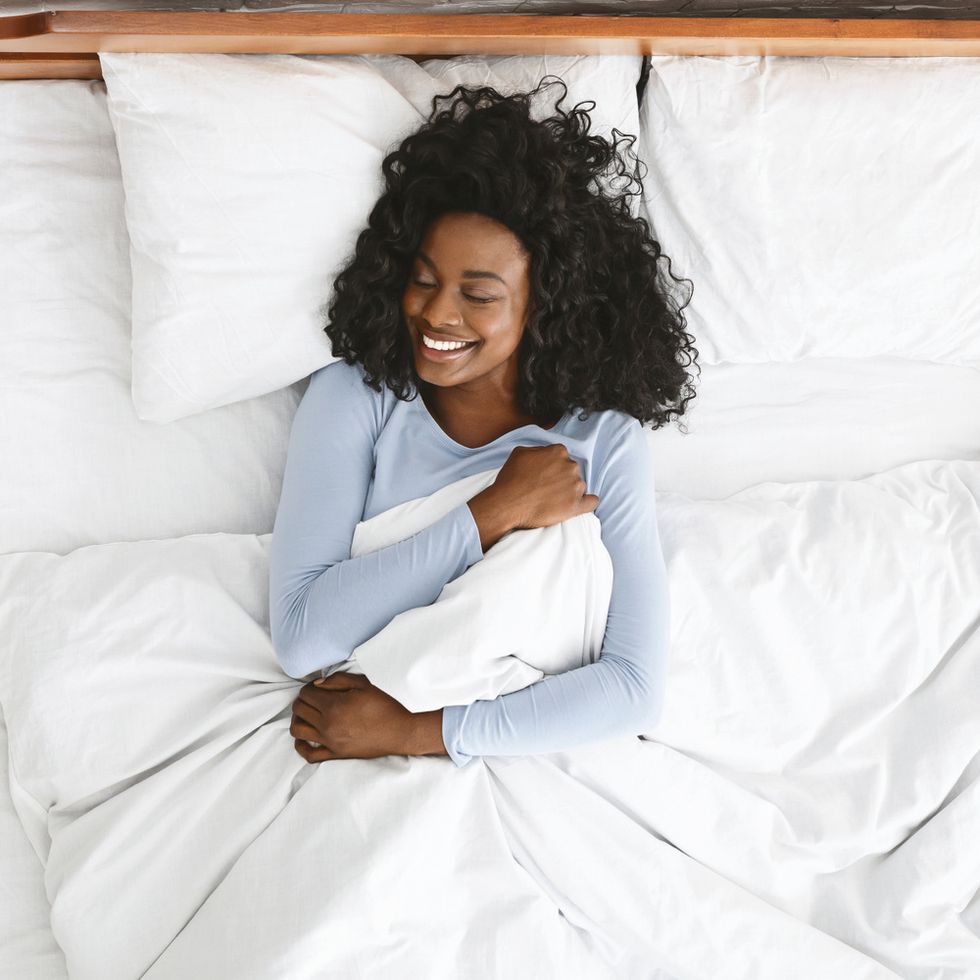 Shutterstock
In times of great anxiety and stress, you may have the desire to want to connect with someone on an emotional and physical level. "It's totally natural for people to crave physical and emotional connection with others during this time," Blue said. "We are social beings and need each other to survive."
"It's encouraged that people do not get physical with anyone who they're not quarantining or self-isolating with," she added. "With that being said, if you do find someone to weather the storm with, just try to take proper precautions to keep yourself and everyone in your home safe."
Blue explained how physical activities such as sex, hugging, kissing, and cuddling produces a hormone called oxytocin. This hormone is known as the "love hormone" or the "cuddle hormone" and helps us bond with the people we care about.
"Unfortunately, it's really difficult to replace the feelings that we get from connecting with people in-person but there are a few things folks can try to increase their levels of oxytocin," she said. Blue recommended the following tips for heightened levels of this happy hormone:
Self-massages (if physically able)
Warming yourself with a weighted or heated blanket
Laughing
Listening and/or dancing to music
Looking for lovin'? Cyber sex is the way to go.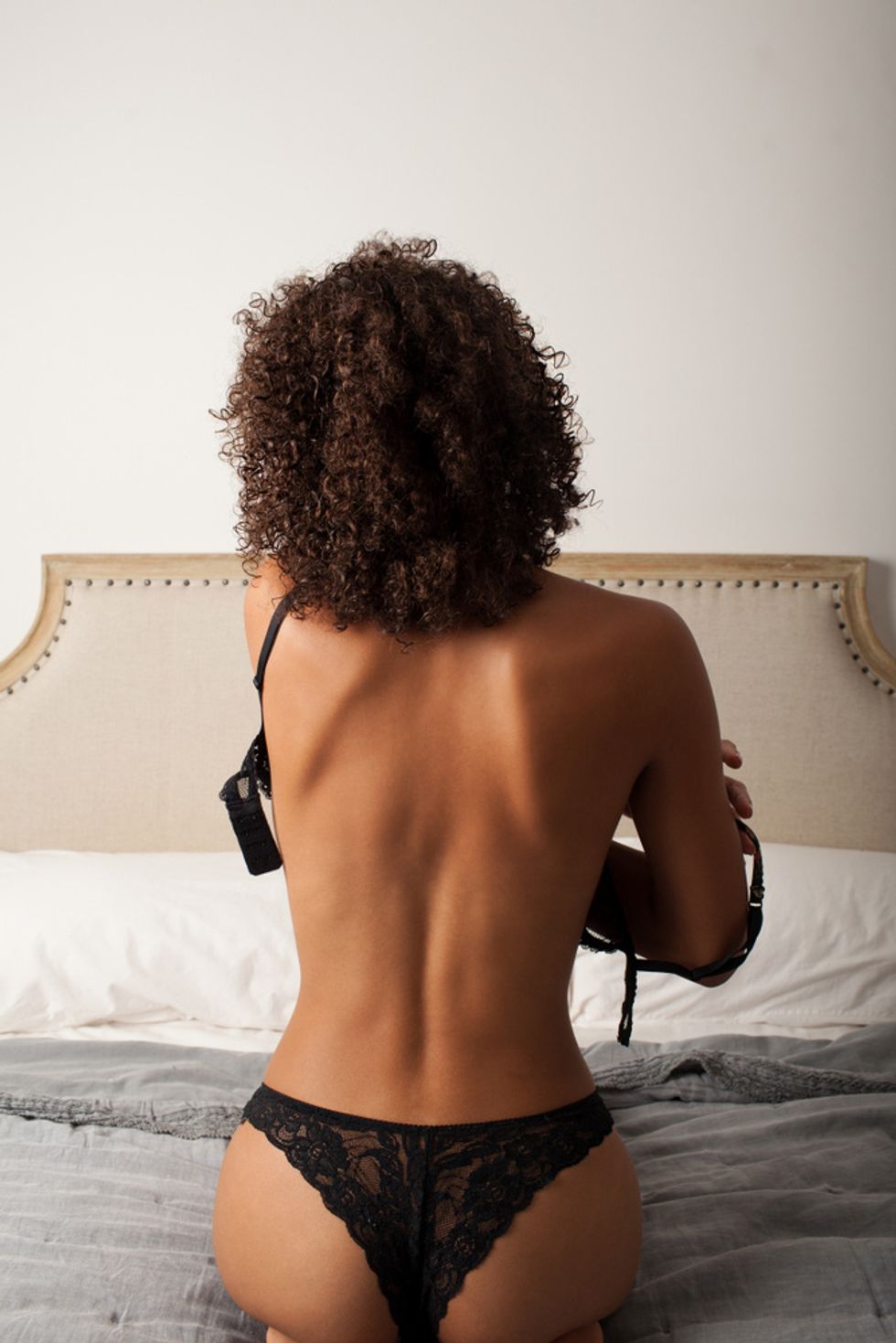 Shutterstock
"There are so many great ways to satisfy sexual feelings with a partner during this time, even if you are not in the same home. Think of it as a long-distance relationship and get creative," Blue suggested.
According to the clinical sexologist, sexting is a great way to start off if you're nervous or just want to build some anticipation. Sexting can range anywhere from sharing your sexual fantasies to sending flirty thirst traps or full-on nudes!
"Scheduling phone or video chat sex sessions with each other is also a great way to sexually connect. With these methods, you get to express your wants and desires with your partner and get a sexual release at the same time. As you're sharing what positions you want to put them in or how wet you're getting, you can be mutually masturbating," Blue suggested. "Mutual masturbation, which is masturbating in front of or next to your partner while they are also masturbating, can be super arousing."
If you are feeling adventurous, Blue suggests investing in a remote or app-controlled vibrator to further enhance the experience (from a distance, of course). Watching porn together during these sessions can also be a great stimulator.
"One thing to remember though -- you want to first make sure that all parties consent to sending and receiving sexual content," Blue advises. "Also, it's important to talk about boundaries and expectations whenever you're trying something new. If you are concerned about your images or video sessions being leaked, I always say 'no face, no case'. Try keeping your face out of explicit pictures, video shots or during video sex sessions."
Prioritize self-pleasure.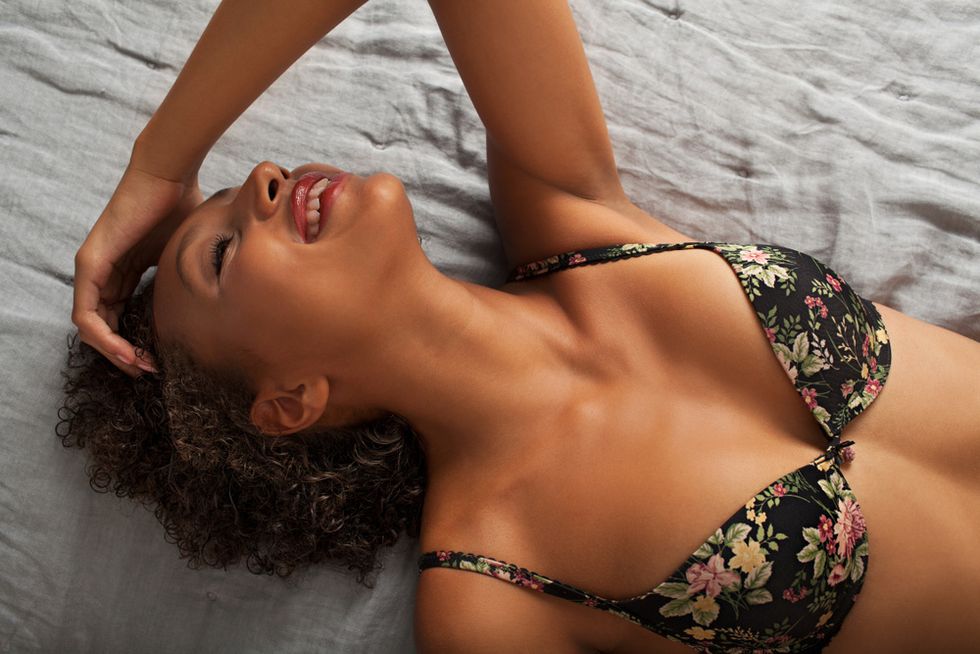 Shutterstock
While there's so much we have yet to learn about the virus, the New York City Department of Health offers a key piece of advice: The safest person to have sex with is yourself. Additionally, with all the extra time we have on our hands, now's the perfect moment to put them to use.
"Masturbation is the best way to learn your body and establish the basics of your sexual likes and dislikes. Exploring your own body through masturbation can bring so much pleasure and has many other health benefits," said Blue. "Masturbation has been found to reduce headaches and menstrual cramps, release tension and stress, improve sleep and boost your self-esteem! Also, having an orgasm is another way to release oxytocin."
"There are many different ways to masturbate that can keep you from getting bored. You can change up your position -- if you always masturbate on your back, try standing up against a wall or turning over on your stomach," Blue suggested. "You can also try adding a toy such as a vibrator or a butt plug. I know Amazon is cracking down on 'non-essential' items but this might be a great time to support small businesses by finding an online sex toy boutique or reaching out to a sex toy consultant."
Want more stories like this? Sign up for our newsletter here to receive our latest articles and news straight to your inbox.
Featured image by Shutterstock
The coronavirus pandemic has unquestionably affected small businesses in a myriad of ways. From working remotely to dwindling revenues, regular processes are becoming a thing of the past as COVID-19 has forced business owners to significantly scale back their operations.
While the federal government recently rolled out a $2 trillion economic stimulus plan intended to aid US business and the American public, small businesses and entrepreneurs are currently struggling to make ends meet. While designed to slow the spread of the virus, social distancing has stripped small businesses of their in-person customers and all but shattered their cash flow. For many independent business owners, from photographers to hairstylists, the effects of the global pandemic can be challenging, if not devastating.
While undoing the effects of the coronavirus will be a much larger job, not all hope is lost. There are several ways that we can help still support our local businesses. We asked a variety of small business owners how people can aid their companies while we power through these tough times.
Jane, Founder of Nolaskinsentials
"Nolaskinsentials is a millennial, plant-based, cruelty-free skincare brand. We offer a variety of skincare products that cater to all types of concerns as well as skin types. To help provide our customers with accurate/personal recommendations, we also offer free skincare consultations as well!
"We're an e-commerce brand, so it's nothing out of the ordinary for us to continue shipping packages to our Nolababes. In terms of getting orders out in a timely fashion — that has been delayed due to the pandemic. However, we're still trying our very best to make sure everyone receives their items as safely and as quickly as possible.
"Our main concern right now is the safety of not only our customers, but everyone that this pandemic is currently affecting. With that being said, we feel the best option is to stay home and shop online for the things you need, skincare included. The safety risks are significantly lower than having to go out and publicly shop. With so many shortages of products from bigger brands, this is practically the best time to shop small businesses — we're fully stocked and ready to push out orders!
"In terms of remaining positive, I've been able to spend more time with my family for one. I also make it a point every morning to meditate and listen to my body and find out what it is I need to continue pushing through. My customers motivate me as well, they give me the extra 'umph' I need to get through the day. Because, well — acne doesn't stop just because we're in shambles. They truly keep me going, without a doubt."
Gabrielle McBay, Chef, Entrepreneur and Content Creator
"I provide private chef and boutique catering services. My business has definitely experienced unexpected change. As a chef, I work with people and events and now that everyone has been ordered to stay at home, all of my events for most of the year have been cancelled. I'm not sure when the next time is that I'll be able to work...and that's something that I don't think anyone can plan or be ready for. People can patronize small businesses during this time by supporting or sharing their products and services. Many businesses are trying to find new ways to reach customers online.
"Along with being a chef, I'm also a content creator. When COVID-19 started, I wrote a cookbook in 10 days with my followers on Instagram. I wanted to give people an easy cooking guide that will help them feel more comfortable in the kitchen, especially during this time. Patrons can support me by purchasing my new digital cookbook,You Have Food at Home.
"To be honest, it's been challenging to be calm and positive every day. I'd be lying if I said I haven't had my moments or been scared of what the future looks like. One thing I've been doing is giving myself grace to feel. It's OK to be sad or frustrated. But it's not OK to be consumed by fear and sit in worry. My faith motivates me to keep going. I trust God, above all things."
Dr. Alison Mitchell, MD, Founder and CEO, Renewed Hair Co.
"We provide clinically proven restorative hair care products that are 100% organic, non-toxic and yield results in the first 30 days. Our pioneer product, the Renewing Hair Elixir, combats a plethora of hair issues including hair loss, scalp irritation, balding, stunted growth and overall hair health.
"Thankfully, our products are made in the US, so we have been able to stay stocked. We have intensified many processes with our manufacturer and fulfillment company to ensure the utmost sterility and safety for our customers. We have, however, incurred delays in shipping times and processing of orders due to minimum personnel working at our centers. This pandemic has prompted us to be intentional with communication to customers and offering relief with reduced pricing during this time.
"There are many ways to support small businesses like ours during this time -- outside of making a purchase. Sharing a story about our products, liking and commenting on our social media pages and telling others about our hair care products are great ways to support. Also, when considering personal care while at home, giving thought to using Renewed Hair Co is hugely supportive.
"This company was founded on faith, and that same faith is what we are standing on to get through this difficult time. We began with a mission to help others solve devastating hair issues and through this pandemic our desire will remain the same. Though times are tough, our loyal customers still deserve to keep their hair healthy and flourishing. We know that this will pass, and we are determined to weather the storm until it does."
Kia Marie, Owner and Lead Event Planner for Kia Marie Events
"Kia Marie Events services includes event planning, event design, event management and one-on-one mentorship in event planning. It's the home for exclusive events for people who love to be elegantly entertained.
"We all are going through some form of change. I'm encouraging my clients to postpone their events instead of canceling. So far, we've postponed two events and two weddings into the fall season and the summer of 2021. The positive change is that I've been able to look at my business as a whole. I'm in the process of a rebrand and this has given me some time to enhance the Kia Marie Events experience for our clients.
"During this time, it's important for small businesses to let their past, present and future customers know that they are still in business. We can support small businesses by purchasing gift cards, online shopping, supporting local meal delivery services and sharing business offerings through social media platforms. If you have income coming in, invest in your business by signing up for memberships, coaching and industry educational courses. As for Kia Marie Events, we ask that clients support by postponing their events instead of canceling them. We are here to help our clients navigate and manage this process.
"When it comes to staying positive, I read daily affirmations, check on my circle daily and invest in my business. I also take breaks when needed. At first, I was bogged down with making sure my business was OK. But God has already confirmed that He has that part covered. So, for me keeping my head high, spending time with my family and keeping in touch with like-minded people keeps me calm and balanced."
Miriam Milord, Founder and Creative Director for BCakeNY
"BCakeNY is a custom cake studio located in Brooklyn, New York. Founded in 2009, we are dedicated to creating specialty cakes for all occasions. Our mission is to transfer our clients' vision into extraordinarily unique and delicious cakes. Our store front in Prospect Heights, Brooklyn is a community staple and we have been serving our clients over a decade now.
"BCakeNY has been majorly impacted by the pandemic. We mainly create cakes for large events like weddings and birthday parties and to keep people safe it was necessary to implement social distancing and ban large gatherings. For us this meant massive cancellations and layoffs. We had to immediately adjust to the new customer need of small cakes for at-home celebrations and virtual parties. We are working with a small staff now, from 18 down to five. It has been a tough adjustment, but we appreciate that we can still provide a service and jobs for a few employees.
"We support our neighborhood businesses by ordering in from restaurants or purchasing gift cards for friends and family. Small businesses are suffering, and we are trying to support our community as best as we can. We are offering smaller-sized custom cakes that can be ordered online for delivery or pick up. We also ship and deliver cake jars. When you order on our website, you can also donate a cupcake to our healthcare workers which we deliver to our local hospitals every week. Times are difficult for everyone and if you can't purchase from your favorite small biz right now, you can always support them by simply liking and sharing their social media posts.
"My employees and clients keep me motivated, we want to continue to provide jobs and joy. Birthdays still happen every day and smiles and joy are so needed right now. We work hard for that every day, despite the uncertainty of these times."
Fatima, Makeup Artist, Content Creator and Beauty Influencer
"I offer beauty services to clients for weddings, fashion shows, photo shoots and special events. With this being prom, graduation and wedding season, my appointments have been postponed until further notice.
"Some of the most effective ways to support small businesses during this time is to like and share their social media content as well as purchasing their products. Being home more allows me time to work on my craft, brainstorm and research different things that inspire me.
"What really keeps me motivated is the people who are still reaching out to me and letting me know when this is all over, they still want me to be a part of their most memorable moments."
Mecca Gamble McConnell, Photographer
"My company, Mecca Gamble Photography, offers brand photography for women of color. Due to the stay-at-home orders, I can't shoot, and I've had to cancel, reschedule and refund a number of shoots and upcoming events.
"Customers can support my business by rescheduling or booking future dates on the calendar. Right now, I am really leaning on my faith and my family. Professionally, I have a group of colleagues who support me and keep me encouraged. During this time, I am enjoying the opportunity to learn new things."
Want more stories like this? Sign up for our newsletter here to receive our latest articles and news straight to your inbox.
Featured image via Mecca Gamble McConnell/Instagram
Many of us have heard the popular adage, "You have as many hours in a day as Beyoncé." However, between chasing dreams, securing the bag, and living your best life, maintaining a productive and balanced schedule can be a downright challenge. In a world of meetings, deadlines, and endless emails, it can be difficult to utilize your working hours in the most efficient way. To make the most of your to-do list, try a technique called calendar blocking (also known as time blocking).
Calendar blocking is a simple, yet effective productivity method that helps to organize your daily schedule.
This time management tool includes taking each of your tasks and purposefully scheduling or "blocking" them on your calendar for a set period of time. Calendar blocking was not only designed to increase your focus, it also helps to hinder any nagging distractions and helps to take your daily organization to the next level.
The beauty of calendar blocking is that it can work for anyone, from a boss businesswoman to a stay-at-home mom. The value of blocking your time is that it helps to build your day around important priorities, and by scheduling your time in advance, you're able to avoid non-priorities, decreasing stress and anxiety. Are you ready to master the art of calendar blocking?
If so, here's an easy step-by-step process that will help you maximize each moment of your day: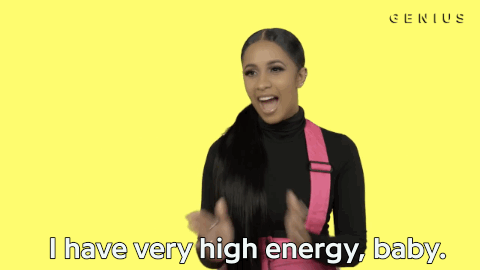 Image via Giphy
1. Evaluate Your Energy Level
Focus on when your energy levels are the highest. Are you more of a morning person or more of a night owl? Do your creative juices flow most in the afternoon? Understand your physical and mental energy levels and then structure your day around your tasks and your time. Recognizing your performance capacity will help to build self-awareness and efficiency in your work.
2. Free Your Mind
Like many of us, there are probably a million and one things whirling around in your mind. According to studies, the average human tends to have 50,000 to 70,000 thoughts a day. That's a lot to think about!
Grab a pen and a sheet of paper–it's time to go old-school. Get your thoughts in order by writing them down. This includes routine items such as meetings and deadlines as well as future projects and plans. It's equally important to pencil in your daily rituals such as morning prayer or meditation, an afternoon workout, or your evening commute back home.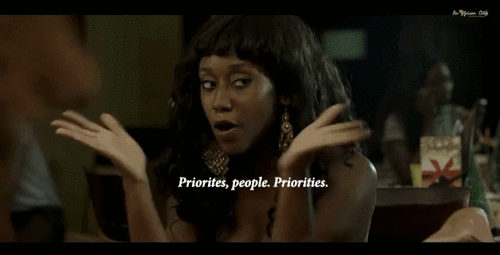 Image via Giphy
3. Identify What's Important
Once you've jotted all of your thoughts on paper, ask yourself, "What are the most critical items on my to-do list?" Think of everything you'd like to accomplish in a timely manner and then take note of any urgent and important deadlines. Knowing what you're going to work on ahead of time encourages you to make conscious work decisions. In addition, when you acknowledge your high-level priorities and goals, that will determine what your calendar will look like and how you will block out your time.
4. Time to Throw A Party... A Block Party, That Is
Now, it's finally time to build those blocks. Figure out the best day to do your blocking. Some prefer to do a weekly blocking schedule the Friday before or the Sunday of the upcoming week, while others recommend a daily practice that only blocks out the next day.
Once you've decided your best mode of action, place the items you've planned to do into specific blocks of time on your calendar.
Feel free to get as detailed as you like and make sure to allot yourself enough time to fully complete your tasks. Fill your day with designated times for meetings, creative work, or errands.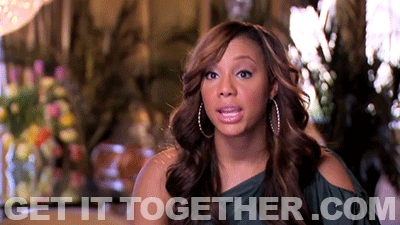 Image via Giphy
Here Are Some Additional Tips On Maximizing Your Calendar Blocking:
Reserve time for breaks, buffers, and the unexpected. While organizing your calendar is the ultimate goal of this activity, it's important to keep your schedule flexible to accommodate unexpected happenings and avoid overcommitting. Also, be sure to add buffers to certain items to give yourself extra time to work on an assignment in case you need it. Lastly, set aside time to rest and recharge.
Dump the distractions. Ditch anything that prevents you from fully focusing on your work. If it's your cellphone, try silencing your ringtone and/or your notifications whenever you need to concentrate on your projects.
Allow yourself to revise and reorganize. Take time to reflect on your productivity. Recognize what blocks worked in your schedule and what blocks didn't. In the upcoming weeks, try to maneuver some blocks around to learn which changes are advantageous and which aren't.
Want more stories like this? Sign up for our newsletter here to receive our latest articles and news straight to your inbox.
Featured Image Via Shutterstock
With Valentine's Day right around the corner, you may be looking to spice things up with your bae. Perhaps you've already mastered the art of sexting (hello kitten, eggplant and "wet" emojis!) and are ready to kick it up a notch. Dirty talk is a form of sexual expression that can intensify sensual stimulation before, during and even after sex play – transforming your average sex session into a steamy romp in the sack.
Dirty talk can empower partners to express their desires, needs and reactions in real time. And while it may seem a bit scary and embarrassing at first, the key is to make sure that you're using words and phrases that seem natural to you and that describe how you're feeling in the moment.
If you're ready to develop your own dirty dialogue and say goodbye to silent sex forever, sex therapist Shamyra Howard provides six helpful do's and don'ts of dirty talk.
Do start slow.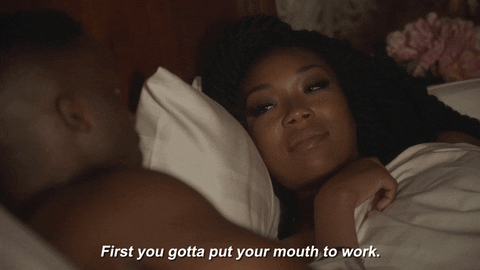 Talking frisky may seem a little risky at first, but it's very important to ease your way into it, just as with any new sexual activity. "Dirty talk can be to sex, what butter is to everything!" Shamyra said. "And although it is fun, it can be intimidating due to thoughts and expectations of what's supposed to happen." Starting slow and steady can help you relax and let go of your inhibitions.
Don't surprise your partner. 
"If dirty talk is something new that you want to introduce to your other half, be sure to solicit their thoughts before you decide to jump in full fledge! You don't want to kill the mood before you have the chance to create it," Shamyra explained.
Here are her recommended questions:
What are your thoughts on dirty talk?
Would you be open to us talking dirty to each other?
What are a few scenarios that really turn you on?
What are scenarios that would totally turn you off?
Do embrace the awkwardness.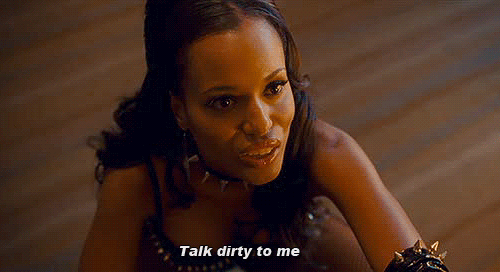 "A big reason why many people resist dirty talk is because they find it weird or awkward," Shamyra said. "Just like many other forms of sexual intimacy and sex play, things may get a little weird – and that's OK." If something funny happens, it's OK to laugh and then get back to telling your partner how good their skin feels against yours. Allow yourself to be as natural as possible.
Don't force it.
"When talking dirty, stick with terms that you are comfortable with," Shamyra explained. "You don't have to go full Wesley Pipes (or any other adult entertainer), if that's not your usual tone." Try starting with these sexy basics:
1. Tell your partner you miss them.
Say this: "I can't wait to feel you."
2. Tell your partner something you like about them.
Say this: "I really like how soft your body is."
3. Remind your partner of a previous pleasurable sexual experience.
Say this: "Do you remember how wet I was last time? How did that feel?"
4. Make a sexual request.
Say this: "Next time, I want you to taste me."
Do practice.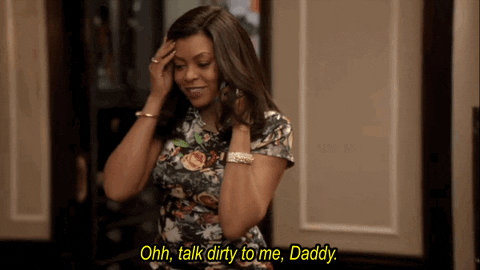 "Just like with anything else, practice makes perfect. Practice in the mirror or record yourself talking dirty, moaning and groaning," Shamyra described. "Exercising what you're going to say before you say it can make dirty talk less awkward."
Featured image by Shutterstock