Have you ever dreamt that your partner was cheating on you? Or that you were cheating on your partner? Let's face it: Dealing with any sort of scandal (even in your slumber), can leave you feeling confused or anxious af. Maybe you've already suspected your partner of cheating and your subconscious is trying to send you a sign. Perhaps your dreams are a result of unhealed trauma from a previous relationship? Or maybe you just ate too many tacos before bed last night?
Before you shake your S.O. awake to begin interrogating them, it's important to know that dreams of infidelity aren't exactly uncommon. In fact, according to this study of 1,000 people, 31% of the women have dreamt of their partner cheating and 23% have dreamt of them cheating on their partners. (So, if this has happened to you, you are not alone!)
According to the Sleep Foundation, some psychologists argue that dreams provide insight into a person's psyche or everyday life, while other psychologists find their content to be too "inconsistent or bewildering to reliably deliver any true significance."
Now, don't get me wrong, I do believe that dreams *may* convey real information and that they often reflect our everyday thoughts and feelings — as well as our deepest desires and concerns. However, that doesn't mean that each dream is to be taken literally. Cheating dreams could equate to you simply feeling a sense of neglect or abandonment in your relationship.
"When we dream, we are tapping into our subconscious mind," explains astrologer, Ashanti Ransom, also known as The Heaux Healer on IG. "We are dreaming about any and everything that you've ever thought of, seen, or imagined. The subconscious is such a deep place that almost anything can pop up in the mind's eye."
So, why do people dream about cheating?
"Because we are human, we all will experience nightmares from time to time," says Jacqueline 'Dr. Jac' Sherman, licensed clinical psychologist and intimacy and relationship coach. "Bad dreams about cheating can feel equivalent to a bad nightmare because the dream can cause emotional distress, and sometimes even cause sleep disturbances. Additionally, there is research that suggests that people who have experienced infidelity in their relationships are more likely to have bad dreams involving their partner betraying their trust by being unfaithful."
What are some of the potential meanings behind cheating dreams?
"Sometimes when you are grieving a traumatic situation like finding out your partner has been cheating, it can trigger abandonment wounds in your subconscious mind which may lead to nightmares," notes Dr. Jac. "Also, when a current relationship is going well and someone has been cheated on by an ex, they may be holding on to emotions such as fear, insecurity or worry that can create anxiety and bad dreams."
"When a person is deeply in tune with [their] mind, body, and soul, a dream of a partner cheating could very well be a message from your spiritual team that it's time to pay attention to what's happening in the relationship in waking life," says Ashanti. "It's almost like a warning. You also want to pay attention to what's happening in the dream. What is your partner doing? How are they acting? This may give you a clear indication of what could be happening. It may also be a play-up on your fears from a previous relationship that you haven't taken the time to heal properly."
Could cheating dreams be a result of a person's intuition or could they be unchecked damage from a past relationship?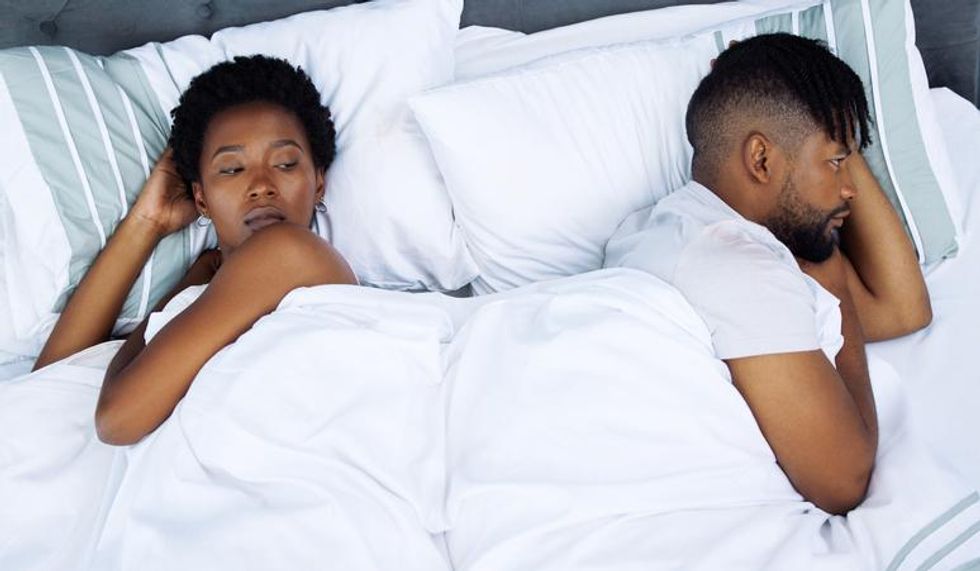 PeopleImages/ Getty Images
"Honestly, it can be a little bit of both. Sometimes past relationship trauma or infidelity can trigger emotions of jealousy, paranoia, and fear that can result in bad dreams," says Dr. Jac. "Additionally, our intuition can help us realize that something does not feel right. If someone is having an intuitive feeling that their partner is cheating, this might lead to more thought rumination about betrayal. As a result, their anxiety may increase resulting in bad dreams, and nightmares are a symptom of anxiety."
"Whenever a woman feels any type of uneasiness about a situation, I recommend that she follow her gut feelings," explains Ashanti. "However, the dating pool right now is leaving lots of suitors scarred mentally and emotionally so, it very well can be from past trauma. In my opinion, I feel like the dating generation right now is operating from a place of getting hurt or being hurt. Nobody wants to be the hurt person so everyone is trying to beat each other to it."
What do we need to do with these dreams about being cheated on once we have them?
"Most importantly, pay attention! Pay attention to how the dream made you feel when you were in it," Ashanti explains. "How did you react once you heard or saw the news unfold? There isn't much you can do because it may or may not have happened yet. I would also recommend talking to your partner. Look for that reassurance in your partner so you can feel some type of ease."
"If the dreams do not bother you, I would say do nothing, overall, they are just dreams!" says Dr. Jac. "If the dreams are bothering you emotionally and/or are recurrent, I would suggest journaling about the emotions the dream elites from you. Journaling helps to provide self-awareness and insight, so starting here can help you recognize any distress you may be feeling as a result of the dreams."
Here are four journaling prompts Dr. Jac recommends for a self-reflection process: 
What do you imagine this dream might mean for your relationship?
What do you imagine this dream might mean about your partner?
Is there anything from your past that this dream has triggered?
What emotion(s) do you feel after experiencing this dream?
Let's make things inbox official! Sign up for the xoNecole newsletter for daily love, wellness, career, and exclusive content delivered straight to your inbox.
Featured image by LaylaBird/ Getty Images
Over the last couple of years, social media and the internet has uncovered the various ways people decide to wash their bodies (some surprising, I must admit, and some not.) There have been numerous debates on whether we should use washcloths, suds up our legs, or even shower on a daily basis. Side note: Did you know that bathing with hot water can be detrimental? (I mean, is it really a shower if the water isn't scorching? Just me? K.)
Additionally, with hygiene routine videos (think sparkly body washes and exfoliators galore) dominating the YouTube and TikTok airwaves, finding the best way to wash your body seems to be all the rage right now. And while most of us have been bathing ourselves since we can remember, there's nothing wrong with updating your GRWM (get ready with me) routine.
In the name of #selfcare, medical and cosmetic dermatologist, DiAnne Davis, MD, FAAD, has provided tips and pertinent info that will help combat bacteria, battle B.O. and give our skin a healthy glow. Can I get an amen?
Between washcloths, loofahs, or using your hands, what's the best way to wash your body?
"I usually recommend a soft cloth or washcloth for showers, especially those areas that harbor, a lot of bacteria, which include the armpits, groin area, and feet," Dr. Davis explains to xoNecole. "Washcloths can always be laundered and reused versus loofahs that tend to retain a lot of bacteria and are not washable or able to be used after so many uses in the shower. Washcloths should be dry before each use. Reusing a damp washcloth is a no-no because it may accumulate bacteria which can be transferred to your body the next time you use it."
How often should people shower? Is it bad to shower every day?
"I usually recommend that people take showers at least once daily," says Dr. Davis. "While some dermatologists may recommend that you can shower less frequently, even three times per week, I will say that I do not recommend that you shower multiple times throughout the day because that can be extremely drying for the skin. It's also important to remember that showers should be less than 10 minutes and with lukewarm water because extremely hot water can also dry out the skin."
Is it important to use a separate washcloth for your face?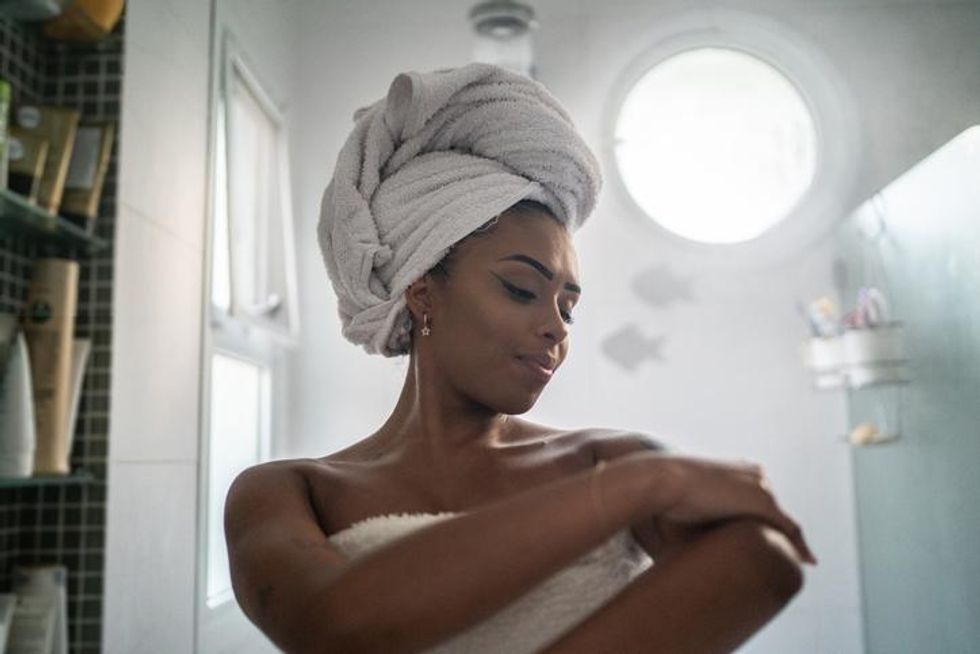 FG Trade/ Getty Images
"I think this is definitely a personal preference. What I explain to patients is that it is okay to use a washcloth for their body however, I always recommend that whenever washing your face [to] use your hands," says Dr. Davis.
What should we look for in a good body cleanser? 
"There are so many great cleansers on the market," notes Dr. Davis. "It may come down to if there is a specific concern that the patient has, which can help determine what may be the best cleanser for their body. For example, if someone has oily or acne-prone skin, they might want to look at a cleanser that contains salicylic acid to help exfoliate the pores and treat blackheads. However, if a patient has sensitive or dry skin, they may want to look for a cleanser with ceramides and/or colloidal oatmeal."
In terms of skincare, could you talk about the importance of moisturizing and how often we should moisturize? 
"Moisturizing your skin is just as important as washing it on a daily basis," elaborates Dr. Davis. "Moisturizers should be applied within the first two to three minutes after showering to not only moisturize the skin but also create a barrier to prevent transepidermal water loss and keep the skin hydrated and plump in appearance. It is wise to moisturize twice daily, especially if you have dry skin and/or during the winter season."
Let's make things inbox official! Sign up for the xoNecole newsletter for daily love, wellness, career, and exclusive content delivered straight to your inbox.
Featured image by LumiNola/ Getty Images
In season two of the hit drama series, P-Valley, we watched in awe as Mercedes (Brandee Evans) effortlessly glided up and down the pole, showing off her ultra-sexy dance moves in the privacy of her client's home – dubbing it as the "Mercedes Experience." If you've ever explored the idea of surprising your partner with a lap dance but cringed at the thought of embarrassing yourself, we're here to help.
The good news is, you don't have to be a pro to pull off a few sensual moves for your partner – you don't even need a pole! If you're interested in recreating a sexy moment from The Pynk or just looking to 'drop it like a thotty' for a lucky someone, we've talked to Zippora, a pole dance fitness instructor and personal trainer, for helpful tips on how to unleash your inner performer.
With over 10 years of experience, Zippora has performed stunt double work as Mercedes on the P-Valley pilot and as Anika Noni Rose's character in BET's The Quad. She's also appeared in the music videos of Lil' Baby and August Alsina, and has performed with Latto and Snoop Dogg. Keep reading for her pro tips on how to give a sexy lap dance to your partner.
Featured image by FotografieLink/Getty Images
In an attempt to have a hot girl summer, I found my way back to the dating apps. After a bunch of swiping up, down, left, and right, I was left with several "matches" that would eventually need tending to. Sifting through the various profiles and sending screenshots to my friends seemed fun at first but quickly got overwhelming. The matches, the clever one-liners, and the need to keep up conversations with multiple men (especially after a long day at work) —it all became too much. Then once the novelty of messaging strangers wore off (plus one pretty bad Hinge date), I began avoiding the apps like the plague.
Now, don't get me wrong, I fully believe that online dating can lead to real-life love. I know women who have met their boyfriends and husbands on dating apps and I love that for them. It's just that when I begin to skim through various half-hearted conversations with men that I've only "met" digitally, my eyes instantly start to glaze over. It's like wanting to watch something really good on Netflix but after scrolling through so many movies, you're quickly hit with decision fatigue and decide to watch reruns of Living Single instead (or is that just me?).
Whether it happens online or IRL, I do feel that true love exists…however, to help mitigate any potential app burnout, Kiaundra Jackson, licensed marriage and family therapist, shares her expert advice on how to best navigate the world of digital dating.
Featured image by Drazen_/Getty Images
After a disagreement, have you ever apologized to your partner, only to realize that things weren't completely resolved? It's probably because you were speaking a different language – a different apology language, that is. Many of us are very familiar withThe 5 Love Languages: The Secret to Love That Lasts, written by Dr. Gary Chapman, a popular relationship staple that categorizes the various ways couples love and communicate with each other (which includes words of affirmation, physical touch, gift-giving, acts of service, and quality time).
In The Five Languages of Apology (the updated version is calledWhen Sorry Isn't Enough), written by Chapman and Jennifer Thomas, we learn that expressing concern and regret in any relationship is just as important as demonstrating love and affection.
"It's important to learn your apology language, not only for the sake of yourself and having a deeper understanding of what you need," said Kiaundra Jackson, licensed family and marriage therapist and resident therapist on OWN's new hit show, Love Goals. "But it's also imperative to learn your partner's apology language too."
Relationships are all about reciprocity and having both parties work to make sure that their relationship is in a healthy spot, Jackson said. When you learn your partner's apology language, you can cut down on any excess drama that may happen when someone feels misunderstood, unloved or neglected.
The five apology languages are expressing regret, accepting responsibility, making restitution, genuinely repenting, and requesting forgiveness. In order to explore each of these apology languages more in-depth, keep reading for the meaning and an example of what each apology language looks like.
Check them out below!
1

.

Expressing Regret Apology Language:
The key to this apology language is to address the emotional damage that someone has experienced due to wrongdoing. Expressing regret and remorse is an essential part of any apology – especially when feelings have been hurt. "It's important to apologize when things go wrong," Jackson said. "It puts you in a place where you can comprehend what your partner is saying and can help you understand how to avoid certain situations moving forward."
An example of this apology language is, "I'm sorry I hurt you."
2

.

Accepting Responsibility Apology Language:
This apology language requires an admission of responsibility from the person who committed the offense. "I think this is a fundamental way to receive an apology," Jackson said. "It's important for your partner to take responsibility because it shows a deep level of self-awareness and the work that they've done within themselves."
An example of this apology language is, "I'm sorry I yelled at you earlier. I was wrong."
3

.

Making Restitution Apology Language:
Sometimes expressing regret and taking responsibility isn't enough – in some instances, partners might prefer to receive restitution. "For someone whose apology language is making restitution, their partner would have to start with offering some sort of make-up process," Jackson said. The make-up process should directly correlate with your partner's love language – for example, if their love language is acts of service, one way that you could express love and restitution, is to do something kind or mindful for your partner.
An example of this apology language is, "What can I do to make this up to you?"
4

.

Genuinely Repenting Apology Language:
Depending on the severity of the transgression, a sincere apology requires that the person verbalizes their commitment to avoiding repeated behavior. Not only does this apology language demand a genuine "I'm sorry", but it also includes a commitment to change. "It's important to say that you're going to change your behavior in a tangible way," Jackson said. "And ultimately, you can't just say it, you have to do it."
True repentance takes an extra step towards change, and an example of this apology language is, "I know what I did was wrong, and I won't do it again."
5

.

Requesting Forgiveness Apology Language: 
Sometimes, people want to hear their partners ask for forgiveness and while this can be the most difficult element of an apology, for many people, it can also be the most significant. While the wrongdoer is responsible for apologizing, the power of forgiveness ultimately lays in the hands of the offended. Before accepting a partner's apology, however, Jackson recommends taking a moment to process all of the circumstances.
"We know that forgiveness is an internal job," she said. "When forgiveness is requested too early and the person hasn't thought about what they need to forgive the other person for and how they're going to make that amendment within themselves, it can turn out to be a less-than-ideal situation."
Now that you're fluent in all of the languages of atonement, which one best fits your style? Click here to find out!
Featured image by Shutterstock
Originally published on March 23, 2020.
As many of us know, masturbation is a normal and healthy sexual activity laden with numerous physical, emotional and mental benefits. Not only does invoke those feel-good hormones, but it can also improve your health, sleep, and sex life. May is National Masturbation Month, an excellent opportunity to prioritize your self-pleasure and self-love, while indulging in much-needed me time.
Masturbation is a great way to learn about your sexual likes and dislikes (without putting yourself at risk for pregnancy and STDs), as well as helping to relieve quarantine tension and social distancing stress. As a matter of fact, with many of us still staying at home, with or without a quarantine bae, now is the perfect time to get more in touch with yourself (pun intended)!
However, as sex positive as our generation has become, there are still masturbation misconceptions that need to be put to bed. To help debunk some of the stigma and shame about this sensual form of self-care, we've enlisted the help of Dr. Donna Oriowo, (LICSW, CST) licensed clinical social worker, certified sex therapist and owner of AnnodRight.

Myth: Too much masturbation can ruin partnered sex.
Fact: "It is false that masturbation will ruin sex with a partner -- the opposite is actually true," Dr. Oriowo said. "Knowing your body and what brings you pleasure, gives you the ability to speak to your partner about what you like, which in turn increases pleasure in partnered sex."
"We can debunk this myth by trying it out! Mutual masturbation, or masturbating with your partner, allows you and your partner to learn more about each other's body, while getting a better hold on what brings each other pleasure," Dr. Oriowo said. "You can masturbate each other, or masturbate in front of one another, which brings a new whole level of erotic play!"
Myth: Vibrators can numb your lady parts.
Fact: "It is true that vibrators can temporarily numb genitals. The key words here are 'can' and 'temporarily'. Everyone is not necessarily going to experience this," Dr. Oriowo said. "There are a couple of factors to consider, including the strength of the vibrator, the length of use, how flush the vibrator is against the skin, and how often the vibrator is being used. If you find that you're feeling a little numb, you can cut back for about an hour, and then you should return back to full sensation."
Myth: You shouldn't masturbate every day.
Fact: "I personally don't believe it's possible to masturbate too much, unless your 'too much' means that it gets in the way of your everyday life, including your ability to work," Dr. Oriowo advised. "It is definitely OK to masturbate every day – in fact, I personally challenge people to pleasure themselves every day during National Masturbation Month. Seeking pleasure on a daily basis is not going to ruin things. Do what you like!"
Myth: Women in relationships don't masturbate.
Fact: "I believe that even within the context of a relationship, masturbation should continue. Being able to bring yourself pleasure can actually serve as a moment of mindfulness and reconnection," Dr. Oriowo explained. "Additionally, our likes and dislikes will continue to grow and change as we move through each stage of life. Continuing to masturbate gives us a leg up on our new sexual interests, which in turn can help us inform our partners about our new desires and fantasies."
Myth: Masturbation reduces sex drive.
Fact: "Masturbation does not decrease your sex drive," Dr. Oriowo said. "It may offer temporary satisfaction, but it's like having a snack or a meal. Just because you ate breakfast doesn't mean that you won't be interested in lunch or dinner. As a matter of fact, similar to how breakfast can jumpstart your metabolism, masturbation can jumpstart you sex drive! You can actually find yourself in a sexy mood more often, which could lead to more masturbation and more partnered sex!"
As you become more acquainted with the magical gift that is masturbation, here are three expert-approved tips and tricks to help you take your solo sex session to the next level:
Set the Scene: If you are feeling extra romantic, try lighting candles or incense to engage your sense of smell. Playing music in the background is also a great way to get in a sexy mindset.
DIY Date Night: We could all use a little bit more love! Don't be afraid to treat yourself to a solo Netflix and Chill date. Pamper yourself with a nice meal, a glass (or two) of wine, and then get lucky halfway through your movie!
Switch It Up: Changing up your masturbation routine can help keep things spicy and exciting. If you only masturbate in certain positions, try out a new technique! Add new sex toys, try manual manipulation, or feel free to move from one typically-used room to another. Variety is the spice of life!
Want more stories like this? Sign up for our newsletter here to receive our latest articles and news straight to your inbox.
Featured image by Gif/Beyonce