When I was eighteen years old, I became hyper-aware of my weight. Mainly because I wanted to be a "model." I spent so many years taking in the images of beauty the media threw at me that I didn't even realize how I affect I was by the thin frames of the white women that were imprinted on the glossy pages.
---
Next thing I knew, I was only eating once a day. Then food became the energy, and I gave up eating at all. Most days I felt like I was going to pass out and the hunger headaches were so painful I could barely function. In my mind, this was the only way to the career I wanted so badly. Since I wasn't losing the weight as fast as I wanted, I moved into taking diet pills. Then, I started throwing up after each meal I ate. The weight came off, but in my mind, I was still "fat" and could stand to lose more.
My eating disorder eventually got so bad, I flunked out of my sophomore year of college and had to move back home. My mom comes from an old school way of thinking, and she'd cook and sit and watch me eat every meal at the kitchen table, and wouldn't let me out of her sight until my food had digested. Now, this did help me put the weight back on, but it didn't get to the root of my issue.
What was triggering my need to be "skinny" at any cost?
As I got older, I realized that much of the time I became overwhelmed with needed to lose weight when I booked a job, needed to take new headshots, or just looked in the mirror after a hard day. I wanted to be perfect which we all know there is no such thing.
In my mid-twenties, I made a choice that I had to gain some control over the way I saw myself.
I threw out the scale. I stopped counting calories. I ate whatever I wanted whenever I wanted, and I asked people around me not to comment on my weight whether I was gaining or losing it. Any comment could send me into a downward spiral.
Fast forward to now, I have put on some pounds because I have been allowing myself the freedom to enjoy getting to know new places through eating. Y'all I love food, and I'm not ashamed to say it and enjoy it. But, the clothes that I've been able to wear the last ten years don't fit as well as they used to and initially, that made me want to lose weight to fit back into them. But, for what? To say that I can still wear my clothes from my freshman year of college? Am I afraid to hear the comments about my weight gain? Am I letting my jeans' size define me?
All of the above are true.
This week, I made a choice similar to that of throwing out the scale —to give up my size two and four jeans.
Now, I know some of you may be thinking, "This skinny bitch is upset she doesn't fit into a size 2 or 4 anymore?" The answer to that is no. I'm not upset, but I am just like any other woman in the world dealing with gaining weight. We all have, and this has been one long ingrained in me.
I took a trip to Zara on Saturday morning (Pro TIp: Get there around 11 am to avoid the fitting room line.) and picked up two of every 100% cotton jeans in the store in a 38 and 40, which are a size 6 and 8 in US sizes.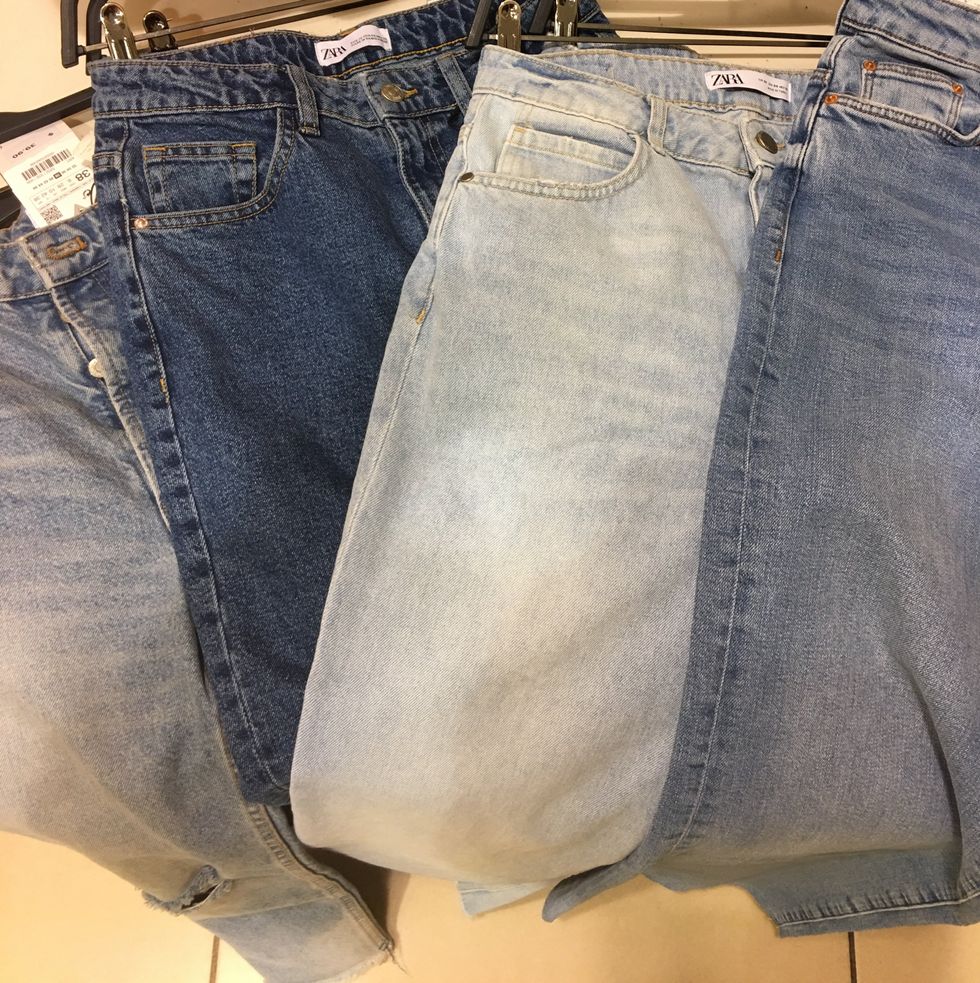 Writer Bianca Lambert / xoNecole
In some of their cuts I was a size 6 and some I was an 8. In the classic mom jeans, which I love, I was an 8. Now, a few years ago, seeing that number imprinted on the tag of denim would have sent me into a dieting and workout frenzy. But, this time was different. I looked in the mirror and felt good — not to mention the jeans made me feel like a total babe.
The next day, I went to update my headshots and rocked my size 8 jeans with confidence.
As we age, weight gain, cellulite, saggy boobs, stretch marks, etc. are normal, and we don't have to live up to these unrealistic ideals that women are supposed to be perfect with perfect bodies. That just ain't real no matter what the IG models try to tell you.
Will I still be working out and eating well? Yes, but the goal isn't weight loss. The goal is to keep my mind and body feeling its best, no matter what size denim I'm wearing.
Want more stories like this? Sign up for our weekly newsletter here to receive our latest articles and news straight to your inbox.
Featured image by Getty Images