It's been 573 days since my last New York Fashion Week. That's one year, six months, and 24 days. The last time I was in Manhattan, February 2020, was just as Big Rona was placing a chokehold on the world. I would have never guessed that while I was living my best life in the NYC streets, a pandemic would soon change my life completely. Because of the state of the world, there were no shows in September and by February 2021, the fashion houses were trying to figure out how to put on runway shows which led many brands to the digital space.
---
When the New York Fashion Week calendar was released for September, there was no doubt that I needed to be there. I was a bit anxious thinking about how we normally do fashion week -- packed and chaotic -- given the pandemic. But my nervousness subsided when I learned of the vaccination requirement for all NYFW events.
I knew that this season would look different with smaller events but my soul still beamed at the opportunity to get dressed up again, learn about emerging designers and leave a stamp on fashion's biggest month. I'm sure you're ready to hear all about it so keep reading for an exclusive behind-the-scenes gander of this southern belle taking over New York Fashion Week!
Day 1 of NYFW
The weather gods decided that fashion week needed some rain so I opted for a comfy, chic look. This leather dress and sneakers paired with my Telfar bag was ideal for a day running around the city in the rain.
I kicked off my New York Fashion Week with Essence Magazine's Fashion House, "an elite experience discovering and recognizing cutting-edge Black creatives in fashion and their contributions." From the talk with Sevyn Streeter on her style inspirations to the runway show featuring Eclectist, I couldn't ask for a better start to my favorite week of the year.
Next, I headed to NYFW on Fifth, a new location for the shows this year. Fifth Avenue is known for its plethora of stylish stores so it was only right to showcase the future of fashion in the epicenter. I attended the ROOKIE USA show which gave more than it was supposed to in the best ways. In its 12th year, the collection gathered tiny humans (aka kids) as models which made for the most adorable show ever. The celebrity and professional kid models lit up the runway with the latest dance moves and their bright personalities. Seeing celebs like Yung Miami, Dr. Wendy Osefo, and Victor Cruz cheer on their babies made my heart so full.

The last stop of the day: AVNU Back on the Block. If you don't know about AVNU, let me introduce you. Nareasha Willis created this luxury streetwear brand for everyday people. Her most popular creations are the "Ghetto Until Proven Fashionable" pieces because... well, the statement is all facts. I have been a fan of the brand for years so I was in love when I finally met my long-lost cousin. The event was the ultimate family reunion with jamming music, the Electric Slide and 'ayyyyyeeee's all around.
Day 2 of NYFW
I woke up with such excitement because I knew the lewk I planned would eat up the gworls. My talented friend, Candra, made me a custom top speaking all facts, "Ghetto Girls Did It First," and I wore it with a matching mesh top and pants and the oh-so-fabulous Char workroom shorts. My extra-large bamboo earrings and bamboo Brandon Blackwood bag brought it all together. I love making a statement with my outfits and this lewk definitely did that.
Day two started with Tiffany Brown Designs. In her NYFW debut, she created the "Lavender" collection comprised of 50 shades of purple. The pieces were versatile in style from tailored suits to athleisure getups. When speaking about the collection and why she chose NYFW as her coming out, Tiffany said, "Because it's the fashion capital of our country and this is the time to shine and celebrate the human spirit," said Brown.

Photo Courtesy of The Riviere Agency
"Lavender symbolizes and represents spiritual healing, tranquility, easing of tension, and purification. Today, with this collection, we are celebrating the human spirit."
Then, I headed to Spring Studios for one of the most anticipated events this season: The Black in Fashion Council Showroom. I was beyond thrilled the attend the showroom as BIFC's mission "to represent and secure the advancement of Black individuals in the fashion and beauty industry" fills my heart all the way up. I bumped into Blake Van Putten, creator of the cult-favorite bag, "Protect Black Women." We talked about his new designs and the future of CISE and let's just say that he has some heat in store for the people. I also met other Black designers like Samantha Black of Sammy B Designs and Nalebe Footwear designer, Amina E Means.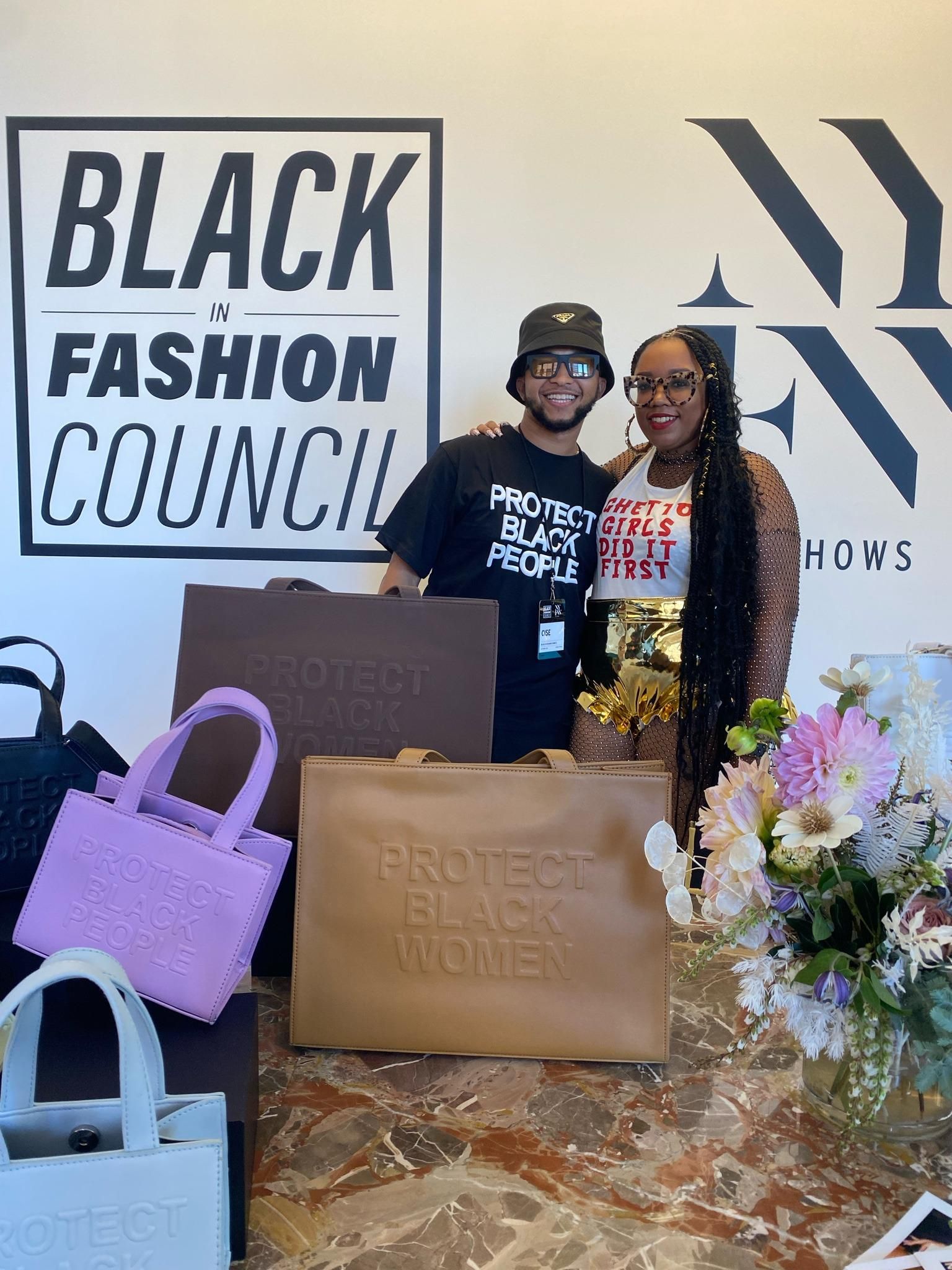 Joce Blake
Continuing in Spring Studios, I checked out the Rebecca Minkoff "I Love New York" collection. In celebration of the brand's 20th Anniversary, Rebecca unveiled her first-ever collection of NFTs. This new take on fashion week presentations featured model portraits shot by Cass Bird. The immersive NFT experience by Yahoo was definitely one to remember.
Day two's finale show, The Athletic Side of Us (TASOU), left no crumbs. It was definitely one of my favorites this season. For me, the diversity and inclusion of all sizes and bodies was everything. The pieces were designed for everyday life and meet at the intersection of transitional fashion and ancient civilization from southern Nigeria.
Day 3 of NYFW
I wasn't attending the MET Gala but that doesn't mean I couldn't bring MET Gala energy. Day 3's lewk gave blazer and crystal skirt realness. Memphis wardrobe stylist, Jenil Askew, made me this custom skirt and yeaaaaa... she did that!
By Day Three, I was definitely feeling the exhaustion of NYFW but I knew I had to push through. Our first show was the Global Fashion Collective, a platform specializing in supporting creative designers by establishing their presence around the world. I always enjoy the assortment of world designers because it exposes me to new designers and how they embed their culture into every single thread. This season's lineup included Ay Lelum (Vancouver, women's), C'EST D (NY, women's), CEDIM The School of Design (Mexico, women's), Irene de la Vega (Mexico, women's), [unusual] (UAE, men's), SAINTJESUS (Chile, women's), Carlton Jones (NY, women's/men's), SARAL ZENS (China, women's), and Blue Tamburin (Korea, women's/men's).
When I arrived at the Bomb Fashion Show, our girl Olivia Dope was spinning -- it was a whole vibe. The first of its kind, the goal was to increase diversity during New York Fashion Week. Not only was BFS sponsored by Shea Moisture, it also featured two designer ensemble runway shows with beloved brands like Oyemwen, London Couture, and Mah Jing Wong.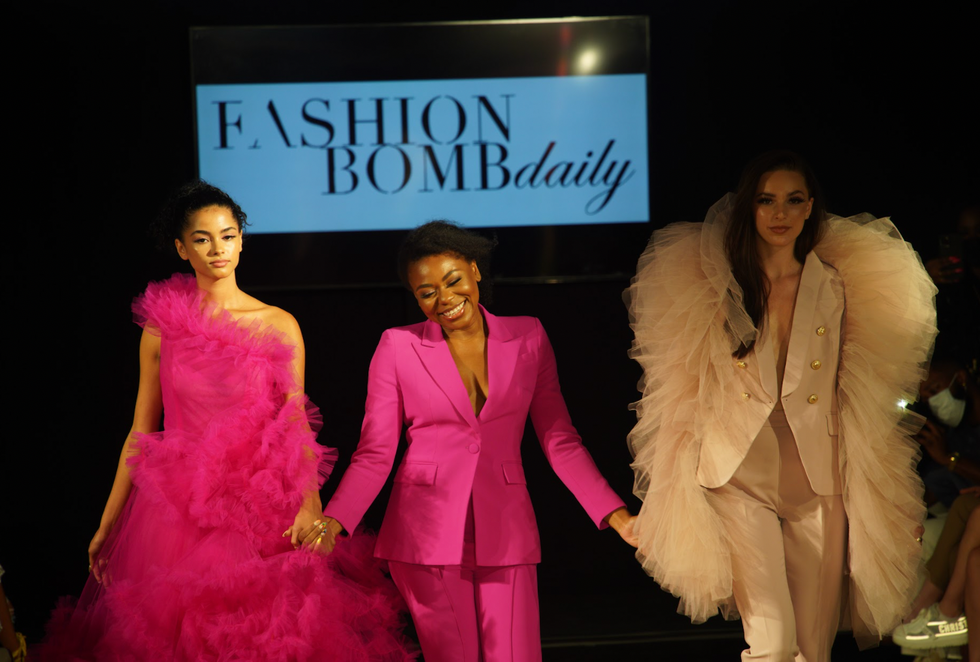 Photo Courtesy of Fashion Bomb Daily
Next on the schedule was Deity New York. While Renee Bishop created her black-owned luxury women's wear brand Deity New York, she was determined to leave her mark on her official entrance to NYFW with her signature utilitarian staples designed to make women feel and show up as their best selves.
We love Renee's vision of normalizing black entrepreneurs running luxury brands, so watching the models strut down the runway in her BOLD collection at THE Spring Studios is nothing short of manifestation at work. When thinking about my wardrobe for Spring '22, I'm going to need every look from this collection.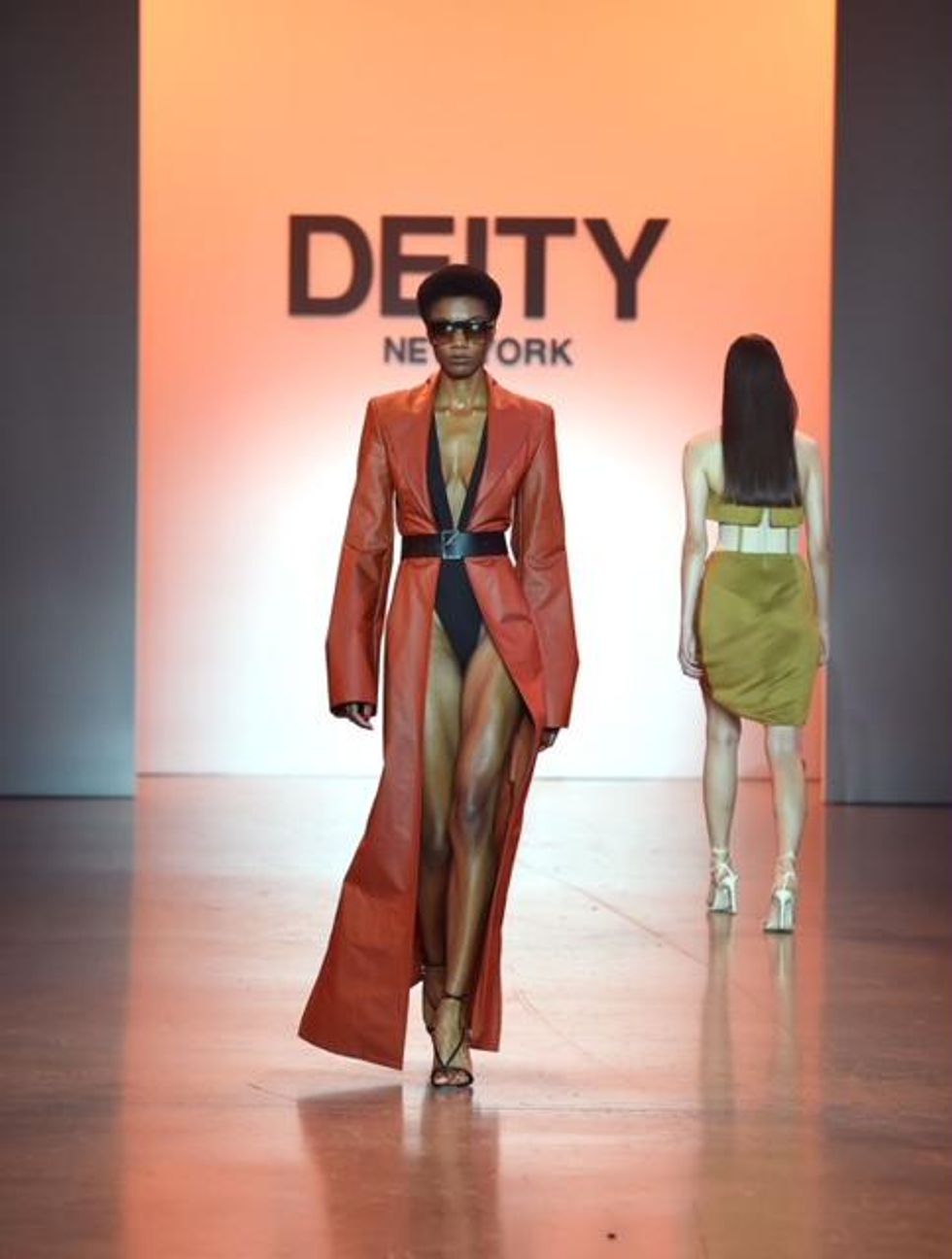 Photo Courtesy of Dynamically Branded PR
One of the events I look forward to the most each season is The Glow Up Meetup. Being surrounded by some of the best and brightest melanated content creators is a badge of honor I don't take lightly. These women move culture and pour into one another authentically. For Glow Up creators, Shay and Tania, it's always been about bringing black women together in a positive space. Saturday night was just that.
Sitting on the Public Hotels rooftop with the most breathtaking views, I kiki'd with some ladies about moving to NYC, how we all are changing the narrative around Black women in luxury and what it really means to be a content creator all while sipping on Moet and nibbling on tuna tartare. If that ain't art imitating life, I don't know what is.
Day 4 of NYFW
For my final outfit, I wanted to serve up "Trench Coat At Your Front Door." Assignment: overstood.
It's now Sunday and the official last day of NYFW. Kevan Hall did what needed to be done and took us to church with his Parisian inspired collection. The architectural structuring, detailed paneling, hand-painted prints, and textured fabrics made for timeless pieces that looked like they were in slow-motion in real-time.
Look no further than Kevan's "Brushstrokes" palette for your spring color mood board. The final walk took me out as the models walked intently to the sounds of a gospel choir singing an upbeat worship song. Even on the front row, I had no choice but to tap my feet and clap like my granny taught me. What a moment!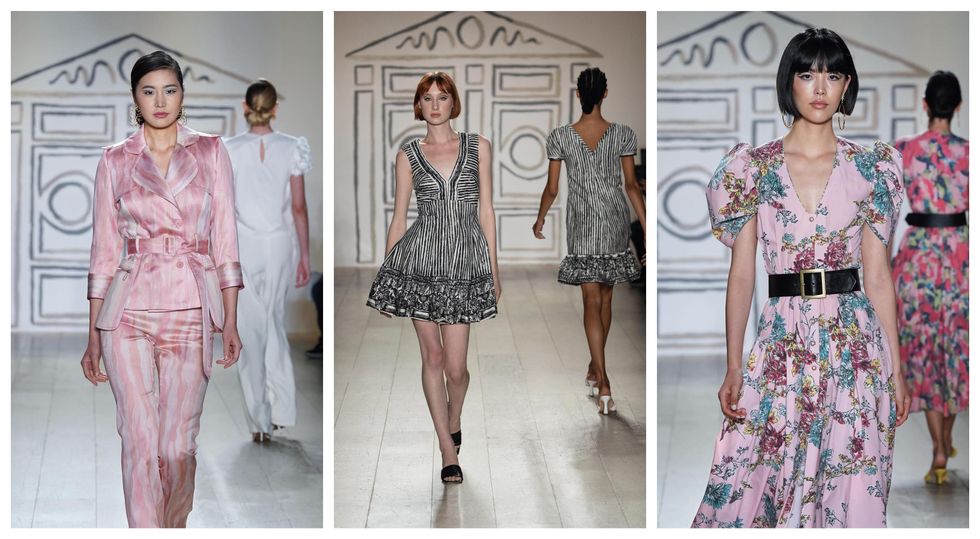 Photo Courtesy of Kevan Hall Designs
In between shows, I was able to link up with some blogger friends that I hadn't seen in years. These women really taught me so much about the industry and inspired me to keep going when my dreams felt unattainable.
To Sam and Marsha, thank you for being the light I didn't even know I needed. My NYFW journey is nothing without you two.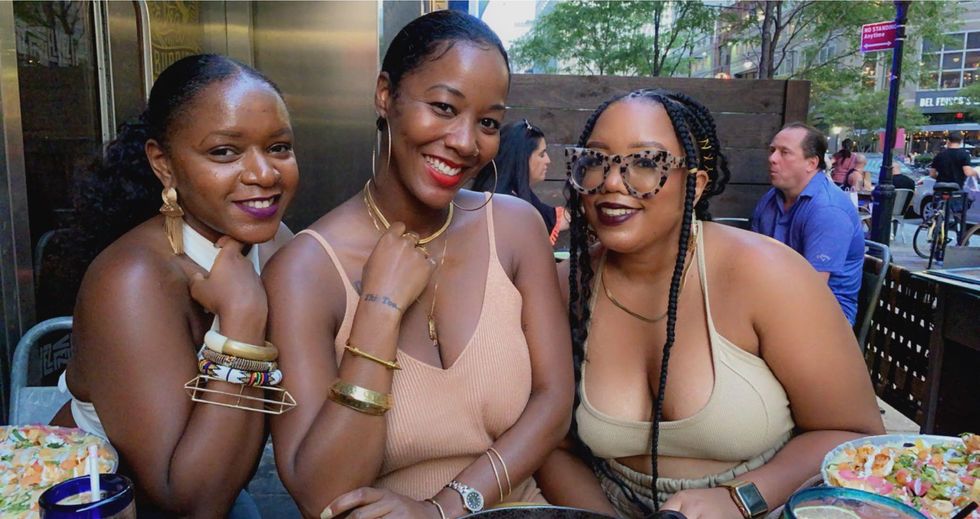 Courtesy of Joce Blake
To complete my Spring/Summer '22 NYFW, I attended the NOLCHA Shows, a place for independent designers to shine. "Ones to Watch," was the theme this season as they showcased independent fashion brands that epitomize elegance, freedom, and individuality. Each designer came with heat; this was arguably the best Nolcha showcase in years.

While the vibe of NYFW was different due to COVID, it still owes me nothing. I am forever grateful that I get to make my dreams a reality in the Big Apple.
I prayed for this; I love that for me!
To get your fashion fix and to stay up to date with the latest trends, check out the xoNecole Style section here.
Featured image courtesy of Joce Blake