I grew up in a single-parent home and I always knew that one day, I would have the nuclear family of my dreams. And while I did eventually achieve this, he and I eventually grew apart and the relationship dissolved.
---
People speak about how difficult divorce can be, but for me, the hardest part was knowing that I was now going to have to figure out how to co-parent for the sake of our two children, and that was very scary at first.

I worried about a lot of things, but mostly I realized the lack of control I would experience when the kids weren't with me. The notion that "mom knows best" made me truly understand why so many couples stay for the sake of the kids.
No two families are the same, and for Mashonda Tifrere, hers is now "blended". Many know her as Swizz Beatz's (Kasseem Dean) ex-wife but she's made a point to prove to the media that she is much more than that. Mashonda is a poised and confident advocate for the power of a healthy and, for some, unique way to raise children in this ever-evolving world that we live in.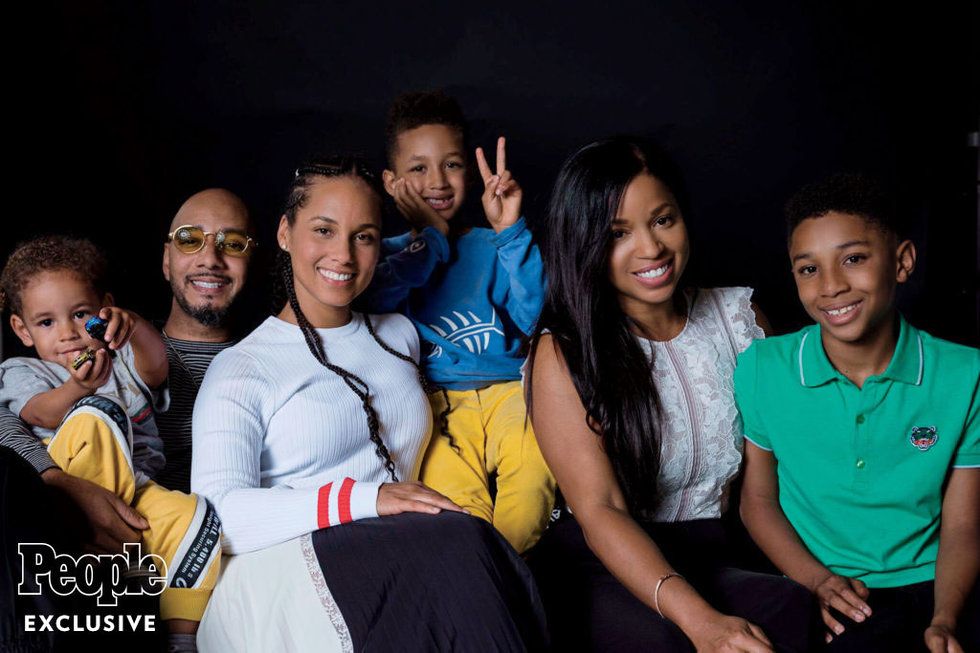 People Magazine Cole Cook
The 39-year-old just released her book, Blend:The Secret to Co-Parenting and Creating a Balanced Family, and in it she details what she needed to do for herself to overcome her breakup with Swizz Beatz, how the couple eventually came together for the sake of her son Kasseem Dean, Jr., and how they were able to blend their family and include Swizz Beatz's current wife, Alicia Keys, into the fold.

Mashonda recently sat down with The Breakfast Club to talk about the book, address some of the lingering rumors surrounding her divorce, and what it means to co-parent versus having a blended family.

She told listeners that initially, there was a lot of work that needed to be done through the help of therapy, counseling, and a genuine desire to do what was best for her son to get the point where she felt knowledgeable enough to write this book. Although it isn't a tell-all, Mashonda describes the book as a gift from her family to ours. She told The Breakfast Club:
"I had to go through everything to get to this point to be able to actually pen a book about the experience. It was necessary. We have accomplished something that our culture truly doesn't understand, and it's a gift. It's a gift from us to the world."

Back when their relationship ended, and the new one began between Mashonda's ex-husband and his current wife, there were plenty of rumors and words used to describe what had been going on. Charlamagne bluntly addressed the "homewrecker" rumors, to which Mashonda replied: "I have never used that word once."
She says that while they had a lot of miscommunication in the beginning, they were able to amicably work though it all.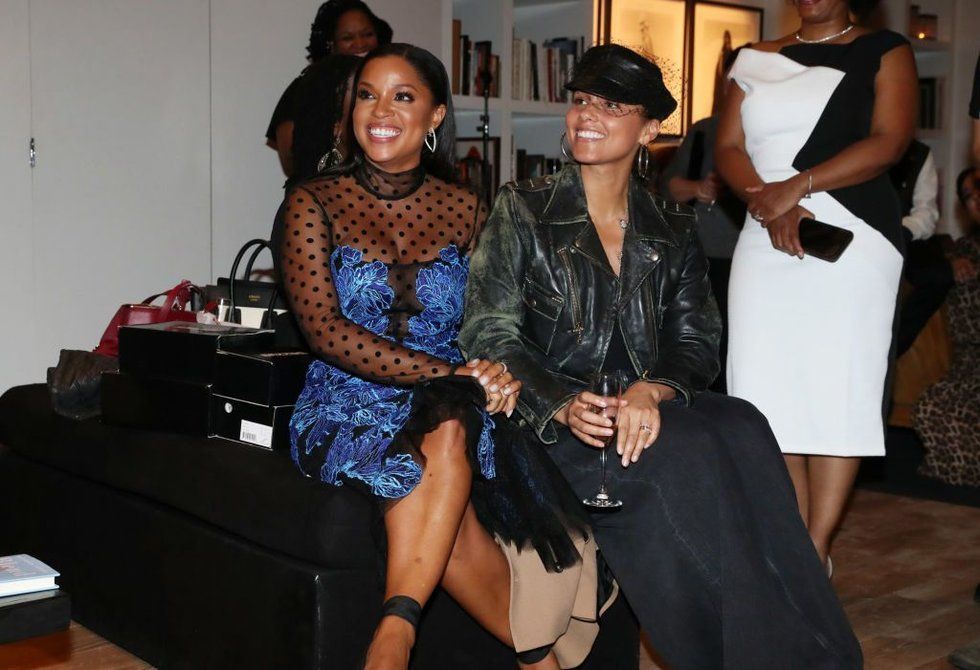 Johnny Nunez/WireImage
In the interview, Mashonda revealed what led her to finally have the tough conversation with Beatz in order to effectively co-parent and eventually blend their families. She said that when Kasseem, who was born in 2006, was 6 years old and starting to act out in school, she knew they needed to make a change. She says:

"When you have children and your children have questions, and you can feel their energy shifting based on the energy you're giving them--if you're a good parent, you know you have to make the change."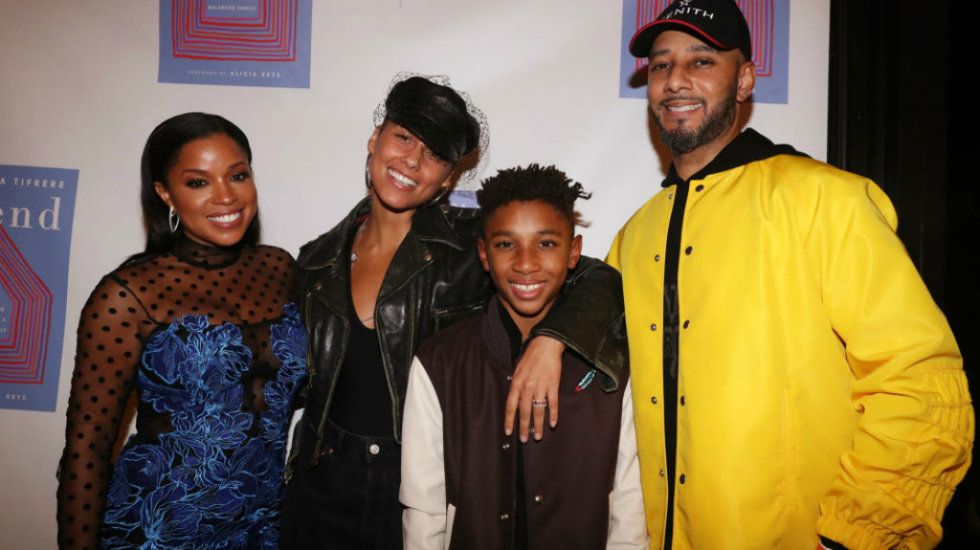 Mashonda says that she wanted something different for her own child because of her own experience growing up. She was always adamant about keeping the father-son bond tight because kids have a right to have their parents in their lives.

Mashonda also admits that despite much of the miscommunication in the beginning, she also realized that she needed to heal within herself in order to truly move forward and blend a family stating:
"You have to do the self-work to get to the point to where you can blend."
In the book, the first three chapters (Look to the Light, Rebuild Your Spirit, and Surrender) address what it took for her to heal from the divorce and the ruthless attack from the outside world. Through this healing she was able to start the process of accepting that she wanted to create a healthy and stable blended family for her son.

Mashonda recounted the many ways that not only does Alicia step up to be an awesome bonus mom, but she also is consistently proving that she will be there to do what she has to do. What was most revealing was Mashonda's take on what it means to co-parent versus having a blended family. She says that it comes from the desire to show her son that the people in his life can actually get along. She reveals:

"You can co-parent or you can blend. I notice that when people co-parent, they might not like each other...you drop they kid off, 'hey', keep it moving...that's co-parenting. Blending is a higher level, it's a lifestyle. It is truly putting harmony into the relationship, and ultimately, that's what I wanted to for my son. I wanted him to see the people in his life truly and genuinely get along. So that meant that I had to do the work, we had to do the work, and we had to see eye to eye. And it's extra work. And it depends, which parent are you? Do want that or do you want this? You get to choose, but ultimately, you are molding the future in your child, you are creating who this human being is going to be."

Sheree Fletcher, Misa Hylton, and Malik Yoba have also shared their experiences with Mashonda in the book, which is now available for purchase.

Parenting is already hard, and a co-parenting situation can be tricky at first. When parents are able to put aside their egos for the sake of the children, you might be surprised what type of family dynamic may come of it. Kudos to Mashonda, Swizz, and Alicia for showing us that a blended family can not only work, but it can be a lot of fun, too!
To see more of Mashonda's interview with The Breakfast Club, click here.