xoNecole's Chief Mom Officer explores the 18-month post-pregnancy journey through the lens of our very own Chief Mom Officer, Shakyna Bolden. The series will serve as an inspirational and resourceful guide to help get through the early days of new motherhood as working moms knowing they are not alone in the hardships.
"I want to build my work around my life, and not my life around my work."
---
I typed these words in my iPhone Notes as I fed my newborn daughter one morning during the first few weeks of having her earthside. I didn't have much time for page-filled journal entries as my days were filled with nonstop feedings, soothing, and recovery…but I knew I needed to give those words space and life.
Prior to my maternity leave, I, like most working moms, was burning fumes juggling work and life. Since 2019, I've been running revenue operations here at this really cool company you may have heard of called xoNecole (hehe). I've been behind the scenes building our brand partnerships and negotiating deals with companies such as Ulta Beauty, Toyota, Target, Spotify, SheaMoisture, etc.
Featured image courtesy of Shakyna Bolden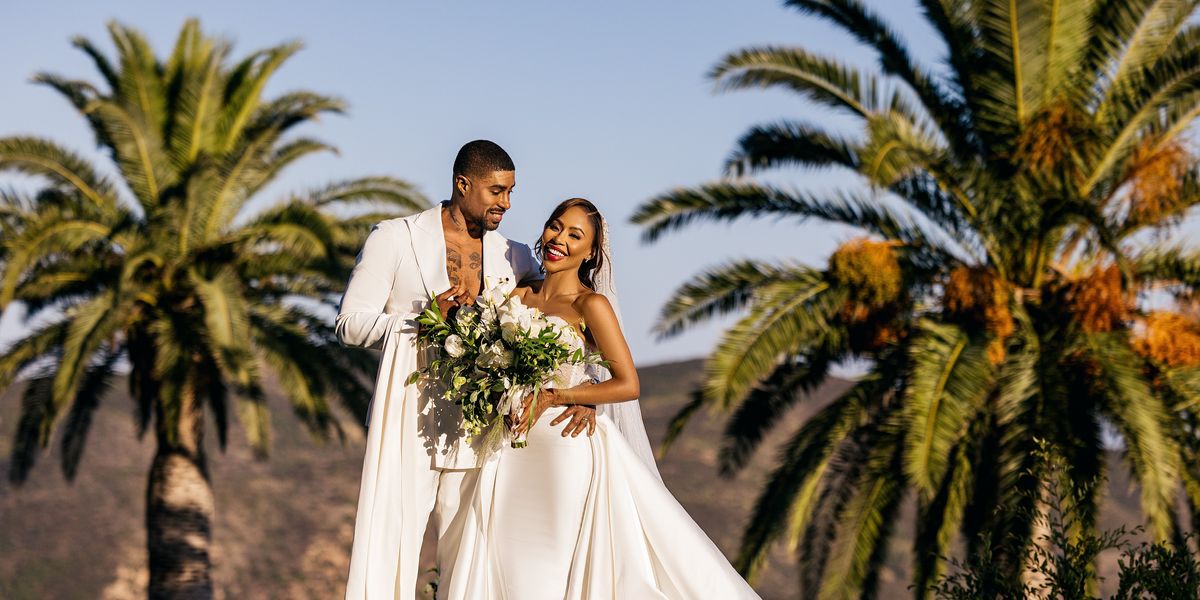 Whether it was your group chat, social media feed, or your favorite media outlet covering the spectacle, I'm pretty sure you've come across the viral Black wedding between actress KJ Smith (Sistas, Raising Kanan) and actor Skyh Black (All the Queen's Men, Sistas). From their grand entrance to Jay-Z, Kayne West, and Beyoncé's song "Lift Off" to KJ's standout dance routine and the endless celebrity appearances, it's an addictive TikTok scroll you can't help but delve into.
But what many people would be surprised to know is that the couple's original wedding plan was nothing like what it grew to be. What started as her simply scrolling through posts to get ideas eventually transformed into what the internet knows now as #TheBlackExperience. In an exclusive conversation with xoNecole, KJ walked us through her planning process, the morning of her wedding, and what she thinks of the online response.
Some women have their whole wedding planned out, from the bridal gown and venue to the bridal party and playlist. However, KJ was not one of those people. "I didn't foresee a wedding in my future," she reveals. "I was just gonna be the boss chick, rich auntie. I didn't force love in my life until recently. I never had an idea of what a dream wedding would look like, it was easier for me to elope."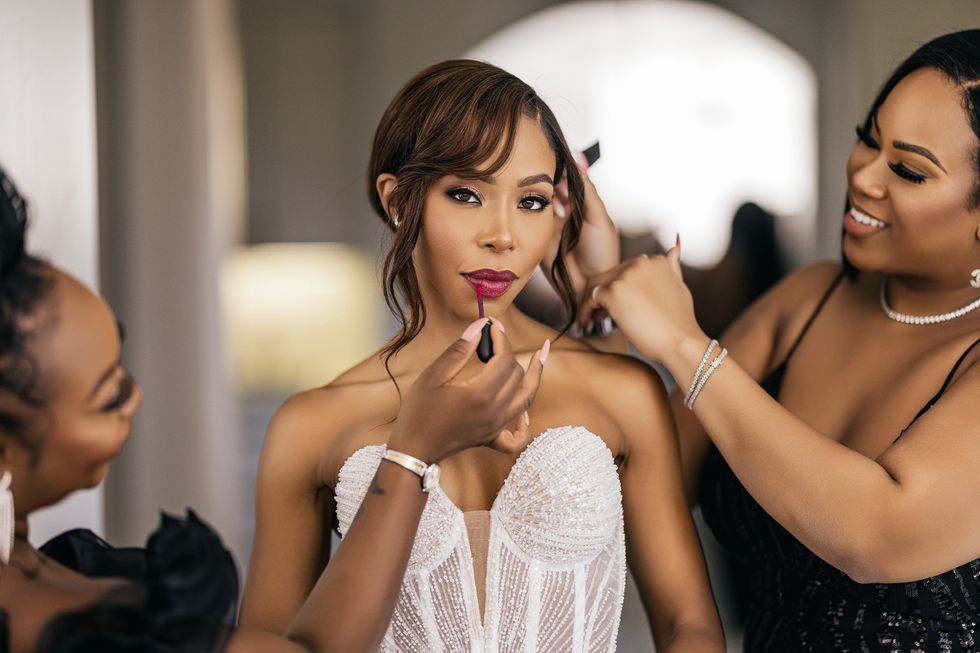 KJ Smith
Photo by Stanley Babb/ Stanlo Photography
And to many people's surprise, that was their original plan – until Skyh brought up a valid concern. He was raised by his grandmother and thought she should be at the wedding, and naturally, that led to KJ wanting her grandmother to be there as well – then her mom – and later her sister – and, you've gotta invite the besties too, right? From there, the guest list continued to blossom. Much like the updo and pop of color bold red lip, she wore on her special day, which was initially on her Pinterest board as a soft glam look with her hair hanging on her shoulders, KJ is okay with changing her plan if it brings her and her loved ones happiness.
So let's get into the wedding, which took place in Malibu, CA. The first thing you should know about the celebrity couple is that they're non-traditional. They know, and they don't care. So, in true unconventional fashion, they shared the morning of the wedding together.
"I woke up with Skyh, we walked our dog, had black coffee, and said good morning to the people who stayed at the venue with us," she says.
Now, it was time for hair and makeup. While she was getting glammed up, she had Black-owned McBride Sisters wine and champagne (which ties into The Black Experience theme) on deck with her mom and friends, had her besties help rework her vows, retried on every outfit (sis is very Type-A), took photos, and ended the early-celebration with prayer and meditation. It seems very non-Bridezilla, I said.
"Yeah, I was the most unbothered bride ever. Everyone was just so supportive. As entertainers, we go on red carpets all the time. We actually have a production company," she explains. "The get-ready process was like a day at work, but with people we love the most. Being entertainers, we didn't feel stressed at all, but my excitement was so high."
Things moved quickly, and before she knew it, it was time to line up to walk down the aisle.
"Yeah, I was the most unbothered bride ever. Everyone was just so supportive. As entertainers, we go on red carpets all the time. We actually have a production company. The get-ready process was like a day at work, but with people we love the most. Being entertainers, we didn't feel stressed at all, but my excitement was so high."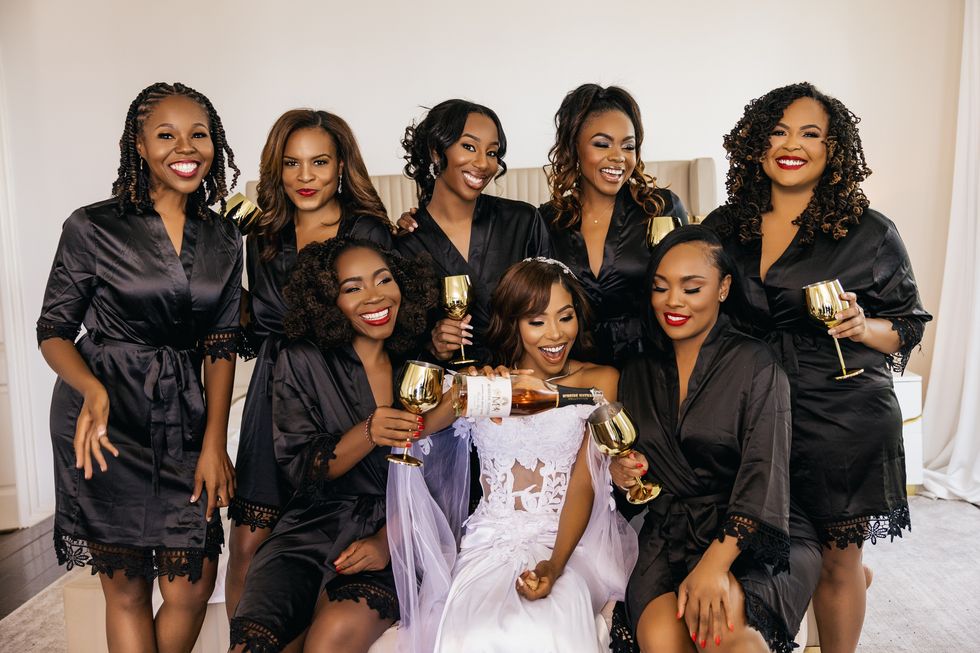 KJ Smith and her bridal party
Photo by Stanley Babb/ Stanlo Photography
Since everything started with their grandmothers, the couple wanted to ensure they honored them and planned to keep an element of their wedding traditional. Although we've all seen the reception videos and photos online, you may have noticed visuals from the wedding itself are harder to find.
"We planned for it to be traditional, but we're not like that, so we tried to create those moments. We jumped the broom and had a salt ceremony (where the bride and groom individually pour salt into a glass container, symbolizing their lives becoming one.) But honestly, still, nothing was traditional about it."
She goes on to explain that her mom caught the holy ghost coming down the aisle, her glam team was on deck, and she became so nervous with excitement that she had an anxiety attack – something she struggled with for years, she explains tearfully. Her friends had to literally cheer her down the aisle because of how overwhelmed she felt until she eventually calmed down.
"Skyh was standing there with his hand on his heart; we have our own little language, and I could feel the support," she shares.
It was surprising to hear all these emotional moments happened before the party we saw online. That is until she once again got into the backstory.
"As a Black woman actress, for so long, it was popular to be mysterious and secretive, but that's not who I am or what I like. Plus, we both wanted to create an experience for everyone there. We are the people who always host family and friends," she says. "Like for me, the first order of business was getting sandals for the women so they can dance all night long. We had oxtail, D'ussé, and a coffee and sativa lounge – which is part of Skyh and I's lifestyle and routine. We wanted to bring them into our world."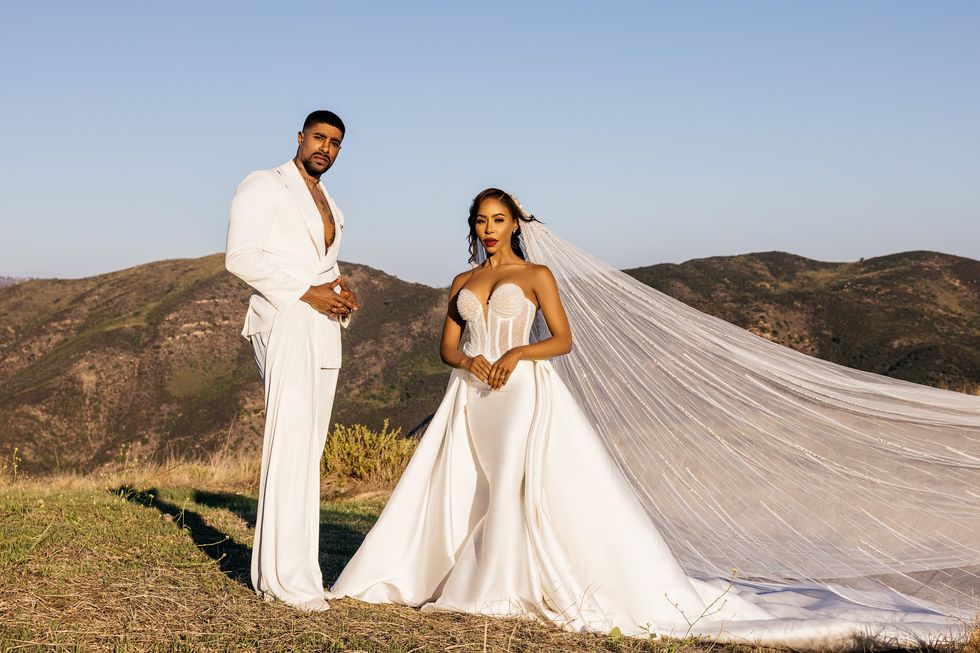 Skyh Black (L) and KJ Smith (R)
Photo by Stanley Babb/ Stanlo Photography
She went on to discuss the dance routine she did for her husband at the reception, which has taken over the internet. Apparently, that's another thing that didn't go according to plan. According to KJ, she had promised a performance at their joint bachelor/ bachelorette party, but her outfit got stolen from her car. So, Skyh ended up performing for her – complete with a strip tease. Still, she never forgot her promise to dance for him.
So, she hired her friend as a choreographer, learned the routine, made friends and family watch it endless times, and attended Beyoncé's Renaissance show a few days before for a confidence boost. It ended up being a show to remember. But that wasn't all the night offered. Lil Mo performed, and the guests received special goody bags featuring their favorite Black-owned products like journals, hair care, and more.
"We made sure everyone was taken care of all night. That kind of stuff makes us happy. I wanted everyone there to experience the joy and love I have for myself, my partner, and for them. I wanted them to feel full and whole, and they had the time of their lives," she says.
But naturally, the internet is going to internet, and while there were countless people praising the event and applauding the newlyweds, some thought it was too over the top. I was curious to know her thoughts on some of the criticism.
"It's cool. We did what we wanted to do. I've decided to share my world with people. Just how I went on social media platforms and found inspiration, I want people to do the same," she explains. "I don't think it's fair to my supporters not to give that out. There's so much I wanna share with brides, specifically Black brides. I love that people are adding it to their Pinterest boards."
"I wanted everyone there to experience the joy and love I have for myself, my partner, and for them. I wanted them to feel full and whole, and they had the time of their lives."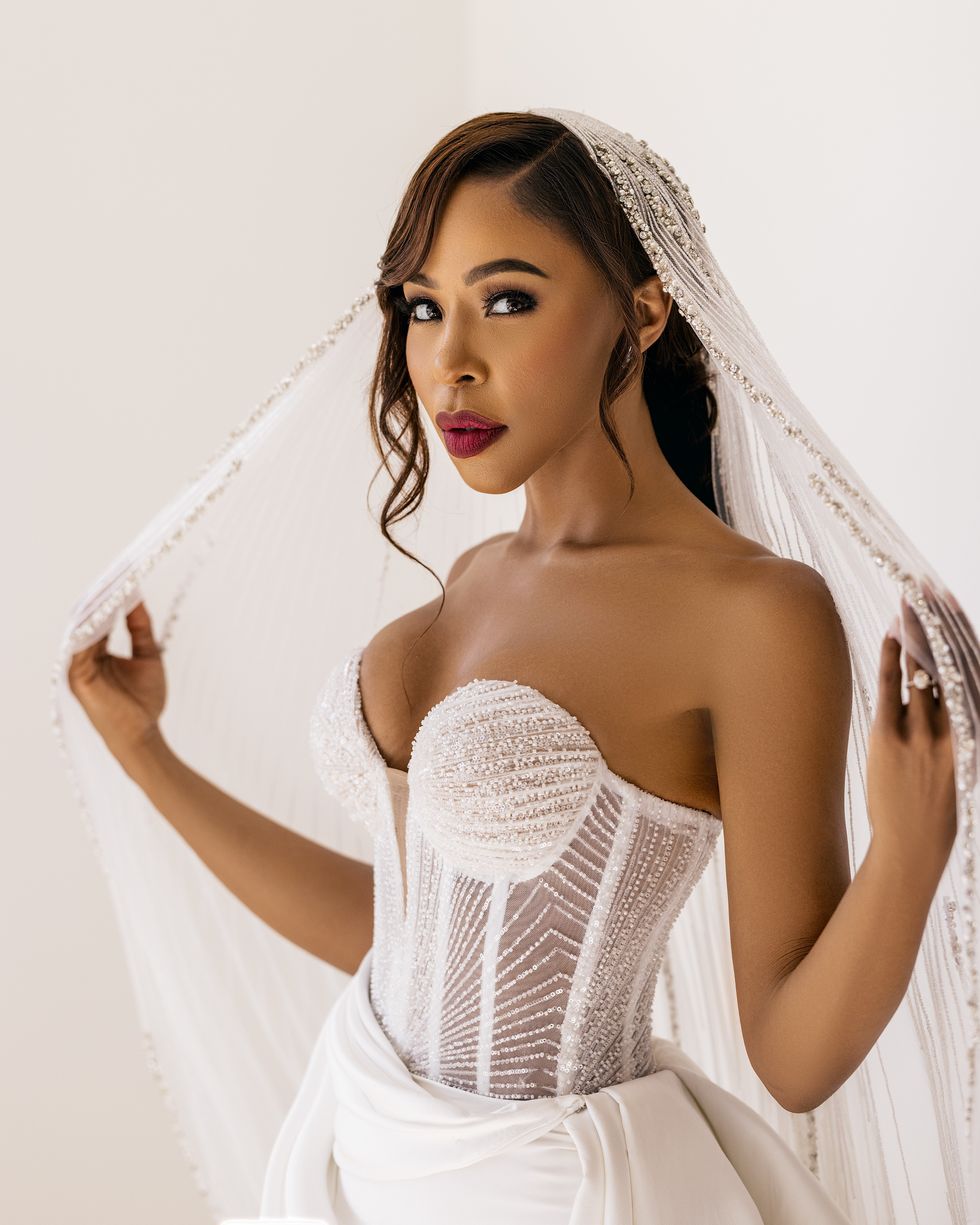 KJ Smith
Photo by Stanley Babb/ Stanlo Photography
"I'm happy with it because we did what we wanted to do. They can do what they wanna do. Don't be cruel, though, because you will get blocked," she said, laughing.
The more I spoke with her, the more her sense of freedom shined through. People are always going to have their opinions, but at the end of the day, it's you who has to live your life, and it seems like the couple realizes that and embraces that power. She also stressed the importance of not living for others and the lessons life has taught her.
"I've been to countless weddings, and I've been in countless weddings. I'm a generally older bride. So when women in my demographic get married, and you and your husband are busy working people like us, you deserve to have the one you want to have," she shares.
"This is what we wanted to do. Our loved ones love and support us. We did so much to honor them, but we also wanted to start our own tradition, legacy, and creation. I'm not going to be pulled back into ideas of the past when I'm trying to create a future with my partner. "
If you'd like to see more of the couple, you probably won't have to wait long. Although no content is planned yet, she admits to being an oversharer. "Me being open and transparent about my experiences lets people know it's okay to have flaws; it makes you human, and for many years, I didn't believe that was okay. I had pressure to be perfect, and I'd crumble every time," she explains to xoNecole.
Now, she owns her flaws and uses them as a superpower to connect with her community and feel and express her love.
"Some people give us [Skyh and KJ] a hard time because they say we just seem too perfect. I'm like, why is that a bad thing? I love the people I love. From my man to my mama, to my friends - unabashedly. We move through time and space how we want to move. If we did it another way, we'd let ourselves and our union down."
Feature image by Stanley Babb/ Stanlo Photography

Whether you prefer to travel in groups, solo, or on baecations, picking the right destination is a major component of ensuring a great trip. Where you go for your next vacation can come down to price, location, activity options, and a host of other things. We've seen how often group trips can go awry because each person has different interests and wants to do different things. But how do you pick the right place for yourself when there's so many options to choose from?
Choosing a destination that will provide you with the most memorable experience comes down to your own needs, and believe it or not, your love language can help with that. Our love languages are a guide to how we prefer to receive love and support, as well as how we like to give it.
Knowing about our love language can help build healthy relationships, better self-care routines, and improve our overall well-being. Imagine centering your travel around the way that you like to be loved and then experiencing that each moment of your trip. Every place around the world is unique and thus can provide a different vibe and feeling for us. Figuring out the places that align with our love language can be a game changer in how we experience the world.
Whether you're a quality time girlie like me or prefer acts of service, here's some of the best destinations to visit based on the five love languages.
If your love language is acts of service, you might want to visit...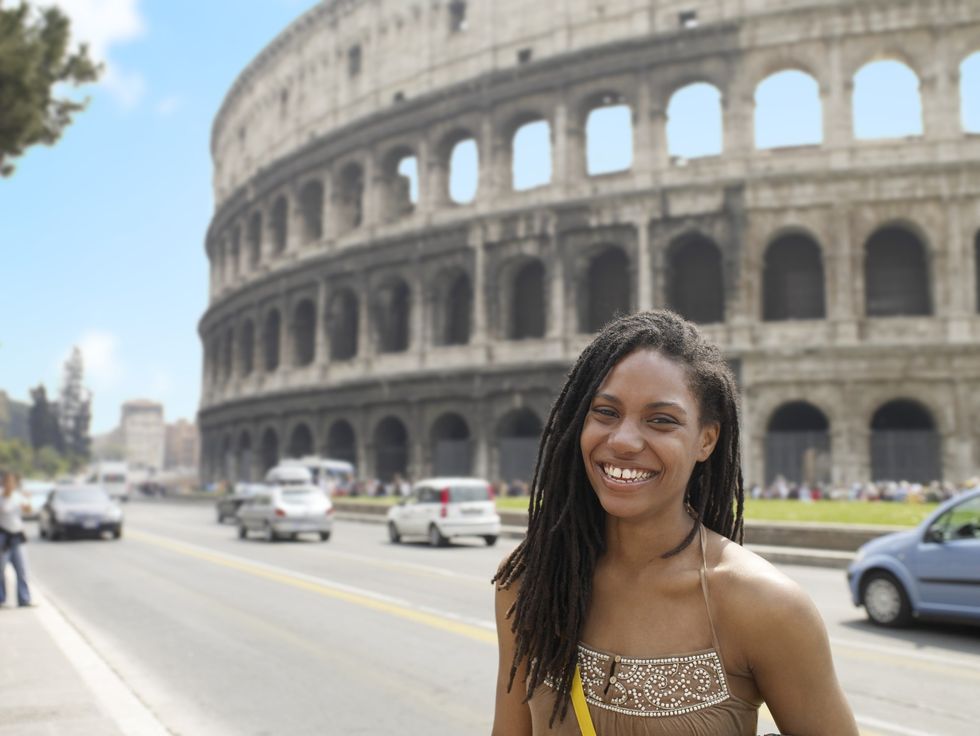 LWA/Getty Images
Rome, Italy

The "Eternal City" is home to the Colosseum, Trevi Fountain, and all the pasta and gelato that your heart desires. People who value acts of service love when things are done for them, and life is made easier. If that's your jam, consider going to Rome and experiencing an authentic Italian dinner cooked by locals for you. What better act of service than having someone cook a full meal for you in their home?
No need to learn how to roll pasta dough or knead pizza. Just sit back, relax, and enjoy the free-flowing wine while learning about Italian culture and having a 4-course meal provided for you. After that, take a guided city tour where someone else can show you around all the popular spots, skipping the lines and avoiding crowds.
Bangkok, Thailand

Having acts of service as your love language is not just about how others show you love but also about how you show it back. If you enjoy giving acts of service to others, consider heading to Thailand and visiting an ethical wildlife sanctuary where you can spend the day volunteering. Choose a place like Wildlife Friends Foundation Thailand, where people are not allowed to touch or ride the elephants but can help with harvesting bananas, cleaning enclosures, or even helping out in the animal clinic. You'll leave feeling a sense of pride and knowing that your time was spent in a way that made an impact.
If your love language is physical touch, you might want to visit...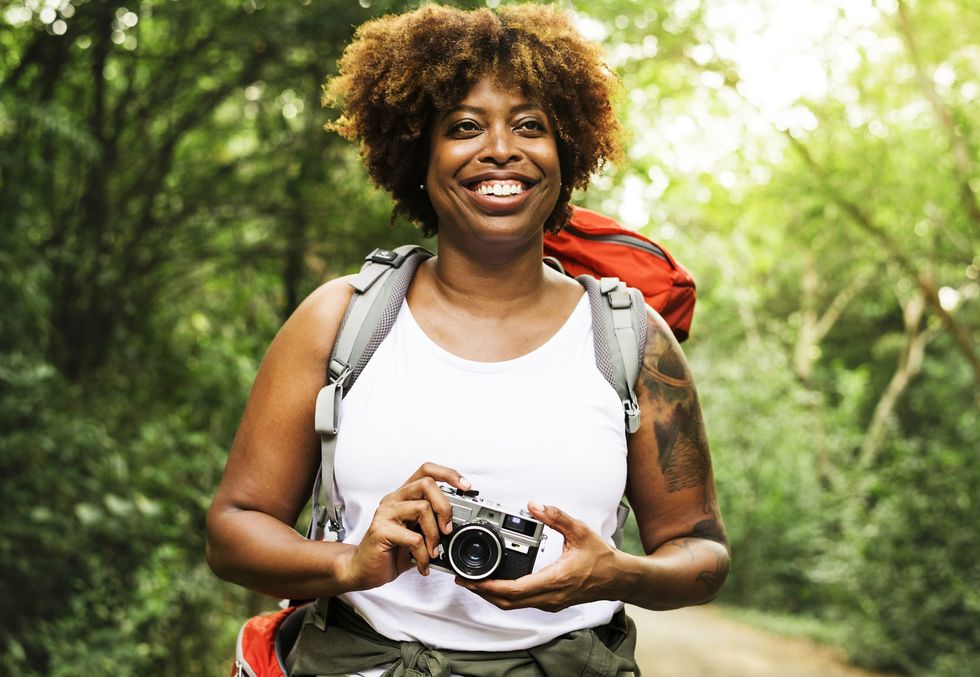 Rawpixel/Pexels

Guatemala

There are so many ways that we can experience the love language of physical touch, and Guatemala is a tropical sanctuary that can provide just that. This South American country is full of rainforests, volcanoes, and ancient ruins and can be the perfect escape to get some TLC. Consider staying at a luxury hotel like Villa Bokeh, where you can get your physical needs met through massages, yoga, or rowing on their lagoon. And if you want to explore off the resort, get those steps in with a hike of one of Guatemala's volcanoes.
If your love language is gift giving, you might want to visit...
Dubai

There's no better place to go to for all your shopping needs than Dubai. Whether you are a gift giver or like to be spoiled, this is where you need to be. To start, the Dubai Mall is the largest mall in the world at over 12 million square feet. With around 1,200 shops to choose from, you are bound to find something for just about everyone. Dubai is not a budget destination, so leave a little extra space in your luggage and prepare to spend a pretty coin while you're there. If luxury gifts aren't your thing, head to the Covent Garden Market, where you can shop local vendors for more affordable items.
If your love language is quality time, you might want to visit...
Costa Rica

Whether you're planning a cute baecation or a solo trip, quality time is all about disconnecting and spending intentional time with your loved one or yourself. Costa Rica is an ideal location to be off the grid and be present. Spend some special time with bae at a nice resort, enjoying a couples massage, a trip to the rainforest, or a sunset dinner. There's something about being off the grid that allows us to be more present with each other.
If you want to get in some DND solo quality time, book a stay at Nayara Springs Resort, located on the outskirts of Antigua, where you can enjoy uninterrupted and secluded relaxation while indulging in amenities like yoga classes and a hot springs pool.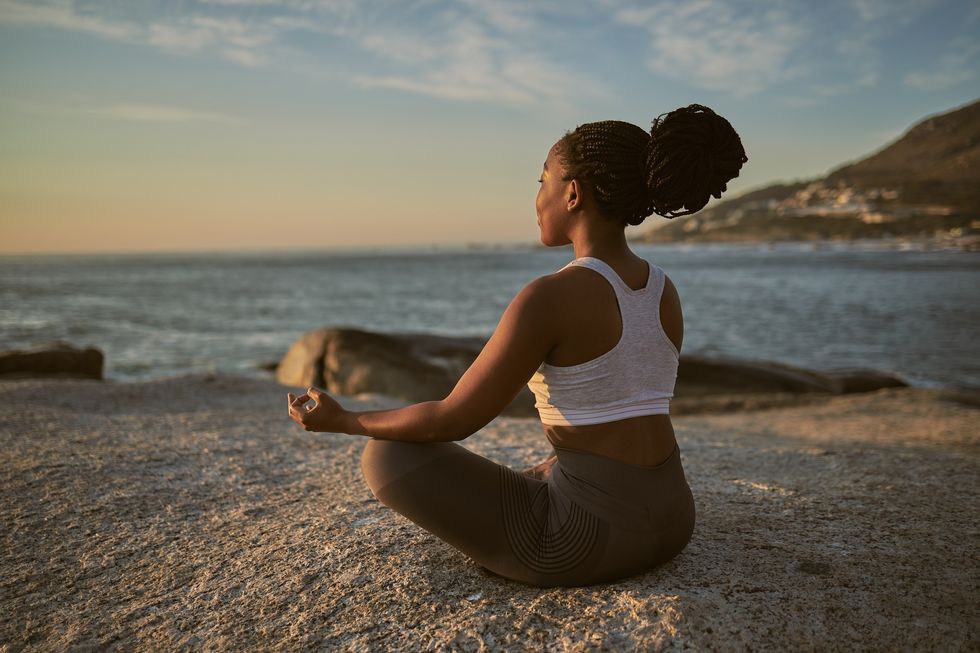 Marco VDM/Getty Images

Tanzania
There are many ways to spend quality time with yourself or others, so why not do it in one of the most beautiful countries in the world? Explore Dar es Salaam with family, learn about the history of Tanzania, and then spend more quality time at the beach on Mbudya Island. If you are looking for a more romantic trip or quality time on your own, go out to Zanzibar, the archipelago off the coast of Tanzania. Here you'll find some of the most beautiful beaches in the world and can stroll through the historical Stone Town.
If your love language is words of affirmation, you might want to visit...
Paris, France

If words of affirmation get you feeling all tingly inside, then why not take a trip to the "City of Love," Paris, France? Not only is Paris considered the mecca for love, but French is literally one of the world's romance languages. So take a French lesson where you can learn how to speak beautiful words about yourself, or if you're with bae, take a stroll by the Eiffel Tower at night while sharing some of the things you appreciate about each other.
Bonus points if you can say it in French.
Let's make things inbox official! Sign up for the xoNecole newsletter for daily love, wellness, career, and exclusive content delivered straight to your inbox.
Featured image by Diamond Dogs/Getty Images