When Gabrielle Union and Dwyane Wade announced the birth of their daughter, Kaavia, on Instagram last month, many of us were thrilled with the news as if we were all a part of their extended family.
---
It has been no secret that Union has had her share of struggles on the path to motherhood. The new mother has been quite open when it comes to her misdiagnosed fertility issues, the 8 or 9 miscarriages she's endured, and how her body felt like a "prisoner of trying to get pregnant." But despite her candidness when it came to her own ability to conceive, the We're Going To Need More Wine author was already on the path to becoming a mother via surrogacy.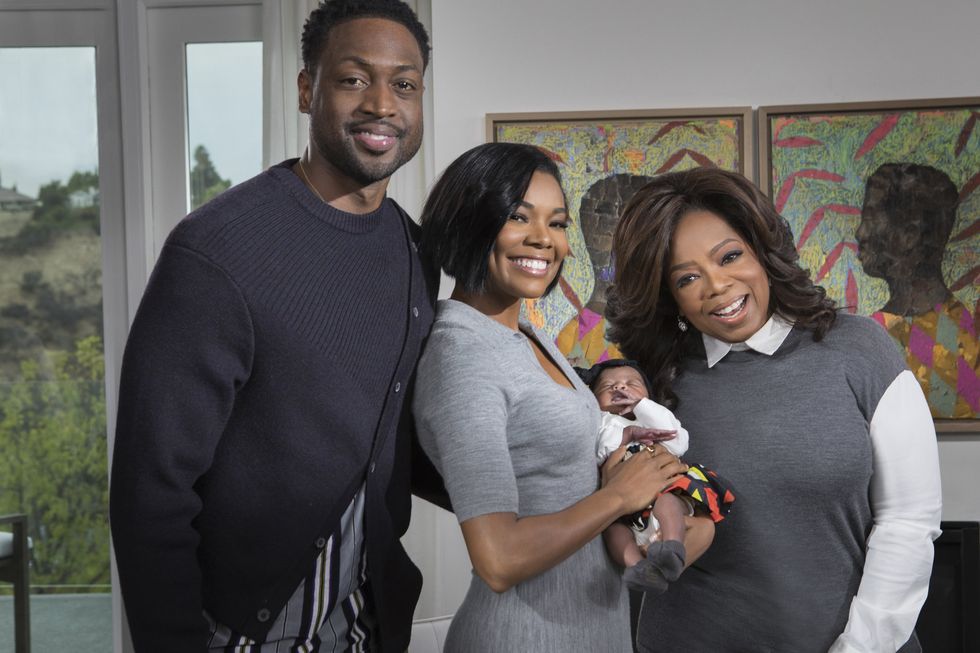 Oprah Winfrey with Gabrielle Union and Dwyane WadeHarpo, Inc./Peter Iovino
However, just because the couple decided to go the surrogacy route didn't mean they were absent of all the nerves and uncertainty that comes with any pregnancy. While every journey is unique in its own way, pregnancy can be a beautiful yet scary time. And for Gabrielle, rather than share the news of her growing bundle of joy, she and Dwyane decided to keep the surrogacy private. Privacy is a difficult thing to maintain when you are in the public eye, but the couple managed to not only keep the secret, they also took the time to begin to reflect on their journey and heal from the pain that led up to this point.

Last week, Gabrielle took to Instagram to share some of the emotions the couple went through as they prepared for the arrival of their daughter. In a caption posted alongside a photo of the couple sharing an intimate embrace, she revealed:
"On this night we decided to embrace faith that our lil miracle @kaaviajames would make it into our arms. We held onto each other in joy and peace and allowed ourselves to look forward to her arrival. @dwaynewade marked this moment with his 1st ever tattoo of her 1st name Kaavia James."
Having a baby is a miracle, regardless of the way they are conceived. But when you've faced countless failed attempts, opting for surrogacy can present its own set of emotional battles with which to contend. Gabrielle reveals that at times she felt alone and even fought off the feelings of being "defective".

The L.A.'s Finest star says that she felt isolated and even depressed keeping the journey to herself. And while she and her husband finally embraced the very real fact that they would soon become new parents, it took until the second trimester for them to finally stop holding their breath. The caption continues:
"For lots of people/families who have been on their own unique fertility/family creation journey, hope can feel like a cruel joke that plays on repeat. You stop letting yourself get excited and you don't [sic] dare utter any updates. You carry it all. It can feel isolating and depressing. You wonder if you are defective. You are not. You wonder if you are worthy. You are. You feel you feel you feeeeeel. You are not alone. You are loved and worthy and every feeling is real and understood. On this night, we allowed ourselves to stop holding our breath out of fear. We still had 4 months to go. We had never been this close. #tbt"
In their first interview since the birth of Kaavia James Union Wade, the couple sat down with Oprah Winfrey to discuss their struggles with infertility and their surrogacy journey in a special called "Oprah at Home with Gabrielle Union, Dwyane Wade & Their New Baby" on December 8th at 8 pm. And if there is any questioning as to why the couple decided to keep their journey to themselves, this exclusive sneak-peak of their upcoming sit down with Oprah Winfrey might shed some light.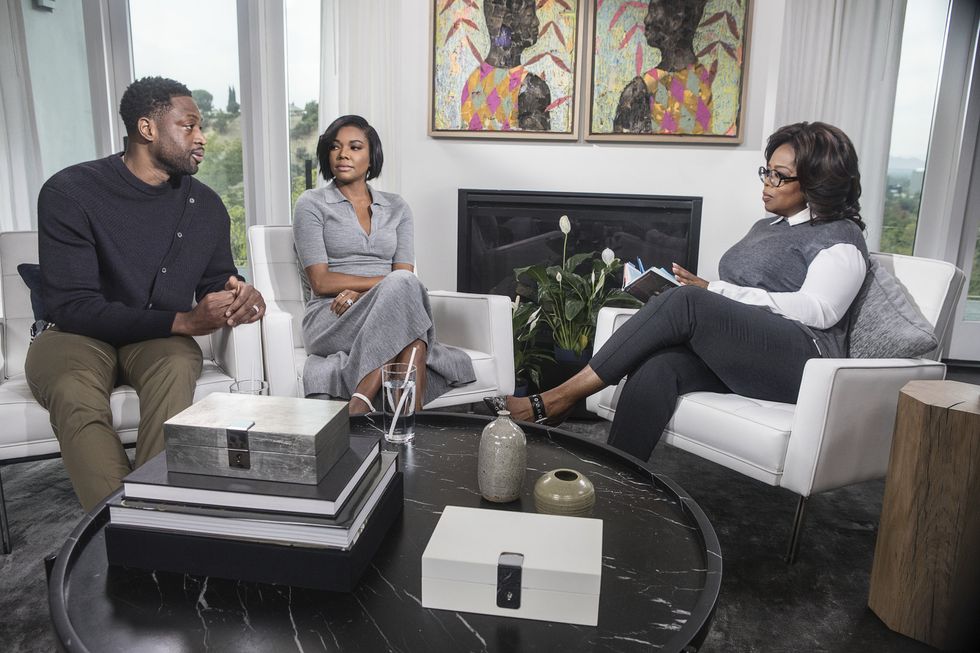 Oprah Winfrey with Gabrielle Union and Dwyane WadeHarpo, Inc./Peter Iovino
During the special, Gabrielle will discuss how she had to let go of the fact that she would not be the one carrying the baby. Dwyane also seems to address some of the backlash that they have received on social media and Oprah finally gives The Wades a chance to address the haters.

Through their story, many other women and couples can see that they are in fact worthy of their own journey to parenthood, no matter how difficult it might be. By sharing their story, there shouldn't be any doubt that couples around the world will not only be able to relate to their struggles in having a baby but will also feel inspired to remain hopeful along the way.
The all-new special, "Oprah at Home with Gabrielle Union, Dwyane Wade & Their New Baby", will premiere exclusively on the OWN: Oprah Winfrey Network, Saturday, December 8th at 8 pm ET/PT. Check out an exclusive first look at the special here.
Don't have OWN? Mama O's got you covered. The special will also air on "SuperSoul Sunday" December 9th, streaming live on Oprah's Facebook page at 11:00 am ET/PT. The interview will also be available to hear on Oprah's SuperSoul Conversations podcast on Monday, December 10th with part two following on Wednesday, December 12th.
Featured images by Harpo, Inc./Peter Iovino.