If someone were to offer you pills that were said to lower your chances of postpartum depression, would you take them? Sure, right? But would you still agree to the pills if it came out of an organ in your uterus?
---
NPR.org reports that as many as 1 in every 7 women experience postpartum depression (PPD), with symptoms of feeling guilty or a disconnect towards her newborn, severe irritability, sleep deprivation, and loss of appetite, to name a few. According to The Centers for Disease Control and Prevention, women who become pregnant as an adolescent, have pregnancy and/or birth complications, or give birth to a baby born with defects and disabilities, have a higher risk of experiencing PPD. But don't be fooled. Women who had healthy pregnancies can also feel depressed after the arrival of a newborn. So, I pose the question again: would you look into those pills that could reduce that possibility?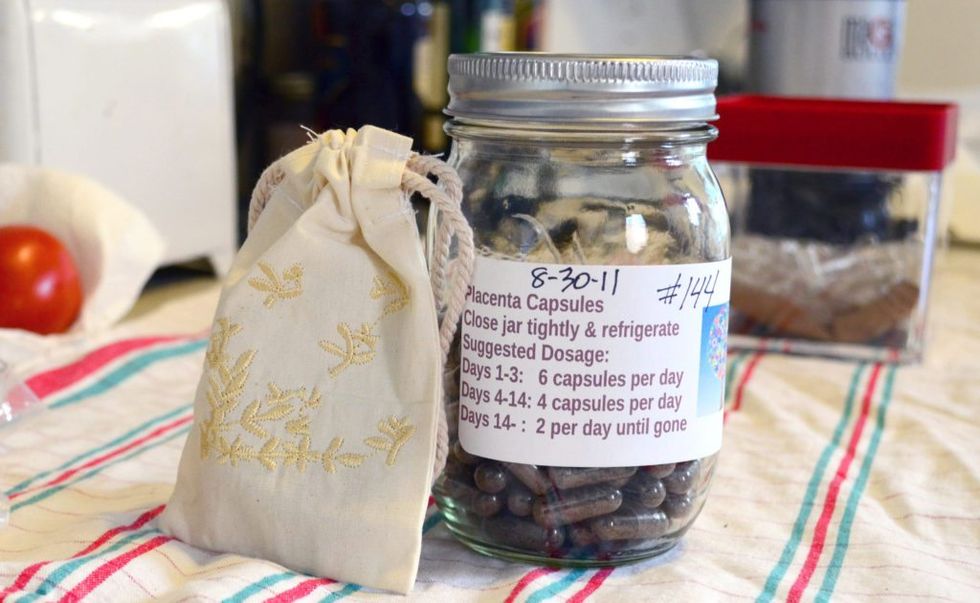 Placenta, yes, "afterbirth," is a temporary organ that develops in the uterus of pregnant women, providing oxygen and delivering vital nutrients to developing babies. It also allows waste elimination and produces hormones like, oxytocin and progesterone. Human placentophagy, or the consumption of placenta, is a practice that dates back to the 16th century in China, used in medicine, elixirs, and to cure lactation and infertility issues. Eating your own placenta also replenishes those nutrients lost during pregnancy. In recent years, it began to trend here in America, thanks to celeb-mommies, Alicia Silverstone, RHOA's Kim Zolciak, Tamera Mowry-Housley, and Mad Men's January Jones who said that it increased their milk production, heightened their mood and lowered their chances of postpartum depression.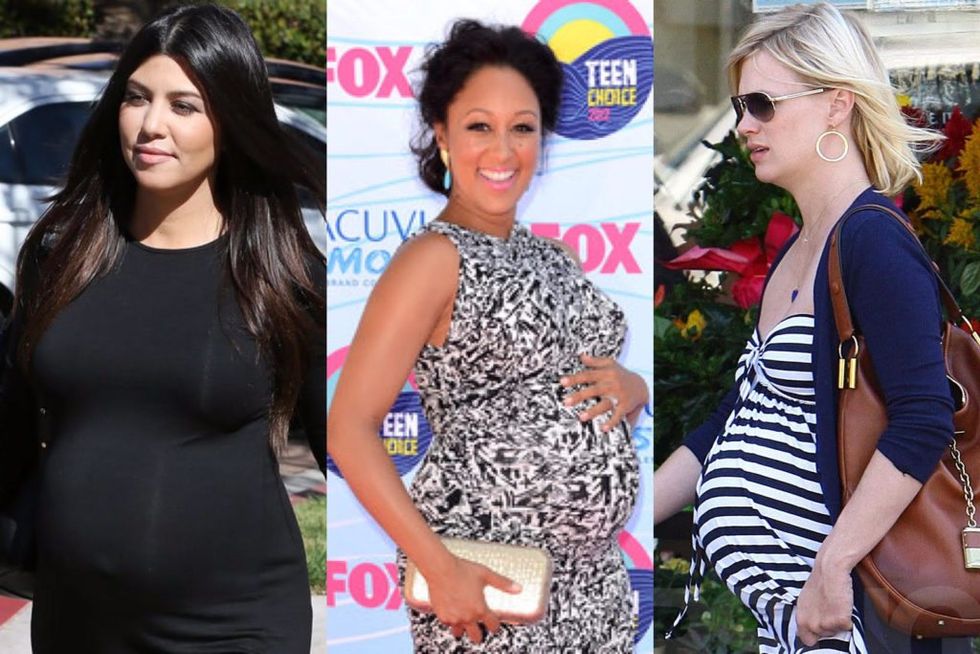 Alicia Silverstone's husband calls her encapsulated placenta, "happy pills."
Someone gifted me my placenta in the form of a pill. They encapsulated it. I thought 'That's harmless. I'll try it.' And I have to tell you that I really loved it. I've got the point that my husband said 'Did you have your happy pills today?' And I was really sad when they were gone. It really helped me.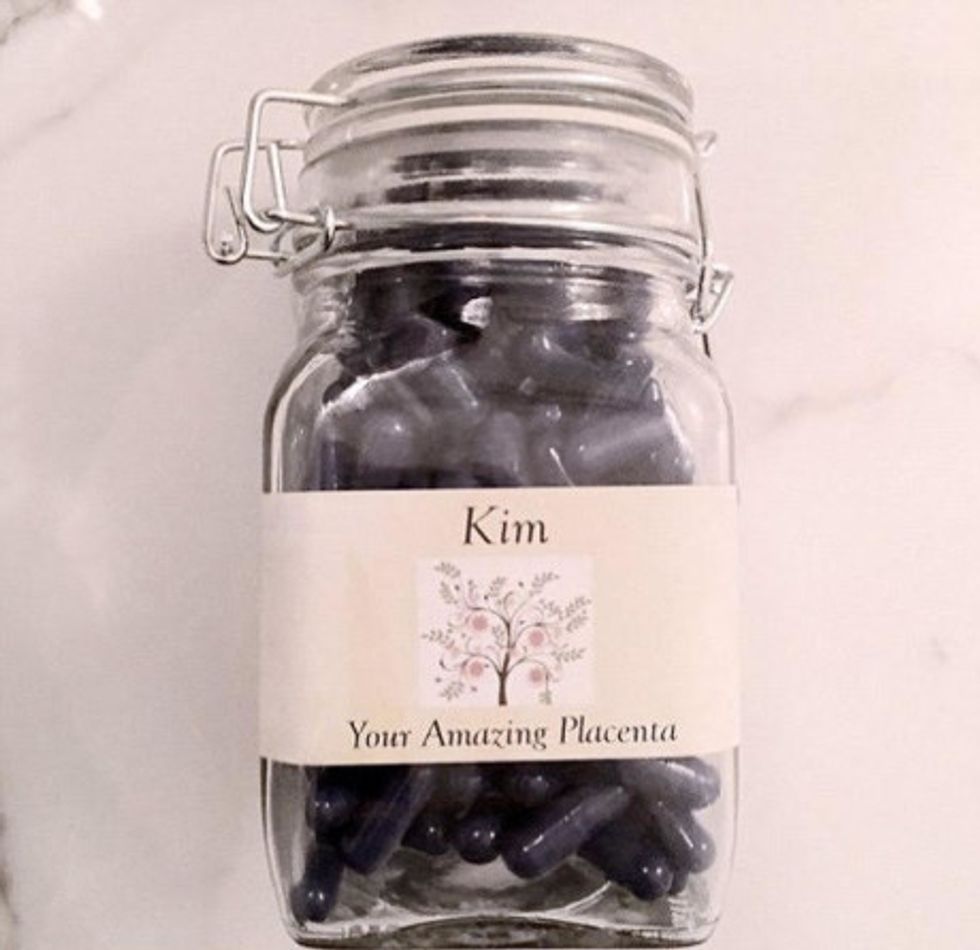 Photo Credit: KimKardashianWest.com
Zolciak gets her fix through a smoothie, Tamera drinks hers (and shared with her sis, Tia), and JJ takes hers like a natural supplement. There are recipes that exist if you're trying to get fancy with it, too. Earlier this year Kourtney Kardashian jumped on board after she gave birth to son, Reign, and shared her experience on Instagram, calling them "life changing." Of course, her little sister Kim followed suit and uploaded a pic of her own pills after Saint's arrival. In a post on her site, Mrs. West talks about her fight against postpartum depression the second time around with the assistance of her placenta.
Related: Sisterly Bonding: Tia Tastes Tamera's Placenta
So, I'm really not this holistic person or someone who would have ever considered eating my placenta...And when I say 'eat my placenta,' I mean that I'm having it freeze-dried and made into a pill form–not actually fry it like a steak and eat it (which some people do, BTW). I heard so many stories when I was pregnant with North of moms who never ate their placenta with their first baby and then had postpartum depression, but then when they took the pills with their second baby, they did not suffer from depression!

So I thought, why not try it?...What do I have to lose? I really didn't want the baby blues and thought I can't go wrong with taking a pill made of my own hormones-made by me, for me. I started researching and read about so many moms who felt this same way and said the overall healing process was so much easier. Every time I take a pill, I feel a surge of energy and feel really healthy and good. I totally recommend it for anyone considering it!
Jennifer Mayer, founder of Brooklyn Placenta Services and birth doula, tells the New York Daily News about the growing interest amongst women who are interested in encapsulating their placenta. Mayer typically makes roughly 80-130 pills on average for each of her clients and has cooked up more than 600-700 placenta in a span of her five years in the business, leaving her job as a massage therapist and picking up the side hustle full-time.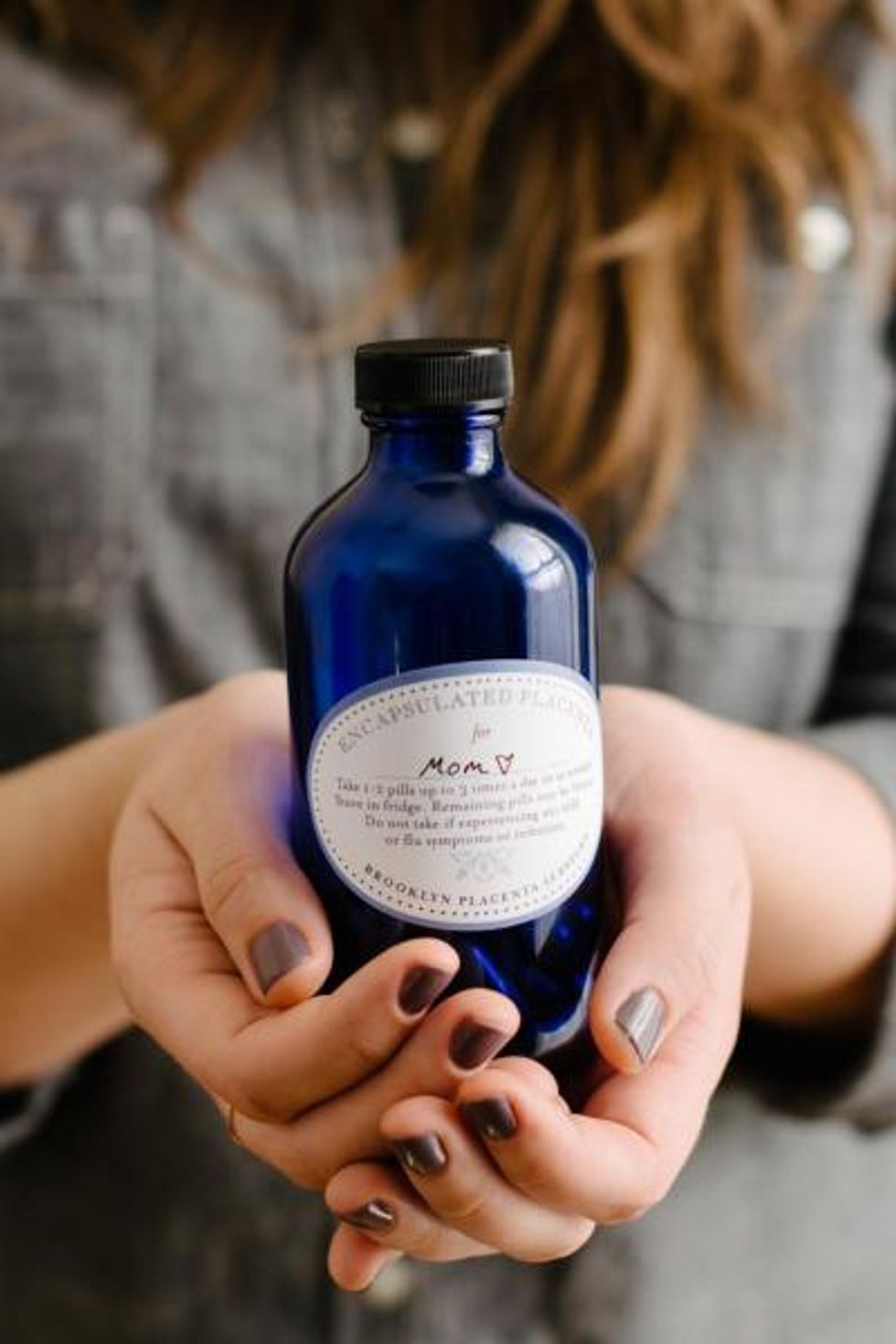 Photo Credit: Kent Meister for NY Daily News
She briefly talks about her own experience and the process of encapsulation:
It doesn't taste like anything in capsule form. I slice it, dehydrate it and fill it into a capsule about the size of a vitamin, and place the pills in a blue glass bottle. If anything, it might smell a little metallic. You know, like blood.

So far the science on eating placenta is mostly anecdotal; women sharing their personal experiences of it helping with their baby blues. My clients say it increases their energy. Taking a capsule gives them a boost equal to a cup of coffee or a green juice — which, if you have a newborn, is pretty awesome. And there are studies from the turn of the century that show dehydrated placenta did increase milk supply in breastfeeding moms.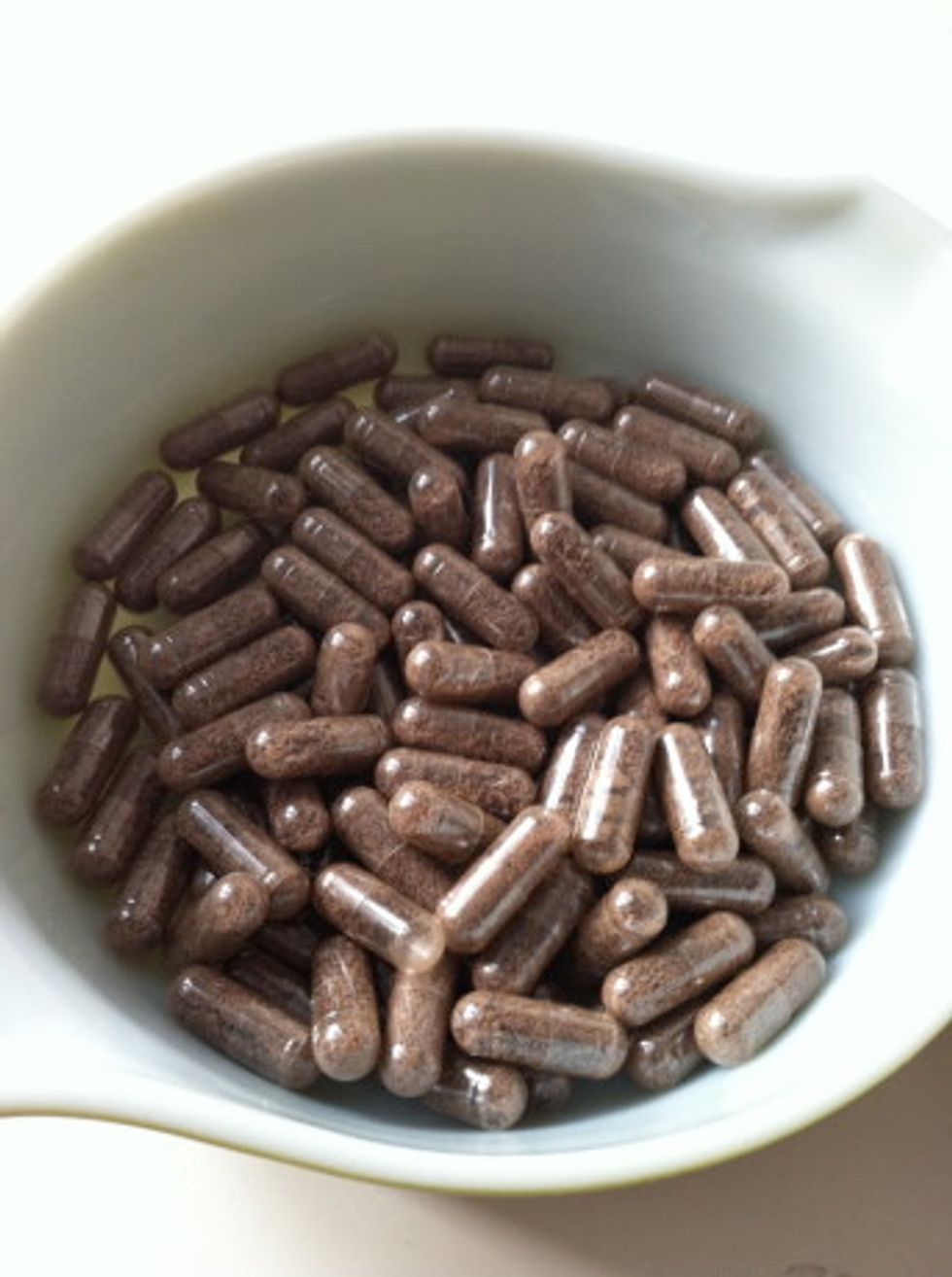 There must be magic in the placenta, but if you ask doctors, they aren't buying it. Many believe that, while celebrities publicly advocate for it, there isn't any scientifically based evidence that confirms there are benefits to eating your own afterbirth in any form. After placentophagia became a hot topic back in 2012 from January Jones' comment, many medical specialists weighed in. Neuroscientist Mark Kristal told New York Magazine, "It's a New Age phenomenon. Every ten or twenty years, people say, 'We should do this because it's natural and animals do it.' But it's not based on science. It's a fad." Claudia Booker, a home birth midwife and a placenta encapsulator believes there are advantages to consuming your own placenta, but doesn't agree in the belief that it's a remedy for PPD.
"These placenta pills can tell your hormonal system not to create the tremendous drop in estrogen after birth that causes some women to be weepy or feel down. It slows down that rapid estrogen decline...I do not believe that consuming your placenta in capsule form or any form is a treatment for clinically diagnosed postpartum depression, which is a medical condition that should be treated by a healthcare provider. This is more about the new mommy orientation stage, when you wonder if you'll ever sleep again and if life is always going to be like this."
While I've never taken placenta pills after having my children (and probably never will), I don't knock those who choose to indulge. I applaud any woman choosing to do what she feels is best for her body and baby. Healthy mommies do make happier homes.