"I could buy designer, but this Fashion Nova fit." - Cardi B, "Money Bag"
---
"Do it for the culture" is a phrase we use frequently but Cardi B actually did that. The Bronx rap star started stripping to escape a relationship with an abusive ex-boyfriend and move out on her own. In 2014, she took the internet by storm and rose to prominence by sharing her flamboyant 'no filter' personality via Instagram.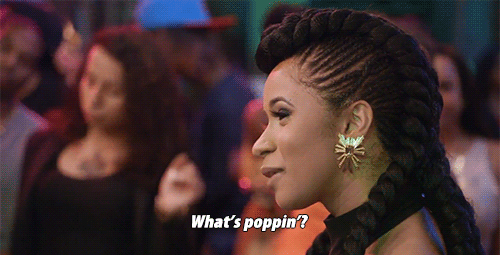 VH1 quickly jumped aboard the Cardi B. bandwagon and added her to their roster for Love and Hip Hop: New York, where she became the meme queen and continued to dominate our social media feeds.
After years of grinding and booking her own tours, in 2017, she dropped her debut single "Bodak Yellow", which broke a number of industry records, and the world was shook. Cardi got a bag, fixed her teeth, and recently dropped her debut album Invasion of Privacy, which was certified gold overnight.
The nationwide celebration of Cardi B. is a symbol of the impact that women of color have on pop culture and culture in general. Women like Roxanne Shante, Queen Latifah, Lil Kim, and Nicki Minaj have set the standard and actively combatted the misogynoir culture that is heavily prominent in the rap game with the message of sexual liberation and free agency for women.
In an interview with Cosmopolitan, Cardi touched on owning her past as what gave her her present:
"People say, 'Why do you always got to say that you used to be a stripper? We get it.' Because y'all don't respect me because of it, and y'all going to respect these strippers from now on. Just because somebody was a stripper don't mean they don't have no brain."
For years, women in the hip-hop industry were limited to roles of sidekick or video vixen. Nevertheless, women used the overtly sexualized roles in which society had cast them to create a platform for female lyricists and patrons alike.
"Bodak Yellow" is to millennial women what "U.N.I.T.Y." was to the women of 90's.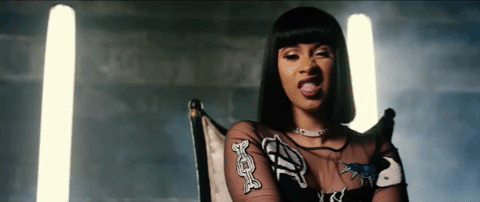 These songs weren't just a couple of sick bars strung together for a cute video, they were anthems for women of color that were previously voiceless. Though the songs carry two completely different vibes, their message is the same. I am powerful woman, my p*ssy is mine, and you will respect that. Doesn't that sh*t just make you want to burn a bra or something? It's empowering, and it further solidifies the cultural significance of female rap artists and their impact on a larger culture.

Cardi B, Queen Latifah, Nicki Minaj, Trina, and a number of other women in the rap industry have taken the initiative to reclaim the overtly sexualized narrative surrounding black women, triggering the feminist progression of an entire culture. These women say:
"I am a sexual being but my sexuality is not yours. I have a right to my privacy, my agency. I'm not a boss b*tch. I'm a boss, b*tch. My agency is mine."
Cardi herself stressed the importance of that agency in an interview with Vibe:
"I may not be your typical. Who's to say that I can't inspire a woman who works at a Fortune 500 company as much as she inspires me? I think that's important to know."
Cardi's album includes features from superstars like SZA, Kehlani, Chance The Rapper, YG, and 21 Savage. I've had the album on repeat since last night. Coming from the resident Hip Hop head at xoNecole, I can confirm that issa bop! She told Beats 1:
"I am so grateful for everybody that decided to be on my album because as an artist, I know how busy artists are. For them to take the time and do it exactly right. Everything came out how I wanted it to come out. Perfect hooks, perfect verses. It was just like 'Jesus loves me, I must have done something right in my life.'"
Even if you don't particularly love Cardi's style of music, you cannot deny her power.
She gave us some dope ass captions for the summer and she is symbolic of the influence that women of color have on millennial culture, and honey we are here for it.
Featured image by Giphy