Brooke Obie is xoNecole's new editor-in-chief, and this sister has the career receipts that prove that she's set to take the platform to the next level. Let's start with the proof of real skin in the media game: She is an award-winning journalist, whose work has been featured in The New York Times, The Atlantic, The Guardian, Essence, Marie Claire, Teen Vogue, and many more.
---
The Hampton University and Mercer University School of Law graduate has served as the co-editor of Roxane Gay's The Audacity, the deputy director of Refinery29 Unbothered, Ebony.com's first editor-at-large, and as managing editor for Shadow & Act. She is also a TV and film critic who has a voice and perspective to be reckoned with.
Her smart and thought-provoking film and TV insights and cultural criticism have had a viral allure, which is not surprising. (Just go read her telling commentary on the "zombification" of Whitney Houston, and you'll see why.) Her critiques have enhanced the cultural conversations of shows and panels including NPR's 1A Movie Club.
She also took her writing passions further with her debut novel Book of Addis: Cradled Embers, which was honored with the 2018 Accra International Book Festival Awards' Independent Writer's Award, the 2017 Phillis Wheatley Book Award for First Fiction, and the 2017 Black Caucus of the American Library Association Award for self-published Fiction.
"What began as a way to pay my bills while I finished grad school and my debut novel turned into the most fulfilling career I never could've imagined for myself," Brooke said of her start in journalism in an interview with xoNecole.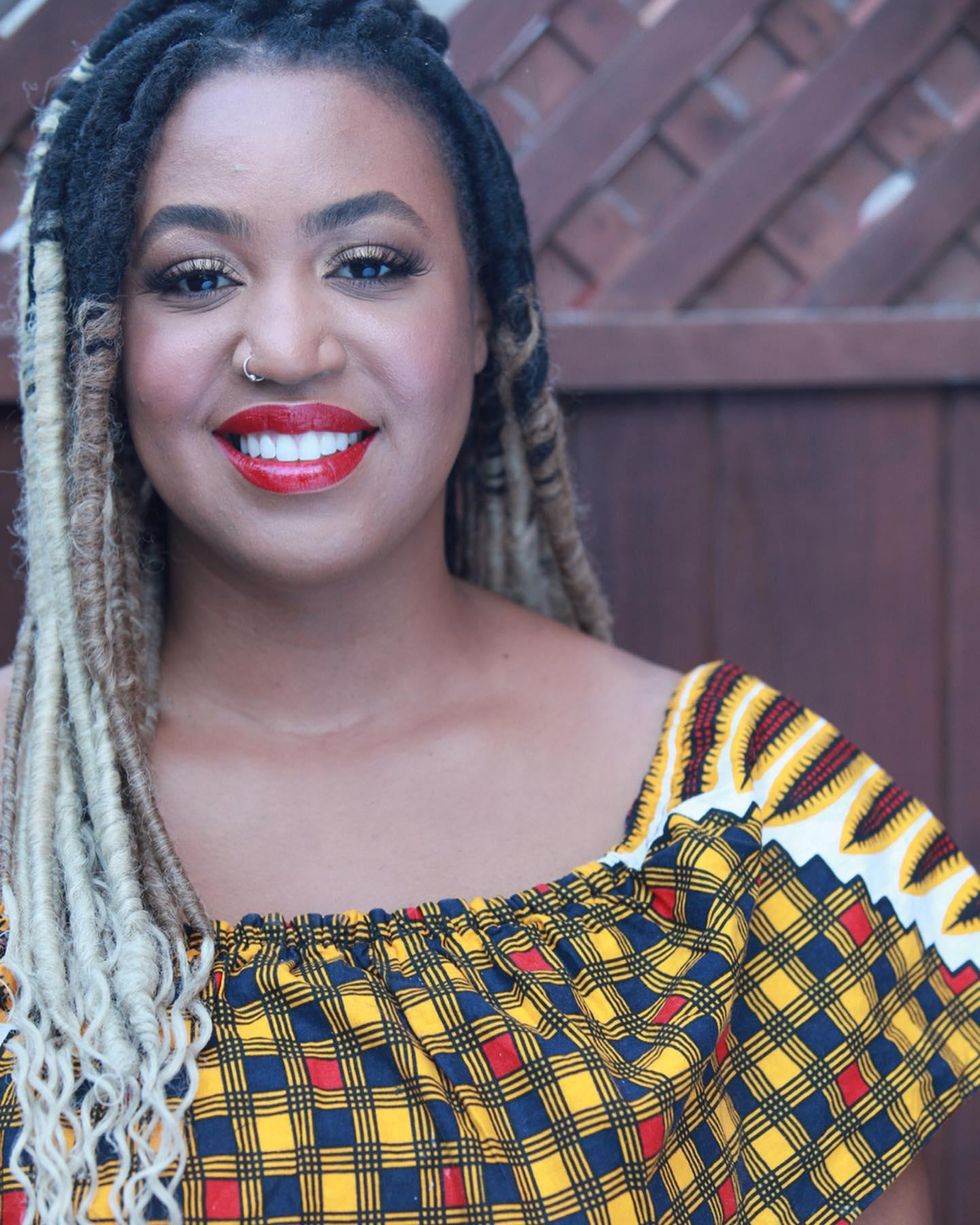 Courtesy of Brooke Obie
In 2019, she was named one of The Root 100's most influential African Americans in 2019 for her viral and exclusive interview with the family of Dr. Donald Shirley, "How 'Green Book' And the Hollywood Machine Swallowed Donald Shirley Whole." And she has interviewed icons of entertainment and media, from Oprah Winfrey and Dr. Maya Angelou to Ava DuVernay and Aretha Franklin.
Now that's she's adding xoNecole's EIC to her resume, we sat down with Brooke to ask five key questions about her career passions and the impact she expects to have in her new role. The multi-hyphenate gives insight into her hope for all Black millennial women:
1. How did you first find your purpose and passion in journalism?
"I've always been a writer and loved storytelling, but it wasn't until I graduated from law school and began a career crafting other people's messages and stories that I felt an overwhelming urge to find my own voice and help tell Black women's stories. I started a blog about my life in D.C., which won a few awards and led to me being a contributor for the newly-launched Ebony.com. My first professional editing job came by chance when I filled in for my editor when she went on maternity leave and I've been an editor, writing and helping other Black writers craft their stories ever since!"
2. What do you wish to accomplish during your xoNecole tenure?
"My goal is to build upon the legacy of sisterhood and community Necole Kane and the xoNecole team have diligently created. I'm blessed to be among such phenomenal Black women and I want to continue to cultivate an environment where our audience and our internal team feel seen, heard, and empowered."

3. We talk a lot about self-care and work-life balance. How do you create that for yourself?
"I have a hard stop time every day and I reserve my weekends for myself and my personal projects. I respect other people's work-life balance as well and make sure to schedule emails instead of sending them during times when I know people are offline. I also schedule breaks in between meetings so I can decompress. Prioritizing outdoor time is also huge for me. I hike on the weekends and jog or walk during the week to make sure I'm getting vitamin D. And I am in daily contact with the people I love and who love me.

"I believe in Audre Lorde's definition of self-care as a community effort that works when we can all experience rest and take care of ourselves. I'm always looking for ways we as a community can help shoulder each other's burdens so we can all be well."
4. How has where you've been in your career led you to where you are now?
"I've had many different careers and have worn many different hats over the years, but the one constant in all of them is storytelling. I started off in journalism as a freelance contributor and have worked every journalism job on the way to editor-in-chief. But what I believe led me here is beyond journalism skill and experience. My heart is for Black people and our stories—one of the most powerful tools we possess for our liberation. I've been so blessed to spend my career in Black media, amplifying our stories, cultivating emerging writers, and providing space for us to be challenged, to grow and expand in our imagining of what's possible."

5. What do you think is missing in this space for Black women, and how do you seek to fill that gap?
"The beautiful thing about a community of Black women is how diverse we are. I want to create more spaces for Black women across the Diaspora, across sexualities, across sizes and shades, and beyond the binary to share their stories and experiences. I'm excited to create content and curate experiences for us to all learn from each other, understand each other better and grow together.

"More than anything, I want Black millennial women to be free and well. I hope that we seek out ways to get free and to free each other; to be well and lead each other to wellness; to love each other and love ourselves, every day. We deserve it all."
Featured image courtesy of Brooke Obie