---
Television plays an important part in how we see ourselves. We love to feel seen through our favorite characters and we hold them near and dear to our hearts, but we don't often stop to consider how WHERE we're feeling "seen" on TV impacts us.
Thanks to the debut of the Robin Thede-created and Issa Rae-produced A Black Lady Sketch Show (and other contemporary television shows with Black leading ladies), we are receiving some much-needed representation for Black women and girls outside of the reality TV realm. The sketch comedy show, written by a team of Black women, takes an if-you-know-you-know approach to comedy by refusing to explain jokes for an audience that the jokes weren't intended for. In starring roles, Robin Thede (who also writes and produces the show), Quinta Brunson, Ashley Nicole Black, and Gabrielle Dennis take the lead week-to-week in various skits.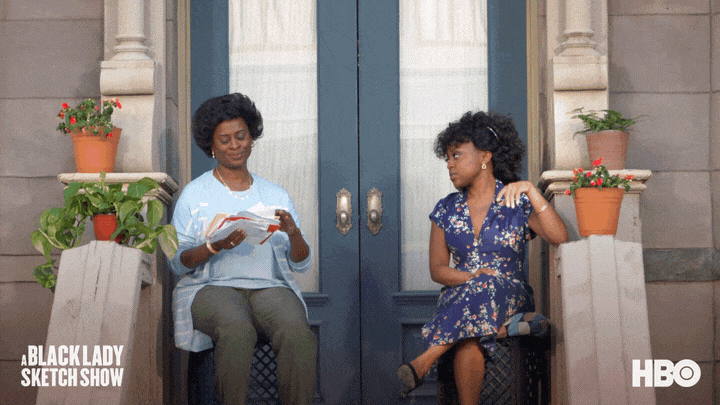 media1.giphy.com
The hit series is also packed with cameos from some of the biggest Black actresses in the world (like Angela Bassett, Laverne Cox, Kelly Rowland, and Nicole Byer), displaying a type of silly humor we aren't used to seeing from them. And as of this week, A Black Lady Sketch Show has been renewed for a second season by HBO! What makes the show's existence even more refreshing is that for a while there was quite the black-girl drought on scripted television series.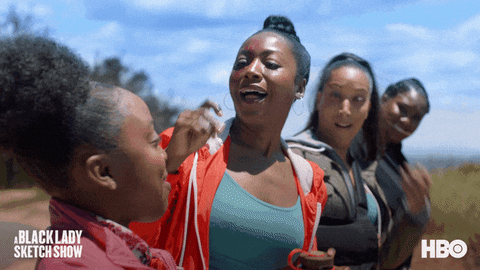 Giphy
From a young age, I was able to turn on my TV and immediately feel represented due to shows like That's So Raven, Moesha, and Sister, Sister. These shows featured regular Black girls being just that - regular Black girls. The shows didn't center around race, and the characters portrayed weren't based in racist stereotypes. It was a great time to be a little Black girl in her formative years, but as I became a teenager, shows like these all but disappeared from the small screen.

Gone were the days of flipping through channels and seeing Black girls who both looked and acted like me. Gone were the days of seeing Black girls living normal teenage lives with their Black friends having a good Black-ass time.
Gradually, we were being shifted into a new era of television; one where the only place I could find Black women on TV was reality TV. While Black women like Tiffany Pollard are ICONIC in their own right, for an impressionable teenage Black girl to only be able to see herself on TV in "real" characters like Natalie Nunn and Tiffany Pollard was detrimental.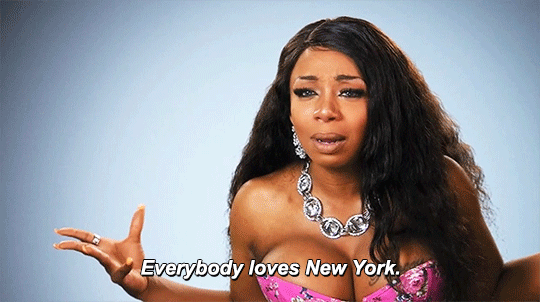 www.dailydot.com
Around the time of this black-girl drought, I was attending a mostly white middle school in an even whiter program. They regularly conflated me with the stereotypes of Black women they were seeing on TV. They told me I reminded them of New York (because what other negresses have we seen?) They decided they'd call me "Shaniqua" instead of my actual name, and they regularly treated me like I was scary and aggressive.

While I knew who I was at my core, being around white people all the time and also not being able to see healthy black girl representation on TV took a toll on my teenage psyche.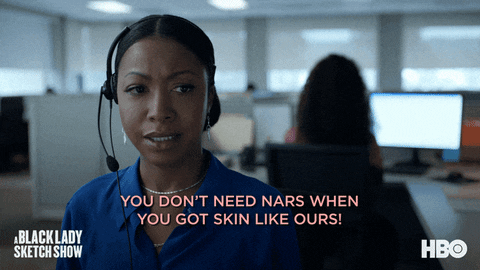 media3.giphy.com
A Black Lady Sketch Show is shifting the narrative around black womanhood and what we are capable of creating.
Aside from being outstandingly well-done, it shows little black girls that we don't have to be confined to whatever box non-black show creators put us in. We can create our own shows, and take back the narrative of what black womanhood looks like. Black womanhood can look like my personal favorite sketch from the premier, Hertep, or it can look like Bad Bitches who need a Bad Bitch Support Group!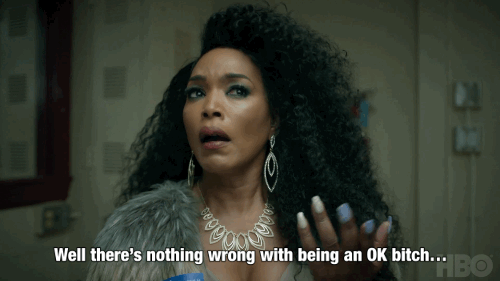 logoonline.mtvnimages.com
The existence of this show means we finally get to display as many facets as we actually have.

It means expanded opportunities for other black creators to get their shot. We deserve choices the same way white people have choices in what type of content they'd like to consume. We should have never been banished to The Land of Reality Television, and it is amazing to see Black women taking it upon themselves to make sure that never happens again.

Black women deserve to be able to watch reality TV, scripted series, sketch shows and everything in between and see themselves accurately represented. As Chimamanda Ngozi Adichie says, "The single story creates stereotypes, and the problem with stereotypes is not that they are untrue, but that they are incomplete. They make one story become the only story."
Featured image by Amy Sussman/Getty Images