---
When Robin Thede walks on set of her late-night talk show The Rundown with Robin Thede, there's no shortage of brown faces. The wardrobe assistant that helps keep her dressed to the nines, the digital assistant snapping behind-the-scenes footage for social media, and the stage manager and producers who help bring her show to life are all equally talented at their respective crafts, and are being given the opportunity to shine in an industry where they're often the minority.
"I have producers, writers, sound people—black women in every sort of position, and so whatever happens with this show they can go on to other things because that's all it takes," she tells me on our Monday morning phone call. "It's getting their foot in the door, so I'm really proud of that. I employ a ton of black women on my show and I'm happy everyday to come in to see their faces."
Somewhere on the path to purpose, a legacy begins to be birthed. It's the thing that you leave behind that ensures that the generations after you who are reaching up can one day reach back—creating an unbreakable chain of opportunity that pulls often overlooked ethnic and gender groups out of obscurity.
Thede's own climb began at the beckoning presence of comedic icons, such as Whoopi Goldberg, Eddie Murphy, and Richard Pryor.
"When I saw Whoopi's one-woman show, I remember seeing it on TV and being so captivated," she says. "I'd never seen a brown woman on television before being funny, and she had such an affect on me."
"I'd never seen a brown woman on television before being funny, and she had such an affect on me."
It was enough to encourage the daughter of "good Midwestern folks" to dream beyond the trailer parks of Iowa. While Thede didn't grow up well endowed, she was rich in love, support, and confidence.
While getting her formal education, she simultaneously became an intense student of her craft, developing a voracious appetite for all things comedy—from sketch and improv to standup. Before the days of Black comedians like Ellen Cleghorne, Thede tuned to the likes of Chevy Chase, Gene Wilder, and Carol Burnett.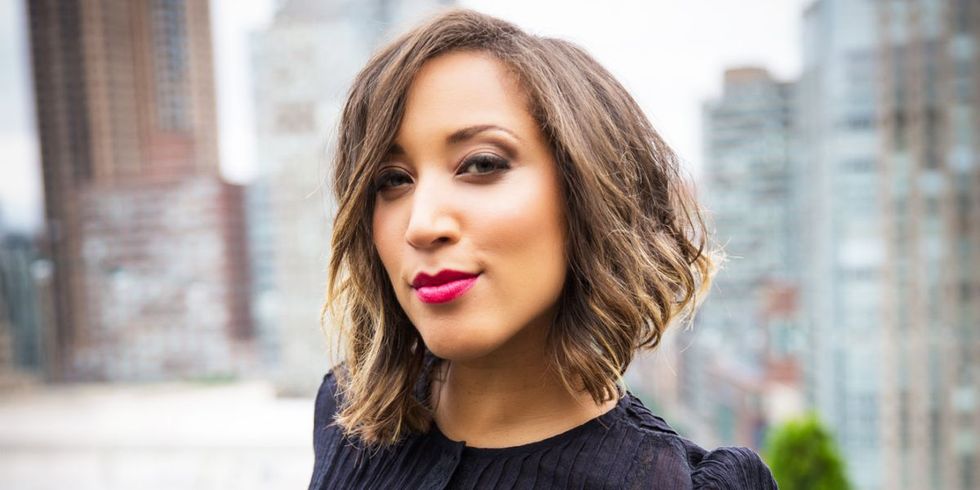 Photo Credit: Jaxonphotogroup.com
"The black comedians came as I got older and they got more exposure and I got to see them more, but in the early, early days it was definitely Whoopi, first and foremost, and then all of these other comedians that I was able to watch on network television—the cleaner comics."
In the late night hours during sleepovers with friends, she was introduced to more unfiltered comics, such as Richard Pryor and Eddie Murphy. "Once I discovered Eddie Murphy and Richard Pryor it was like, oh my God, I can be like this," she says. "All of these amazing, varied comics, you have to be able to appreciate their style and their genius for what it is."
Thede majored in Broadcast Journalism and African-American Studies, but her fire for comedy never extinguished. At Northwestern University, she ran a sketch comedy group and then later trained at The Second City in Chicago before following in the footsteps of her comedic predecessor and bringing her own one-woman show to Los Angeles.
During that time, she caught the attention of Mike Epps' manager, which led to her writing for the comedian both on the road and on the sketch comedy show Funny Bidness. Thede began landing one opportunity after another, and soon became a regular writer for award shows (BET Awards, BET Hip Hop Awards and NAACP Image Awards), penning jokes for a number of comedians, including Anthony Anderson, Kevin Hart, and Jamie Foxx.
Simultaneously, Thede pursued a career in acting, appearing on shows such as All of Us, BET's web series Buppies, and later Key & Peele, and working as an entertainment correspondent for E! News. She also wrote and acted in videos for Funny or Die (one of her most popular videos was a remake of Bobby Brown's "Every Little Step" with Wayne Brady and Mike Tyson) and wrote on a number of TV shows including In the Flow with Affion Crockett and Real Husband of Hollywood with Kevin Hart.
But ironically, despite her long trajectory as a writer, Thede never sought out to become the woman behind many of the jokes from our favorite comedians.
"I was always a performer, I never called myself a writer," says Thede. "I was acting for many years before I ever admitted that I was a writer. Even when I was doing writing jobs I just thought, oh, I'm doing that to pay the bills. What happened was, I would always perform in sketch shows, pilots, and sitcoms, and then they would either ask me to write or I'd get hired to write and asked to perform. So people are like why did you choose one or the other? And that's not how it went. I came out to LA to be a comedian and was acting but was always a good writer because I learned growing up and at The Second City, I really honed my writing; I never set out to be a writer. But then, one day I woke up and I'm like oh, I'm in the Writer's Guild and also in SAG, I guess I'm also a writer. Once I embraced both wholly, my career opened up."
For a number of years, Thede split her time both in front and behind the camera as she climbed the ladder of success. Her ability to master different comedic voices led to her becoming the head writer for The Queen Latifah Show and ultimately The Nightly Show with Larry Wilmore, marking her place in history as the first black woman to serve as a head writer for a late-night television show.
"It's not about putting my jokes out there, it's about doing their jokes and making them the best comedian they already are and can continue to be."
"I think it really helped me to become better. The thing that I became known for in the industry and why I worked with so many different comedians is because I can listen to five or ten minutes of somebody's stand up and know how to write jokes in their voice. I was very much a student of comedy and a student of joke structure and formulas and tone and how people sound. I don't write the same jokes for everybody, I write different jokes for Kevin Hart than I would Chris Rock. So I think that's why I became valuable very quickly in the industry, because I was a valuable writer. And my sole purpose in writing for someone else is to make them their funniest. It's not about putting my jokes out there, it's about doing their jokes and making them the best comedian they already are and can continue to be."
While many of today's up-and-coming talent operate their careers on a microwave minute—often expressing frustration when success doesn't come as quickly as expected and dismissing the role of serving others until it's their time—Thede credits her years behind the scenes as being critical to her own evolution as a comedian and a writer.
Despite her continued success, she's never stopped craving knowledge—a trait often attributed to the wealthy and the wise. "Even today, working with Chris Rock as an executive producer is a dream come true. He's literally a living legend, which he's teaching me things that are different than what other comedians taught me and so I just try to absorb, and the more that I can absorb from all different types of comedians from sketch to stand up has been what helped me to find my comedy."
The Rundown with Robin Thede is being credited as a voice for the black community—a relatively unfiltered one that beautifully weaves pop culture and politics, and where Gucci Mane and presidential references can co-exist without being trumped by the white counterparts of a far too long racially diluted industry.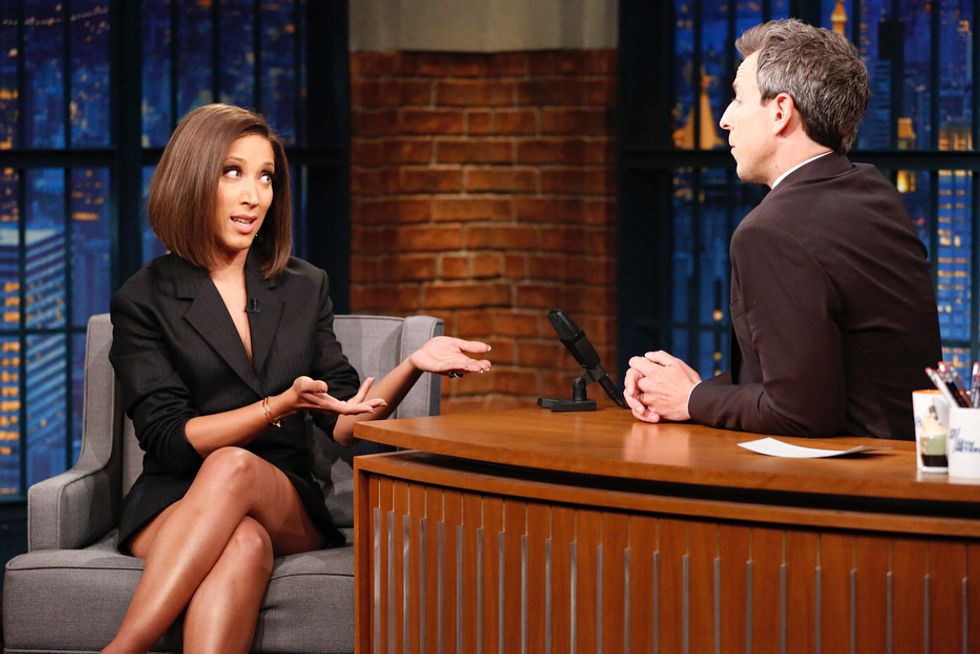 Photo Credit: Robin Thede
Thede believes that it's a sign of the times that a late-night show of such caliber can exist without rebuttal. "I was expecting the reviews of the show to either be non-existent or to say that they didn't understand what I was talking about, and they weren't. The reviews have been ridiculously glowing, and they get what we're doing, and so that's when I knew okay, the time is right. Black culture is the trendsetting culture and I think people want to be woke and they want to hear. They want to be cool also, and I think my show can do both."
Having a show that carries her name in the title isn't about fame or donning the title of "first," it's about paving the way for the now and the next, and making dents one thought-provoking joke at a time in a wall that keeps our voices—our people—from crossing comedic borders.

And as a Black woman, it's about being a pioneer so that one day it's no surprise to see similar faces in the writer's room, and that those who have a seat at the table didn't have to get there by softening their tone, straightening their hair, or wearing clothing that doesn't accentuate and complement their body type—but by working hard, not because they had to be ten times better than, but because they're simply the best.
"I don't take any of this for granted," she continues. "I think it's such a blessing. I certainly can't speak for every black woman nor would I attempt to, but I do think that being a Black woman in this space right now is so personal for me because women come up to me and say like thank you for speaking for us. Thank you for being a voice for us. Thank you for just being present. Thank you for being there. And that's why I'm here; this is it."
Aspiring talent, take note—this is what success looks like.
---
Watch the The Rundown with Robin Thede Thursdays 11/10c on BET.