First debuted in 1964, the swimsuit issue of Sports Illustrated quickly became a highly coveted honor in the modeling industry, but it wasn't until more than 30 years later that its cover featured a woman of color. No one anticipated that this 23-year-old woman from Inglewood, California would one day grow up to become a world-renowned supermodel, actress, and entrepreneur, who would retire from the modeling world at 32 out of fear of aging out of the industry; but now, in an unexpected plot twist, she's back from retirement with a new name, ready to shake up the industry once again.
---
Tyra Banks changed the modeling game when she became the first Black woman to be featured on the cover of Sports IllustratedSwimsuit Issue in 1997, and recently the 45-year-old mother of one returned to the throne to reclaim her crown as the oldest woman to ever be featured on the magazine's cover.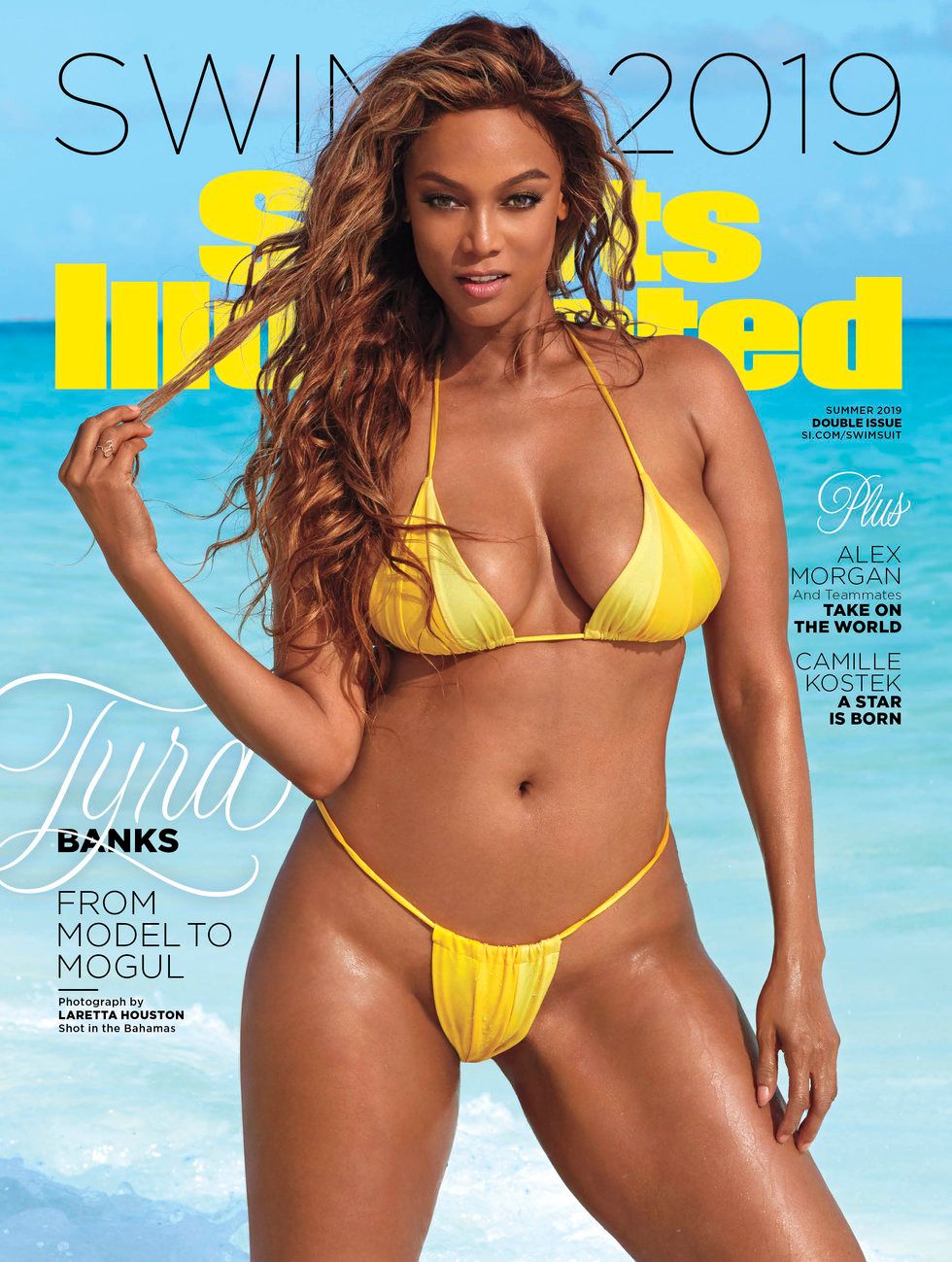 Laretta Houston/Sports Illustrated
The snack-worthy photos that have the internet in shambles were captured in the Bahamas by Black female photographer, Laretta Houston, who was chosen specifically by Tyra. In her interview with ET Online, she opened up about how posing for the publication for the first time nearly 22 years ago completely changed the trajectory of her career:
"I was a very known model, high fashion model, but I got on the cover of SI and it made me a household name, almost like in 24 hours, back when the whole world was looking at the same thing all at once."
After jumping headfirst into the modeling industry at only 15, Tyra spent much of her career in the public eye; and if you know the public, you know that they love to scrutinize and police a woman's body. For years, Tyra doubted that she would ever even become successful in the modeling industry and constantly struggled with maintaining a positive self-image.
After becoming a mother to a one-year-old via surrogacy and taking the time to put her life into perspective, she's learned to find the beauty in her happy weight. Although the supermodel had full intentions on pulling a Beyonce and losing 20 pounds before her sexy shoot in the Bahamas, she ultimately said f*k it:
"I started it and I was so focused, and then I went to my mom's house and there were some Cheetos, and I just had the Cheetos, and that was like the gateway in, and I was like, 'After Cheetos, you have to have an ice cream party! My mom, my son and I went to the grocery store," she continues. We had strawberry, coffee ice cream, we had green tea ice cream, chocolate, vanilla -- a spread! Three spoons and just kinda played musical ice cream, and that was even deeper. From there, I just lost my mind."
The mogul shared that although she does know how to manage the weight she's gained, she's old enough to know better and too happy to care. I know I'm not the only one who remembers when she told critics to kiss her fat ass and became an American hero, and Tyra explained that it's important that she keep that same energy. She continued:

"I'm constantly telling people [there is] beauty in all sizes, beauty at all ages. But here I am trying to look like my old self? So, I think subconsciously it was kinda like, 'Nah. Let's show 'em what's up now.'"
I'm going to keep it real with you cause I love you, sis. You will never (ever) look the same way you did when you were 18, but you can damn sure be fine as hell at whatever age you are right now. When we were little, birthdays were exciting and fun milestones we can't wait to celebrate, but as adults, it just feels like we're edging closer and closer to the nursing home, but this bad ass supermodel proves that just isn't true. Tyra, Ms. Banks if you're nasty, had this to say about her new identity and finding the beauty in growing older:
"This is a new me, this is an older me, this is a thicker me, this is a wiser me, this is a thankful me. It's all shades, it's all ages, it's all sizes, it's all sexual orientations, it is everything — and I'm putting that on my back with that X."
Tyra said although she knows she'll face some backlash after her recent transition back into the modeling industry, still, no f*cks are given.

"The internet -- particularly social media -- is the most beautiful thing in the world, and the meanest thing in the world. So, I know there's gonna be people puttin' pictures next to each other going, 'Oh, she's thicker now, she's this, she's that, sit your old a** down...' I know that's gonna happen, but I didn't do this for them -- actually, I did do it for them. I did do it for them."
She pointed out that many times, the negativity of others is only a reflection of how they feel about themselves.
"Because the people who are saying that have negativity associated with themselves, with body, with age. The person that is telling somebody to 'sit your old a** down' is terrified of aging. So, actually, I did it for them!"
Keep your foot on their necks, sis! To read Tyra's full interview, click here. And check out her full SI spread here.
Featured image by Frazer Harrison / Staff for Getty Images.