Similar to the year that came before it, 2017 gave us a year of black women doing what they do best: shining and making caping look effortless as ever.
---
It was a year of notable wins, even against some of the most seemingly insurmountable odds and staking their claim in the sea of all that greatness was none other than multihyphenate Gabrielle Union. Being magical ain't easy. She was proof that real G's move in silence as she ushered in business moves and mastered work-life balance, making for one helluva year for the 45-year-old actress.
What makes Gabi so special is her way of making the impossible seem possible. Between her activism, her TV show Being Mary Jane, and altogether slayage of life, Gabrielle Union deserves all our praise and black girl magic. Roll out the red carpet because it looks like Gabrielle Union's best life is here to stay.
Keep on a'scrollin' for more reasons why we are crowning Gabrielle one of the reigning queens of 2017 and beyond.
1. She Is Serving Wife & Life Goals
'Cause if Pops ain't feelin on Ma by the end of the night, you ain't doing it right.
If you don't follow BOTH Gabrielle Union and her hubby Dwayne Wade on the gram then you're wrong. You're so. damn. wrong. First of all, I watch their wedding handshake everyday… you don't get to judge me. Their Halloween costume this year was the background on my phone until yesterday, and I HIGHLY suggest it. But let me just get real for a second, I am SO happy for my girl Gabi in her relationship. The way she talks about her hubby and their kids is a beautiful example of love and sets the standard so much higher. If they wanted to adopt me, I'd say yes. You think I'm too old, but that's none of your business.

2. She Is Making Textured Hair Flawless Hair
"As a woman with textured hair, the search for a hair brand that meets all of my needs has been nearly impossible. That's why I created Flawless hair."
It seems like just yesterday Gabrielle Union was rocking the sleek cheerleader look in Bring It On. Now Gabi is on to a more Flawless look. Earlier this year, Gabrielle Union launched her hair brand "Flawless Hair." In order to solve the problem of underserved curly haired communities, Gabi took it into her own hands to change the way women with textured and curly hair feel and think about their hair. I can personally thank Gabrielle for her service. And not to hype her up on Instagram too much but her deals and discount codes are lit! Find her hair products here.

3. Her Real AF Voice in the #MeTooMovement Was SO Needed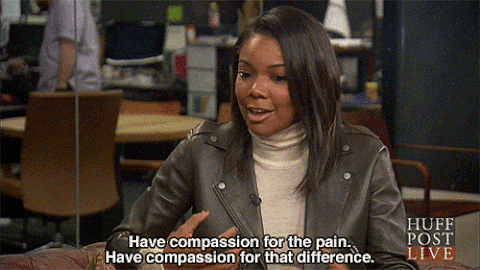 Gabrielle Union has always been incredibly candid about her experience with violent crime and rape, but in 2017 she came correct. She told The New York Times:
"The floodgates have been opened for white women. I don't think it's a coincidence whose pain has been taken seriously. Whose pain we have showed historically and continued to show. Whose pain is tolerable and whose pain is intolerable. And whose pain needs to be addressed now."
It breaks my heart hearing her talk about it, but even more so it inspires me and millions of other women affected by sexual assault to share stories, and find the courage to move forward. What makes Gabi stand out is that her voice stays consistent and unwavering about the topic. She also keeps it real when it comes to telling the stories of women of color, and putting emphasis on empowering and believing black women when they speak up. As long as we continue to have women like Gabrielle Union giving us a voice, we can rest assured at night.
4. She Showed Love To The Next Woman
Speaking of uplifting women and their voices, Gabi notably stepped up when word about criticism a Dallas News anchor was receiving went viral on social media. The reporter in question was Demetria Obilor, and critics thought it was okay to body shame her and give unwarranted comments about her physical appearance. Demetria handled the negativity with grace and Gabi sought to let her know that she was everything and hook her up with a wardrobe too.
In her Instagram post, she wrote:
Sending love, light and support to Dallas News Anchor Demetria Obilor who was recently body shamed online. YOU are the real life Mary Jane… A go-getter news anchor who dresses DOPE and doesn't give a s*** what everyone else thinks. Keep on kicking ass and taking names queen. We love you just the way you are! And since you slay everything you wear, I'm sending you a bunch of pieces from my @nyandcompany collection and some credit for extra pieces!
Yessss Gabi!
Sidebar: Her WCW choices are usually incredible as well and further exemplify how much she is a champion for women.
5. She Became a New York Times Best-Selling Author
To top this year off, Gabrielle Union released her book We're Going To Need More Wine and shook the New York Times Best Seller list in her first week and won all sorts of awards. Trust me when I tell you that this book is something you MUST read. The thought-provoking collection of personal essays are candid, beautiful, and (might sound cliché) feels like you're talking to your oldest friend. There's a way about the words that made me feel at home, and I bet you'll feel the same.
And with that, I think my new year's resolution is to be a little bit more like Gabrielle Union. Maybe all of ours should.
Featured image via Gabrielle Union/Instagram