Early last year, thirty-two-year-old Alicia Scott was personally invited to appear on season 13 of ABC's pitch competition show Shark Tank to try to convince the Sharks to invest in her makeup brand Range Beauty.
---
"[The email] was sent to our info@rangebeauty.com inbox and I was like 'is this spam?" Scott tells xoNecole. But after running the name of the person who contacted her through Google to check the legitimacy of the email, Range Beauty's founder and CEO was assured that the email was, in fact, not spam.
Scott and her cousin and operations manager Myisha Fantroy appeared in episode 14 of the show which aired last month – a career highlight on a long road to success.
Since creating her own makeup brand in 2018, there's been a learning curve that Scott has had to contend with since becoming a first-time entrepreneur. "I'm a long-time student of Google university," Scott jokes. "And so I use that to teach myself about everything. I used to teach myself about how to even start a business. What's needed for you to have your own business? What's needed for you in cosmetics? What does this pigment do? What does this undertone mean? I had to learn everything."
On her journey to building her brand, Scott ran into many issues relating to accruing financial funding for her company. "I started Range while I still had my 9-to-5," she recounts. "Up until 2019, I had always worked a 9-5 to make sure that I had funds to cover my bills but to also cover whatever expenses were needed for Range," Scott says. "It wasn't happening fast enough. I was like, we need more money, more money."
After being contacted by Target and told by the retail giant everything that was needed financially to launch her brand in stores, Scott finally decided it was time to figure out a way to get investment into her company. One of the main ways she was able to find funding was through pitch competitions.
"Shortly after I launched in August 2018, I did my first competition," Scott says. "And it was in September of 2018 and it was hosted by Arian Simone, who now leads the Fearless Fund right here in Atlanta." Held at the Spanx Headquarters, the competition involved several rounds where competitors made their case to the judges and the judges decided who got to advance to each round. After not hearing her name called to be one of the five entrepreneurs to be on the main stage, Scott approached her judge to thank her and to also ask for advice on how to strengthen her pitch.
"You gave an excellent pitch and your delivery was great, it was just that you weren't able to differentiate how your brand was different from others," Scott recalls the judge telling her. "And I began telling her and she was like 'yeah that's what you need to put into your pitch! You need to speak to why you created this."
Scott internalized the advice and was able to redeem herself at the next pitch competition she attended which was Noire Tank, which she describes as "the Black Shark Tank" where she pitched to YouTuber and Beauty Influencer Jackie Aina who flew her out to Los Angeles, California and covered other expenses for Scott. It was at that competition that Scott secured her first grant.
By the time she stepped in front of the Sharks at her July 2021 taping, Scott had already mastered the skill of how to tailor her pitch and delivery for each competition she did. The journey from receiving the email in February 2021 to finally being able to make it to the show was an arduous one. "Along the way they say 'there's still a chance you might not tape.' And so the day we were finally there, we had been waiting in our trailer since like ten or eleven and we didn't get to go out until like [after] four."
Once inside the room, Scott said she could feel her heart and adrenaline pumping. Standing alongside Fantroy, her first full-time employee who she was allowed to bring along for moral support, Scott started pitching to the Sharks. "Hi Sharks!" Scott and Fantroy said enthusiastically in unison.
"It's different than what you see on TV," Scott says. "The straight faces and just everyone smiling and they laugh at certain parts of our pitch and they're engaged and, once you finish Mark was like, 'excellent job,' and everyone looks pleased with our pitch. So it went really well with our pitch, we didn't mess up any lines. So we were really excited."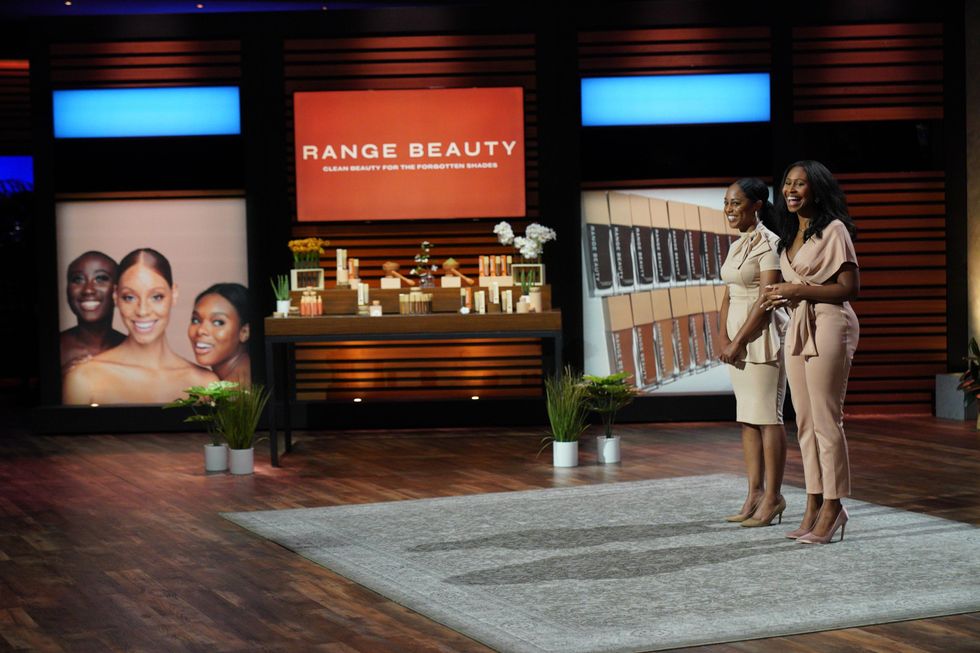 Myisha Fantroy and Alicia Scott, Shark Tank
ABC/Christopher Willard
In a rare feat, Scott was able to secure the investment of two of the Sharks, Lori Grenier and guest Shark, Good American and Skims co-founder Emma Grede. "It's been so nice because Emma sits on the board of the Fifteen Percent Pledge," Scott says. "She knows all about the struggles of Black businesses, not only with trying to get investments, but also trying to have space with retailers and making space in our industry. So it's really nice to have an investor who looks like me and understands the challenges."
Grenier and Grede have been incredibly hands-on as investors according to Scott. "[Grede] has been so on the ball with just being there for us and being so accessible," she says." And with Lori …she's the one that's like seen it all, she's done it all. So she comes with her own perspective and experience on how things will move, the, how things will move. So it's been a great interaction and great relationship."
In the time that has passed since her appearance on Shark Tank, Scott says that she's grown exponentially as an entrepreneur. "I started this like mixing things in my living room with $150. And so to now be on a national TV stage like Shark Tank, sitting in front of investors who have just seen it all is magnificent."
Let's make things inbox official! Sign up for the xoNecole newsletter for daily love, wellness, career, and exclusive content delivered straight to your inbox.
Featured image by ABC/Christopher Willard