---
Since when did looking like ourselves start being considered a hot mess?
In a day and age where the "natural" look includes contoured cheeks and eyebrows on fleek, it's easy to forget that there was once a time where makeup didn't rule a good part of our lives (and time for that matter). Once reserved for special events and date nights, the art of having a "beat face" is pretty standard these days, with most of us refusing to step out the house if our selfie game ain't strong or if our highlight isn't right.
Social media has us putting on for the gram and snapchat and now everyone is a critic. So it was no shock to see people weigh in on Keke Palmer's choice of not wearing makeup after posting this image to her SnapChat.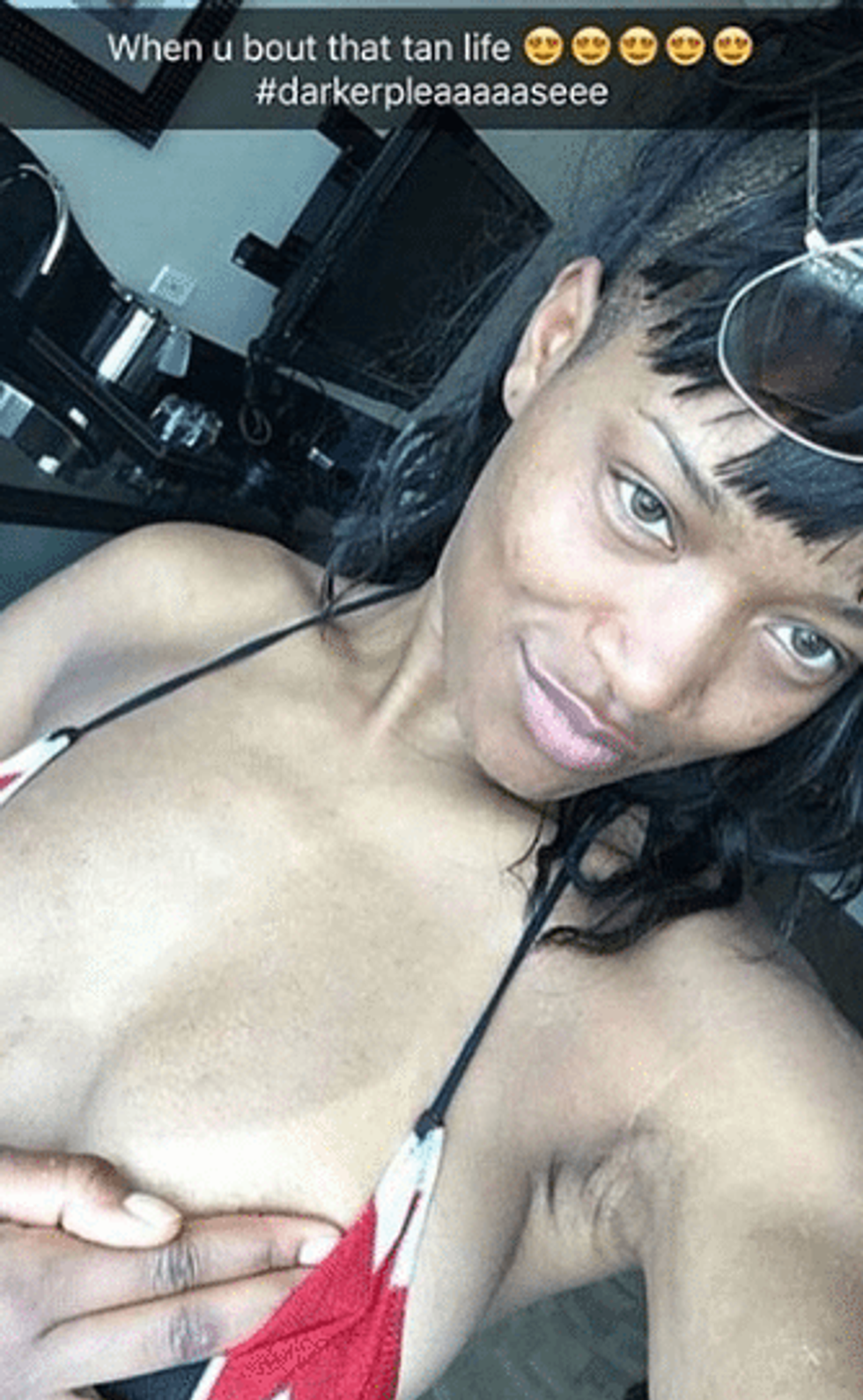 Of course people had negative things to say, but it was amazing to see the support of other women and celebrities encouraging Keke's look.
Keke Palmer is trending b/c of a Snapchat of her w/o makeup & y'all wonder why many women can't embrace your "natural is better" directives?

— Raquel Willis (@Raquel Willis)1463849386.0
Why is Keke Palmer being judged harshly rn. Societys so judgemental, y'all wonder why women constantly wear makeup. https://t.co/w7NcoLsu2u

— morgs ✨💸 (@morgs ✨💸)1463851694.0
Even K. Michelle weighed in.
Tweet Keke Palmer and tell her you appreciate her and her gift,anything else just shows your hate 4 yourself. Twitter fingers are so uncool🌻

— K. Michelle (@K. Michelle)1463855350.0
Leave this young back woman alone. She's beyond talented and someone our community needs to embrace and uplift.

— K. Michelle (@K. Michelle)1463854032.0
We have to do better, including me.

— K. Michelle (@K. Michelle)1463854106.0
It's soo powerful to see other women stand up for one another instead of tearing each other down!
Teen star Zendaya did the same when she rushed to the defense of a Youtube star last year who posted a before and after makeup picture of herself after a Twitter troll took jabs at the girl. Zendaya's classy 140 character clapback included a photo of herself sans makeup as she gave the commenter a side eye. But it wasn't the first or the last time Zendaya went bare faced. She posted a video early last year encouraging young girls to be happy with themselves saying:
"Not trying to have a preach moment, but it should not be a phenomenon if a girl decides to—or not to—wear makeup. If you want to beat that face down, then beat it down. If you want to go natural, then go natural. Do you, booboo. Be happy."
Keri Hilson also touched on something similar a while back after posting a photo of herself in high school. She wrote:
"10th grade Keri. ? Ohh, you young girls don't know how lucky you are in the fight against puberty these days. Yall have lashes, weaves, make-up counters, brow appointments, contouring, youtube beauty tutorials...WE had to figure that sh-t out. I didn't even have foundation. All I had was lip-liner & roll-on gloss. ☝️This is a tomboy trying. #braceface #ididmyownhair #stayedupallnite #sleptlikereginakingonfriday"
Preach Keri! Times are different and there's nothing wrong with wanting to have a beat face, just like there's nothing wrong with walking out without one. True beauty lies within.
[Tweet "There's nothing wrong with a beat face and there's nothing wrong not having one."]
In a Youtube video comedian, motivational speaker and YouTube star Lilly "Superwoman" Singh (makeup-free and all) vowed to never apologize again in the event that she is caught slipping. It all started when she caught herself having a busy day of meetings that left no room to get her face "beat," which led to her apologizing for wearing her natural face. The 26-year-old (who has a whopping 5 million followers on YouTube and 2 million followers on Instagram) admitted that although she loves makeup, there is nothing wrong with going a day or two without it and in the event that we do- we should offer up zero apologies.
Besides, we woke up like this, right? Flawless!
Today I was really busy running around, doing a bunch of things and I had two meetings. So before the meetings, I had no time to get ready like I usually would and I found myself texting the people I was having a meeting with, who are also my friends like 'Hey, just a heads up, I look like a mess. Sorry, don't judge me.' And I did that twice. And that's because I was dressed like [in a hoodie], but moreso, I didn't have any makeup on my face and I have dark circles under my eyes and I have a whole bunch of acne and and I have half an eyebrow or sometimes one eyebrow. But a few hours after my meetings when I calmed down a a little bit and gathered my thoughts, it really hit me that I actually apologized to people for looking like a mess and not wearing makeup.

And I was like 'Girl!' Did I really just apologize for not wearing makeup? And then I yelled at myself like- since when do I have to apologize for looking like myself? And since when did looking like myself considered 'a mess'? And I really, really and truly mean this. I love makeup and I love the way it makes me feel and when I go out, I enjoy putting on makeup and it does give me a sense of confidence but since when do I have to feel bad when I don't wear makeup? And I feel like I don't just do this because I know a lot of my other girlfriends message me and say 'Hey, I look like a mess. I'm not wearing makeup, don't judge me.'

Why do we do that? That is not okay! Looking like yourself is not something you need to be sorry for. And I feel like I just had the greatest realization of life today. And I mean this in the most humble way. I try to be a really nice person and really kind to people and just humble and honest and that's what makes me pretty. Not the makeup on my face.

And when I see other people and what draws me to other people is how they make me feel. Not the makeup on their face.
She ended the video with this encouragement to young girls:
So I just really wanted to remind all of you girls, especially if you are younger, you don't need to wear makeup. You can and there is nothing wrong with it, it's awesome but if you don't, you're still awesome!
Yes!!!
Peep Lilly's (aka Superwoman) powerful PSA on the next page.
What do you think of people feeling like celebrities should always have a beat face?