---
The question, "Who are you?" keeps showing up in my life. And to be honest, I am not always sure how to respond. Most recently, I have been approaching everything in my life with more intentionality because without it life seems chaotic. I think we have all been stretched in 2020 but I also believe that the stretching is going to catapult us into our best selves, similar to a bow and arrow. The harder the stretch, the further the distance.
Intentionality is just half the journey. We gotta put our actions where our intentions are. That's where the Mindful Moon Deck comes in.
What Is A Mindful Moon Deck?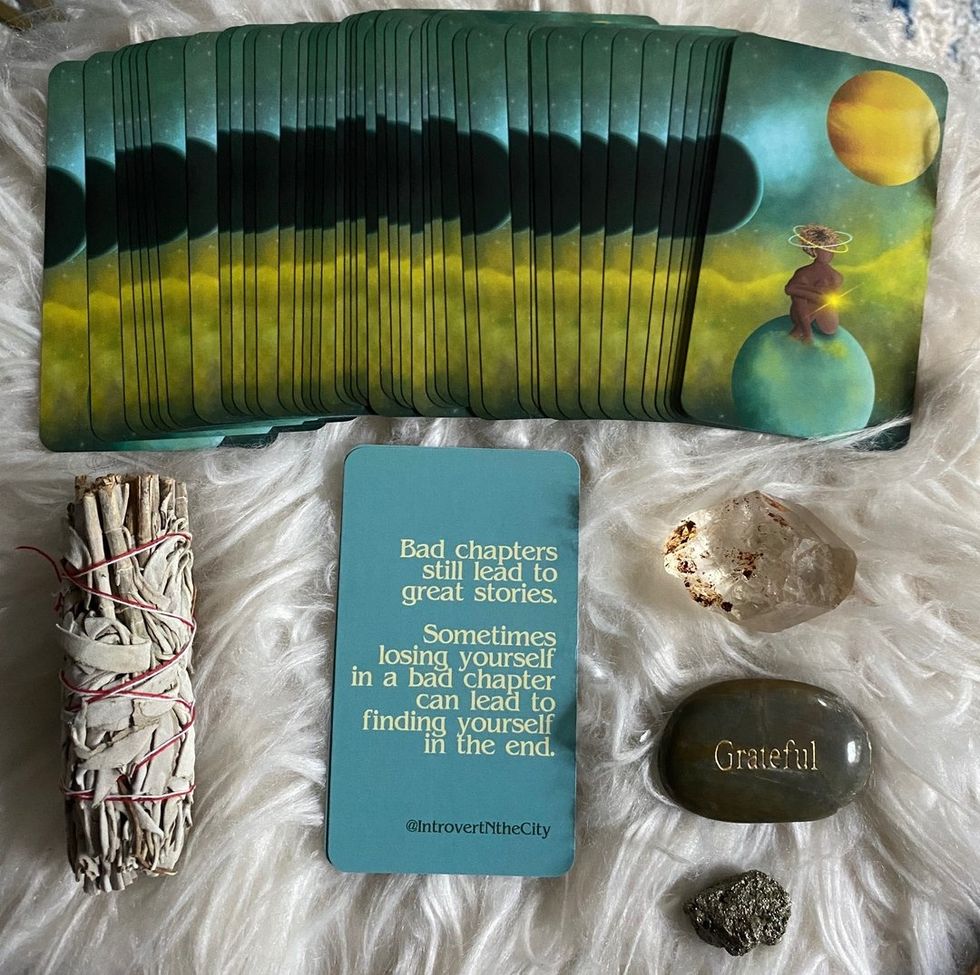 Mindful Moon Deck/Marsha B.
Moondecks are affirmation decks focused on helping you become more aligned with yourself and your journey of discovery. For many, it serves as a self-love ritual, making it a great investment if you're looking to find peace and power through powerful mantras. Many are reasonably priced and offer a sense of contemplation that can only be deemed as instrumental.
This specific Mindful Moondeck is not like a regular moondeck. The set of 50 cards longs to be the inspiration and motivation needed to get shit done. From a reality check to words of wisdom, you can count on each card to push you into introspection. Most importantly, it was created by a black woman. Writer and Introvert N The City founder, Marsha B, designed this deck as she began to explore spirituality and what it meant for her in her life. She recognized there were areas in her that needed healing. Marsha shared with xoNecole:
"Essentially exploring spirituality is exploring your healing. During my journey, I used different affirmations that helped me really get in-tuned with myself. Not your typical 'I am' affirmations, but the ones that penetrate your soul."
"The ones that remind you to be gentle with yourself when you make a mistake. The ones that are real with you when you're in denial with yourself. I took those affirmations and made a 50-card deck. Each quote is rooted in grace and love for yourself, while giving grace and love to others," she continued.
In Marsha's experience, some people pull a card a day for their daily inspiration, while some pick a card when they need direction from the universe. Then, there are the people who use the deck as a clarifying card during tarot readings. For this millennial New Yorker, as she grows on her spiritual journey, she has began to incorporate a lot of what she experiences into her brand. Marsha says, "My online store also carries sage, incense, and crystals because they're great tools to use when you want to channel positive energy. I want to market high vibes and spirituality."
How The Moon Deck Works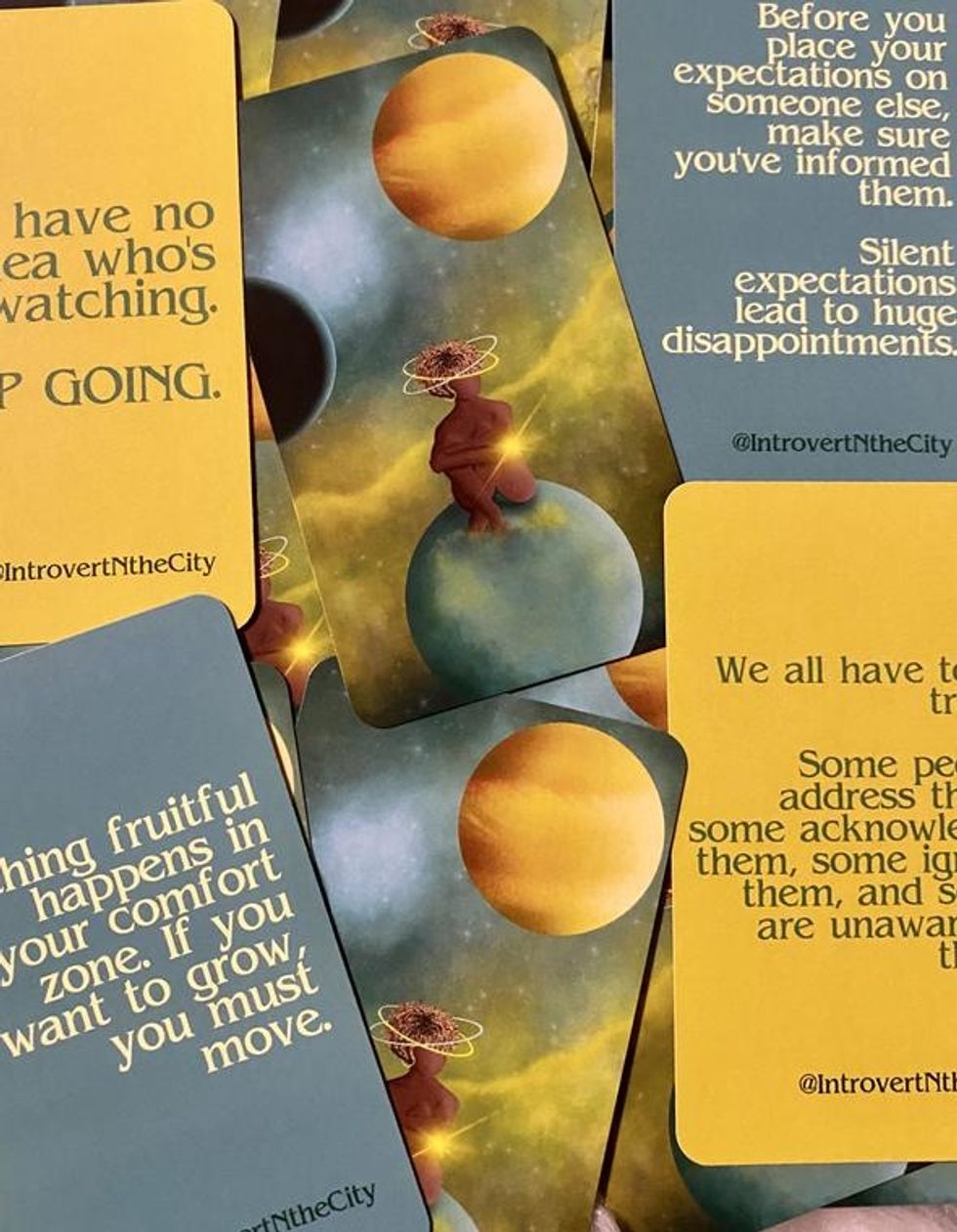 Mindful Moon Deck/Marsha B.
Shuffle the cards.
Pull a card in the morning to set the tone for the rest of your day.
Pull a card in times of uncertainty, or when inspiration is needed.
How The Mindful Moon Deck Got My Self-Care Routine Together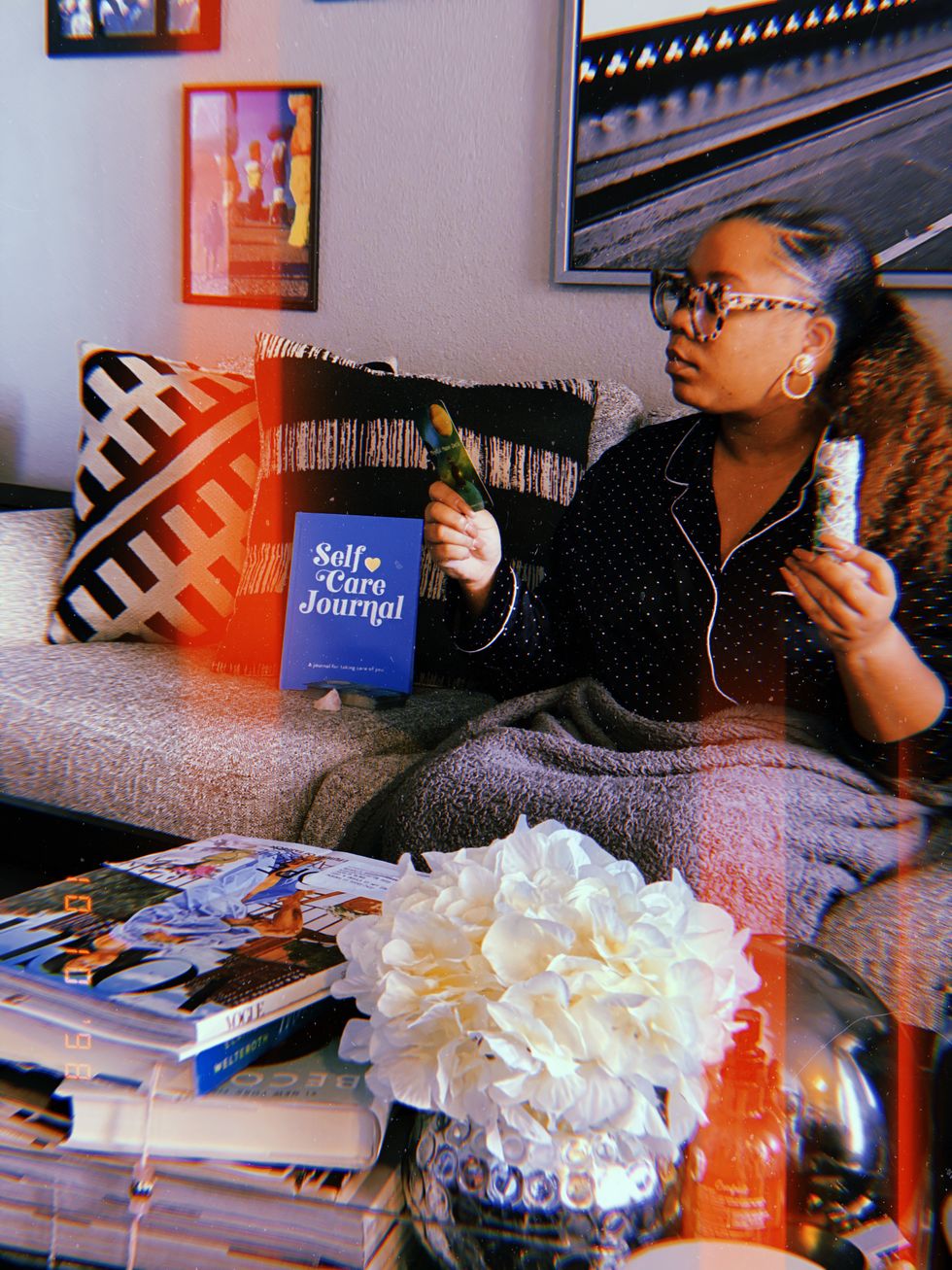 Joce Blake/xoNecole
I have been struggling with anxiety for some time now. It wasn't until I moved to Denver and had more time with myself that I was able to name it. In the past, I just thought it was natural to worry about everything all the time. I even thought that it was sign of failure.
My therapist said something in our last session that I can't get out of my head:

"Black women don't often recognize that they're struggling with depression or anxiety.

Instead, they think they're failing."
— Injera Mami🇪🇹 (@GloriaAlamrew) https://twitter.com/GloriaAlamrew/status/131473344...">October 10, 2020
Over the past two years, I have been trying to find ways and things that keep me grounded. In doing this, I have found that my soul really values having a physical resource that promotes love and light. The actual practice of pulling a card from the deck helped calm my anxiety. I decided that since it was a moment of stillness, I should add meditation to the routine. Meditation has always been a struggle for me because my mind wanders; having something to focus on – the Moon Deck card – was profound.
Adding the Moon Deck to my other self-preservation practices like writing in my self-care journal has increased my compassion towards myself. After reading a card, I feel more centered and ready to tackle whatever the universe throws at me. When I miss a day and don't pull a card, I can feel the difference because my day seems longer and my heart and soul feel heavier. I am so grateful to have this practice a part of my self-love ritual.
Join our xoTribe, an exclusive community dedicated to YOU and your stories and all things xoNecole. Be a part of a growing community of women from all over the world who come together to uplift, inspire, and inform each other on all things related to the glow up.
Featured image by Joce Blake/xoNecole