"Baby mama drama" is an outdated, chauvinistic term that's sometimes used to describe the familiar dynamic among a blended family. In 2018, the traditional idea of a family unit looks much different than it did to generations that precede ours, and young parents are totally hip to the impact of effective co-parenting.
Sometimes the one who we've created love and life with is not necessarily the person we're destined to be with forever, and that's okay. Millennial parents understand this inevitable reality and are determined to change the dynamic of blended families and now, even celebrities are joining the wave.
Stars like Jada Pinkett Smith and Mashonda Tifrere are among the women determined to change the narrative of "baby mama drama" in the black household and address the dysfunction that currently exists.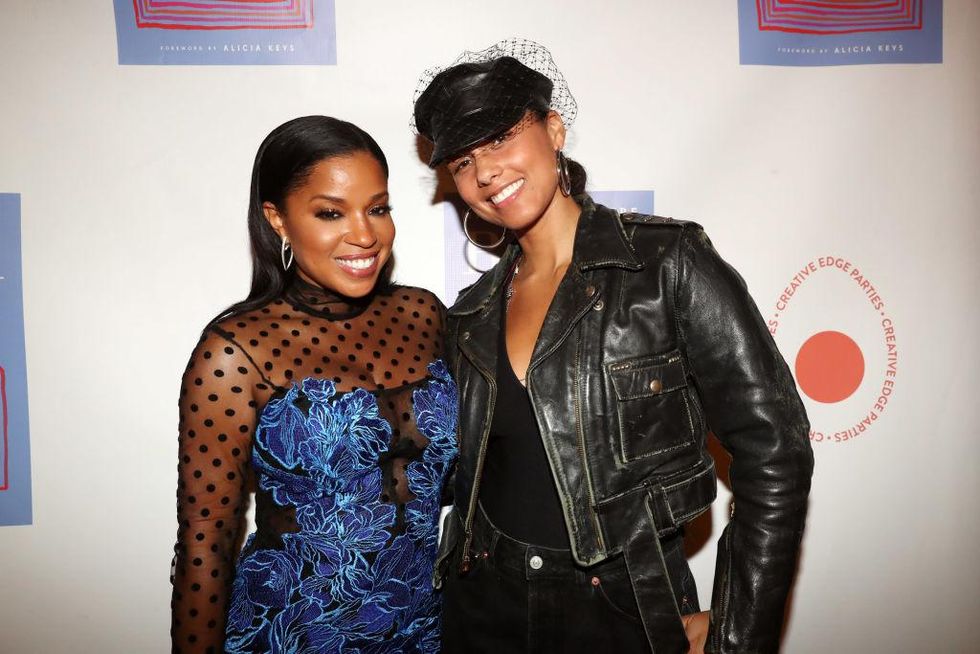 Johnny Nunez/WireImage
At the end of any relationship, tensions are high as the culmination of a whole lot of love ceases to exist on either or both ends. When you throw a young life into the mix of all of that, things can get messy. Swizz Beatz, Alicia Keys, and Mashonda are testaments to the fact that blended families can be complicated, but a healthy relationship among every party is well worth the trouble.

Swizz Beatz and Mashonda began their relationship in 1998 and married in 2004. Shortly after announcing their separation in 2008, tabloid rumors began to speculate that Swizz Beatz and Alicia Keys were an item, which was later confirmed in 2009.
After a multitude of media coverage about the situation unfolded, Mashonda publicly confronted Alicia Keys in an open letter, adding salt to an already open wound in the tabloids. Since then, the trio seems to have resolved their issues, though never publicly confronting how their big happy family came to be.
Despite all our personal mess and biases, we tend to forget that when there are children involved, and when we keep that in mind-- all that other sh*t goes out the window. Mashonda, author of the new book, Blend: The Secret to Co-Parenting and Creating a Balanced Family, recently opened up about when she realized that she had to make a change in her family dynamic for the sake of her son's well-being:

"Six years ago, my [then] 5-year-old son asked me why his father and I didn't like each other anymore. I realized that he was reacting to our lack of communication and unity as parents. It was a wake-up call. Co-parenting and blending is a universal topic and many don't know where to begin. This book will serve as the inspiration and blueprint that is needed to raise emotionally and mentally healthy children."
The book is set to release Oct. 2 and will include advice from therapists, relationship experts, and stories from other blended families.

"With a dedicated chapter for fathers written by Swizz and a heartfelt foreword penned by Alicia, the three of us are raising our voices to help generations of families worldwide. I'm certain that the book will become a toolbox for mindful parents all over the world."
Yandy Smith is also among the stars seeking to change the narrative of blended families and wrote a book that tells the story of her own blended reality. She told CEOMom that she was inspired to write the book after a heartbreaking conversation with her son:
"'My Blended Family' is a book that evolved from a very personal experience. We, of course, are in a blended family. My son's older brother could not make it to his birthday party, because of a prior obligation with his mommy. My son was completely disappointed that his brother wasn't coming to his birthday party. He was more distraught that his brother had a different mommy. For that reason, I created this book for parents to have an easier way to explain to their children that some families are different, but they are still normal. I wanted him to know that he is not alone. He is not the only kid who has siblings with different families or parents."
Though AK and Mashonda have had a tumultuous history, the famous trio have been adamant about restoring their relationship for the sake of their family. The group even linked up last Mother's Day at the Beatz family home in a public display of comradery for a special meal with the whole crew.

Alicia Keys wrote on Instagram:

"I never thought love could be so deep, so wide, so open, so full, so elevating! Such a teacher!" Keys wrote on Instagram Monday. "Thank you for teaching me, growing me, deepening me!! I'm Forever yours Egypt, Genesis, Kasseem, Nas and Nicole."
Mashonda and AK prove that with a little faith a whole lot of work, blended families can be lit.
Featured image via Johnny Nunez/WireImage