Her skin is glorious, her abs are tight, and honey never came to play. Kelly Rowland snatched our wigs during her surprise guest performance at Beychella and the singer recently revealed in an interview with Ellehow she stays on top of her game as a world class singer and full-time mother. Kelly's been killing the game for as long as I can remember, and she finally gave some insight into her beauty routine. The 37-year-old singer and mother of one shared some of her beauty must-haves that will help you slay the summer:
"One would definitely be Shani Darden's Retinol Reform. Another one would be iS Clinical face wash, because I believe in washing your face. I believe in skincare above anything. A sunscreen. iS Clinical has a great sunscreen. Jessica Alba has this awesome [Honest Beauty] Magic Balm for your eyes. It's clear. It's awesome. It's perfect for summertime. Pat McGrath has these beautiful colors in her eye palettes. Stunning for summer. She just gave me [a palette] through my makeup artist, Sheika Daley. And I'm in love with it."
Her make-up artist, Sheika Davis helped her achieve the sexy sultry and glowed up looks that Kelly required for her glorious performance at Coachella, and said that she used the new Schick Intuition f.a.b. Razor to remove any outlying fuzzy hairs, and body bronzer to give her legs that extra glimmer right before the show.
"There's this one product called Gleam. It's really awesome. I use that or Scott Barnes Body Bling."
The singer also mentioned being a fan of laser hair removal:
"I go to this place in L.A. called Beauty Park. And there's an incredible woman there. Her name is Nurse Jamie. She's amazing. She has all these cool lasers that tighten, brighten, lift, and remove and it's like my favorite new thing. It's probably the biggest beauty splurge I've ever had. It's a big one but it's so worth it."
Kelly reminds us that when you look good, you feel good.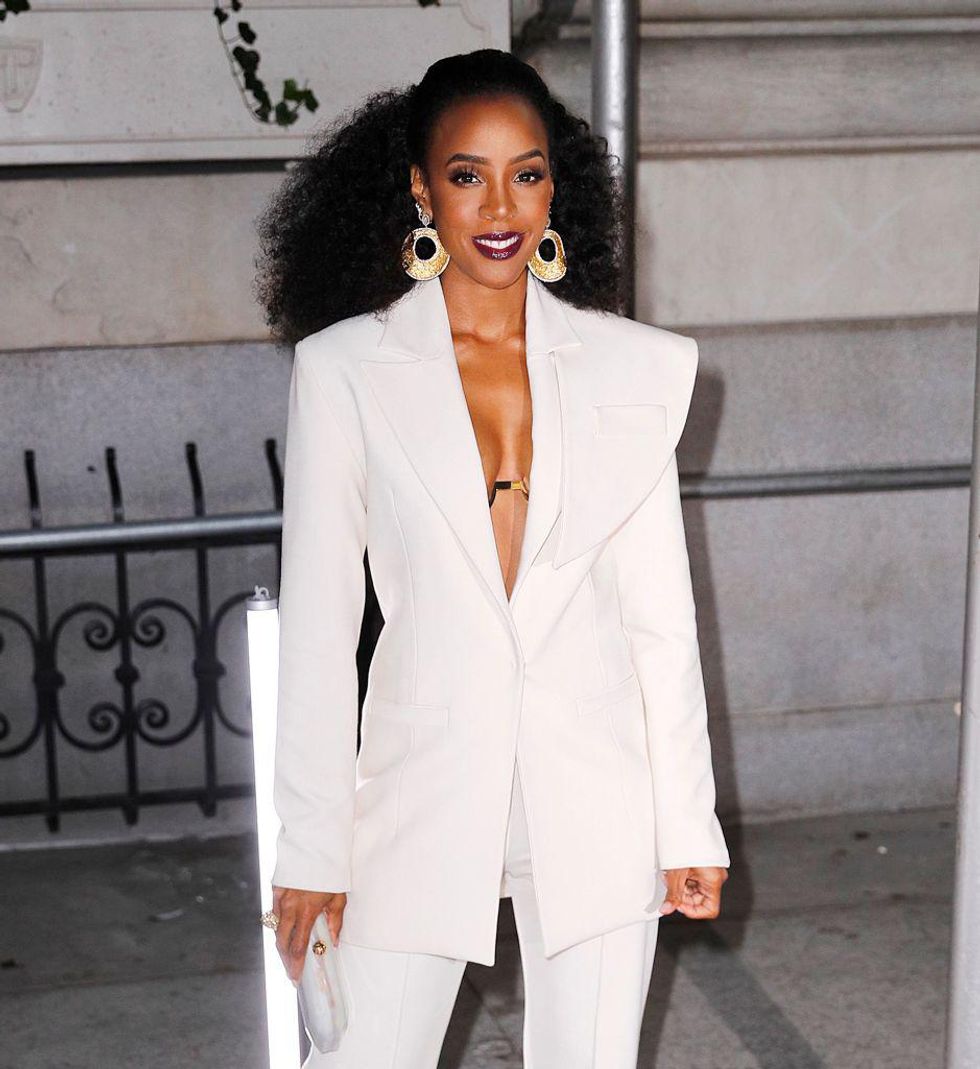 Jackson Lee/GC Images
Being a multi-talented superstar is hard enough, but when you add a three-year-old toddler in the mix, you need some serious stamina to keep up with the day. She released Whoa Baby!: A Guide for Moms Who Feel Overwhelmed and Freaked Out (And Wonder What the Just Happened) that included some tips for new moms on how to balance a chaotic personal life with the excitement of having a new baby. She told Elle:

"You have to take care of your body when you're pregnant with your baby. I think that a part of taking care of your body is taking care of your baby. Eat the foods that you're supposed to eat for yourself and for the baby. Enjoy resting your feet. Enjoy putting them up. Enjoy giving yourself a facial. Enjoy a night out with friends. Enjoy your mocktails. When I was pregnant, I went out with friends still, not going like too crazy like in clubs in stuff–but I did do that once! I allow myself to have fun. I allow myself to feel beautiful. I have pictures on my phone where I kept taking pictures of my body. And I felt so beautiful pregnant."
"After you have the baby you've got to take care of yourself, too. We forget about that. You're so wrapped up in being pregnant but you have to remember after you have that baby, you have to take care of yourself and that's internal, external, mental, physical, emotional. You must take care of yourself. You only get one you. And I think that that's so important. That's a lesson I had to learn after I had my son."
Kelly says that her fitness routine currently consists of Pilates, boxing and weights, and with abs like that, she's got me wondering where I can find the closest Pilates class. Check out the full article with Elle here.
Featured image by Jackson Lee/GC Images