You couldn't tell me nothing about Kanye West from the days of The College Dropout to My Beautiful Dark Twisted Fantasy. From 2004 to 2010, 'Ye was undoubtedly my favorite living MC and I could recite lyrics with the best of them–the stans who rocked monogrammed LV backpacks, the Graduation-era shades, or high end designers at concerts because it was the Yeezy thing to do. But things took a turn for a left when Kanye and Amber split and sonically, it wasn't the same. His rants–often coated with a message that was lost in translation because of its execution–garnered more attention that his music. At that point, he had already solidified his spot in hip-hop culture by reason of his sound and influential style, but it's without a doubt the Kanye we knew–a metaphorical genius with a knack of storytelling and swag–was gone.
---
Fast forward to the present and we're still seeing a Kanye West struggling to cope with the demons of his past, the focal point of think pieces on his arrogance and how it can be misconstrued for a political and radical act of Black self-love, and deciphering his level of crazy. His antics over the years prove that he hasn't gotten over his ex, Amber Rose, and harbors resentment towards her, although he's since moved on, married and started a family with Kim Kardashian.
With the recent attack on Kim's life, sudden cancellation of his Pablo tour and random rants attacking Beyonce and Jay Z, his antics are going beyond his typical 140 character bizarre tweets. According to reports, he was hospitalized recently due to the anniversary of his mother's passing. The past few months have been trying for West but unfortunately this has been an avalanche waiting to happen. 
Back in 2004, Kanye would compare himself to comedian Dave Chappelle in an interview with Toure for Rolling Stone, with a standout line that would possibly follow him for years to come.  Titled "Kanye West: Head of the Class," the rapper only proved that he may have been alone in the room to begin with.
"I'm the rap version of Dave Chappelle. I'm not sayin' I'm nearly as talented as Chappelle when it comes to political and social commentary, but like him, I'm laughing to keep from crying."

Three years later, Kanye would lose his mother, Donda, and he would fall into a downward spiral of grief reflective of Elisabeth Kübler-Ross' model on death and dying–denial, anger, bargaining, depression. A year after her death, he would release one of my favorite LP, 808s & Heartbreak, in a span of only three weeks. But that album would be noted as one of Kanye's darkest, an anthology of noticeable pain and loneliness. What was to follow was the infamous MTV VMA moment with Taylor Swift and an appearance on Jay Leno days later that exposed a Kanye West still in search for healing.
Jay Leno: Would she [Donda] be disappointed in this? Would she give you a lecture?"

"Yeah, you know, obviously, I deal with hurt and, so many celebrities, they never take the time off, and I've never taken the time off to really, you know, I just, music after music and tour after tour on tour, and I'm just ashamed that my hurt caused someone else's hurt. But I need to, after this, just to take some time off and analyze how I'm going to make it through the rest of this life. How I'm going to improve, because I am a celebrity and that's something I have to deal with."
In a 2010 interview with Angie Martinez during her tenure with Hot 97, 'Ye would speak on where he was at, mentally, after his mom's unfortunate passing:
"Since my mom passed I had never stopped. I just went straight to the stage...Whenever something tragic happens it's like I turn into this five year old...So I was completely not dealing with any responsibilities or reality. It allowed me to be neglectful. To come off arrogant and aloof and understanding what other people are really feeling. Now I'm at a place where I've started to deal with my mom's passing and my attitude and problems I had."
But did 'Ye actually deal with it?

Kanye has gone through the egomaniac, God-complex phase, calling himself Yeezus and a creative genius, whilst crying about acceptance in fashion world. He cries about the costs of fame often, but worships the concept of it, simultaneously. One therapist states that West may suffer from identity formation.
"Kanye seems permanently stuck in the rebellious adolescent phase of 'you can't put me in a box.' Identity formation is the process through which a person comes to understand the characteristics in themselves that both set them apart as having a distinct personality but also help them affiliate with others...Emerging from adolescence with a strong sense of identity and personality better equips the individual, as an adult, to face life's uncertainties and make decisions with conviction and confidence. Unsuccessful identity formation leads to "crisis" where an individual is constantly struggling to find themselves into adulthood."
Other psychologists state that West's journey of expressing himself before the world's eyes represents his emotional complexity. If you ask social media, he's simply trolling. But I've seen the signs firsthand before. It may not be this deep, but Kanye's definitely going through stages of depression. Some of his new music alludes to it.
Related: This Is What No One Tells To Expect After Seeking Therapy
Earlier this year, songwriter Rhymefest admitted he stopped working with West because 'Ye needs professional help. The two teamed up for two powerful tracks–"Jesus Walks" and "New Slaves"–but recently cut ties. After Kanye's latest tweets on the word 'bitch' and Taylor Swift, Rhymefest answered questions from fans on his current relationship and role in the rapper's life.
@lord_cornwall nah his mind and spirit isn't right

— Rhymefest (@RHYMEFEST) February 12, 2016
@JakeChatty my brother needs help, in the form of counseling. Spiritual & mental. He should step away from the public & yesmen & heal — Rhymefest (@RHYMEFEST) February 12, 2016
@OGoGoooh @lord_cornwall I love my brother. I pray for his health not our entertainment

— Rhymefest (@RHYMEFEST) February 12, 2016
If that's not worrisome enough, 'Ye mentions the antidepressant, Lexapro in his track, "FML." It's the second time he's done so in his music in recent years. His tweets (including the deleted ones) should be seen as something more than just "ranting" or the "words of a genius." I stopped thinking of Kanye West as a troll when he couldn't rid himself of the anger towards his past and when he openly admitted he contemplated suicide after his mother's death.
"After I lost my mother, there were times I felt like I would put my life at risk. I felt like sometimes I didn't have something to live for."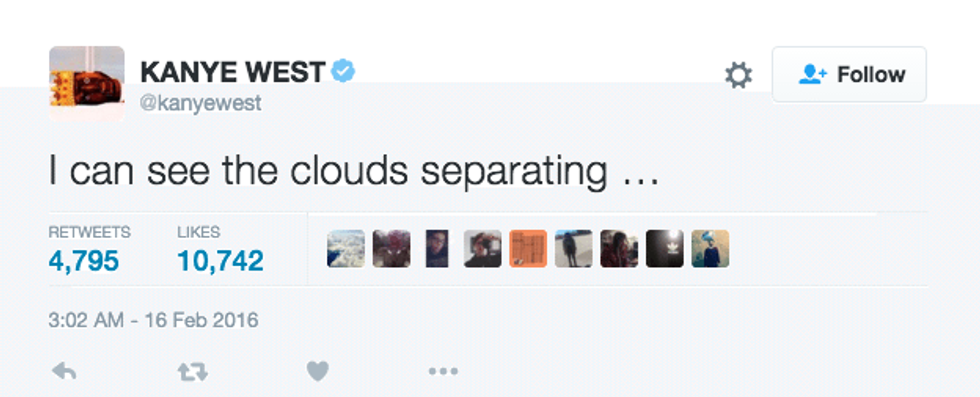 He attributes his wife to saving his life, but I still hope–as an old 'Ye fan and a daughter who lived with a mother who suffered from depression–that he seeks the necessary counseling for himself. Kanye isn't crazy, but he is suffering. And I'm no therapist, but it's evident in his lashing out on "critics" (and I use quotes because anyone who disagrees with Kanye's vision is a hater), attention seeking behavior and arrogance that Kanye, at almost 40, still doesn't know how to cope with his emotions. Hey, he called himself a 38-year-old, 8-year-old on The Life of Pablo.
In her Buzzfeed article, Heben Nigatu asks, "On a more fundamental level, this conversation [on Kanye's vanity] begs the question, how much pride is allowed for one person? At what point does being proud of yourself turn into being "too vain"? Who decides?" In turn, I ask when do we draw the line between acknowledging an artist's creative brilliance and acknowledging that something is wrong and this person needs help? It's been eight years since Donda's death and Kanye still hasn't found the acceptance he wants. But in all of his side-eye and cringeworthy moments, Kanye's life and a recent tweet prove that life is a never ending road of self-discovery with plenty of dark moments in between. How we journey through it is a matter of life and death.

https://streamable.com/9szx?t=136.8
Kanye West performs Ultra Light Beam on SNL