In the past year, one could not talk about midterm elections, without uttering the name Stacey Abrams. From CNN to TIME Magazine, Stacey has been taking the nation by storm with her plans to turn Georgia's radical red to a tranquil blue.
---
The race to be the next governor of Georgia has heated up since the primaries earlier this year, and some of the country's biggest stars made their way down south to campaign. Rapper Ludacris and producer Will Packer helped raise over $300,000 when they threw a supporter party at Packer's home. Those in attendance included Chris Tucker, Tiffany Haddish, Kelly Rowland, Marlon Wayans, LeToya Luckett, Marsai Martin, and Tyrese Gibson.
This past Thursday (November 1), Oprah Winfrey hosted two town hall events in Decatur and and Marietta. This is a considered a rare endorsement as the media icon has mostly avoided politics. Her two most recent endorsements were Obama in 2008 and Hillary Clinton in 2016.
And Stacey isn't without her own presidential star power, arguably her biggest endorsement to date, former President Barack Obama went to Georgia and held a rally in her name at Morehouse College on Friday (November 2).

With a deadlock race for governor -- Stacey is currently polling 46.9% and Brian Kemp polling 46.7% -- Stacey has a chance of becoming the first black female governor in U.S History. If she can earn 50% plus one vote that is. Otherwise, Georgia is headed for a runoff election—meaning the race would drag on into December, which is not desirable for either candidate.
So, with this knowledge and all that is at stake, it's no wonder that voters are looking towards Stacey's background and vision to further solidify which candidate gets their votes on November 6. With the hope this political season is a little less strenuous for all, learn some things about Stacey Abrams that you might not have known before.
Her Background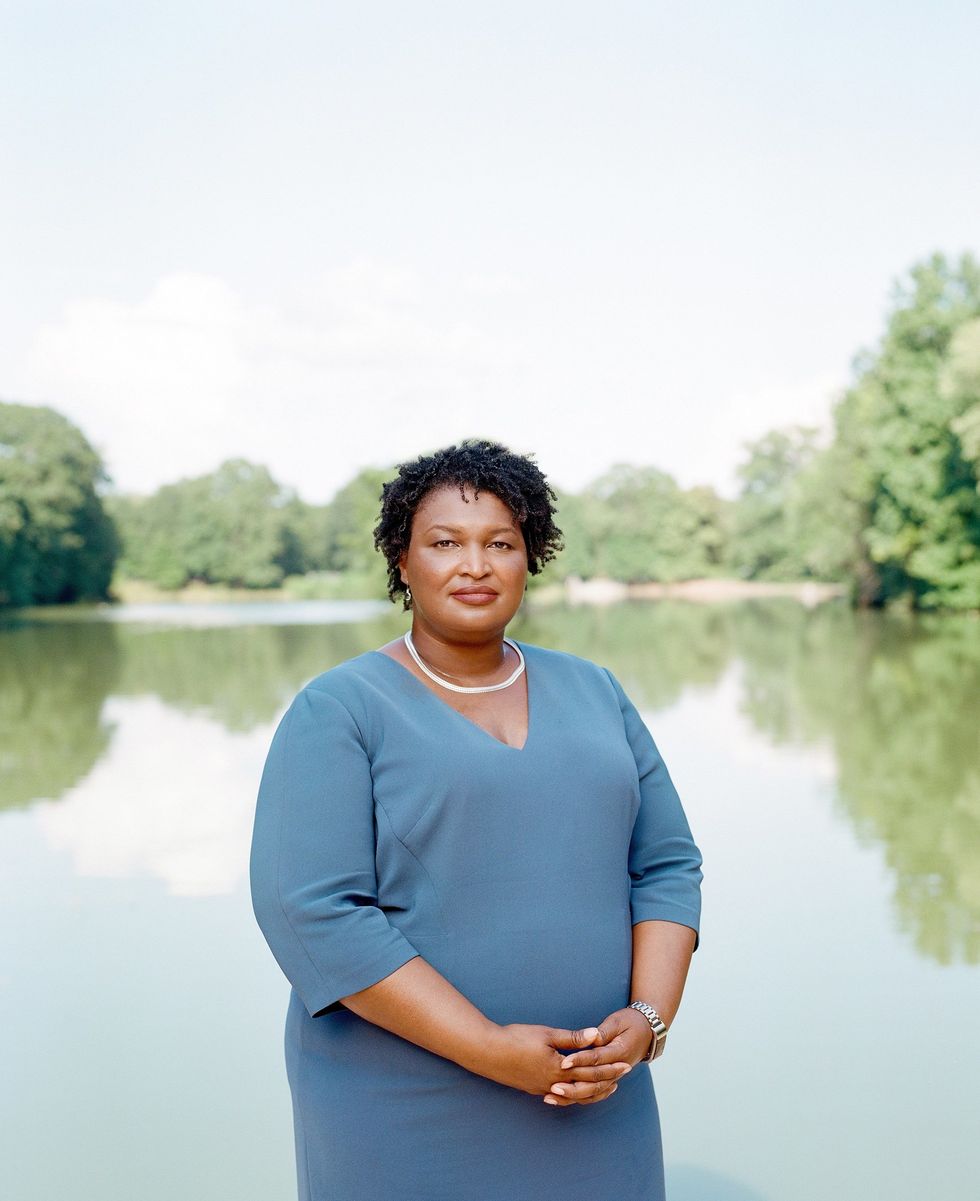 TIME Magazine
Stacey Abrams and her five siblings grew up in a lower middle-class household in Gulfport, Mississippi. Despite struggling to make ends meet, her parents had an indefatigable commitment to providing educational opportunity for their children, which led the family to Georgia.
Stacey and her younger siblings attended DeKalb County Schools, and she graduated from Avondale High School. She went on to receive degrees from Spelman College, the LBJ School of Public Affairs at the University of Texas, and Yale Law School.
Putting her education to work, Stacey became the first woman to lead either party in the Georgia General Assembly and the first African American to lead in the House of Representatives. As House Minority Leader, Stacey fought to better the lives of Georgians through government, nonprofit, and business sectors.
For her staunch support of working families, Stacey has received the Friend of Labor award and also earned an A-rating from the Georgia Chamber of Commerce in the same year. She is a lifetime member of the Council on Foreign Relations, and she is the proud 2012 Grand Champion of the Georgia National Fair Legislative Livestock Roundup. Stacey has received recognition from the Georgia Hispanic Chamber of Commerce, Asian Americans Advancing Justice (Georgia), the National Urban League, EMILY's List, and Planned Parenthood.
"Like most who are underestimated, I have learned to over-perform and find soft but key ways to take credit," she said. "Because ultimately, leadership and power require the confidence to effectively wield both."
Her Vision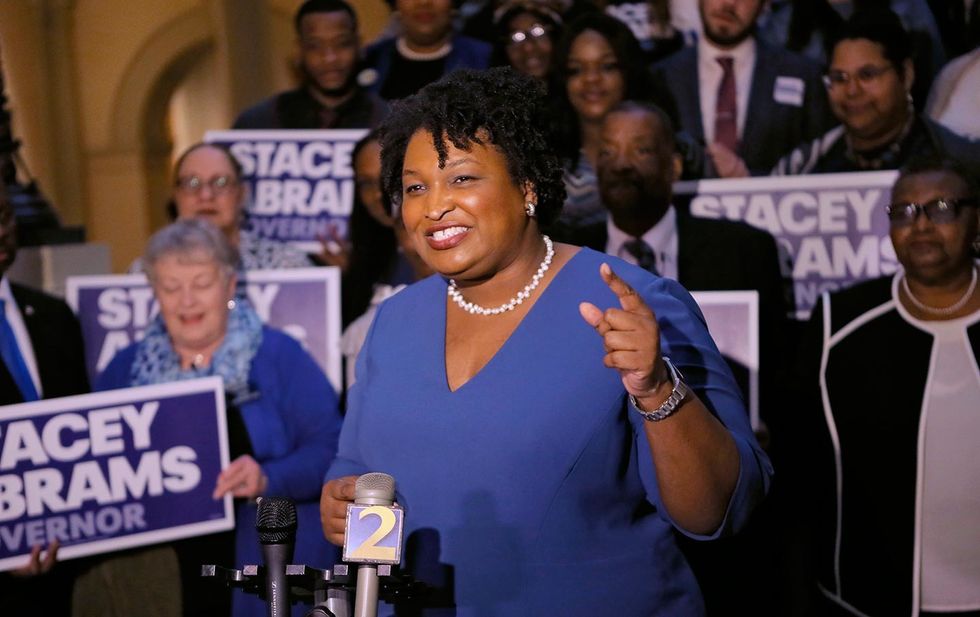 Bob Andres/Atlanta Journal-Constitution via AP
Like Stacey has stated in the past, "We must cease being participants in our own oppression."
With a vision like no other, Stacey Abrams plans to rise up and has 12 main issues she intends to fight while in office. Here are the top six:
Affordable housing is essential to ensuring that every family has the freedom and opportunity to thrive. Stacey Abrams understands that the challenges impacting access to affordable housing are different across communities; particularly in the city of Atlanta, where the income inequality rate is the highest in the country. As a result, Stacey is committed to partnering with local governments to develop solutions that will ensure the success of every community in Georgia.
According to U.S. News & World, Georgia ranks #31 in Education overall, and #35 in PreK-12 Education. With the knowledge that education is a key to economic mobility and future success, Stacey is committed to investing in increasing Georgia's national ranking by addressing the needs of the whole child, from cradle to career. This will begin with high quality, affordable childcare and pre-kindergarten programs, continue through fully-funded public schools, and on to post-secondary opportunities in actions that ensure success.
Stacey has strived to protect Georgia's natural resources and communities from hazardous waste that often is left unchecked. Supporting greater oversight of petroleum pipelines, sponsored legislation to ensure funds for hazardous waste clean-up, and advocating for policies that address climate change, Abrams plans to strengthen environmental protection for all Georgians.
Full inclusive equal rights ensure that Georgia is building on a strong economy that works for everyone. Stacey Abrams intends to advocate for all communities and believes in treating every person with basic human dignity and respect.
The number of mass shootings in the US this year has already reached 297. In the city of Atlanta, at least 50 police shootings have occurred. It is beyond time for sensible gun policies that enable responsible ownership but also keep firearms away from people who would use them to harm others or themselves. Stacey is committed to working collaboratively with law enforcement, community partners, the legislature, and the criminal justice system to protect Georgia's communities.
Stacey believes it is essential for every Georgian to be able to access affordable healthcare. With plans to expand Medicaid, she intends to provide access to healthcare for all Georgians, create more than 50,000 jobs, expand mental health support groups and resources, and protect rural hospitals from closure.
To find out more about Stacey Abrams's vision, click here and get to reading.
Now the most important question, will you rock your vote on Election Day?
Featured image by AP Photo/John Bazemore