---
On October 6, the Sabrosa night club was packed. Guests filtered in off the streets of Manhattan's Meatpacking District into the white-washed brick building that during daytime hours would easily be glanced over.
They arrived in singles, pairs, groups—a mix of young and old of all races click-clacking down the concrete corridor illuminated in sensual dark-pink lighting and into an open room where DJ Austin Millz spun Drake and Future to a crowd wavy off of free Hennessey. At 9 'o clock glasses filled with Moet raised simultaneously in the air in celebration of the release of HRDCVR—a book-shaped magazine created to push the envelope of journalism, one that's free of the constrains of the web and not confined by the traditions. For us, by us, and catering to everyone.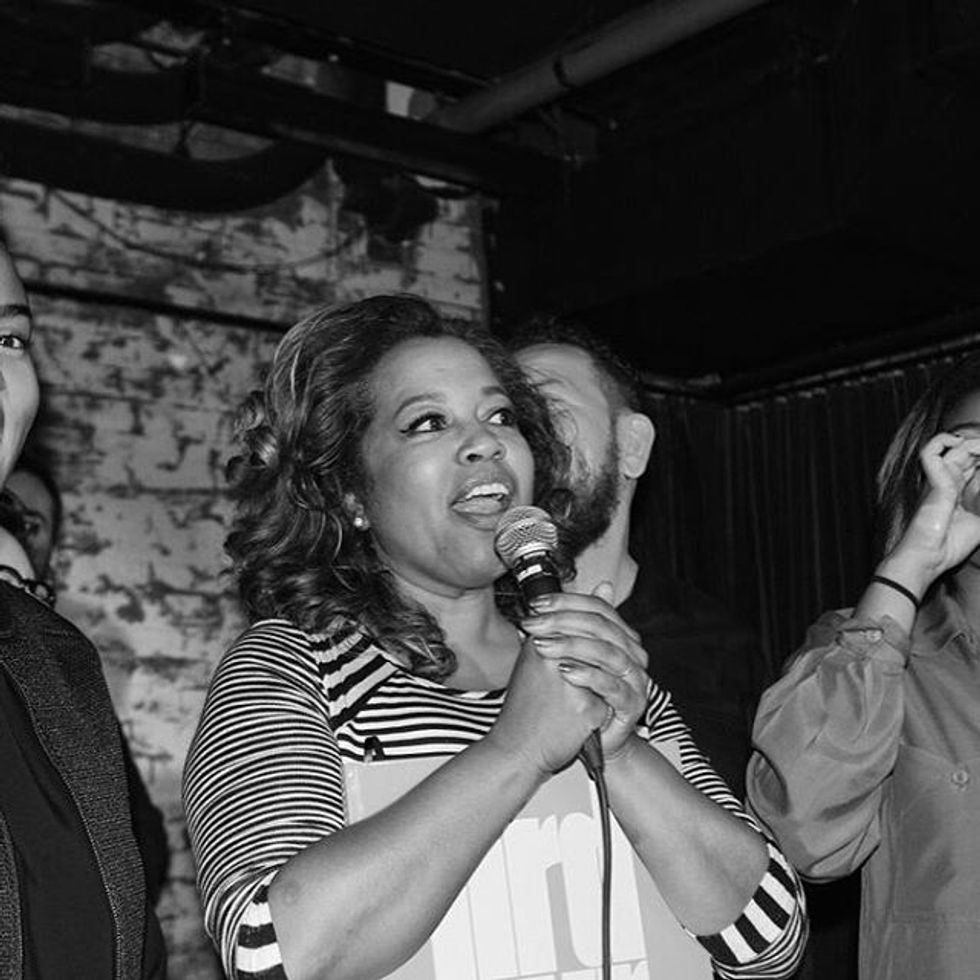 For co-founder Danyel Smith, it was the icing on a cake, layered with 11 months of trials, triumphs, tears and tenacity—a culmination of the vision that her and her husband, veteran journalist and Rap Radar founder Elliott Wilson, dreamt up months ago.
"Everybody was excited about the book and it was really a good time; it was a long time coming actually," Smith tells me on our call. "I feel like there's sometimes this kind of segregation between millennials and those older than them, and this wasn't that. It really felt like we included everyone."
Danyel is one of those journalists that you admire from a distance and study up close. She's talented, yes, hints why she's earned top positions at Vibe Magazine (Editor-In-Chief), Billboard (R&B Editor), Time Inc. (Editor-at-Large), and The Root (Executive Editor), and written for many more respectable publications on top of writing her novels More Like Wrestling and Bliss. But it's more than just her ability to pen profiles, it's her passion, respect for her craft and thirst for knowledge of not just music, but the world around her, that has garnered her over 30,000 and 100,000 followers on Twitter and Tumblr respectively, as well as a number of devoted fans inspired by her work.
Not bad for someone who dropped out of college her sophomore year for family reasons, and didn't get her bachelor's degree until she was in her 30's.
"It's not easy no matter how talented, smart, or focused you are. You know, life happens to people, to women in particular, whether it's boyfriends, your neighborhood, family dramas, whatever it is."
"I always tell people, just because you take a turn to the left or a turn to the right, you can get back on your path at any time."
The East Oakland native who claims 83rd and East 14th Street has come a long way from interning at the San Francisco Bay Guardian, where she turned lackluster news on the history of olive oil into her own column, telling captivating stories of the rise of the hip-hop and R&B era when Cali artists Too $hort, Tupac, and Tony! Toni! Toné! were just hitting the scene. Building her name as a music critic unknowingly elevated her to the position of a pioneer—for there were very few women at that time covering the music industry, and even fewer diving into hip-hop.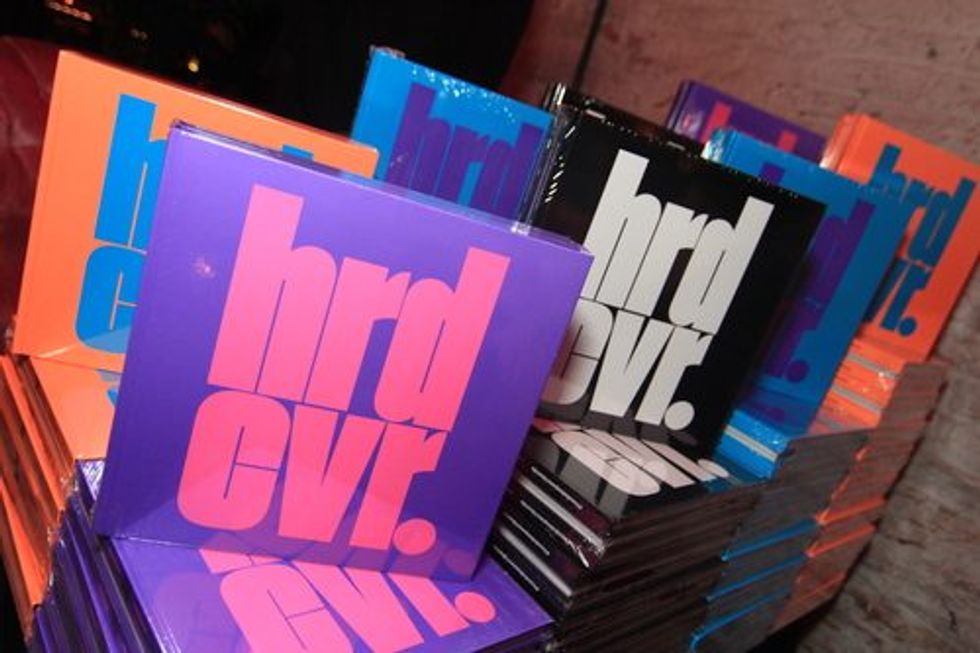 But Danyel has never been afraid of pushing the envelope and ushering a new wave of traditions. In fourth grade it was her newspaper, The Weekly Arrow, where her byline reigned supreme with news of the latest happenings from her then High Point Street Los Angeles neighborhood—circulation of six. Now, it's HRDCVR, a magazine printed as a book for the "new everyone" that doesn't just serve one group, as often seen with both mainstream and affinity magazines, but all people regardless of race, religion, lifestyle, or beliefs. The "underserved" as she calls them. It's very much reflective of a society that we live in—where traditional lines have been blurred and barriers broken.
The couple worked hard to build a team just as diverse as the content, bringing in writers from all backgrounds—some by profession and some by passion—as well as people that they knew and respected from previous jobs and projects. They gave $1,000 media fellowships to journalists and a designer to be a part of the team who would push all aspects of reporting, storytelling and design—and brought on interns who understood the vision and were eager to play a role in bringing it to fruition.
But of course creating something of this grandeur would take money. A lot of it. And what better way to know who's interested and supports your mission than by starting a crowdfunding campaign?
So they took to Kickstarter with an introduction video, promising a high-quality product with amazing visuals and diverse content. Every Monday they released the HRDlist, an email newsletter with catchy titles that curated diverse news headlines from around the world. They went heavy on social media, promoting daily and doing interviews talking about the "new everyone." In four days they received 50% of the funding. They pledged a goal of $30,000, and in 28 days they got $67,230 from 516 backers.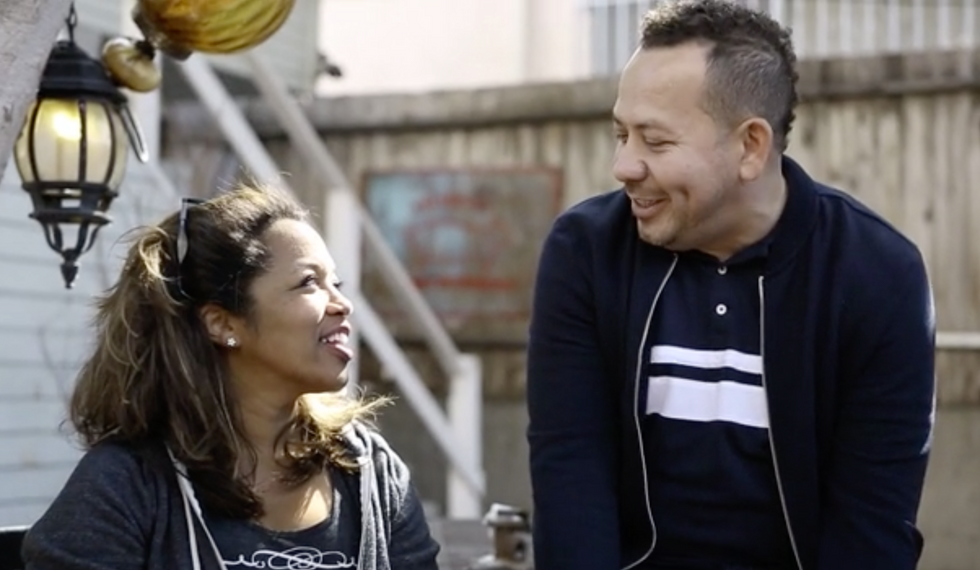 "We used [crowdfunding] because we wanted to have kind of an intimacy about who we were serving and a group of people that we could communicate with all the time, either on Twitter or via Kickstarter."
It was tough, though, and not just because they were managing a team that was spread out across the country (although they did use their temporary DUMBO office for central headquarters), but because Danyel also had to manage herself by stepping outside of her comfort zone.
"I had to re-learn to be as determined as I know how to be. I've been spending a lot of time as a student and working on my book, and I can be very introverted with those activities. But putting together a project like this, it's all about being outgoing and showing your personality. So, that's what I had to do and that's what the team had to do and I think that we all learned a lot of lessons from each other."
It was also the first time the couple would work on a project together instead of competing against one another in the journalism world. Elliott often recounts the story of when he was an editor at XXL while Danyel was the editor-in-chief of Vibe Magazine, and her snatching up the cover stories that he was actively pursuing.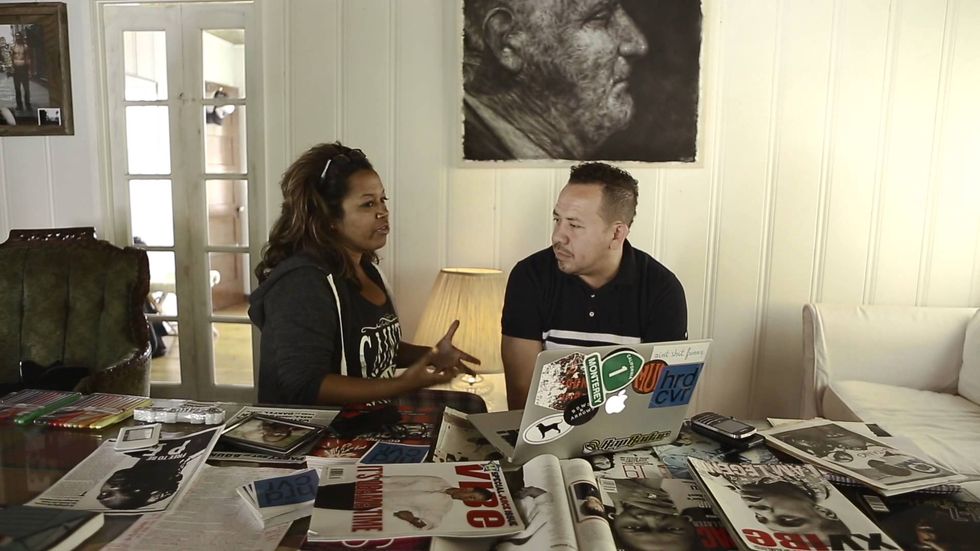 "We both have very strong personalities and we both have an idea of how we would like things to be. And, while we've somewhat figured out how to deal with those strong personalities in marriage and relationships, on the creative partnership side of our bond, we are learning everyday, and it's challenging. But look at the good work that came out of it."
It's the challenges that have allowed them to learn more about one another. I reference a Will and Jada Pinkett Smith interview where Jada talks about the couple creating Karate Kid together, and the challenge of how her and Will have different ways of creating, but how much she's learned from working with him and seeing things from a different perspective.
"I definitely did." She says when I ask her if she learned something from her and Elliott's time working on HRDCVR. "I forgot that Elliott, is a copy editor. I forget that there's not a mistake that he doesn't see. He sees a mistake like there's an extra space between the period and the beginning of the next sentence. I be like, what?! He's very detailed in his head like that. And then there's some things he's not, there's some things, like, if we're looking at film, my notes back to people are intense and deep and Elliott is just like it's a lot you're saying, and I'm like because it's a lot that need to be done. So, it just depends. But you go back and forth between being big picture and detail-oriented, and we learn a lot from each other.
[Tweet ""It comforts me that there's still new stuff to learn about him after 10 years of marriage.""]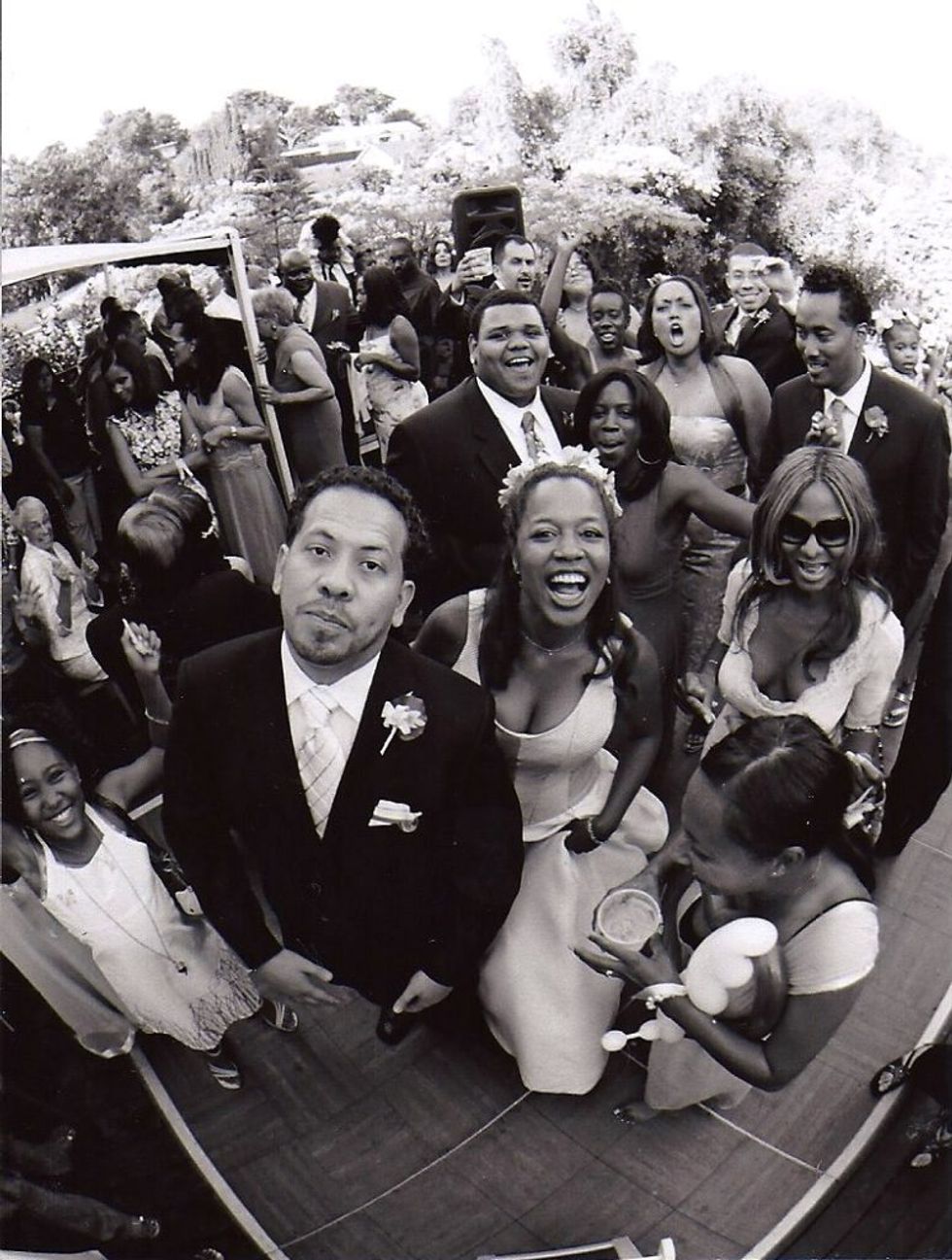 Perhaps it's the beauty of learning and discovering more about one another through HRDCVR that has inspired them to continue on the path of creative partnerships. They worked together on Future's "Like I Never Left" documentary, serving as executive producers along with L.A. Reid and Sylvia Rhone, and on their 10th anniversary launched the #RelationshipGoals podcast where they discuss everything from dating and marriage to new music and current events, inviting you into the kitchen of their Brooklyn apartment.
I admittedly tune in because there's something so authentic and real about their love that I admire. It's not sugar-coated, as you often find when public figures broadcast their marriage. On any given episode you can often hear the two bickering over everything from Elliott coming in the house too late (he has a 2am curfew) to Danyel being chastised for interrupting Wilson's conversation, but it's minor in comparison to the warmth that emits from their casual convos sprinkled with Elliott's iconic laugh and Danyel's Oakland-girl brashness.
"Whatever the week has brought, we try to give the listeners that, and it's fun. I mean, marriage is hard," Smith says. "Everybody's marriage is complex regardless of how they're presenting it, but to me, it's one of the greatest relationships of life if you're lucky to have it and if it's something that you want. I always remind everybody that marriage isn't something that's everybody's dream, it just isn't. But I think what is everybody's dream is to be loved, and that's what marriage at least does for me, it kind of reminds me of that on a daily basis that there is somebody that's there outside of family."
She also admits that it's sometimes how they catch up with one another, since their separate careers sometimes keep them apart during the week. Before things got hectic, Elliott would play her new music and she would play him old songs. Now they keep tradition alive through the podcast where the sounds of Sza are heard alongside Mary J. Blige.
"Us doing that, it really does bring us a lot of joy because we're like, we used to do this all the time for each other, like all the time! So it's been nice."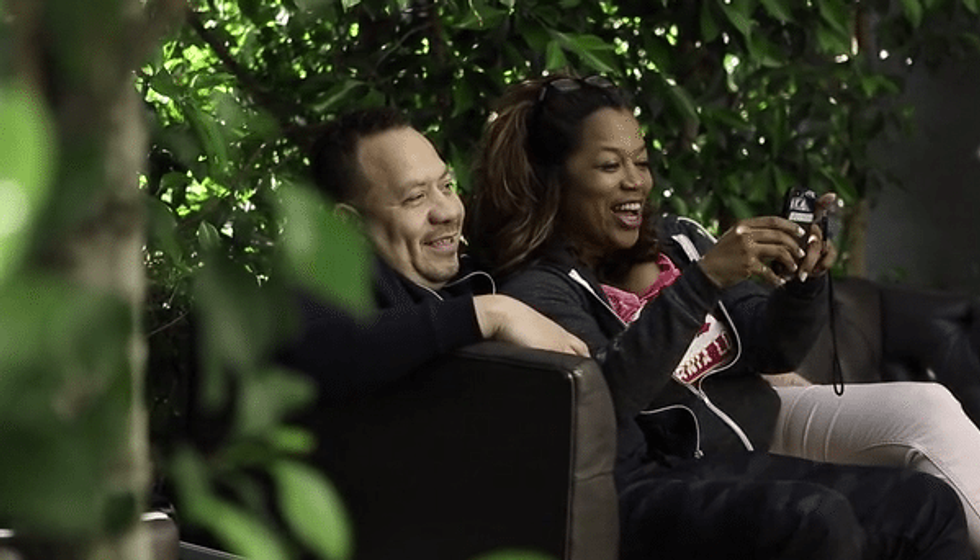 I tell her that they remind me of Brown Sugar—the movie where Sanaa Lathan plays Sidney, a successful Editor-In-Chief of XXL and her best-friend-turned-lover Dre (played by Taye Diggs) is a well-known A&R for the fictional Millennium Records, who later quits his job to start his label signing real hip-hop talent instead of the mainstream mockery that many labels have adhered to, sacrificing quality for dollars. They fell in like through hip-hop and fell in love when they realized that they have more in common than just a passion for the genre. In this case, it's the love of culture and constantly learning and evolving that seems to keep them tied together.
When I share this with Smith she says to me, "I've heard this so many times!"
And then admits that she's never seen the movie, probably because she's weirded out at the fact that everyone attributes her and her husband's relationship to a fictional story that has absolutely nothing to do with their lives (Elliott is, in fact, a journalist, and not an A&R executive). She identifies more with Queen Latifah's character in the 90s hit show Living Single, who runs the fictional Flava magazine—boss by day and navigating the world of relationships by night.
I get it because I used to do the same. Until I saw Brown Sugar.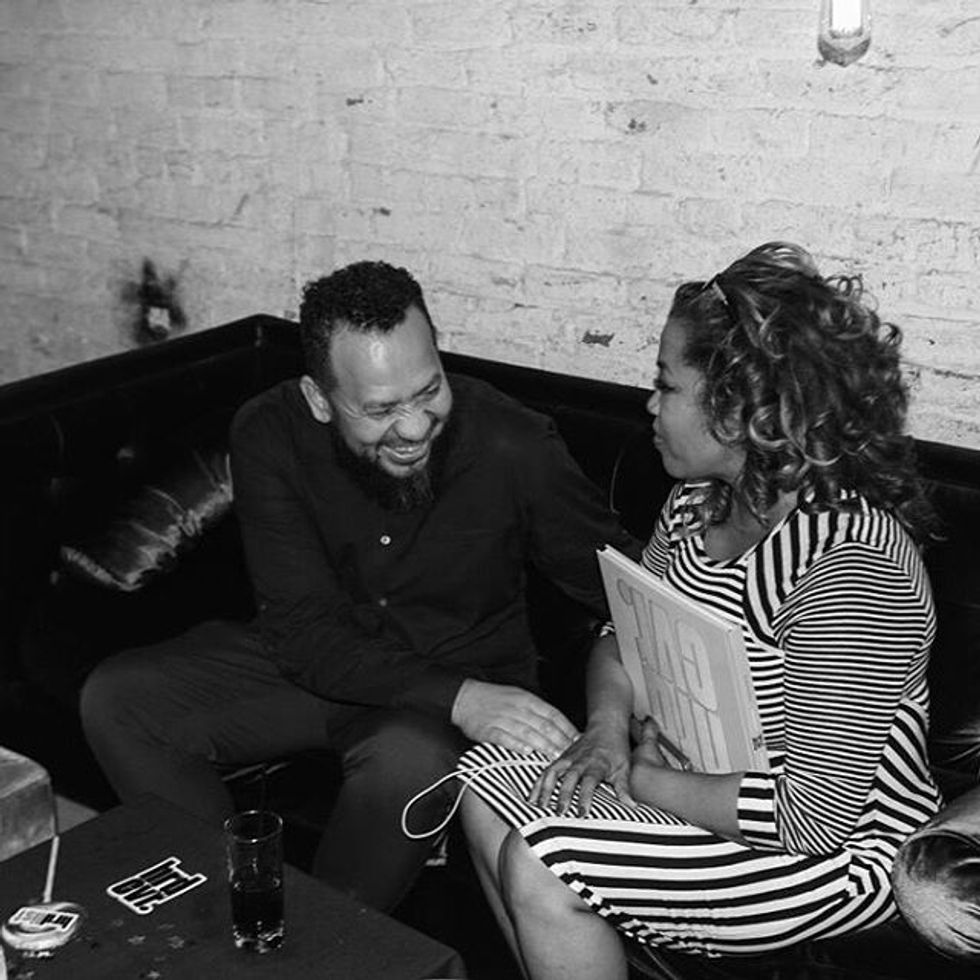 A couple of minutes later Elliott is peaking around the corner, letting her know it's time to go. They're headed to a CRWN event, a live interview series that he hosts with some of today's top music artists. Tonight's session is with Mac Miller. Just like when Elliott shows support by coming to her events, she's making sure to be in attendance for his.
"We were living apart for 10 months when I was in Stanford [as a John S. Knight Journalism Fellow] recently, and that was one of the hardest parts, you know, not being able to be there for each other in certain moments. So, I think we might be overcompensating now where if I have something he's like, alright I'm there what time is it?"
She apologizes as she rushes me off the phone. My thoughts immediately go back to Sanaa's character when she gives Dre the money to launch his own record label or when at the last minute she goes to check out a new artist he's interested in signing. Always supportive, always there for him.
As we say our goodbye's, I can't help but to smile as I click off the recorder.
Yeah, they're definitely Brown Sugar.