---
Our skin is a natural treasure that should be protected at all costs, and DeWanda Wise just came through with a nighttime skincare routine that will get your epidermis all the way together. According to DeWanda, the key to snatched skin lies in a seven-step process that requires time, patience, and a few products you can pick up at your local Walmart.
DeWanda says that although she doesn't wear makeup often, when she does, it's fabulous. For every bomb face beat, there should be an equally bomb removal method, and DeWanda has us covered when it comes to getting our skin ready for a good night's sleep. The self-proclaimed product junkie says that just like the rest of us, she's always willing to try out the latest beauty trend she found on Youtube, and put us on a few of the high-tech beauty finds she's using right now. Along with a Clarosonic Facial Cleanser, DeWanda also thinks we should invest in a handheld facial steamer ASAP.

For a step-by-step guide of how DeWanda keep her bougie beauty routine on a budget, scroll below!
*Some of these links are affiliate links. If you purchase an item from an affiliate link, xoNecole might earn a small commission.
Estee Lauder Take It Away Makeup Remover Oil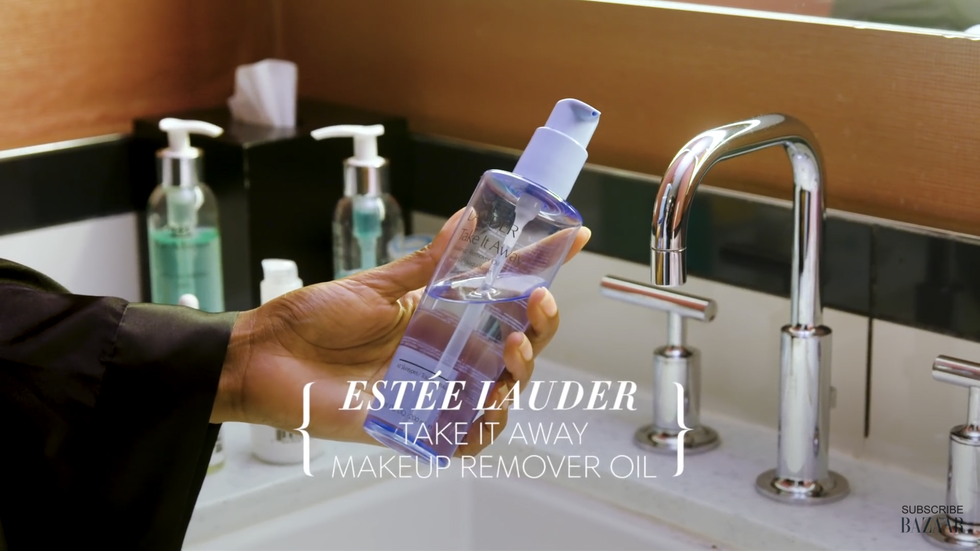 Harper's Bazaar/YouTube
Using oil before you break out your makeup remover might be the life hack you didn't know you needed. To DeWanda, by using Estee Lauder Take It Away Makeup Remover Oil, she gets a lot of the heavy lifting out of the way and prepares her skin to be primed, primped, and purified to perfection.
Le Mieux Phyto-Nutrient Cleansing Gel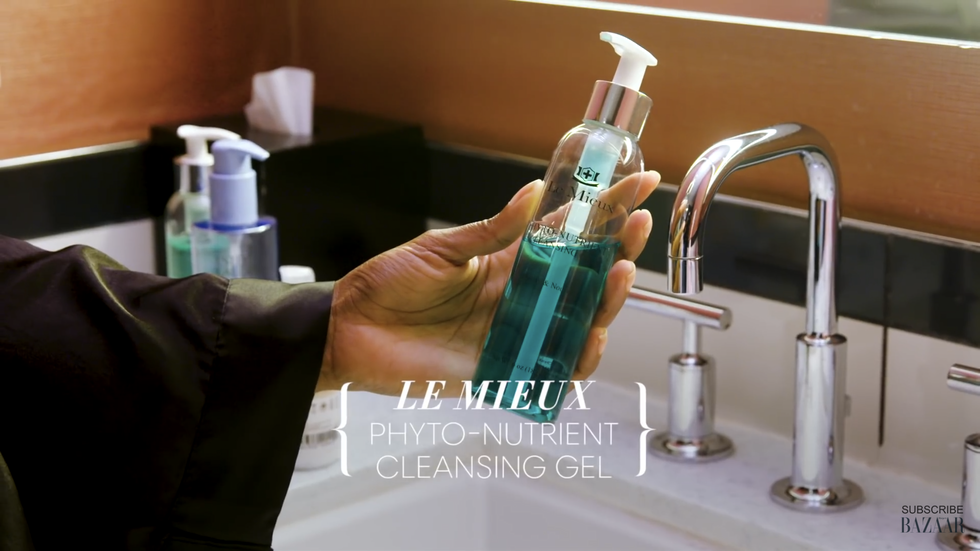 Harper's Bazaar/YouTube
Made with 12 botanical extracts that help hydrate, tone, and removed makeup, the Le Mieux Phyto Nutrient Cleansing Gel is said to help restore balance and is good for all skin types. DeWanda explained that a makeup artist put her on this cleanser and she's been hooked ever since:
"I found about this cleansing gel from working on set. A lot of makeup artists who work on these sets kind of have to be experts so they spent a lot of time trial and error seeing what works for actors, what doesn't break them out the next day. Usually, the stuff is vegan, it's not tested on animals."
Clarisonic Mia Prima Sonic Facial Cleansing Brush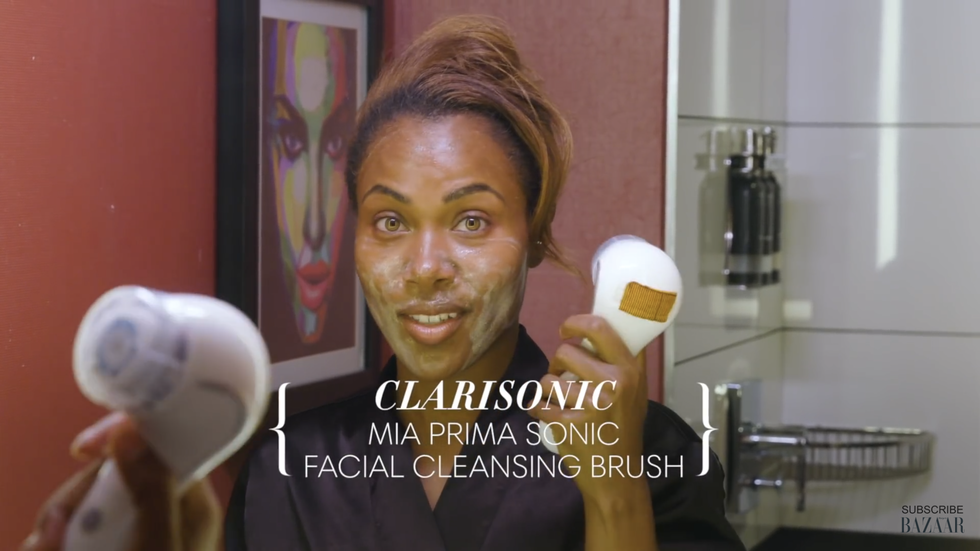 Harper's Bazaar/YouTube
Beauty trends may come and go, but facial cleansing brushes are forever. While somewhat pricey, these beauty tools can help clean and exfoliate skin which is why DeWanda uses this product up to three times a week:
"I got this, I feel like it was only a couple of months ago. Again, product junkie. Anytime there's a new fad or a new thing, I'm into it, I'm going to try it. Sometimes it works out, sometimes it does not. But I have found that in terms of a daily exfoliant, it's really effective. Especially going from New York to LA can be a bit finicky, and I have less drying and flaking if I make sure I exfoliate."
Sweet Chef Ginger Vitamin C Fresh Pressed Sheet Face Mask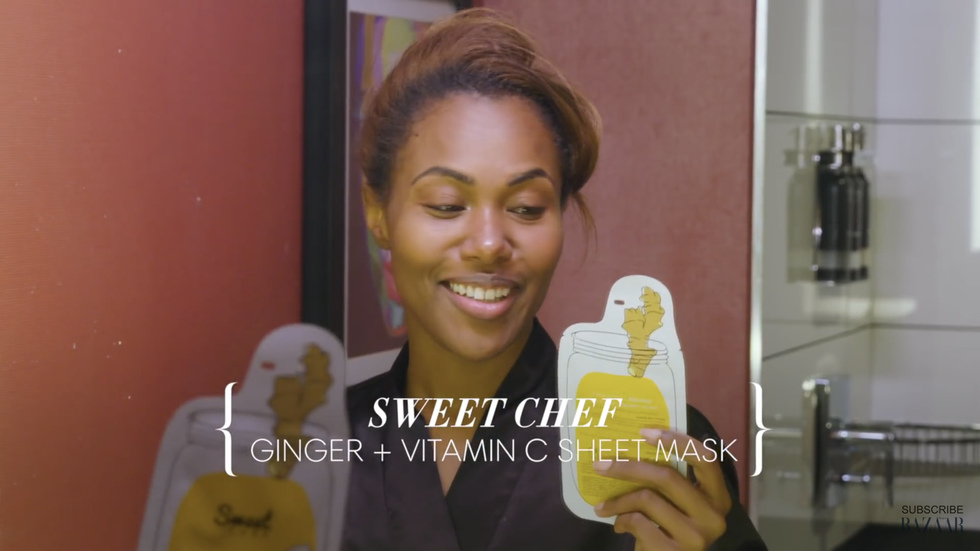 Harper's Bazaar/YouTube
Some of the best things in life can be found a Target, and this ginger and vitamin C mask by Sweet Chef is no exception. While DeWanda usually opts for a mask that helps with inflammation, this mask promises to offer a paraben-free glow that this actress just couldn't turn down.
Lonove Nano Ionic Facial Steamer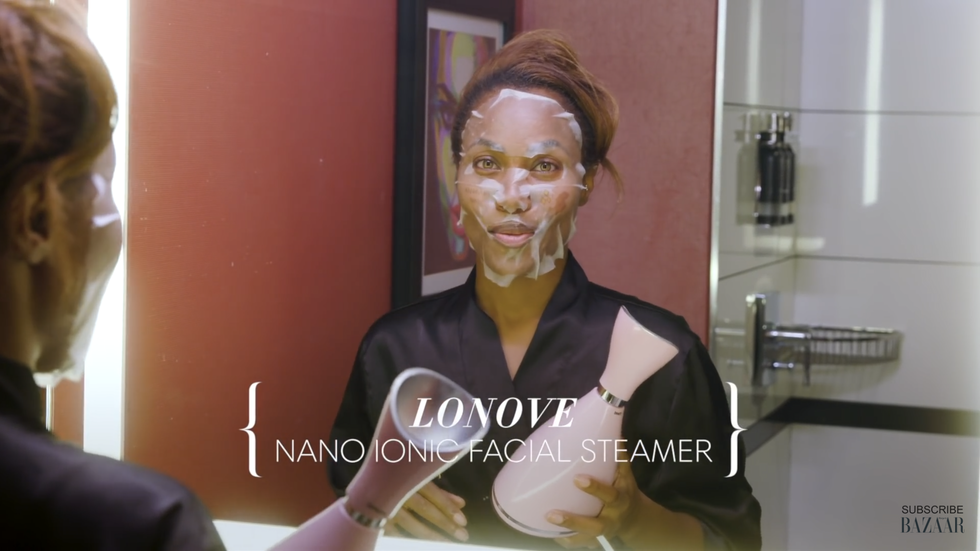 Harper's Bazaar/YouTube
You can't pick apples from an orange tree and you can't take skincare advice from your homegirl just because she likes to watch YouTube videos. DeWanda says that she picks up a number of her beauty tips from the experts in her life, including her esthetician, who put her own this little-known beauty tip:
"My esthetician says that you're supposed to put the mask on first so then everything in the mask can actually penetrate into the skin when you steam. You know, it makes sense. It's science."
Shea Moisture 100% Virgin Coconut Oil Daily Hydration Overnight Face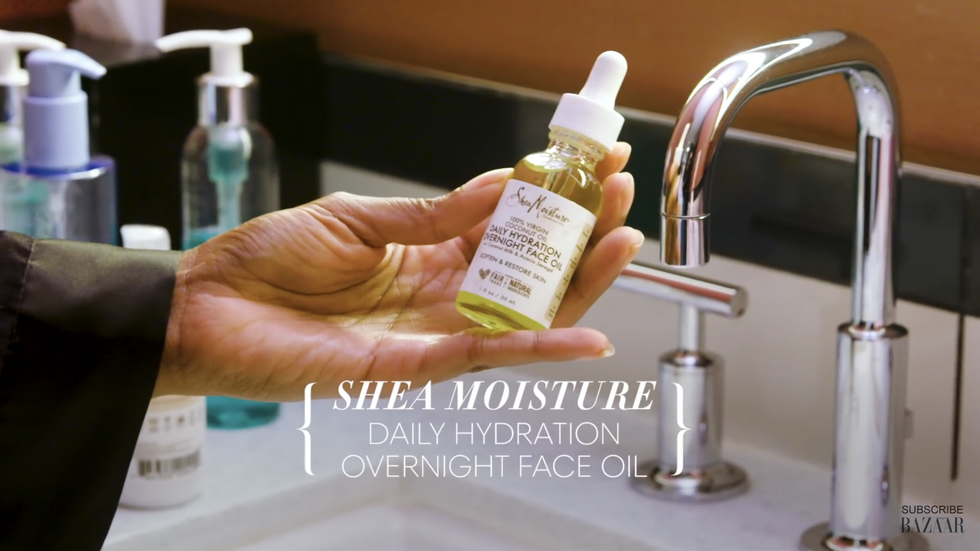 Harper's Bazaar/YouTube
One thing DeWanda Wise says she's gotta have is properly moisturized skin. That's exactly why she uses Shea Moisture's overnight hydration oil, filled with all of the fatty acids your skin needs to be great.
Shea Moisture 100% Virgin Coconut Oil Daily Hydration Face Lotion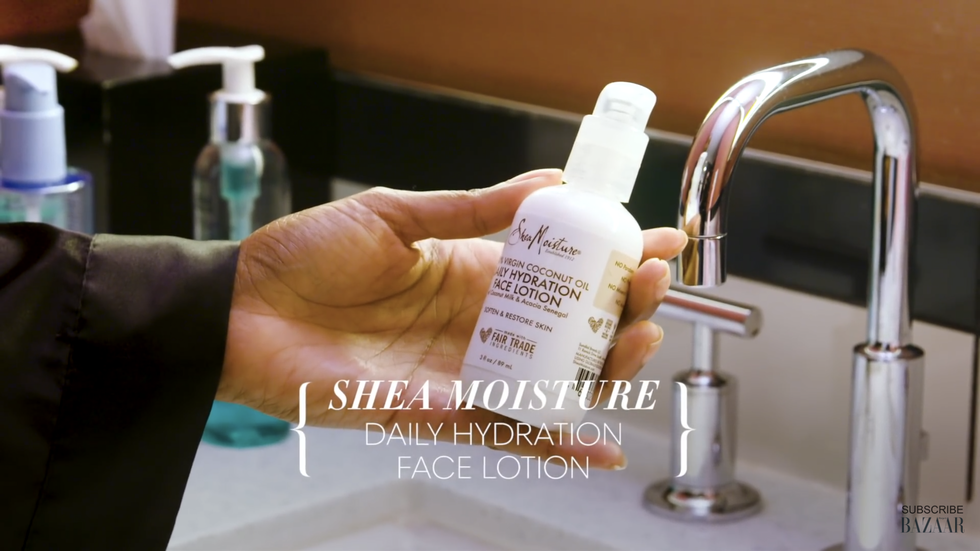 Harper's Bazaar/YouTube
Last but not least, before the 35-year-old actress ties her edges down and catches some z's, she makes sure to apply a small amount of face lotion so that her skin has all the drip it needs before she heads to bed.
Watch the full clip below!
DeWanda Wise's Nighttime Skincare Routine | Go To Bed With Me | Harper's BAZAAR www.youtube.com
Featured image by Harper's Bazaar/YouTube