Danai Gurira burst onto many people's radar as Okoye, the leader of the Dora Milaje, the undeniably powerful army of superwomen heralded in the record-breaking box office smash Black Panther. What many don't know is that Gurira, 40, has been putting in the work for quite some time.
---
Whether it's as a nonprofit organizer and playwright (the nonprofit, Almasi Arts, supports and facilitates the dramatic arts in Zimbabwe, and she's currently adapting Chimamanda Ngozi Adichie's award-winning novel Americanah into a TV miniseries), or starring in The Walking Dead, her strength has also come from rigorous workouts, a commitment to her spirituality, and a continued connection to her passions and goals.
Gurira recently sat down with Women's Health Magazine to talk about her fitness journey, but the gems she dropped are mantras that we can all incorporate into our own fitness AND professional journeys.
I'd love all women and girls to experience how powerful our bodies are. Thank you @WomensHealthMag and @LizPlosser!… https://t.co/y1Yt0hCA95

— Danai Gurira (@Danai Gurira)1529418361.0
Take one look at Gurira and it is clear that she is well-trained and finely tuned. World-class athletes like Serena Williams and Simone Biles have been, on one hand, praised for their domination of their particular sports, while on the other hand, lambasted for their muscular physical appearance.

This double-edged sword is also felt by we regular women who may be afraid to go to the extreme when it comes to our own physical training. To that, Gurira says:
"As women, we're not always encouraged to find the fullest extent of our physical power...There's something so exciting about tapping into that part of ourselves."
Under the wing of trainer AJ Fisher, Gurira has crafted her enviable physique using a method Fisher dubs as "Corectology." The method involves high-intensity intervals, Pilates-inspired moves, and a lot of circuit training. Described as a way to "even out muscle imbalances while improving strength, mobility, and cardiovascular function," Gurira has been successfully practicing this method at least four times a day for the last three years.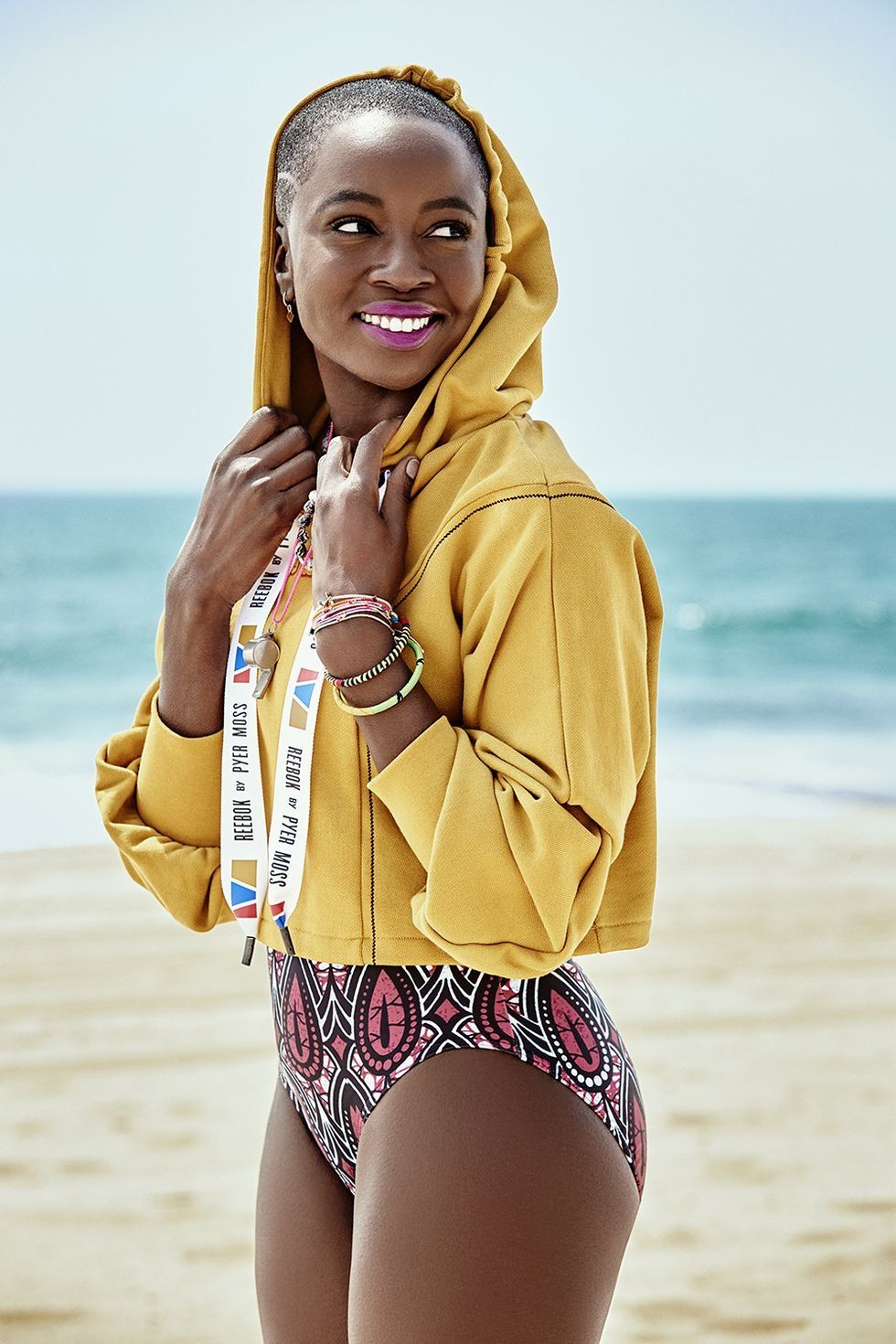 Photo By Ben Watts/Women's Health Magazine
For those who aren't quite ready to jump into such a high-demand workout regimen, Gurira explains:
"There's no need to break records tomorrow. It's just about slowly finding what feels good and what feels rewarding."
She also advises that women should try different activities in order to find not only what works for them but what they enjoy—"it might be lifting weights, it might be boxing, it might be something a little less [intense]."
In addition to revealing her workout secrets, Gurira was also incredibly candid about her upbringing and what drives her passion. "I was in a home where I was allowed to freely find myself," she says, which undoubtedly set the tone for the not-so-traditional career path she has chosen.
She wants others to know they can also make similar choices, too. Her work with Almasi Arts is guided by her commitment to enhancing the lives of women and girls. Part of her self-described journey includes fighting gender inequality. Through her nonprofit work, she is "making sure unheard voices are heard and celebrated." She tells Women's Health Magazine:
"The struggles of women and girls is something that I'm very passionate about. I have to do what I can in the world. We all have to do what we can."
The global success of Black Panther has given Gurira and other creatives of color another example of why our stories are just as important as the rest. She admits, "It kind of affirms that little African girl's instinct that these stories would resonate if they were told with passion, integrity, and excellence."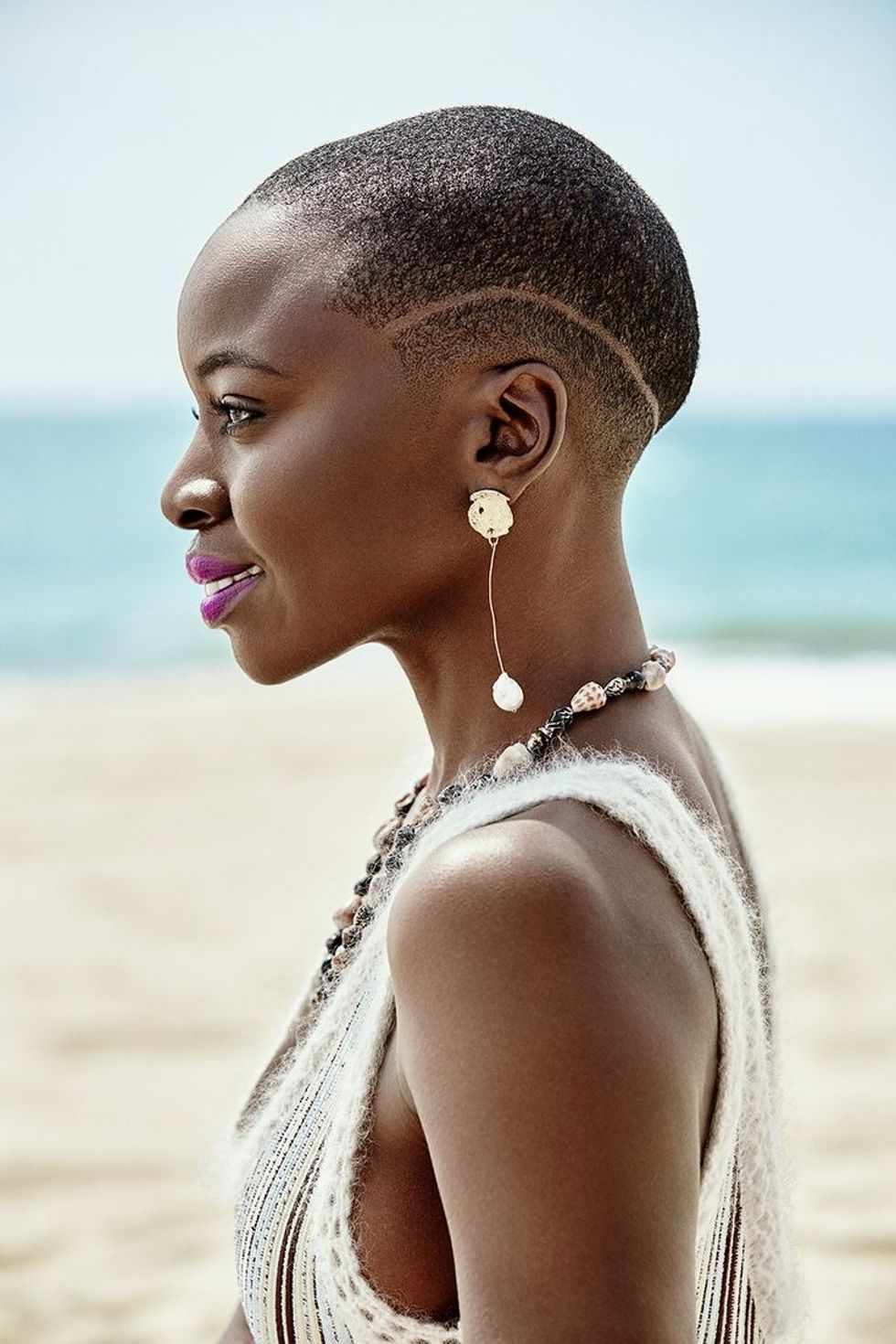 Photo By Ben Watts/Women's Health Magazine
In a world of instant gratification—one where success is attributed to the glamorized grind—we don't often see how hard hard work really is. Particularly, we rarely get to see the pitfalls and difficulties that are inherently tied to most people's perception of success. To that, Gurira drops some major Dora Milaje advice:
"There's no app for skipping hard work; you have to seek your purpose and pursue it."
There are, indeed, no shortcuts to success. Gurira reminds us to always keep our why at the forefront our minds by "remembering the goals," which will inevitably provide the fuel to power us through the difficult times.
To read more about Danai's workout routine, diet, and additional methods of practicing self-care, click here. Read the feature story in Women's Health Magazine when it hits newsstands July 26.
Featured image by Ben Watts/Women's Health Magazine