CULTURECON started as an idea birthed in founder Imani Ellis's one-bedroom Harlem apartment. Back in 2016, Ellis and 10 of her friends dreamed of cultivating a community built on supporting one another's dreams and assembling a collaborative space for other creatives to increase engagement. Now, seven years later, the conference serves as one of the leading cultural events of its time.
---
This was never more evident than this past weekend as an overabundance of creatives of color took over Duggal Greenhouse in Brooklyn for the latest installment of the pivotal summit. 3,500 attendees and 100 speakers across 25 panels to be exact. NYC was the last stop on their 2022 tour, as they have already set Atlanta and Los Angeles ablaze with the innovative energy of The Creative Collective NYC, a creative agency immersed in culture, dedicated to facilitating brave spaces for multicultural creatives. Ellis told xoNecole, "I'm really in awe today. I feel like I'm walking in a dream because I did see this in my head. So then, to see it in real life is a little surreal."
The founder went on to say, "The best part is the people and the community, and I think we always wanted it to feel like a homecoming. And I feel like even for guests who have never been, it feels like even they're coming back to a homecoming, which is like the best thing you could ask for."
Whether you attended a predominantly white institution, a historically Black college or university, or didn't go to college at all, there was a space for everyone. And when I say it was like a homecoming we all dream of, I mean that.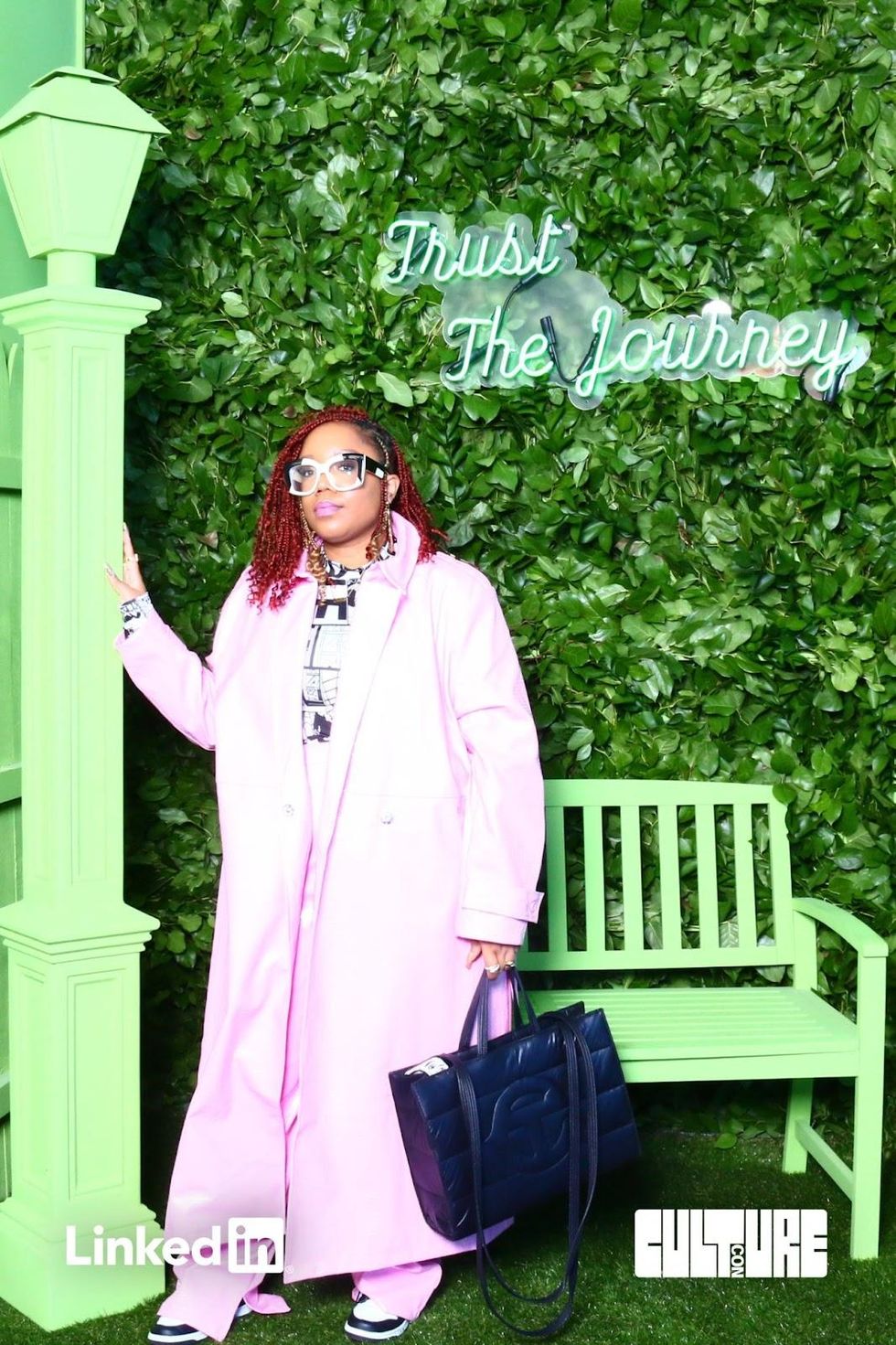 Courtesy of Joce Blake
Activation Alley housed both Instagrammable and teachable moments. From LinkedIn's multicolored stations empowering creatives to "Trust the Journey" and Instagram's activation highlighting the next generation of Fashion Innovators to Onyx Collective's nostalgic experience surrounding the Black hair experience, the activations panned the creative diaspora.
It was the perfect opportunity to connect with other creatives when you weren't soaking up gems from the panels.

Some of those star-studded panels we enjoyed included:

Photo Courtesy of CULTURECON
Creative Genius: Lena Waithe
NYT Bestselling Author and previous Teen Vogue Editor-In-Chief, Elaine Welteroth and Emmy award-winning actress, producer, and screenwriter, Lena Waithe took to the Culture Stage to discuss how Waithe got her start, the difference between community and company, and the power of representation. Waithe recalled watching Halle Berry win her first Oscar when she shared, "I was in my room watching that by myself, emotional as hell. And it's not lost on me that I fast-forward and I have a first at the Emmys for the Thanksgiving episode. And I'm really grateful for that because I can see the straight line from me sitting in my room watching Halle win."
While The Chi creator is proud of what she's invested in her craft, she said it's the community that has lifted her up. "Community is a give and take. Company, you feel drained when it leaves, and with community, you feel full once they're gone," Waithe said.
Plugged[in] From Viral to Visionary
LinkedIn hosted a thoughtful conversation with everyone's multi-hyphenated mom Tabitha Brown, the elite and funny social media star DeAndre Brown, and Erin Ceaser around the realities of being a successful multi-hyphenate while remaining grounded and authentic. It was very on-brand for the panelists and LinkedIn. The biggest nugget: consistency is the key to success, be it your 9 to 5 or your social media platform.
Creative Genius: Taraji P. Henson
In an unfiltered conversation with beauty and style expert, Blake Newby and TV host and producer, Speedy Morman, the oh-so-iconic, Taraji P. Henson dropped some gems. The Golden Globe-winning actress made sure to tell the audience, "For all the filmmakers and writers and up-and-coming producers and directors, we must tell our stories. It's so important."
The D.C. native also shared, "I hate sitting around waiting for someone to give me something, so I create my own doors to open and bring people through." This was a theme throughout the day which spoke to CULTURECON's reminder to all creatives to not only take up spaces but to own them.
Onyx Collective Presents: In Conversation with Tracee Ellis Ross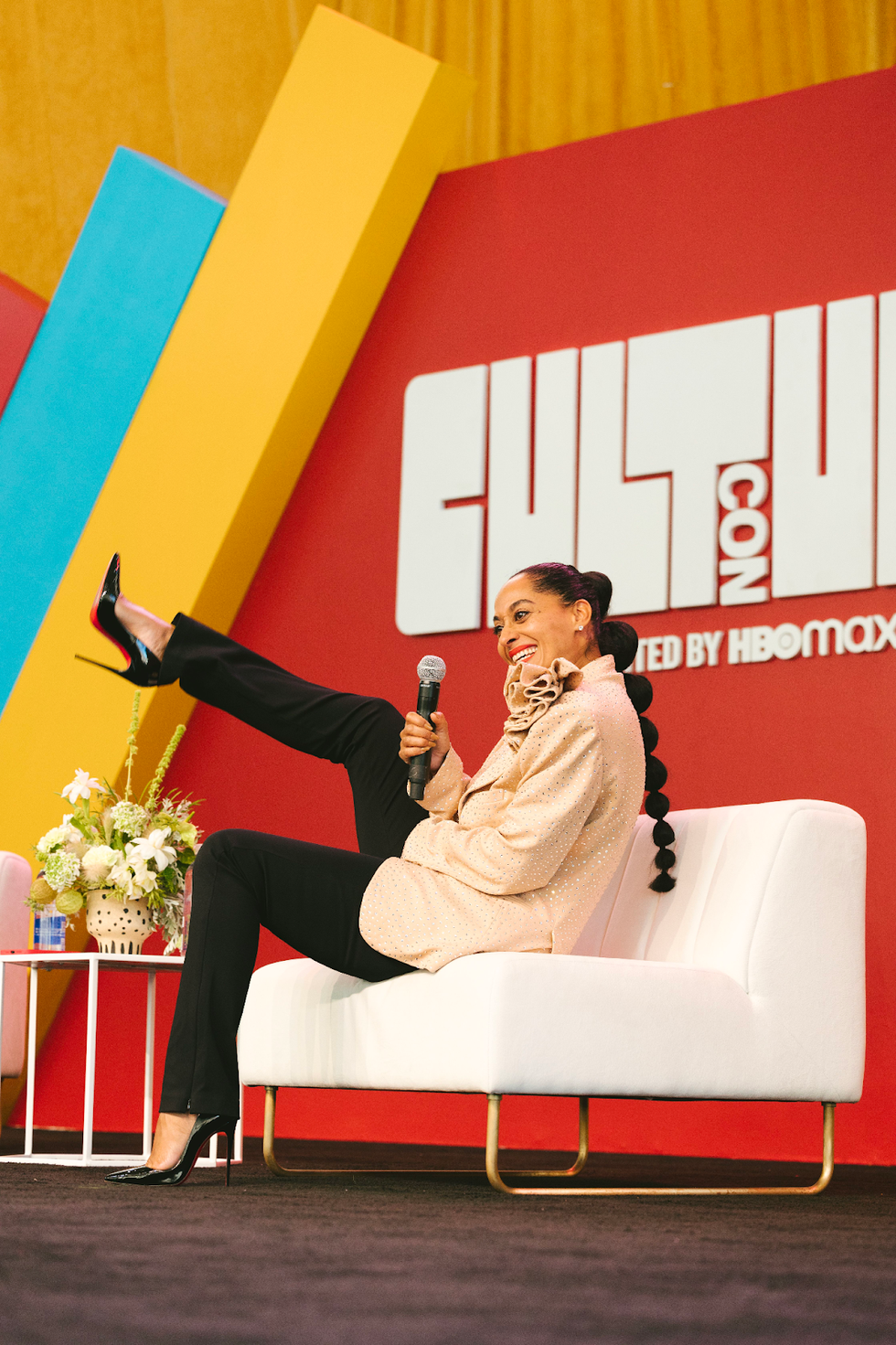 Lalea Raymond/CULTURECON
Everything's Trash star, Phoebe Robinson sat down with award-winning actress, producer, and entrepreneur, Tracee Ellis Ross to discuss Onyx Collective's newest series, The Hair Tales. The intentional docuseries highlights the journey Black women have with their hair and how it leads to self-love. They also spoke about the power of storytelling and living in your whole truth.
Ross said, "As Black people, I feel that we are so often sold a lie about who we are, and I hope that Hair Tales joins the chorus of people who are poking holes in that lie, dispelling that lie and that we as Black people and Black women get to see ourselves and fall even more in love with who we are by watching this series."
Prime Time: A Conversation on Claiming Space in TV
Host, writer and producer, Danielle Young moderated a fun conversation with actress extraordinaire, Meagan Good, actor and activist Kendrick Sampson, and executive producer, Jamal Henderson about their journeys in the television industry. Good shared, "When I have those days that are really tough, it really is about perspective. At the end of the day, this is a day in my life that I will never get back, so I have to choose to be intentional about this being the best day that it can be."
Featured image courtesy of CULTURECON