Being a celebrity in a Twitter kind of world is hard and not because it gives you the opportunity to tell to your fans that your "embarrassing" $53 million dollar debt is stifling your creative process. On its best day, social media will remind your fans that your three-year-old debut album just went platinum, that you shut down this year's Superbowl without even having to touch the ball, or that your Grammy performance is enlightening a whole new audience about social injustice.
---
But on its worst day, social media will make you relive your losses, one Instagram post at a time. Michelle taking a tumble on 106 & Park while performing with Destiny's Child? Someone is using that as a GIF right now about falling in love. Bill Cosby has been meme'd more than I can think of when it comes to consent and, while we all have a good laugh and keep scrolling, the truth is someone is being forced to relive the worst moment of their life, one tweet at a time.
Ronda Rousey is no exception.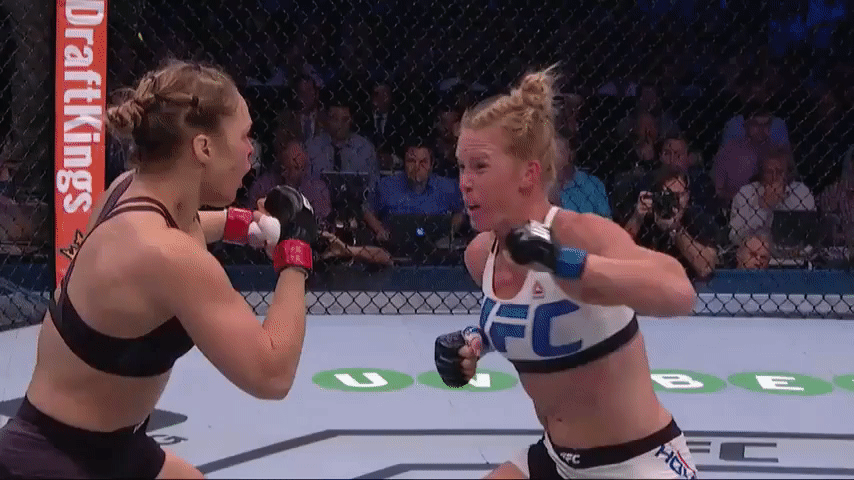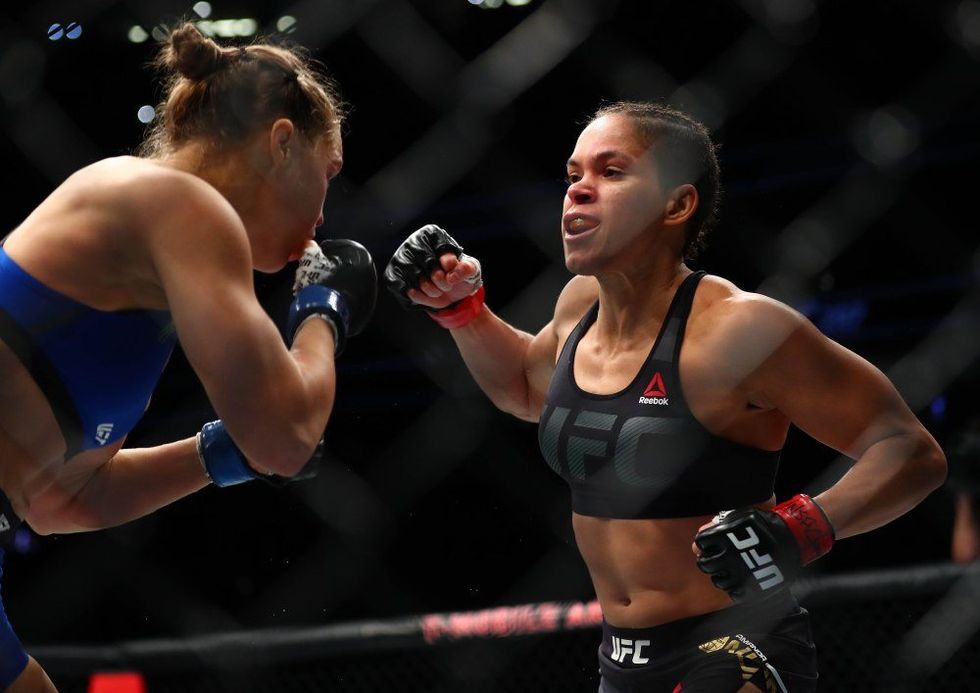 December 30, 2016; Las Vegas, NV, USA; Amanda Nunes moves in with a punch against Ronda Rousey during UFC 207 at T-Mobile Arena. Mandatory Credit: Mark J. Rebilas-USA TODAY Sports ORG XMIT: USATSI-353752 ORIG FILE ID: 20161230_gav_su5_163.jpg
Last night, the UFC fighter returned to the ring for her first bout since her devastating first career loss to Holly Holm and suffered a knockout within the first 48 seconds of the fight. It wasn't a complete loss for Rousey who collected a payday of $3 million for showing up, but the TKO has critics calling for her retirement -- including her mom.
Back in February, when the former UFC champ sat down with Ellen Degeneres in one of the first appearances since losing to Holly Holm in UFC 193, she appeared to be humbled by the experience as she talked about what her first defeat taught her.
"In that exact second, I'm like, 'I'm nothing. What do I do anymore?'" the MMA fighter revealed through tears while talking to Ellen about the devastating defeat.
"What am I anymore if I'm not this??
No one gives a s--t about me anymore without this."
Rousey gave some honest insight on the feelings that come with reassessing your self-worth when the one thing you have been defined by seems to disappear. But what makes Rousey's struggle so relatable is the fact the we are all one failed relationship, one job loss, or one loss of a loved one away from reconsidering our place in the world and the value placed on what we have to offer it.
According to Rousey, that sometimes is necessary:
"I did a lot of thinking and I was like, 'Why did this happen? Why did this have to happen like this?'  I do believe that all the best things in life happen from the worst things. I do believe all the best things come from the worst things. All the worst things in my life resulted in all the absolute best things. And I'm trying to think what is the reason of all this. And I'm thinking, what is my actual purpose?
She continued:
Maybe winning all the time isn't what is best for anybody. Everyone has their moment of picking themselves up off the floor. And I've gone through several of my [moments of picking myself up] but no one has actually ever seen me go through it. So maybe I had to be that example of picking myself off the floor in front of everyone, maybe that's what I'm meant for.
"I really do believe that I'm still undefeated. Because being defeated is a choice. Everyone has losses in their life, but I choose to always be undefeated."
[Tweet "Being defeated is a choice. Everyone has losses in their life, but I choose to always be undefeated."]
And she's right. It's not about what happens to you, but ultimately how you respond to it. So why is Ronda Rousey's loss met with so much hate?
Not being familiar with MMA fighting, I tried researching reasons why fans, celebs, and other fighters alike seem to revel in their hobby of hating Rousey. The most I came up with:
[Tweet "We love to build up celebs, just to break them down."]
It would be like if Beyoncé came out with a bad single that went double aluminum foil; social media would have a field day. Before the knockout, Fortune magazine credited Rousey with being a "cultural phenomenon". Rousey was the first American woman to win an Olympic medal in judo and one of the highest paid fighters (male or female) in UFC history. She also stars in the bestselling Electronic Arts video game UFC 2, has a best-selling autobiography, and made appearances in blockbusters such as Furious 7, The Expendables and Entourage. OK, maybe she did make a little comment-bragging that she could beat boxer, Floyd Mayweather. But seriously, did we really expect a woman who along with tennis superstar Serena Williams and Nascar's Danica Patrick, who are giving the figurative finger to common stereotypes about female athletes to be a shrinking violet? Why should Rousey's personality be any less bold than Muhammad Ali, or Mayweather who reminds fans on a daily basis that he makes more in a night than some of us do in a decade?
Nonetheless, after the first knockout everyone couldn't wait to celebrate Rousey's defeat with Donald Trump even tweeting:
"Glad to see that @RondaRousey lost her championship fight last night. Was soundly beaten - not a nice person!"
Social media was flooded with opinions about Rousey being "overrated" and "overhyped" simply because of one brutal "L".  All comments that until I learn otherwise allude to the fact that because Rousey was winning both in and out the ring and doing it well that she needed to be humbled. Because of course any girl who's feelin' herself just a little bit after breaking records is in urgent need of a life lesson.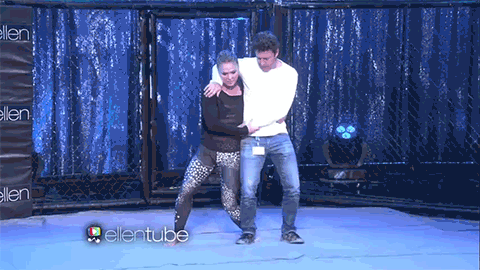 Ultimately the only thing that Rousey's loss did was make her more human. Rousey revealed having to deal with fans afterwards that hated her without even knowing her, and finding a reason to get up again made her battle with some self-destructive thoughts:
"I was literally sitting there thinking about killing myself."
The one thing that gave her reason to go on? Some good old-fashioned love:
"I looked up at him and I was just like, 'I need to have his babies. I need to stay alive,'" she explained about her boyfriend, UFC fighter Travis Browne and the days following her loss when she would sit around crying into a bowl of ice cream. "I was meant to have him at my lowest point, for sure. I don't think I would've made it." Her finding a reason to live in her soul mate is also an indication of how important it is to have a strong support system during a time of loss and defeat.
Rousey's story reminds me of a saying my father has always told me: The only thing you can depend on in this life is change.
It's a saying I often look to when I find myself allowing myself to be defined too much by one thing. When you place all of your self-worth on the fact that you're a CEO, a platinum-selling singer, or even a mother or wife, in the event that that title is taken from you, you'll be left to redefine yourself all over again. That doesn't have to be a bad thing, but it can be a painful process and it's important to remind yourself that you are so much more than a title and that you are more than your most recent win.
[Tweet "You are so much more than a title, and your most recent win"]
Whether you're actually in the ring or just feel like life is kicking your ass in general, Ronda Rousey's appearance on The Ellen Show might help if you are in the process of picking yourself up and putting it all back together: