---
Much like her character Joelle Brooks on the Netflix series Dear White People, Ashley Blaine Featherson knows what it's like to go unnoticed.
The D.C. native didn't spend the best four years of her life on an Ivy League campus like the fictional Winchester University but as a black woman breaking into Hollywood, she has uncovered ties to the best friend everyone needs that far outweigh their distinct college experiences.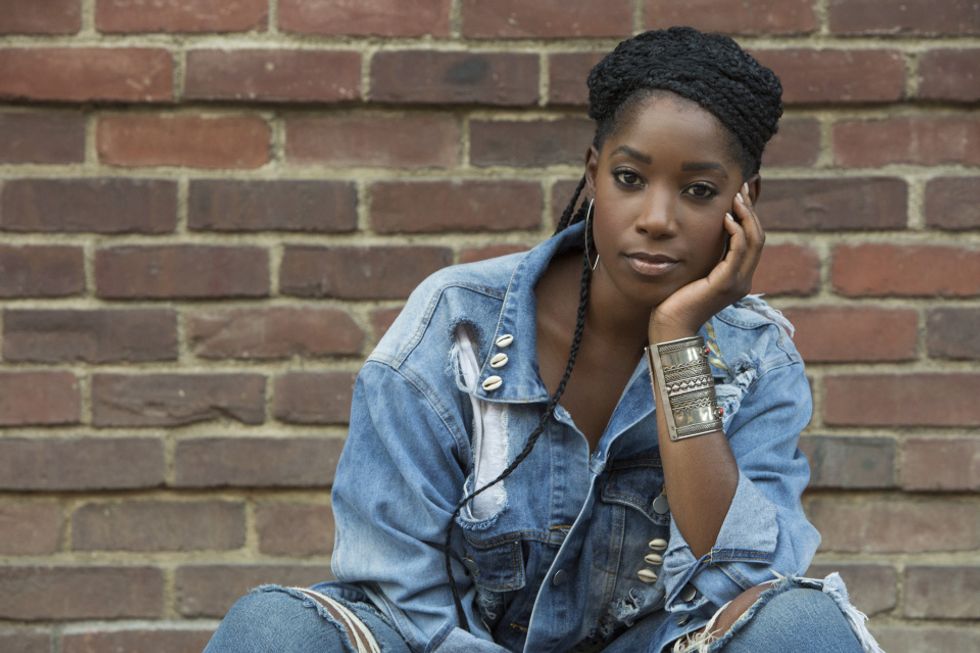 Netflix
"There were parts of playing Joelle that were painful, whether it was the rejection she suffers or feeling like she's constantly overshadowed or not seen in the same light as her friends, or maybe [she] feels used," she reveals. "All of those things are things that I felt too at a point in my life, and some of them I felt while I was shooting, if I'm really honest."
Ashley is fresh out of a meeting by the time we connect for our chat. If she's running low on energy, there's no way to tell, as her vibrant aura fills the gap that looms between us. Once she begins to retrace her steps to success on the hit Netflix series, it feels as though we're in the same room, rather than coasts apart.
Having gravitated to the arts as a toddler, she's forced to take a pause when attempting to pinpoint the exact moment she felt called to act. "For some people, it's like they saw a TV show one day and decided that's what they wanted to do," she says after some thought. "It wasn't like that for me."
What does jump to mind is the time she begged her parents to hire her a local manager at the age of 14. Shortly after they conceded, Ashley nailed her first audition and went on to star in Runaway Home at D.C.'s renowned Studio Theatre. "That was the first time I started making a living from what I loved to do," she reminisces.
"I was the kid who was leaving school early for tech rehearsals."
Ready to shift her training to high gear, she set her eyes on Howard University's fine arts department. "There must be something special about this place," she remembers thinking as she took in the HBCU's long list of distinguished alumni, which touts names like Zora Neale Hurston and Toni Morrison to Phylicia Rashad and Debbie Allen.
"There wasn't a day that went by that somebody or something didn't inspire me," she muses of her time on "The Yard" as a musical theatre major. "Howard is a school of hustlers."
In that vein, she boarded a one-way flight to Los Angeles a mere eight months after graduating in May 2009. With roughly $1,000 saved up from a leasing consultant job she accepted out of college, Ashley was prepared to make the move--or so she thought. "In some ways, I might have been a little unrealistic about what it was going to take," she reflects.
Her first year in California was a turbulent one. Although she had a place to stay, thanks to her godsister's open doors, she admits she was homesick and that making ends meet was a constant struggle. Add a recent break up to the mix, and life on the West Coast wasn't as sunny as she had hoped. Despite securing an agent and a manager within five months, Ashley approximates taking on a total of 22 survival jobs up until 2014. "Honey, I've done it all," she punctuates, listing retail, telemarketing, and restaurant hosting as former sources of income.
"I was never trying to build any resume other than a performance resume so when or if a job no longer worked for me, or felt like it was becoming a deterrent from my actual purpose, I just quit and found another job."
While stress did sweep in, she opted to focus on the bigger picture rather than the pain of the process, which included tons of rejection. "I have never thought maybe, this isn't for me or maybe, I should move back home. Those have never been options for me," she affirms.
"I can never give up on what I'm purposed to do because that's the only reason why I'm here."
Frustrated by the dearth of opportunities afforded to black actresses, Ashley set out to create her own during a time several, including Insecure's Issa Rae, were turning to the web as an avenue to promote their talent. "We're in such a time where there's so many women that look like us on television that we almost forgot what it was just like five years ago," she reminds me. "When I moved to LA, Scandal wasn't even on TV yet. There was no Being Mary Jane. There was no Dear White People or Atlanta."
Taking a lesson from undergrad--"Howard taught me how important community is," she notes earlier--Ashley joined forces with fellow creative Lena Waithe (now the first black woman to win an Emmy for outstanding writing for a comedy series) to birth Black & Sexy TV's Hello Cupid in 2013. "It takes a village," she says of the first season, which was shot within a month. "Had I just sat there and thought I was going to do this all by myself, I don't think we'd be sitting here talking about it."
The web series, which cracked the lid on colorism all while zooming in on friends Whitney (played by Ashley) and Robyn's foray into the online dating world, serves as a pivotal chapter in her career. "You can't wait for other people to give you an opportunity all of the time. You just can't," she stresses. "Hello Cupid gave me a platform that I didn't have prior to that and a fanbase that still rocks with me today."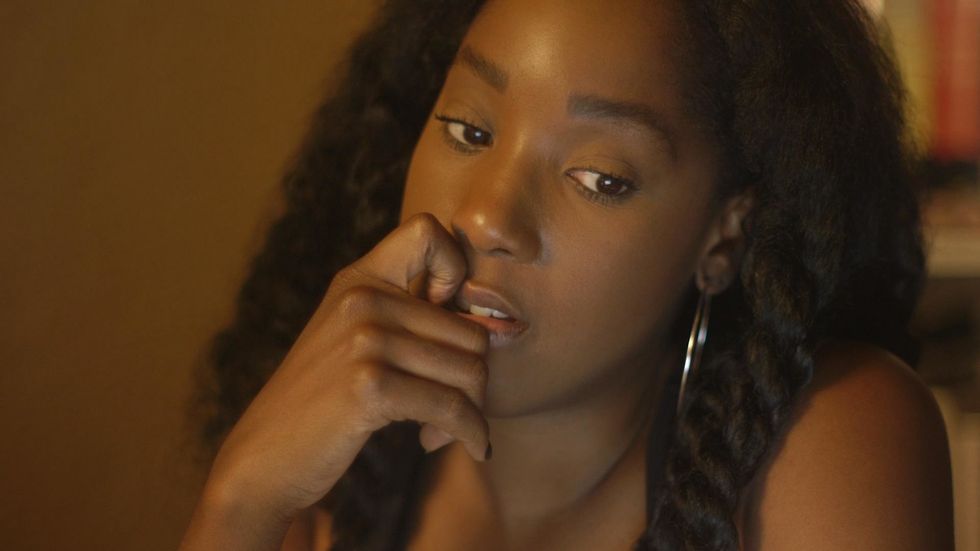 Ashley Blaine Featherson in "Hello Cupid"
Within her tribe of friends, writer and director Justin Simien would blaze his own trail as well with his first feature film Dear White People. After reading the satirical take on race relations at a predominantly white institution, Ashley entered the running for Coco. Though the role ultimately went to Teyonah Parris, the Hello Cupid star was called back for Curls. Her character had few lines, but she gladly flew out to Minneapolis to take on the part as a firm believer in "What's for me is for me."
What Ashley didn't predict was that a little more than two years after winning the Sundance Film Festival's Special Jury Award for Breakthrough Talent in January 2014, Dear White People would be set to take on new life as a Netflix series, and she would be a critical player in its success. When Simien landed his deal with the streaming giant, she was, instead, navigating "a weird time" in her career. "I had just booked a pilot for CBS, and I was like, This is it, but it didn't get picked up so I was devastated," she explains.
One offer would change that. "Justin called me one day and was like, 'Are you ready?'" she says of the opportunity to return as a fuller, fleshed-out Joelle "Curls" Brooks, no audition required.
"As an actress, sometimes you feel like you have to jump through so many hoops," she sighs. "It's so much that people don't even know that goes into getting the part months before showing up on set so for Justin to excitedly look at me and tell me, 'This role is yours' was so rewarding. He was basically saying, 'I see you,' and I'll always cherish that."
As the ultimate confidant to protagonist Samantha White and just about everyone else in her circle, Joelle swiftly emerged as a fan favorite on the show, leaving a plethora of viewers anxious for a closer look into her world. "She's kind of the voice of the people," Ashley describes the gravitational pull of her character. "She says what people don't want to say, but she says it in a way that's palatable."
Now that Joelle's episode is lined up for Dear White People's second season, Ashley is most excited for fans to explore her backstory and witness her evolve in a way that's sure to stir conversation, something the series hasn't steered from since its premiere last April. "As an actress, one of the best gifts is to live vicariously through a character who can inspire millions," she says.
Like Joelle, there's more in store for Ashley, who stars in the sex-positive series Leimert Park released at Sundance this year. She's come to know that success in Hollywood isn't necessarily based on merit but with a desire to "ascend and keep growing" as a creative, she's more ready than she's ever been for what lies ahead.
"Your promotion can come at any time..."

"The way this business works, I can get a promotion today as soon as we get off the phone," she states. "There can be years where it doesn't make sense, and the next moment, it could all make sense, and you can understand that all those years of waiting and sowing seeds and sticking to your purpose can pay off in a way that's almost inexplicable."
For more Ashley Blaine Featherson, be sure to follow her on Instagram and catch her in the current season of Dear White People, now streaming on Netflix.
Featured image by Featureflash Photo Agency / Shutterstock.com
Originally published May 4, 2018.