Honey, I don't know about you, but I love a good plant aesthetic. Yes, I'm that girl. Living in New York City, aka the concrete jungle, plants have been a great way of bringing nature into my home. My plants get me back to center; they listen to my problems and are always there to brighten up my day. Now, I must admit although my plants have been good to me, I haven't always been the best to them.
---
I believe the key to growth is being honest about your strengths and weaknesses, so here it is. My name is Celeste, and I am not a responsible plant mom. I have forgotten to water my plants, put them in the sun, and feed them plant food at times. Please don't cancel me. Finding the perfect plant for me felt more like dating. I swiped right on plenty of beautiful plants, read their profile, and brought them home after a few dates at my local plant store.
Everything was good in the beginning until a few of them showed their asses. Bringing flies into the house, smelling funky, and dying on the relationship altogether. I almost lost all hope until I met the aloe vera plant. Ever since I've been with aloe vera, life has been bliss. He only needs to be water about every 2-3 weeks and always cares for me. I'm in love! Here are 10 ways my aloe vera plant amplifies my self-care routine and my life.
Using Aloe Vera on the Skin
It's no secret the aloe vera plant can work miracles on your skin! I suffer from having acne-prone skin, and let me tell you, it is a struggle sometimes. When I have breakouts, I almost always have acne scarring. I have tried multiple acne products, but most of them are harsh on the skin. My skin is usually very irritated and dehydrated after using acne solution products. After numerous attempts, I decided to go the all-natural route, and that's when my aloe vera plant came in clutch.
Aloe vera is a natural treatment for multiple skin issues, including acne. The plant is anti-inflammatory and is excellent for safely clearing away any mild to moderate acne. Aloe vera has been a skin healer in many cultures. The aloe vera plant is perfect for combating both inflammatory acne and scarring. The remedy is simple, place the aloe vera gel on the problematic area before going to bed. Over time, the skin will become clearer and brighter.
Using Aloe Vera for Hair Growth
I was very against putting the aloe vera plant on my hair at first. In my opinion, the plant has a musky smell, and placing that on my hair frightened me. However, I couldn't help but run into everyone and their mama that swore on using aloe vera for hair growth. My mom always told me beauty is pain--if that pain meant me putting up with smelly aloe vera for a few inches, then I figured sacrificing my nose would be worth it. As a disclaimer: no research shows an aloe vera plant can contribute to hair growth.
I simply experimented from word of mouth, and I must say the rumors are true. Aloe vera naturally has intense hydration capabilities, and I believe this is what contributed to the rapid hair growth. The plant is also rich in vitamins, minerals, and fatty acids. I would highly suggest anyone suffering from dry scalp give the aloe vera plant a try! Simply use it as a pre-poo, leaving the gel (find a quick how-to here) in for about 30 minutes, and rinse when finished.
Using Aloe Vera for Oral Health
I am all about improving my oral health. My worst fear is catching the dragon, aka having bad breath. So any remedy to keep my teeth and breath in check, I am taking! At first, trying out aloe vera as a primary dental source was a bit of a nerve-racking experience. I didn't feel comfortable only using aloe vera to brush my teeth, rinse, and head out the door. Instead, I used my aloe vera plant as a pre-rinse and continued with my oral hygiene routine.
Aloe vera is highly effective in controlling bacteria that can eventually lead to oral issues. The most well-known prevention is cavities. Aloe vera has a natural way of removing toxic microorganisms. This factor can contribute to avoiding gum disease. In fact, according to Medical News Today, rinsing with 100 percent pure aloe vera gel can be more effective than using chlorhexidine, which is an ingredient found in mouth wash. I would suggest rinsing for about 30 seconds to one-minute a day.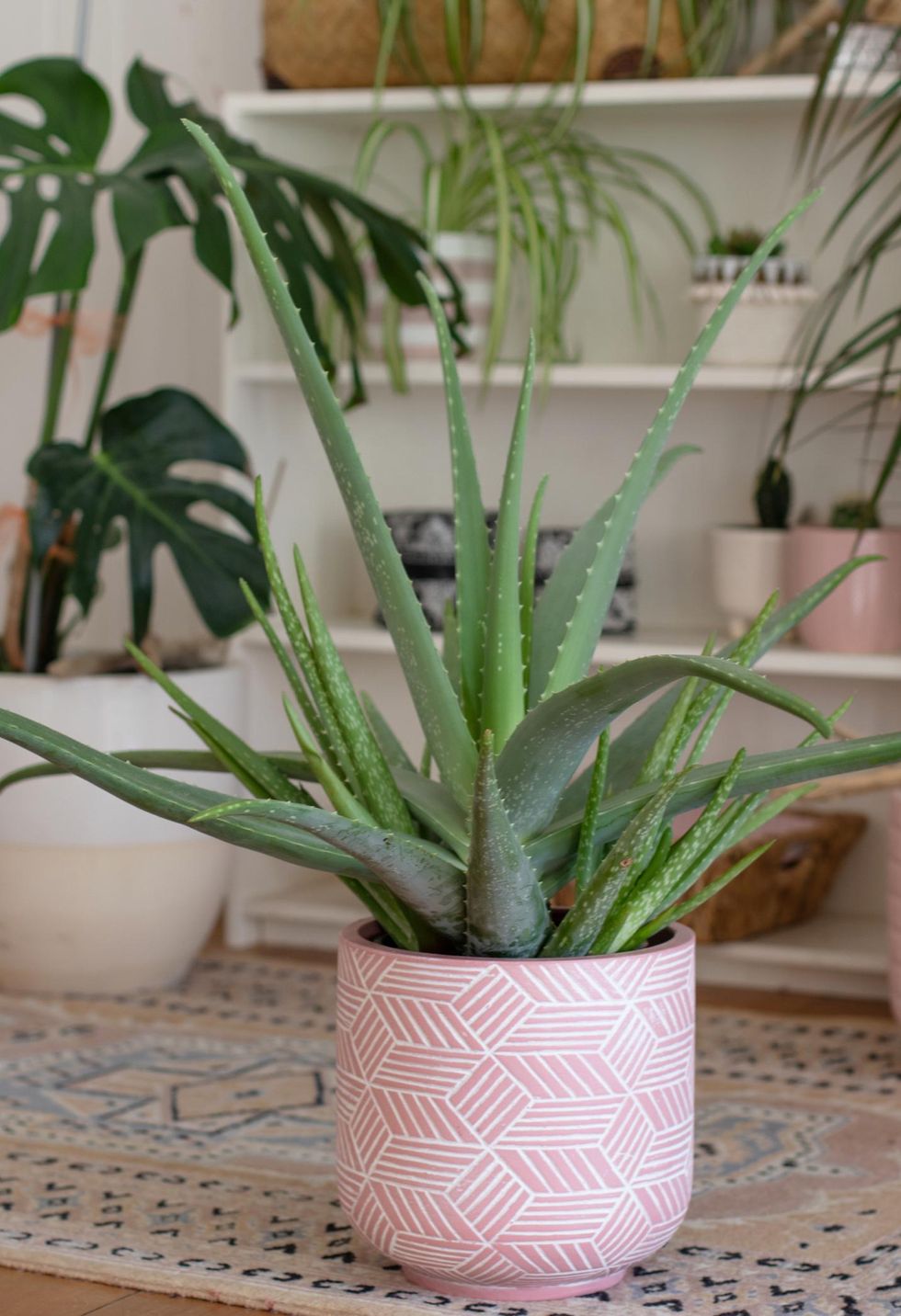 Getty Images
Aloe Vera Juice for Gut Health
It's funny how quickly your gut can switch up on you...or not. I miss the good ol' days when I could eat whatever I wanted with no consequences. Unfortunately, dairy had different plans for me. It took me a while to adjust to new eating habits. I ate cleaner, drank more water, but ultimately my gut needed an overall cleanse. I began drinking aloe juice, and it took some time, but the results finally kicked in.
Aloe vera is an effective and gentle way to keep your gut health in check. The plant contains enzymes, which helps in breaking down sugars and fats. Aloe can also help ease irritation in the intestines and the stomach. The best way to consume aloe vera is by blending the gel and straining the foam. Feel free to add a hint of lemon or mint for a more refreshing flavor.
Using Aloe Vera for Burns and Sores
Fun fact: your girl is clumsy! I am constantly bumping and bruising myself around my home. I swear one day I will get it together, but I will be healing myself with aloe vera until then. As I mentioned in my acne journey, aloe is the perfect skin healer. Not only for pimples, but cuts, sores, and burns. Growing up, I was taught to put butter on my burns (I know, I know). Truthfully, the butter wasn't very effective. Today, I use aloe vera whenever I hurt myself, and I find it much more calming.
Aloe vera is an excellent cooling resource for burns. The soothing properties of the aloe vera gel make it a calming aid for most skin abrasions. Its anti-inflammatory properties can help reduce swelling and reduce pain. It's essential, however, to know never to use aloe vera on open wounds. Only use it for burns and minor skin irritations. Using aloe vera to heal the skin is easy. Just apply the aloe gel directly to the injury. Please remember to wash the plant before using it.
Using Aloe Vera for Shaving
Now, I know what you're thinking? Aloe vera dries so fast on the skin, how could it be used for shaving? I know, I thought the same thing until I ran out of shaving cream. Aloe vera has a lot of lip to it and holds up well in the shower, but the real key is to mix it with other natural ingredients. You can mix it with almond or coconut oil, castile soap, Vitamin E oil, eucalyptus oil, and warm water. If you want a more detailed how-to for making your own DIY aloe vera shaving gel, find that here.
Place your homemade shaving gel in a small bottle with a pointed tip, and boom! Be prepared for the softest legs of your life.
Are you a member of our insiders squad? Join us in the xoTribe Members Community today!
Featured image by Getty Images