I don't know about you, but the City Girl's "Twerk" video featuring Cardi B had me somewhere between wanting to book a girls' trip to Miami and running to the nearest gym to go get my body right. Bikini season will soon be upon us and everyone is looking for the best ways to incorporate more exercise into their schedules.
---
Before you spend an hour "working out at the gym" – five minutes on the treadmill and taking selfies in between crunches don't count *cough cough* – try a twerk cardio class!
Anyone who has truly thrown that ass in circle for an extended period of time knows that twerking isn't all fun and games. Most of us have been to a party before where you arrived with your edges laid and high heels on and left with your silk press sweated out and feeling as if you just ran a marathon. Even a nice, slow whine is a full-blown waist and ab workout – shout out to the Drake "Controlla" - Rihanna "Work" Summer '16. The real ones know it's a workout – a twerkout!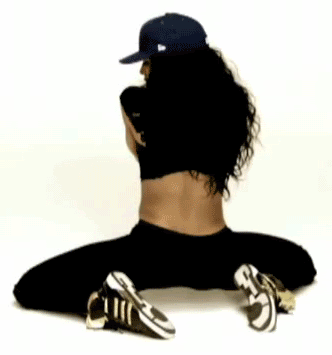 media0.giphy.com
To provide some context about the fitness component of the twerk cardio class, I'm not a couch potato. Maintaining a healthy level of fitness activity is crucial to keeping up with my work and social schedule, so I go to the gym about 2-3x a week and typically do a mix of cardio and ab work. Even though I'm in pretty decent shape, I was so sore after taking the twerk cardio class hosted by NYC Twerkout.

The routine that the founder and main instructor, Nikki Nicole, taught the class was a full body workout and quickly revealed to me how little I engage my biceps, triceps, and lower back muscles. The stamina required to dance and throw dat ass back for 45 minutes straight totally differs from 20 minutes on a treadmill. As a whole, the class was upbeat, free form, and without question, a memorable way to bond with my bookclub girlfriends.

Finding fun, engaging, and creative ways to incorporate fitness into our schedules can be a game changer and is frequently cited as one of the top reasons American adults do not work out.
Be it a Zumba or cardio pole dancing class, feel free to switch up your fitness routine. Go to joint classes to make it a more collaborative activity. Schedule sessions in advance and loop in friends so you will have an accountability partner(s). Pause the Netflix binge-watching marathon for one hour to roll out your pilates mat and watch some ~free~ YouTube ab work videos. Exercising is a lot more interesting and accessible than many of us want to believe.
No More Excuses in 2019. It's Time to Get This Body Right. Yes, I'm Talking to You.
Recently, xoNecole had the opportunity to pop in on one of Nikki's twerk cardio classes and learn a few moves.
"If you have a booty. If you don't have a booty. Wherever you are in your journey, this is the class for you. You can come get sexy, turn up with your girls, act like you're in the club... But, really just have a good time and start burning a whole lot of calories and getting in shape," Nikki shared.
Watch the video below for my Twerkout experience & exclusive interview with Nikki Nicole:
Learn more about NYC Twerkout by keeping up with them on all social media platforms at: @NYCTwerkout.

Featured image by Getty Images