OK, so you know how when a new series airs on television, it typically takes the storyline a few weeks to warm up? If you watched last night's premiere of Ambitions, you know it is definitely not that kind of show. Before briefly recapping all of the drama—and I do mean drama—that went down, let me just address three things, cast-wise, that immediately jumped out at me:
---
Robin Givens.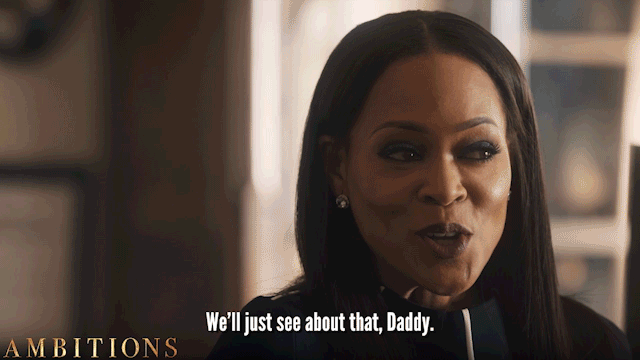 Last fall,Deadline ran an article leading up to the series. One of the main things that it focused on (other than the fact that the show is co-created by movie director and producer extraordinaire Will Packer—yay!) was the fact that Robin was a lead on the series. And you know what? Robin looks damn good. So good that I had to Google her age (apparently, she'll be 55 in November). Her role as attorney Stephanie Carlisle in the series is quite fitting. Robin always has a way of conveying poise, sophistication, a touch of evil and very dramatic pauses and deliveries in a lot of her acting. On Ambitions, she does not disappoint.
Then there is Brian White.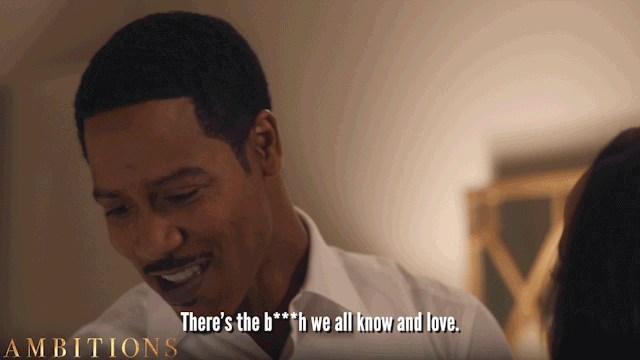 Stomp the Yard? He was in that. Daddy's Little Girls? Yep, that too. The Family Stone, Motives 2, Trois 3: The Escort? All him. Anyway, he plays Stephanie's husband who happens to be the mayor of Atlanta. His name? Evan Lancaster.
I was also really happy to see Essence Atkins (who's been keeping pretty busy ever since her days on Half & Half), Karon Riley (who is actor Terri J. Vaughn's husband), Brely Evans (y'all remember her from Being Mary Jane, among other things, right?) and the fearless leader of the xoTribe, EIC, Necole Kane. If you paid close attention, she played a red carpet entertainment journalist. Dope.
Now. With all of that out of the way, let's get into why I'm sure that a lot of people are gonna tune into 'Ambitions' on a weekly basis.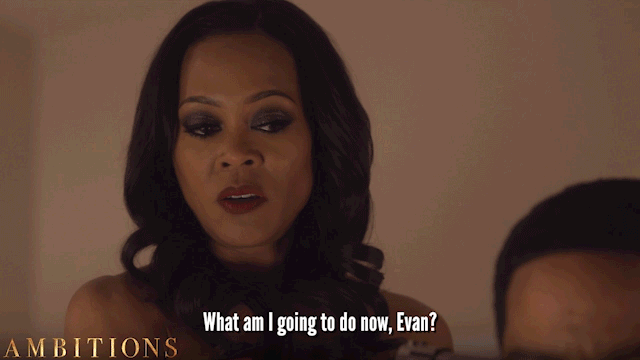 If I were to describe it in a nutshell, I'd have to say that it's pretty much an updated and upgraded form of the 80s nighttime soap classicDynasty. The shining difference is the fact most of the cast is Black. I make the comparison because Ambitions is sho 'nuf a soap opera featuring the wealthy and accomplished, with everyone having two degrees of separation of lust, intrigue and pure mayhem between them.
Something that I both like and appreciate is Ambitions' signature Blackness, thanks to its style, set lighting (real talk; y'all know white folks don't always know how to create the kind of lighting that best suits our vast skin tones) and the detailed nuances that let you know that POC (people of color) definitely put this show together (like when New Edition's "If It Isn't Love" plays in Thelma's Restaurant or Stephanie referenced Essence's character Amara Hughes as her fellow Spelman grad soror).
As far as drama goes, there's no lack of complex storylines. I mean, the first 15 minutes alone made my head spin a bit.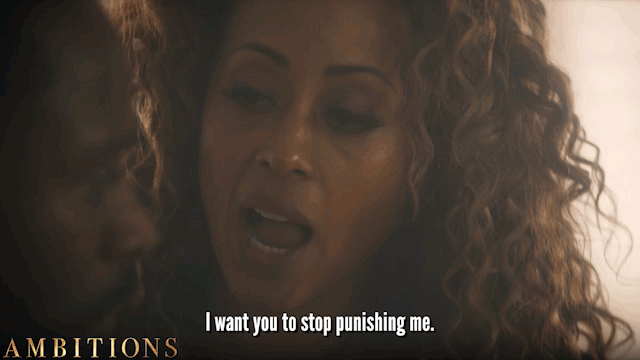 There's the affair that Amara (she's the one who had it) and her husband Titus are still healing from. There are the nightmares that Stephanie's having about her sister Tracy's opioid overdose, along with the subconscious fear that Stephanie's husband, Mr. Mayor, might kill her one day (what in the world?!). There's some (white) dude named Peters who is slick threatening Brely's character, Rondell (who happens to be the mayor's sister), her father and their restaurant, thanks-but-no-thanks to gentrification.
There's the character that I already know I'm gonna love to hate, Mr. Hunter Purifoy—a wealthy white owner of a pharmaceutical company who is basically a passive aggressive racist (did y'all peep when he told Titus that he and "an old cracker like me" were gonna do great things?). Aside from being racist, I noticed how he was eyeing Amara at the gala (that was in honor of Stephanie's sister) while Hunter's wife (I think her name was Juniper; did y'all also catch when she commended Amara, who works of the US Attorney's office, for "pulling herself up by her bootstraps"? SMH) was ogling Titus. Swinging racists. Great. Dude's name is Hunter. How fitting.
Oh shoot. There is one more storyline I need to mention that was introduced before the gala. Stephanie and Titus. Both attorneys. Both married. Yet they used to be involved with each other back in her Spelman days. I believe Stephanie's exact description of their relationship was, "We were lovers, competitors, enemies but never quite friends." (I've been in those before. Sounds like somebody might be hittin' the skins sooner than later.) The cause of the break-up? Her soror Amara getting pregnant by Titus. Lord.
Then there's the mayor and his side chicks (it appears he has at least one Latina and a blonde white woman; we'll see). His main one appears to be a fashion designer by the name of Bella True who is dating Roderick Johnson (Karon Riley's character), a former Atlanta Falcons running back. Cheating is so low-down and doing it when you're in a high-profile position is mad dangerous. I'm not really under the impression that Stephanie too much cares, though. She's too busy fantasizing about Titus, trying to steal her father's law firm and controlling her college-aged daughter's life.
​Ah yes, Carlie. Carlie has a secret. Who decides to confront her about it? Purifoy's daughter, Lori. She happens to be the head of PR for her father's company.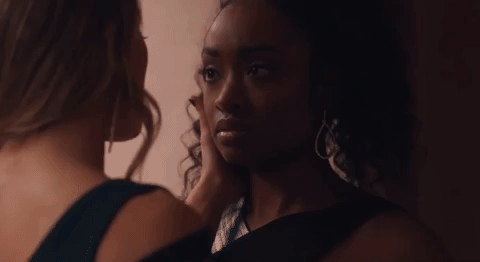 After licking Carlie's lips (yes, literally) in the bathroom of the Ducksworth Hotel during the gala, putting her number in Carlie's smartphone and inviting her to give her a ring as soon as Carlie is ready to "live her truth"…something is brewing. To say the least.

Then Rondell can't got to her restaurant after hours in peace without some dude trying to attack her. Is it Peters? Is it one of his goons? Who knows?
As if all of this isn't enough to ponder, the show uses the final five minutes or so for Evan and Stephanie to take off the "we love each other" façade as he says something flippant and disrespectful ("pathetic and predictable" was thrown in there somewhere) and Stephanie responds by putting a gun to his head (first), then licking his ear, (second). How does he react? He goes over to his main side chick's place, sees her in the shower and joins her. SOAP. OPERA. TIMES. A THOUSAND.
​Whew, chile. Bored, I was not. Intrigued, I am.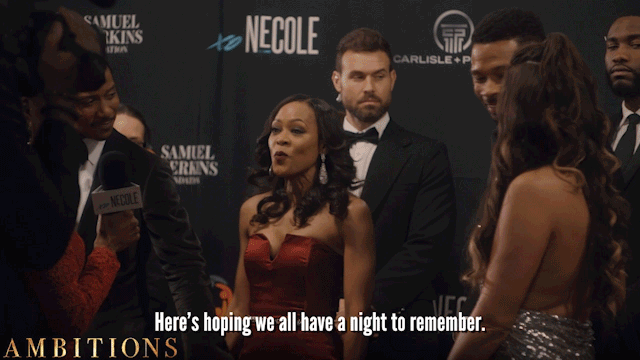 Besides, I don't know about you, but I've been wanting to see more scripted dramas featuring seasoned actors instead of, well, scripted dramas with reality stars. The fact that I'm looking at beautiful Black people makes it that much sweeter.
It looks like Ambitions is gonna take us on quite the ride, y'all. You ready?
Catch up on all the intrigue of Ambitions every Tuesday night on OWN.