Last weekend, Hollywood's favorite celebrities joined their fans at ESSENCE Festival in New Orleans, LA. Among them was actress Naturi Naughton of Power who teamed up with xoNecole founder, Necole Kane and My Black is Beautiful for an intimate discussion during their Beauty & Style Expo.
---
Created by a group of Black women at P&G, My Black is Beautiful is part of the company's commitment to touch and celebrate the lives of Black women. At the My Black is Beautiful booth, ladies were able to take a break and grab beauty products, learn hair tips from professional stylists and celebrate themselves at the #BlackGirlsDo wall.
#BlackGirlsDo is a tribute to Black Girl Magic that provides us with a platform to celebrate our wins and accomplishments. Achievements that we've been able to fulfill, despite our circumstances and society's negative stereotypes.
Held at the Convention Center, Naturi and Necole joined host Kela Walker to discuss work-life balance and more for the #BlackGirlsDo panel. Both Naturi and Necole have an impressive track record, having navigated and sustained long careers in the industry. Throughout their discussion, one major theme was the ultimate secret to their black girl magic: self-care.

There is pressure and power that comes with being given a platform, especially in a world that makes celebrities look like they have it all together. Necole and Naturi affirmed the importance of staying grounded, especially when you're being pulled in a million different directions in regards to work and your personal life.

Finding balance amidst these factors isn't easy, but somehow both ladies find the strength and the confidence to slay every damn day, and are proof that you can do it too with the help of a consistent self-care regimen.
Naturi told host Kela Walker that her self-care routine was rooted in faith, and Necole told the audience that hers starts the moment she wakes up.

"I tell everybody I have a morning routine and I do about 12 things before I plug into the outside world. And when I mean 'outside world,' I mean social media. Sometimes, when I used to have my old site, NecoleBitchie.com, I would wake up, and I'd just plug into the internet. What's going on? What did I miss? And that will just shift your whole day. You're inviting negative energy in your life before you even have the time to get your mindset right. So, I wake up every morning, I cook breakfast, I take a run, I listen to my motivational books or like, podcasts. And I get my mind in a winning mindframe before I even check an email or check social media or check anything."
We can only control the content we consume via social media to a certain extent. No matter how many positive pages we follow and affirmation quotes that we see on our feed, logging into Instagram or Facebook the moment you open your eyes can potentially forfeit any chance of peace you may have had that day. Necole reminded us that we cannot help others until we help ourselves, a concept that is foreign to many women of color.
Kela said:
"So many times we talk about self-care and people think it's about fitness and they gotta be in the gym. Self-care is different things to different people. What's also important is to be intentional in what we're doing and recognizing our health and our mental state."
As the matriarch in our family lives, we have been tasked with the responsibility of taking care of everyone around us, even if that means neglecting ourselves. Self-care is a concept that would have been foreign to our grandmothers and the women who came before them, simply because nobody had time for that. This self neglect has been fatal among women of color, who consequently end up killing themselves to ensure that their loved ones are empowered live their best lives.
But who is there to empower you, sis? We put on these masks to seem like superheroes in our own right, and forget that even Clark Kent needed time to recharge.

We often look at self-care as some intangible concept that we never have time for, but even as an award winning lead actress and mother of a newborn daughter, Naturi says that checking in with herself is imperative. As a society, we emphasize physical check-ups and keep up to date on dental visits, but how often do we schedule an appointment to check in with ourselves?
Naturi said:
"Our job is to smile in front of the camera for you all. And we do have to push through but there are moments when we all feel like, I need a moment, I need a break. I don't wanna have a break down up in here. But you do have to take time for yourself, and one of the things that helps to just center me is do normal things."
"Just making sure that you stay connected to what's real. Because everything that we see on TV or even my character, it's not real. I am Naturi, not Tasha, so I make sure to stay grounded in what's real."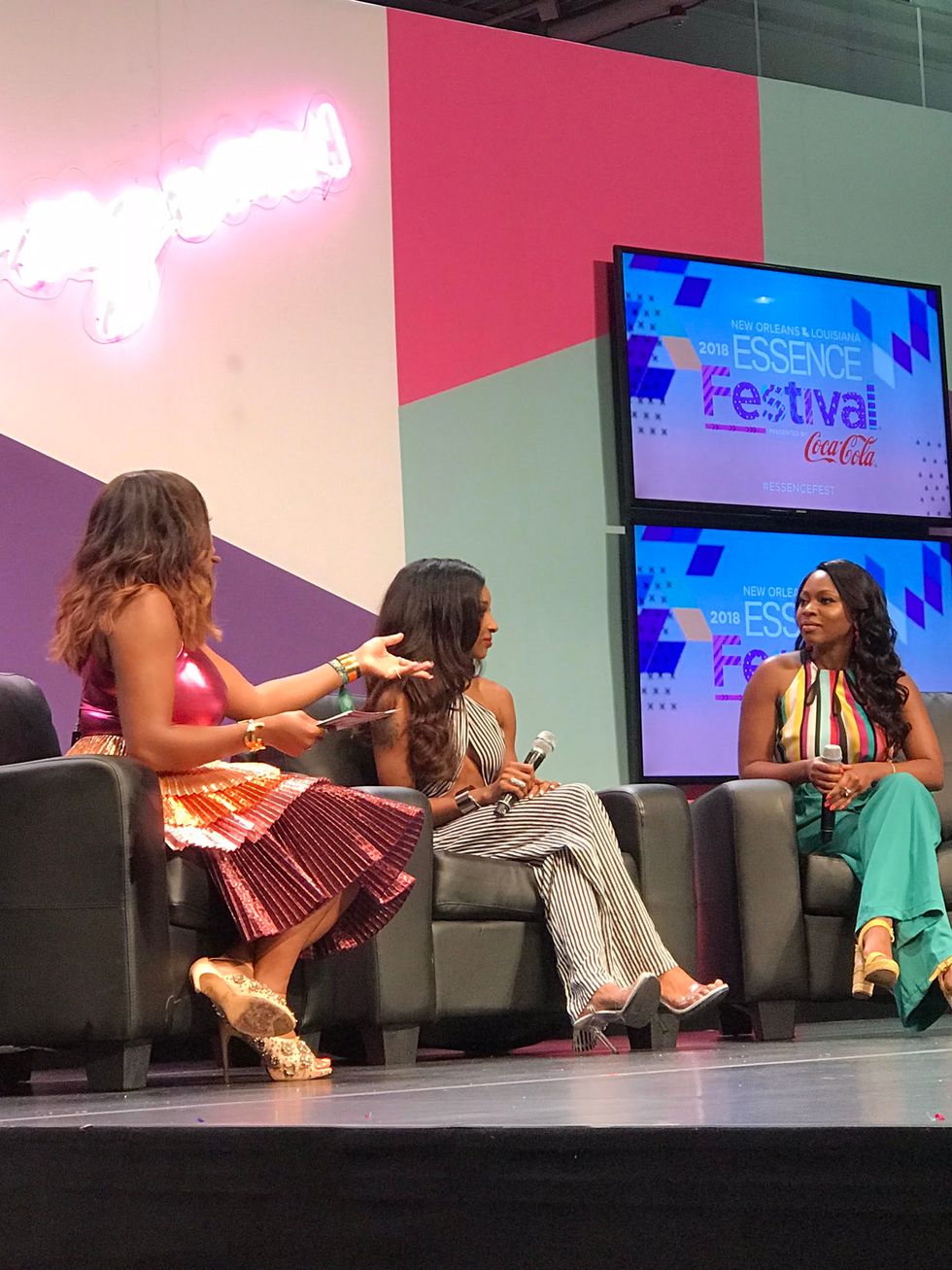 Both Necole and Naturi have been vocal about their personal battles in hopes of inspiring other women to get serious about their mental health. Although self-care may not have been a practice afforded to our mothers and grandmothers, it is a necessity in the lives of black women today.
#BlackGirlsDo so damn much for everyone else in the world, that we deserve some personal time, and more than every once in a while.