---
I don't keep nudes on my iPhone to send to potential suitors. I once went out with my mom to a nightclub and criticized her for being too flirtatious. My nickname in high school was "Prissy Chrissy", and the one mortifying time I tried to take seductive photos for a boyfriend, I had to have them printed at CVS.
I'm not a sexual woman.
Much of my discomfort with being sexual lies in the fact that when I was 11 years old, I wore a C-cup bra. My classmates (and even one of my teachers) would comment that my outfits exposed my curves, even when I wore the same outfits as other pre-teens. I've always been very confident academically… and I've always feared strangers won't look past my body to see my intelligence.
The other blatant factor is that I'm a Black woman, and like many Black girls, I was subjected to sexualization. I hated that just because of my body, I was held to a different standard and misunderstood. But that didn't make me hate those who sexualized me; instead, it made me hate my body. Hate me. I spent over 20 years of my life trying to be smaller, prettier, and more reserved.
I never thought at 34 years old, a direct message from a photo therapist would emancipate my sexuality.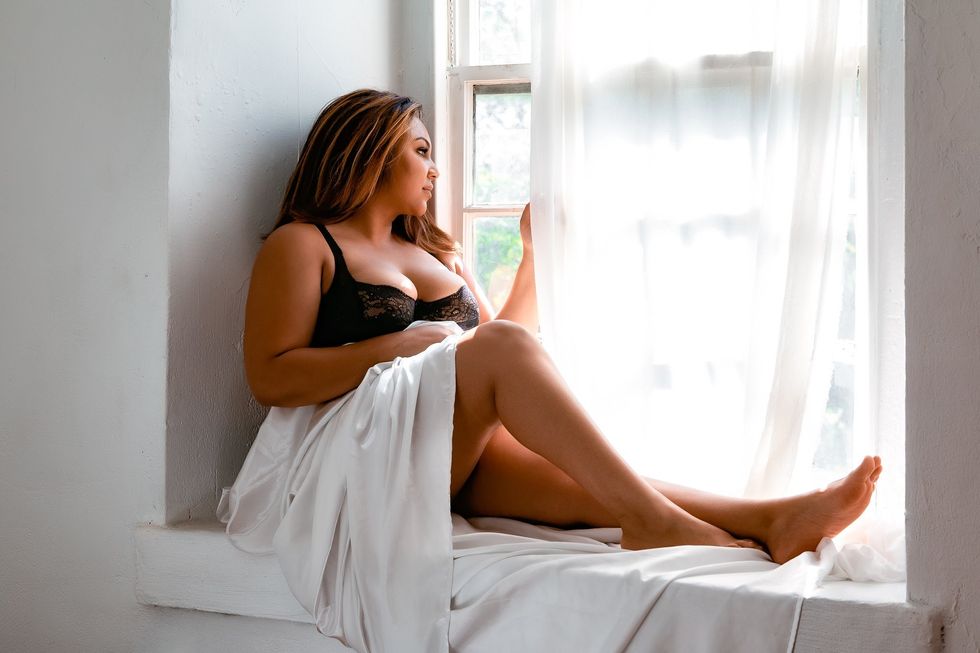 Amber Gillian/Courtesy of Christine Michel Carter
Amber Gillian is a Black mother of three who contacted me after reading my book, MOM AF. Amber shared that she, too, believed in the empowerment of mothers and asked me if I'd ever done a phototherapy shoot. "Hell no," I replied, "But I do therapy regularly!" I joked.
Amber proceeded to educate me on what she called phototherapy. As a photographer and licensed mental health therapist, Amber provided mothers - especially Black moms - with an immersive experience, hearing their challenges, and then capturing their truth through the camera. She was drawn to it after finding her life as a woman was overshadowed by the responsibilities of being a caretaker.
"Black women rarely have the opportunity to be sexual, and when we do, we're oversexualized. We're either given a choice to talk about our 'WAP' or be complete virgins," Amber added.
She'd gotten my attention as (even though I was a mother of two) I'd been emotionally behaving like the latter all my life. So even though I was fearful, I booked it. I knew I needed to come out of my shell, so I agreed to a session. I thought I'd take a few photos in a button-down shirt and never show them to a soul.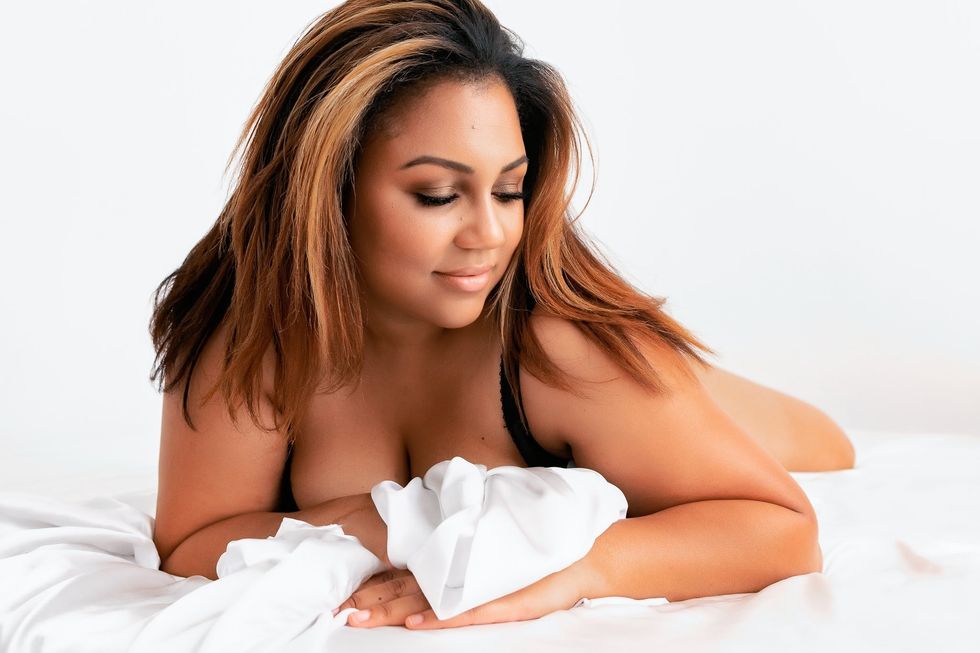 Amber Gillian/Courtesy of Christine Michel Carter
What I didn't expect was for the session to be rooted as equally in therapy as it was in photography. Before Amber even touched the camera, we discussed what the definition of the word sexy was for me, my experiences with capturing my sexuality in the past, even my labor and delivery experiences. She told me about the types of mothers she'd worked with- some were undergoing IVF, had postpartum depression and perinatal mood and anxiety disorders, and were even battling the grief of infertility.
She provided a personal makeup artist, Logan, that aligned with my aesthetic, made sure my favorite snacks and drinks were available to me, and frequently asked if I needed breaks. I admitted that before the photoshoot for a week, I starved myself, juicing and eating salads to appear smaller for the camera.
At that moment, I had my first breakthrough with Amber: I equated starving my body to starving my children, which I would NEVER do. Yet here I was, doing it to myself under the guise of beauty. For a "greater good". I realized I was living in the "greater good" already - I had a body that had produced two children, run 5Ks, and beat high cholesterol.
We talked about the partner's role in a woman's sexuality, and as it turns out, it's relatively small. Perhaps even nonexistent. I learned from Amber that a man shouldn't validate my sexuality, just as they don't validate my intelligence or ability to nurture. In fact, Amber didn't bring up or discuss men at all until I brought them into the conversation.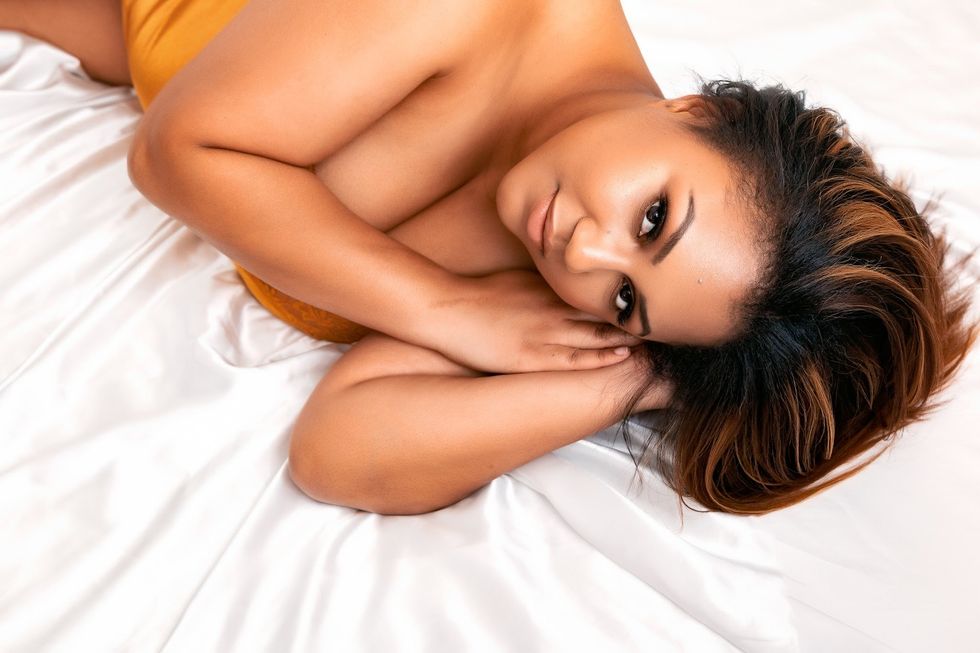 Amber Gillian/Courtesy of Christine Michel Carter
Amber also told me why women should turn to female photo therapists to uncover their sexuality over male boudoir photographers. She once had a client who booked an appointment with a male photographer who required her to send nudes before he photographed her. Amber told the client she'd heard that before about male photographers, but that practice was unacceptable.
I started the photography portion of the session asking for privacy to change into the lingerie; by the end of the session, I was so comfortable I had a complete conversation with Amber in the same room while undressed.
We all hear in the media that women should be more body positive; I've seen the Instagram models with about 16 ounces of body fat on their stomach preaching it. But I've never seen myself in them because their bodies didn't look like mine, in complexion and stature. I also didn't fully understand how being body positive can help a woman tap into her sexual confidence.
It wasn't until my session with Amber that I learned the trick isn't to be like them. It's to respect and honor me.
Christine Michel Carter is the bestselling author of MOM AF. Featured in The New York Times and The Washington Post, she has been called "the voice of millennial moms."
Featured image courtesy of Christine Michel Carter