Christine Carter
Christine Carter is a voice for millennial moms (and uniquely, young black female professionals and mothers). She has been featured in and guest contributed to several global digital publications, including Forbes, TIME, Health, Ebony, Black Bride, Inc., Women's Health and many others.
I don't keep nudes on my iPhone to send to potential suitors. I once went out with my mom to a nightclub and criticized her for being too flirtatious. My nickname in high school was "Prissy Chrissy", and the one mortifying time I tried to take seductive photos for a boyfriend, I had to have them printed at CVS.
I'm not a sexual woman.
Much of my discomfort with being sexual lies in the fact that when I was 11 years old, I wore a C-cup bra. My classmates (and even one of my teachers) would comment that my outfits exposed my curves, even when I wore the same outfits as other pre-teens. I've always been very confident academically… and I've always feared strangers won't look past my body to see my intelligence.
The other blatant factor is that I'm a Black woman, and like many Black girls, I was subjected to sexualization. I hated that just because of my body, I was held to a different standard and misunderstood. But that didn't make me hate those who sexualized me; instead, it made me hate my body. Hate me. I spent over 20 years of my life trying to be smaller, prettier, and more reserved.
I never thought at 34 years old, a direct message from a photo therapist would emancipate my sexuality.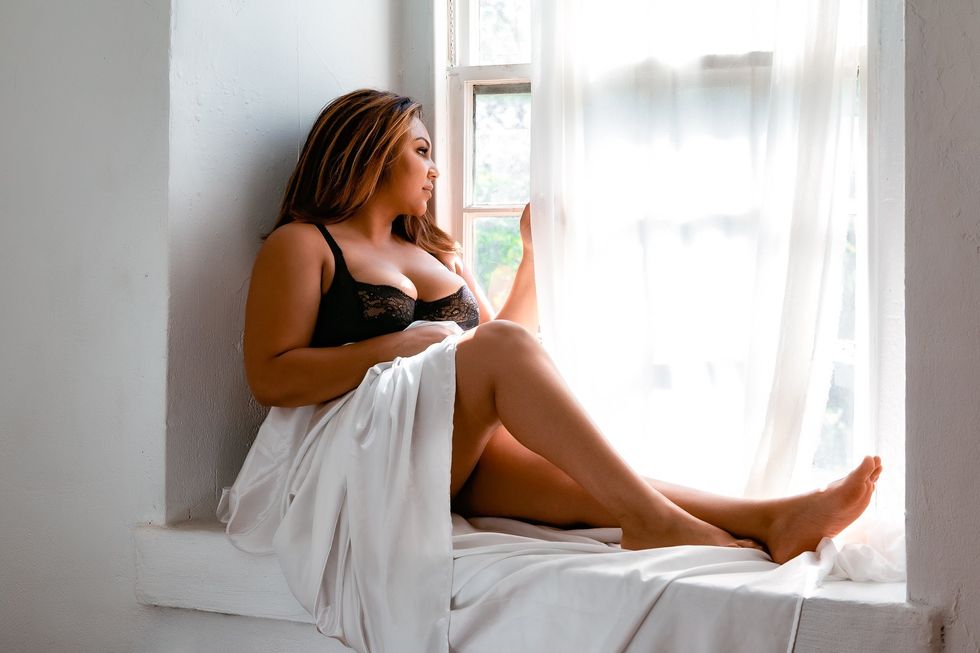 Amber Gillian/Courtesy of Christine Michel Carter
Amber Gillian is a Black mother of three who contacted me after reading my book, MOM AF. Amber shared that she, too, believed in the empowerment of mothers and asked me if I'd ever done a phototherapy shoot. "Hell no," I replied, "But I do therapy regularly!" I joked.
Amber proceeded to educate me on what she called phototherapy. As a photographer and licensed mental health therapist, Amber provided mothers - especially Black moms - with an immersive experience, hearing their challenges, and then capturing their truth through the camera. She was drawn to it after finding her life as a woman was overshadowed by the responsibilities of being a caretaker.
"Black women rarely have the opportunity to be sexual, and when we do, we're oversexualized. We're either given a choice to talk about our 'WAP' or be complete virgins," Amber added.
She'd gotten my attention as (even though I was a mother of two) I'd been emotionally behaving like the latter all my life. So even though I was fearful, I booked it. I knew I needed to come out of my shell, so I agreed to a session. I thought I'd take a few photos in a button-down shirt and never show them to a soul.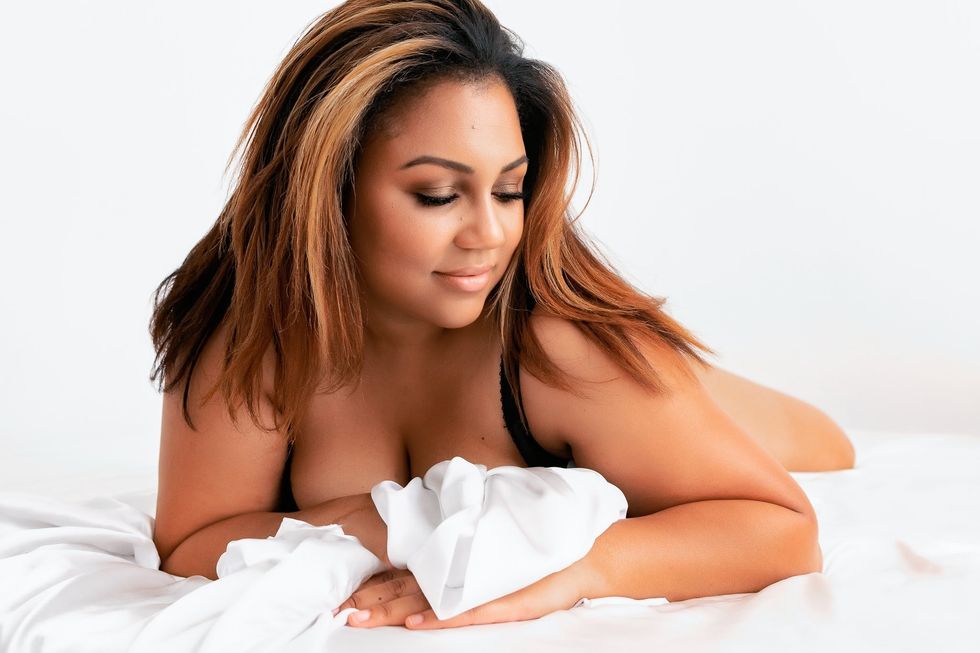 Amber Gillian/Courtesy of Christine Michel Carter
What I didn't expect was for the session to be rooted as equally in therapy as it was in photography. Before Amber even touched the camera, we discussed what the definition of the word sexy was for me, my experiences with capturing my sexuality in the past, even my labor and delivery experiences. She told me about the types of mothers she'd worked with- some were undergoing IVF, had postpartum depression and perinatal mood and anxiety disorders, and were even battling the grief of infertility.
She provided a personal makeup artist, Logan, that aligned with my aesthetic, made sure my favorite snacks and drinks were available to me, and frequently asked if I needed breaks. I admitted that before the photoshoot for a week, I starved myself, juicing and eating salads to appear smaller for the camera.
At that moment, I had my first breakthrough with Amber: I equated starving my body to starving my children, which I would NEVER do. Yet here I was, doing it to myself under the guise of beauty. For a "greater good". I realized I was living in the "greater good" already - I had a body that had produced two children, run 5Ks, and beat high cholesterol.
We talked about the partner's role in a woman's sexuality, and as it turns out, it's relatively small. Perhaps even nonexistent. I learned from Amber that a man shouldn't validate my sexuality, just as they don't validate my intelligence or ability to nurture. In fact, Amber didn't bring up or discuss men at all until I brought them into the conversation.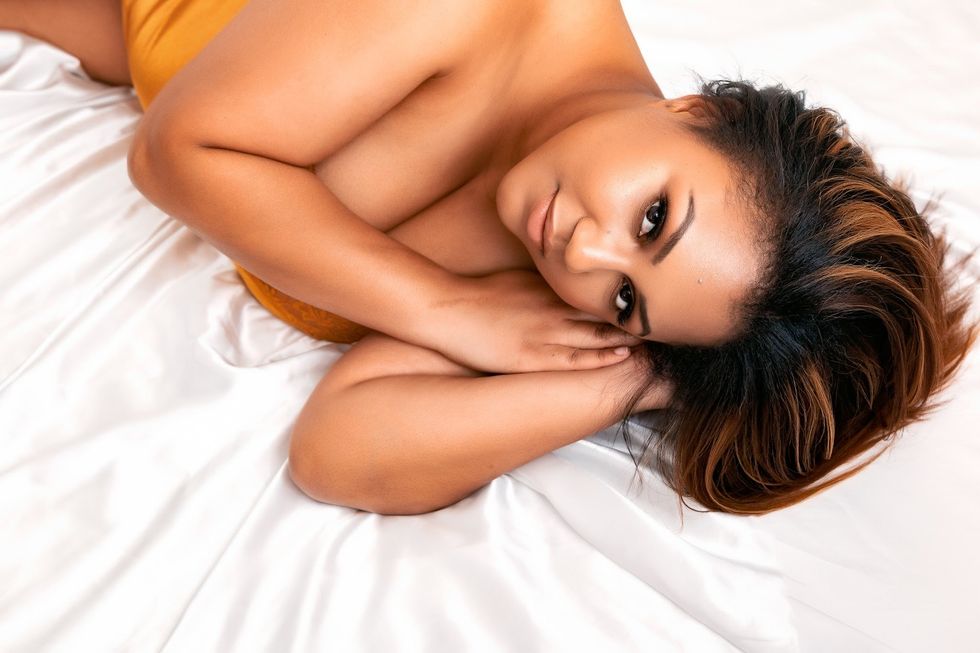 Amber Gillian/Courtesy of Christine Michel Carter
Amber also told me why women should turn to female photo therapists to uncover their sexuality over male boudoir photographers. She once had a client who booked an appointment with a male photographer who required her to send nudes before he photographed her. Amber told the client she'd heard that before about male photographers, but that practice was unacceptable.
I started the photography portion of the session asking for privacy to change into the lingerie; by the end of the session, I was so comfortable I had a complete conversation with Amber in the same room while undressed.
We all hear in the media that women should be more body positive; I've seen the Instagram models with about 16 ounces of body fat on their stomach preaching it. But I've never seen myself in them because their bodies didn't look like mine, in complexion and stature. I also didn't fully understand how being body positive can help a woman tap into her sexual confidence.
It wasn't until my session with Amber that I learned the trick isn't to be like them. It's to respect and honor me.
Christine Michel Carter is the bestselling author of MOM AF. Featured in The New York Times and The Washington Post, she has been called "the voice of millennial moms."
Featured image courtesy of Christine Michel Carter

I see you, young Black girl; starting businesses, advancing your education, traveling the world… I'm so proud of you. I'm only 33, but as an older Black girl, I couldn't be more pleased with how my younger peers are taking matters into their own hands and creating their happiness.
You're on the way up, on a trajectory towards success. So that's why I felt it necessary to tell you… beware of Black men.
Now as you read this, understand two things: A.) I know advice from older generations goes in one ear and out the other because you feel they just "don't get it". Yes, the last time I was single, Facebook didn't exist; but I am still only 33, and I do get it. B.) You've been told to "buy Black".
Black men are the sexiest, strongest, and most intelligent men on the planet. However, that statement should be revised to say "some" Black men. Unfortunately, there are too many who despise your success, are insecure, and are battling mental health issues and family drama… Babygirl, some of them just aren't on your level.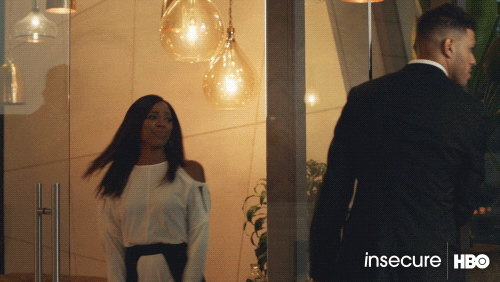 Giphy
For those that aren't:
Don't date them. Don't try to save them. And most importantly, don't marry them, because I did.

I was just like you. I was a director at 20 and started my own marketing company at 21. I put myself through college while working full-time. At one point, a family friend noticed my writing talent, even inviting me to New York for an informational interview at his company. The family friend was Len Burnett Jr., CEO of Uptown Media Group, a company that produced magazines like Vibe, Vixen, and Uptown Magazine.

The day before my informational interview, my boyfriend at the time was hospitalized for having a seizure. I was terrified of losing him and leaving his side. I called "Uncle Len" and told him I couldn't come up to New York because I needed to remain at my boyfriend's hospital bedside.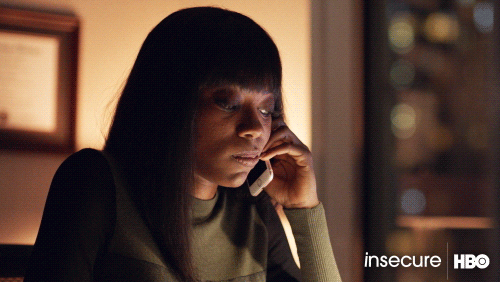 media.giphy.com
That was a pivotal moment in my professional career. I never got the opportunity to reschedule the meeting, and haven't heard from "Uncle Len" since that day. I don't blame Len. I don't even blame my boyfriend. I didn't deserve another opportunity. I blame myself for excusing the warning signs. I knew my "boyfriend" wasn't epileptic, he had a drinking problem; one I continued to hide from friends and family. Even when I built up the courage to leave him because of it right before our wedding, he begged me to reconsider and marry him anyway, saying he'd change.

Well, ten years, two kids and a divorce with no child support later, he didn't.
Eventually, I did leave him, and as my friends now lovingly put it, "dropped the dead weight". But in some ways, although I'm now a bestselling author, speaker, and marketing strategist, the damage has been done. Like I said, this isn't true for ALL Black men, and I'm having trouble currently letting the love of a good Black man enter my spirit. Plus, I can't help but think back to the moment I chose a man over my career—a life as a writer in New York City.
I mainly reflect on these moments when I see my best friend moving from promotion to promotion as a record label executive in New York City. Since we were young, she never allowed men to stop her from getting the paper, and I admire her for that. In fact, when my 8-year-old daughter visits "Ms. Tee" in New York City, she gushes about how she dreams of her life in the Big Apple, not mine.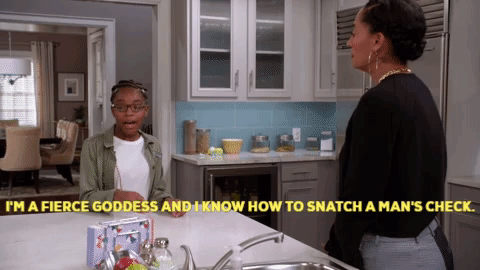 Giphy
I recently had lunch with another Black author in her 40s who told me about a similar story, when she derailed her career in the military for her husband because he was so bold to vocally despise her success. She retreated into herself and dulled her shine like me, so she could be his wife and cater to his expectations of what a wife should be. She also shared how she warned one of her teenage son's girlfriends (who was an aspiring lawyer) not to "come down to his level" because he didn't want her to travel the world before law school.
With concern in her eyes, she told me, "I wish we would stop teaching our young girls to believe in the fairy tale of marriage." But in reality, who's showing our Black girls what the "fairy tale" looks like after the commitment has been made.

I felt compelled to tell you my story, babygirl because I think I'm old enough to have learned the lesson but young enough that you'll heed my advice. My career is still on the trajectory, and though I came down five levels for a husband, I managed to find my way back up.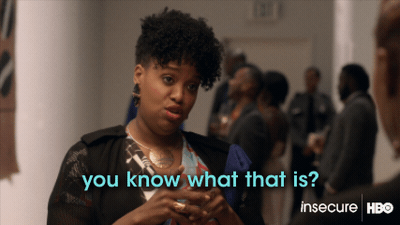 media.giphy.com
Sweetheart, I love you so much, and please do reach out to me on social media whenever you need to. Just, heed my warning. Remember, God gave you the greatest gift in the world when He made you, a Black woman; He made you powerful, influential, and resilient.
Don't waste those talents on a Black man who's no good for you, or worse, recovering from the damage a Black man has done to you.

Featured image by Shutterstock.
xoNecole is always looking for new voices and empowering stories to add to our platform. If you have an interesting story or personal essay that you'd love to share, we'd love to hear from you. Contact us at submissions@xonecole.com.
"When asthma is controlled, look for: sign of a cold, coughing at night, symptoms interfere with exercise, exposure to triggers (sudden changes in temperature). Normal stage rescue treatments include 20-minute steam shower, tablespoon of local Maryland honey, Vicks vapor rub, Ibuprofen or Tylenol every six hours. Additionally, take asthma rescue medicine every 4-6 hours for 1-2 days (listed below)."
This is an example of just ONE of my children's asthma and allergy medicine routines, which I must provide to daycares, schools, sitters and immediate family members. I must ensure that they all can identify signs my children might be having an asthma attack. The example is also the normal stage rescue treatment (green zone), so you can only imagine how involved the next two escalated stages are.
Nowadays, it seems like everyone has eczema (or atopic dermatitis), allergies, and asthma, and with good reason. Global warming is causing pollen counts to increase year after year and prolonging pollen-producing seasons, intensifying seasonal allergies, Vox reports. I didn't have any of these as a child, yet now as an adult, I have my own allergy and asthma routine.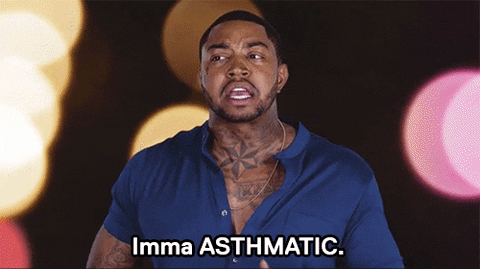 media3.giphy.com
Kerry M. Pittman, ND is a Los Angeles celebrity naturopath, energy medicine practitioner, and author of The Tequila Diet. Kerry specializes in whole health makeovers at her private practice. She describes environmental allergies as a misguided reaction in your body by an overloaded or overstimulated immune system in response to substances that really shouldn't bother it.

The economic cost of asthma in the United States is nearly $82 billion a year and asthma results in 5.2 million lost school days a year. Eczema is a type of allergic disease, and last year a study published by the American College of Allergy, Asthma and Immunology suggested that Black people have greater treatment challenges with allergic diseases (eczema, increased atopy and asthma) and require higher doses of some medications to get relief.
My children have prescribed medications to handle their respiratory issues, but whenever I can, I do try to integrate natural remedies and solutions. For example, the use of raw, local honey to combat asthma and allergy issues is not an urban legend, the honey reduces throat irritation for my children after persistent coughs. It contains natural vitamins, enzymes, powerful antioxidants, and other important nutrients and can strengthen the immune system.
Here are four other ways to address your child's allergies naturally:
1

.

Eliminate the worst offenders in your home.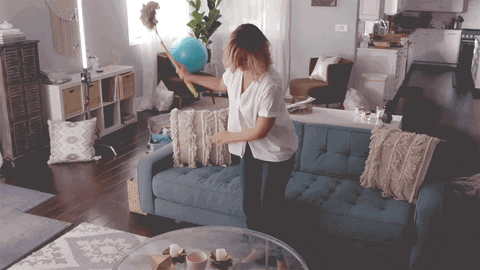 If your child is constantly exposed to an allergen trigger, it can make improvement much more difficult. For dust mite allergies, do your best to eliminate dusty surfaces and encase your child's pillow and mattress with allergen protection covers. If pollen is an offender, keep windows shut, take shoes off at the door, and consider an air cleaner. In addition, if you think you might have mold in your home triggering symptoms, you can purchase a mold petri dish such as Pro-Lab Mold Test Kit to test your home for toxic and allergenic mold. Contact a mold remediation company if necessary.
2

.

Try homeopathy. 
Homeopathy supports the body's innate healing capacity. It is based on the paradoxical theory that "like cures like." In other words, the same substance that causes a set of symptoms in a large dose can relieve those symptoms in an extremely diluted dose. Homeopathic mixtures targeting allergy symptoms are available in both liquid tinctures and quick dissolving pellets.
3

.

Add a probiotic.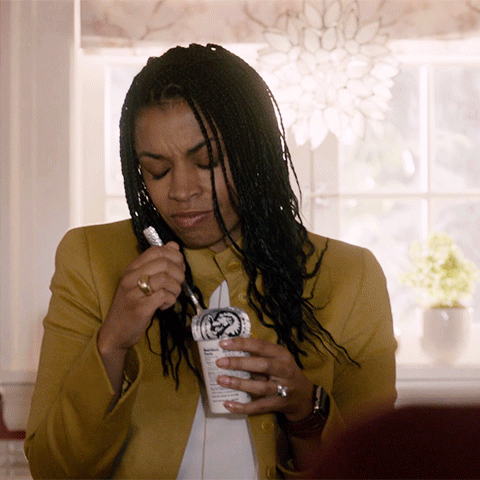 Probiotics can help improve the health of the intestinal flora in the digestive tract, support the immune system and may be beneficial in the treatment of asthma and allergic rhinitis (runny nose). Lactobacillus GG and L. gasseri in particular are believed to be two of the best probiotics for allergies, along with L. acidophilus and Bifidobacterium lactis. Try introducing sugar-free coconut Kefir or yogurt to your child or add a chewable probiotic such as Culturelle Kids Chewables Daily Probiotic.
4

.

Consider herbal remedies.
The practice of using herbal supplements dates back thousands of years. One of the best herbs for allergies is stinging nettle. This plant reduces inflammation and lowers histamine production which is the culprit behind that runny nose and itchy eyes. For children, you can make a tea of it or take as a tincture. Another age-old remedy is ginger, which is a powerful antioxidant and one of the most effective remedies to reduce inflammation in the respiratory tract caused by allergies. Try making ginger root tea with a touch of honey or stevia to make it more palatable.
As always, any adjustments to medical routines should be first discussed with your child's pediatrician or your healthcare provider. And although herbs are considered safe, it's a good idea to consult with a naturopathic doctor or an herbalist first. But the important thing to keep in mind when healing allergies naturally is to have patience. Natural therapies may not be as quick acting as certain pharmaceuticals, but there also may be far fewer side effects and even the possibility of unexpected positive results for other body systems such as digestion, energy, and mood.
Want more stories like this? Sign up for our newsletter here and check out the related reads below:
Kerry Washington Has The Perfect Natural Remedy For Eczema
9 All-Natural Ways To Quench Dehydrated Skin
Burnout Landed Me In An Ambulance For My Afternoon Commute
Honey, Probiotics & Other Natural Remedies For Seasonal Allergies
Featured image by Shutterstock
xoNecole's Moms Who Inspire series highlights modern-day moms mastering all the tasks on their plate, from day to day responsibilities to ensuring their children are kind, educated and well-rounded human beings. Each mother describes their inspiration, their health and wellness routine, and how they maintain their sense of selves while being the superwoman we all know and love.
"I never really ate bad before becoming a mom, but motherhood made me more cautious about what I was putting in my body and what I was feeding my son."
26-year-old boutique owner Tory Dene is often surrounded by men. By day, she is a custom clothier in men's suits and by night, she tends to her son, 20-month-old Asher. But don't be fooled, Tory was taught by her mother to be a woman who rules her household. "My mother taught me to eat clean. We didn't eat a lot of fast food growing up, and my mom works out religiously to this day. So, I just followed in her footsteps. She's 50 and looks amazing!"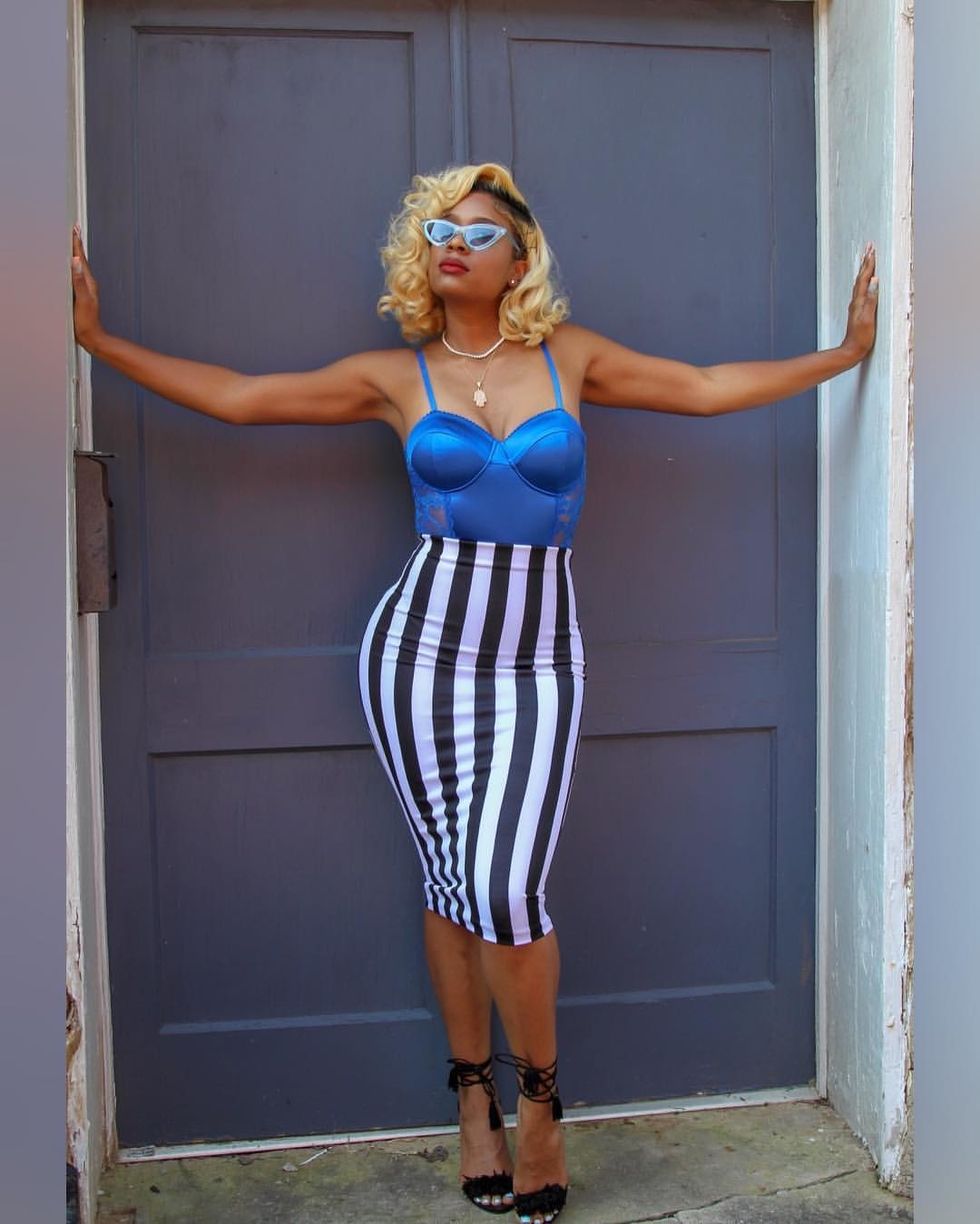 Tory Dene/Instagram
Tory may also co-own the Atlanta women's boutique Shop Fetch, but whenever she has time, Tory and Asher are usually outdoors living an active lifestyle. Even as a toddler, Asher already enjoys basketball with his mom and Tory plans to teach him some of the sports she played as a child, including soccer and softball.
Below Tory shares how careful planning and organization allow her to have relaxed mornings, work more productively, and keep an overall healthy lifestyle.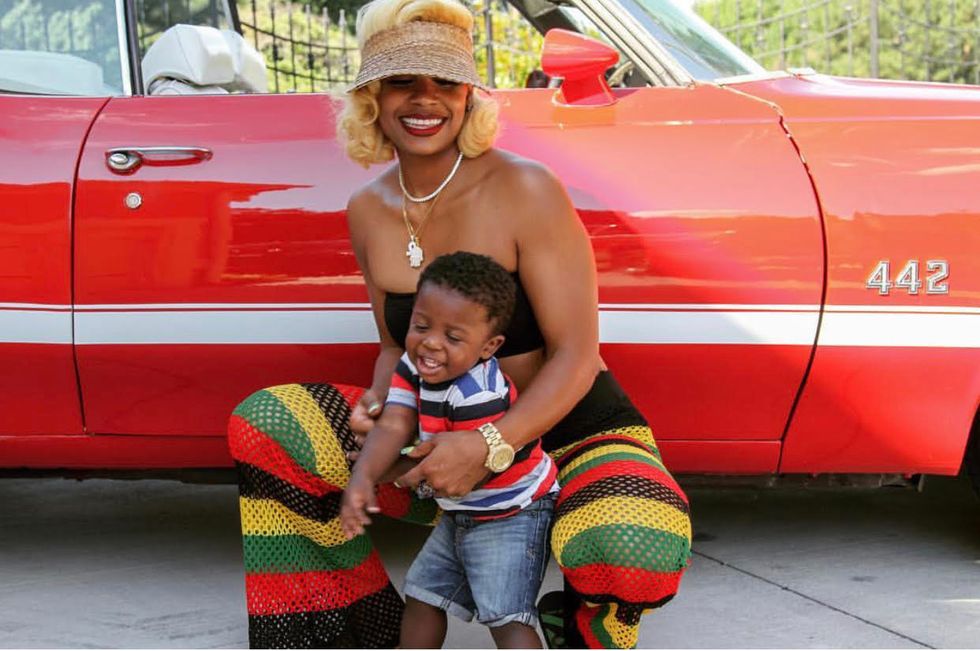 Tory Dene/Instagram
On what motherhood means to her:
"Being a mother wasn't planned. But when I found out I was going to be a mom, I instantly fell in love with my baby. Motherhood is not pretty at all. I don't get any privacy, I don't get much rest, and most of my days are filled with, 'Stop, don't do that'… but I wouldn't change a thing. He makes me want to be better and he keeps me on my toes."
On how her mother inspired her fitness routine:
"My mom is my fitness inspiration. She doesn't eat any fried foods or sweets and she works out religiously. She raised my sister and me on home-cooked meals. We didn't eat out much, but when we did it was quality meals. I also love the fact that she's not only healthy physically, but also healthy mentally. My mom meditates every morning."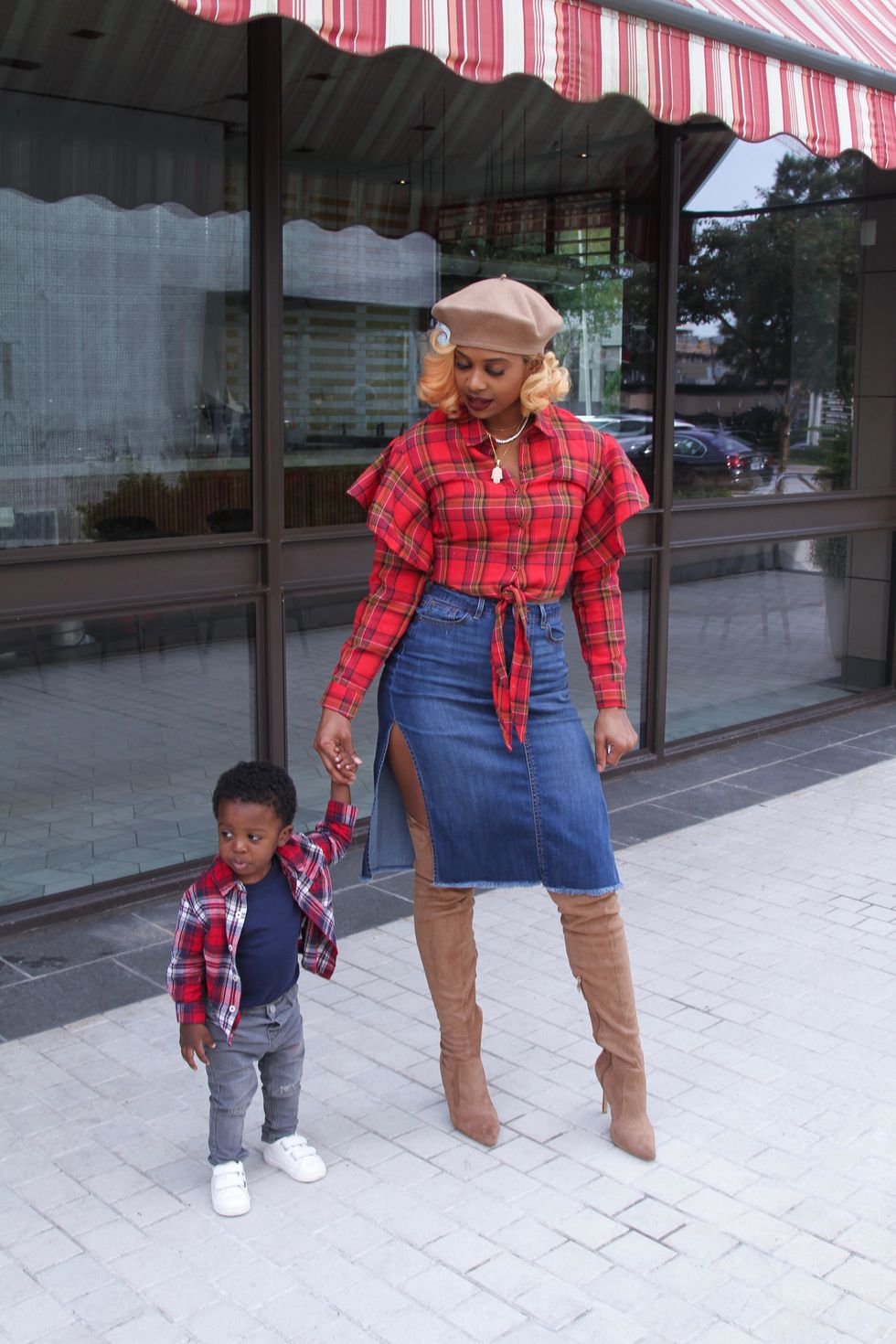 Tory Dene/Instagram
On what a typical day looks like:
"Because I make sure everything I need is prepared the night before, my mornings are pretty relaxed. After I pick my son up from school, I spend time with him inside practicing the alphabet or outside playing basketball. When we come inside for the evening, I go back to working until I fall asleep."
On how her son changed her wellness routine:
"I take my son outside every day so he can maintain an active lifestyle, and when I workout at home he'll try and mock what I do. It's the cutest thing! He loves basketball so much. We have a little hoop at the house so his dad and I can play with him inside to keep him constantly active."
On preserving the characteristics of the woman she was before becoming a mother:
"I'm a mother, but I still like to get out and enjoy my social life. I like to plan my work and social life so I don't give one aspect too much or too little time. I'm still young and I like to hang out with my girls and my man from time to time."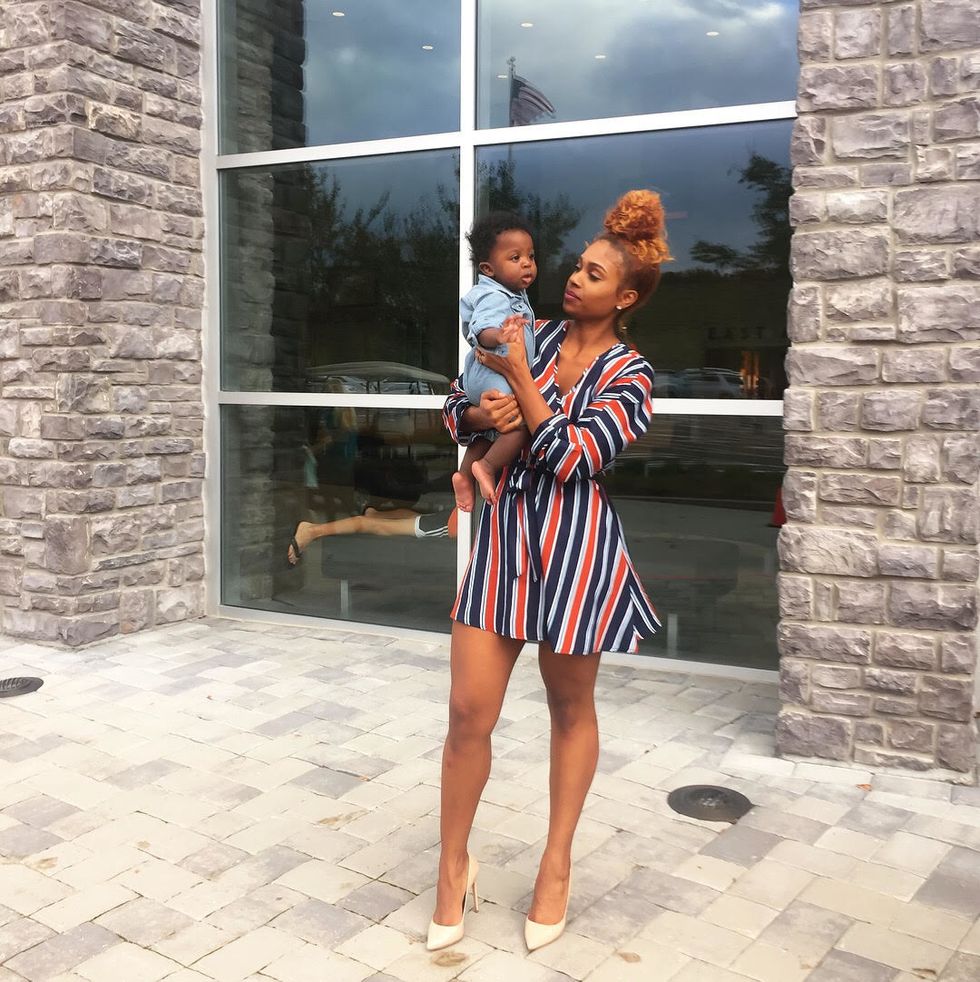 Tory Dene/Instagram
On practicing self-care:
"As with most mothers, I try to get a decent amount of rest (and that rarely happens). I like spending time with others, but it's also important for me to have my alone time to just unwind and 'get to know me' again. I work out about four times a week and maintain a decent diet. I'm human so I do have my cheat days… I love wings!"
On the greatest lesson motherhood has taught her:
"Before becoming a mom I wasn't patient, and then I became the mother of a stubborn son. Needless to say, my son is now teaching me patience. I also tend to panic, and having a toddler doesn't ease the feeling. Just like other toddlers, Asher gets into everything!"
To keep up with Tory and Asher, follow her on Instagram.
xoNecole's Moms Who Inspire series highlights modern-day moms mastering all the tasks on their plate, from day to day responsibilities to ensuring their children are kind, educated and well-rounded human beings. Each mother describes their inspiration, their health and wellness routine, and how they maintain their sense of selves while being the superwoman we all know and love.
"I didn't have an ounce of patience in me prior to having my son. Having a newborn who can only communicate via cries and coos definitely helped me."
Today, Nyja Richardson has three parenting years under her belt and a very different perspective on motherhood from when she first became a mom. The 24-year-old Newark, NJ mom credits motherhood for her new outlook on self-care, strength, and endurance.
Unlike most Black young moms, the full-time social media influencer and content creator was raised vegetarian, so instilling healthy values into her son Nolyn wasn't a challenge. However, once Nyja became a mom she was forced to reconsider how she found balance and inner peace.
On what her mother taught her about health and wellness: "I grew up in a very holistic household. Some of my friends even likened my mama to Erykah Badu because our home always smelled like incense and we were vegetarians. She always instilled in me that you can't do for others if you don't do for yourself. Being able to pour from an empty cup is impossible, and it will not only hurt others... but in turn, you will also be drained literally and figuratively."

On why she became a mother: "I really didn't feel like I had any other option. It was definitely the worst timing ever - I was a senior in college, living carefree with no responsibilities and an 'on again, off again' relationship with my son's father. I felt like the odds were against me, but I knew that everything has a purpose. My son gave me a new life when I gave him life and I'm forever thankful for him."
"My son gave me a new life when I gave him life and I'm forever thankful for him."

On how she starts and winds down her most productive days: "Mornings are never really the same in my home! It really relies upon what we have to do on that particular day. However, we try to start the day with a daily prayer of gratitude and state our intentions for the day. We love to wind down with a nice and hot lavender bath to soak the stress away and get us calm for bed."

On the unexpected challenge of being a full-time social media influencer: "I'm still trying to master the art of balance. I often find work pouring into my home life, especially since I work for myself. Due to not having a traditional 9-5, it seems like my job is 24/7."
On how her definition of self-care has changed: "I remember prior to becoming a mother, I used to associate self-care with spending money: going on a spa day, getting a manicure, repeating affirmations, etc. Granted, they're all a part of self-care but self-care isn't limited to just those things. Right now, self-care for me is putting my child to bed early and getting in the tub with a glass of wine and good music on blast. Sometimes it's just having five minutes of solitude without hearing the word 'MOMMY!'"

"Self-care for me is putting my child to bed early and getting in the tub with a glass of wine."

On growing up while being a young mom: "I became a mother at 21, so I initially felt like I was missing out on things a 'normal' 21-year-old would do. For instance, instead of throwing shots back with my friends to celebrate being able to legally drink, I was breastfeeding. I planned on being a carefree 21-year-old with no responsibilities, but I was blessed with a little person and my interests and desires completely shifted. I lost friendships because I simply didn't find joy in going out and partying anymore. I had to come to terms with that being okay. I'm still the same person I was before I became a mother, just an updated and better version not only for my son but also for myself."
On the mother inspiring her to become a better mother: "I met a mother a few months ago on the subway and we instantly connected. We shared the joys and pains of being a mother. She in particular is very in tune with being active, and actually runs with her kids every morning. I haven't implemented a daily run in my schedule, but I was so inspired by her I set a goal to do hot yoga and mommy and me exercise classes three times a month."

On the unexpected life lesson her son is teaching her: "Patience! I didn't have an ounce of patience in me prior to having Nolyn. Having a newborn who can only communicate via cries and coos definitely helped me. But motherhood is everything to me. I honestly can say I don't know who or where I would be if I did not become a mother."
For more about Nyja, follow her on Instagram @myephiphany. Check out past Moms Who Inspire us by clicking here.
xoNecole's Moms Who Inspire series highlights modern day moms mastering all the tasks on their plate, from day to day responsibilities to ensuring their children are kind, educated and well-rounded human beings. Each mother describes their inspiration, what motherhood means to them, and how they maintain their sense of selves while being the superwoman we all know and love.
"When you see me, you see the representation of my mom," Joi exclaims.
Millennial mom Joi Adams was raised by her parents with wisdom and a Godly foundation, and believes the humility she learned in her upbringing provided her with the tools to guide her son CJ, 7. She graduated from HBCU Central State University in Ohio and The Art Institute of San Francisco. Joi later worked for PMM Agency, observing and learning directly from powerhouse CEO Kimberly Blackwell.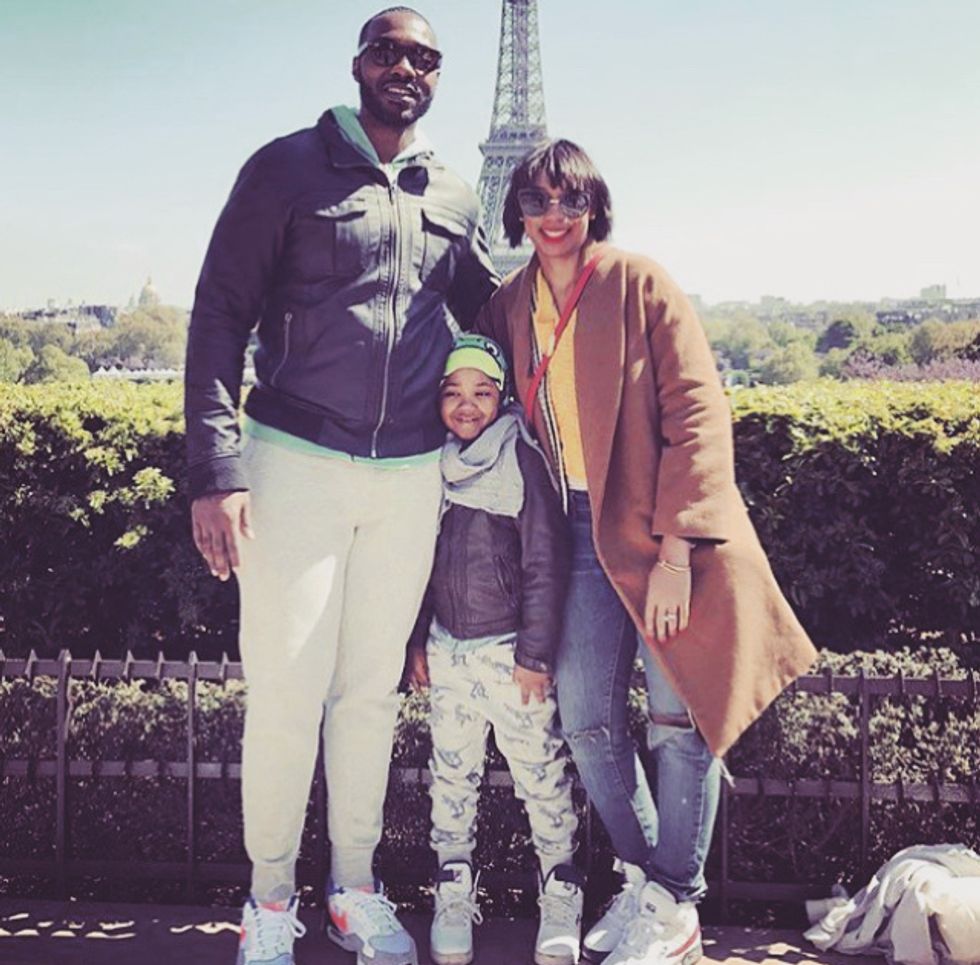 Today, Joi is a senior event strategic marketing manager and consultant, supporting a variety of clients - from Fortune 500 companies to the federal government. She is also a writer and the co-founder of The Bougie Brunch Group (TheBBGroup), a safe fellowship space for women of color to network. The Bougie Brunch offers women of color the opportunity to also connect with major brands and companies interested in reaching this booming demographic.
"Everything I've learned has been a stepping stone to my next level," Joi says, reflecting on her career. "The way I look at it is, I didn't choose my career, it chose me. I believe your God-given purpose always finds you; you just have to be open and let God direct your path."
Joi shares below how she balances being a writer and strategic marketing consultant... all while raising her son with a Christian background in the midst of America's current volatile climate: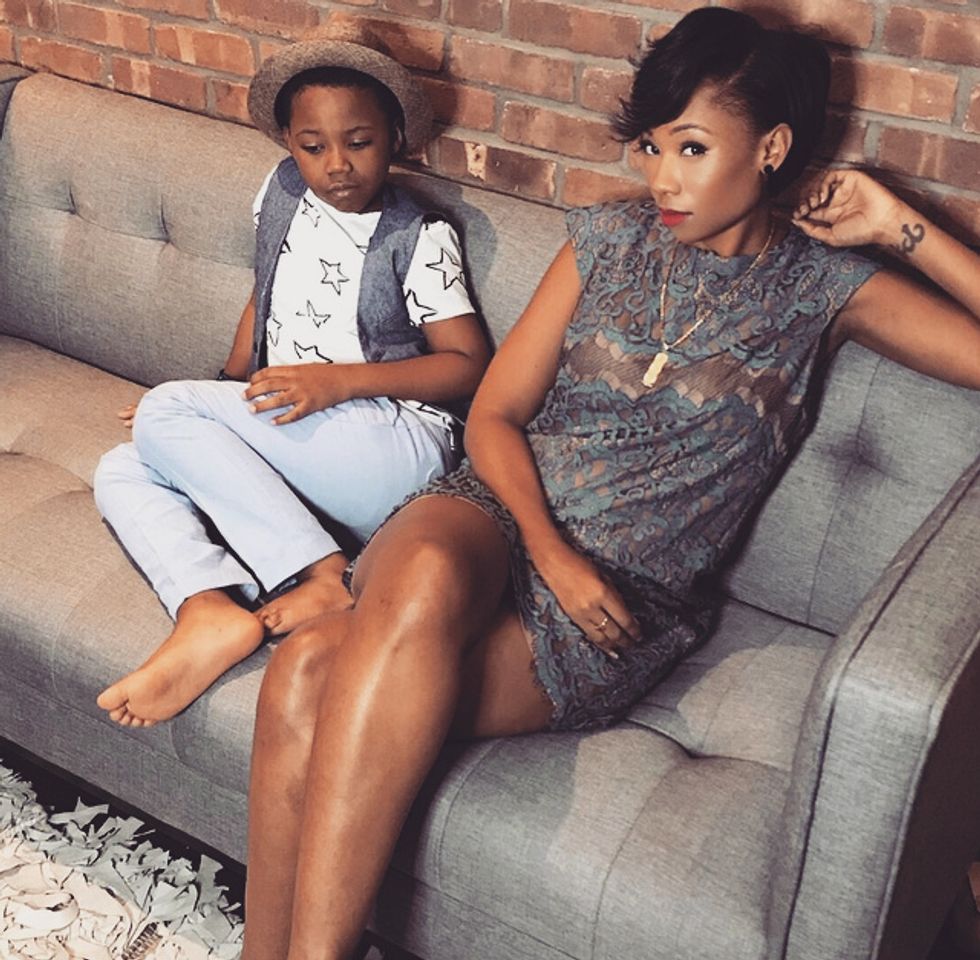 On having her faith tested throughout her career:
"We are all tested in life; it's how we manage to deal with it and learn a positive lesson that counts. I once pitched an idea to my client which they loved, and I ended up planning and spearheading a major conference that has now run successfully for three years. From this, I learned that I truly have a choice in my destiny, and that the hardest part is getting over fear and walking in faith. It's also important to fight and never quit. I have always kept my eyes on the prize. I block out the unwanted noise and any distractions that try and hinder me. Life always throws hardships and obstacles, but through my faith, I'm able to push through."
"I block out the unwanted noise and any distractions that try and hinder me."
On keeping her faith and raising CJ in Christian faith in America's current climate:
"I manage to keep the faith by consistently being in the word, and feeding my spirit with God's teachings. I love to fill our household with teachings from Bishop T. D. Jakes, Pastor John Gray and Pastor Mike Todd. When you keep the word in your heart, no matter what is going on around you, it never departs from you. In this toxic climate, I have to often shield my son and pray over him so that he isn't influenced with corrupt manners. The word says, 'In all thy ways acknowledge Him, and He shall direct thy paths.' My husband and I believe that is true and always instill that wisdom to guide our son on the right path."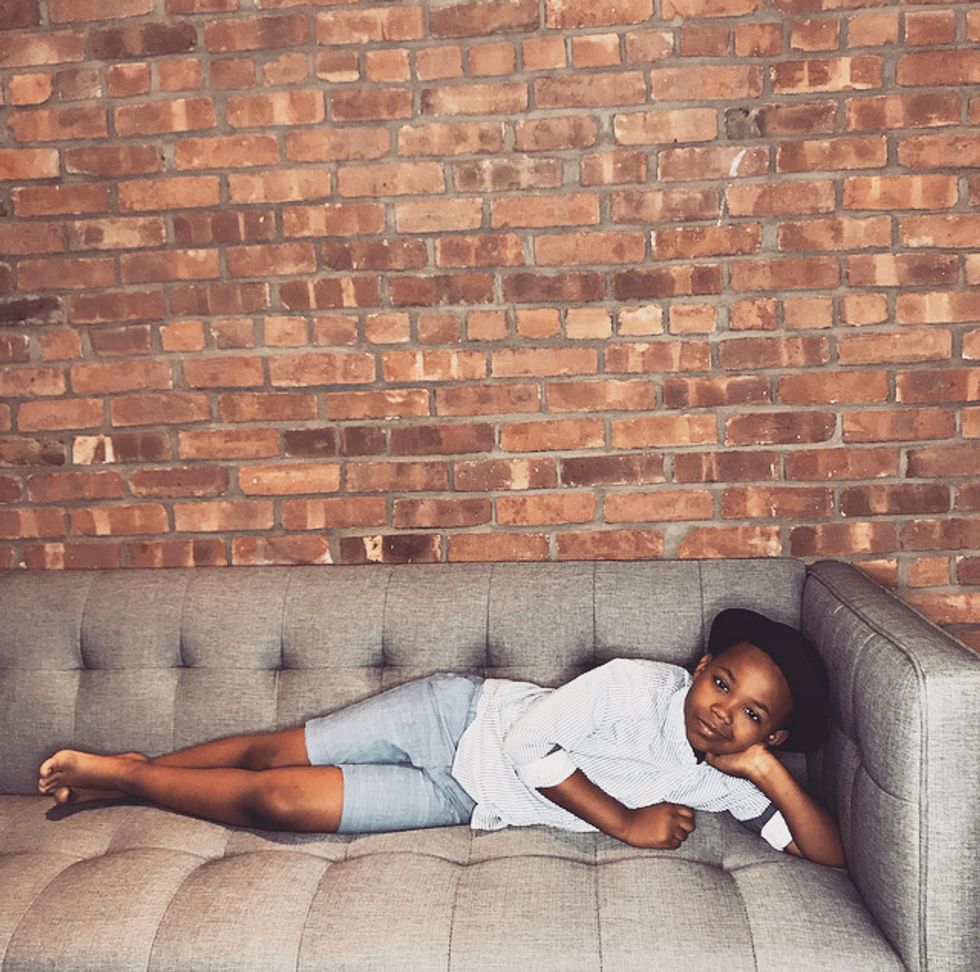 On initially not knowing whether or not she wanted to be a mother:
"I honestly wasn't sure if I wanted to be a mom. My drive for success often clouded my mind. I didn't know if I wanted to add a child to the equation. Internally, it was a battle between being the overachiever and playing it safe. When my husband and I found out that we were pregnant with our son Charmone, Jr. (CJ), I had so many emotions, but honestly, I was mostly upset. I didn't want to believe it. I was so selfish. I cried for an hour straight. I thought I had ruined my entire life. In my mind, my husband and I had everything figured out. We almost became obsessed with 'our plan' versus God's Plan. God knew I would have kept waiting or pushed it off altogether."

"I didn't want to believe it... I cried for an hour straight. I thought I had ruined my entire life."
On the unexpected life lesson CJ is teaching her:
"God knew that I needed CJ - he was the missing link. He was the humbling factor. He is our cool kid that lights our world up. When all my emotional walls of insecurity came down, everything started to fall into place. Now, I can't imagine life without CJ. He's shown me that it's okay to not be the overachiever all the time, and that everything doesn't have to be perfect. I tend to try to perfect everything, but having my son has allowed me to be okay with letting down my hair and not always having things in order."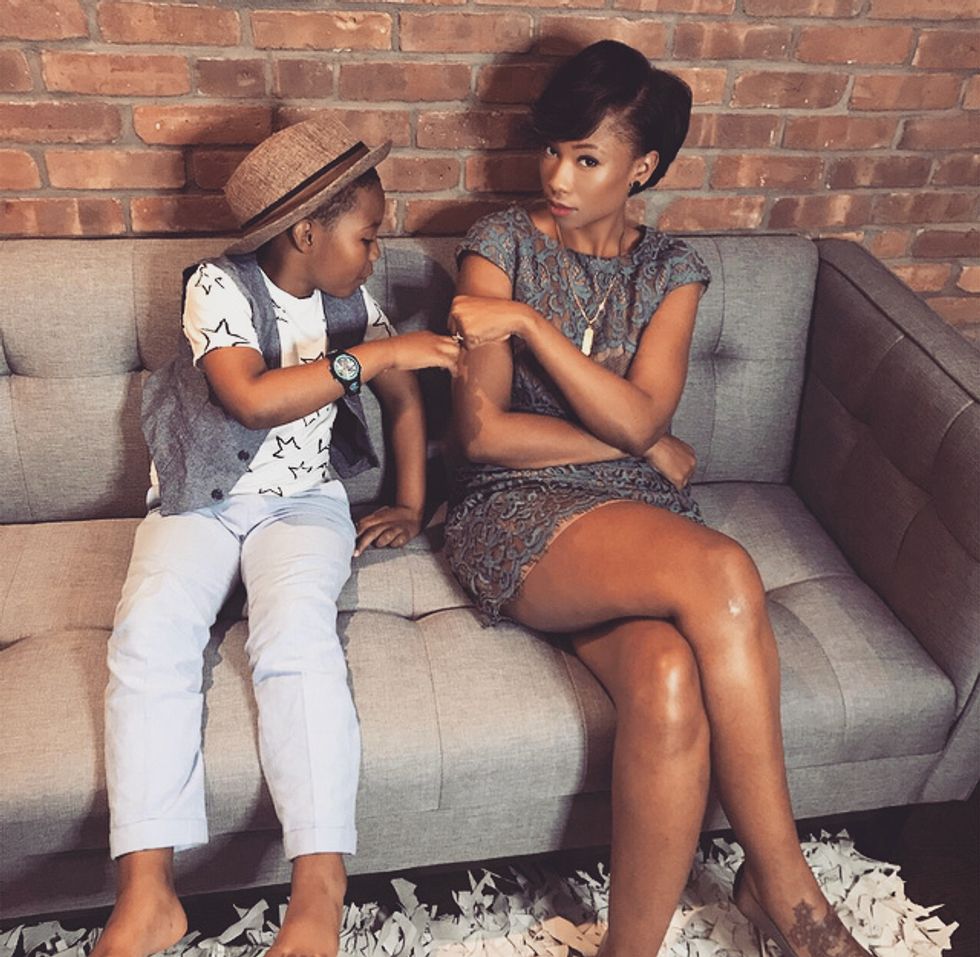 On the unexpected pleasure… and pain of Legos:
"I am a firm believer that when you plant good seeds in your child, they will grow into something amazing. My son wants to be a robotics engineer. So, to foster his dream, we put him in a Lego robotics class (although I despise Legos because they torture my feet)! Instilling in him that he can build whatever his heart desires is so rewarding and fulfilling. It not only builds self-confidence, it also allows him to work towards a goal."
"I am a firm believer that when you plant good seeds in your child, they will grow into something amazing."
On practicing self-care with and without her family:
"Every Saturday, my husband lets me have a lazy day. I get to sleep in and not have to worry about anything. It's my 'me' time, my time to regroup and align myself. It gives me an opportunity to pray and rejuvenate. I also love to spend quality time with my husband. We don't have to go anywhere fancy, I just love his company. When you have a child, I often tell new moms, 'Don't forget about your significant other.' You have to find that beautiful balance."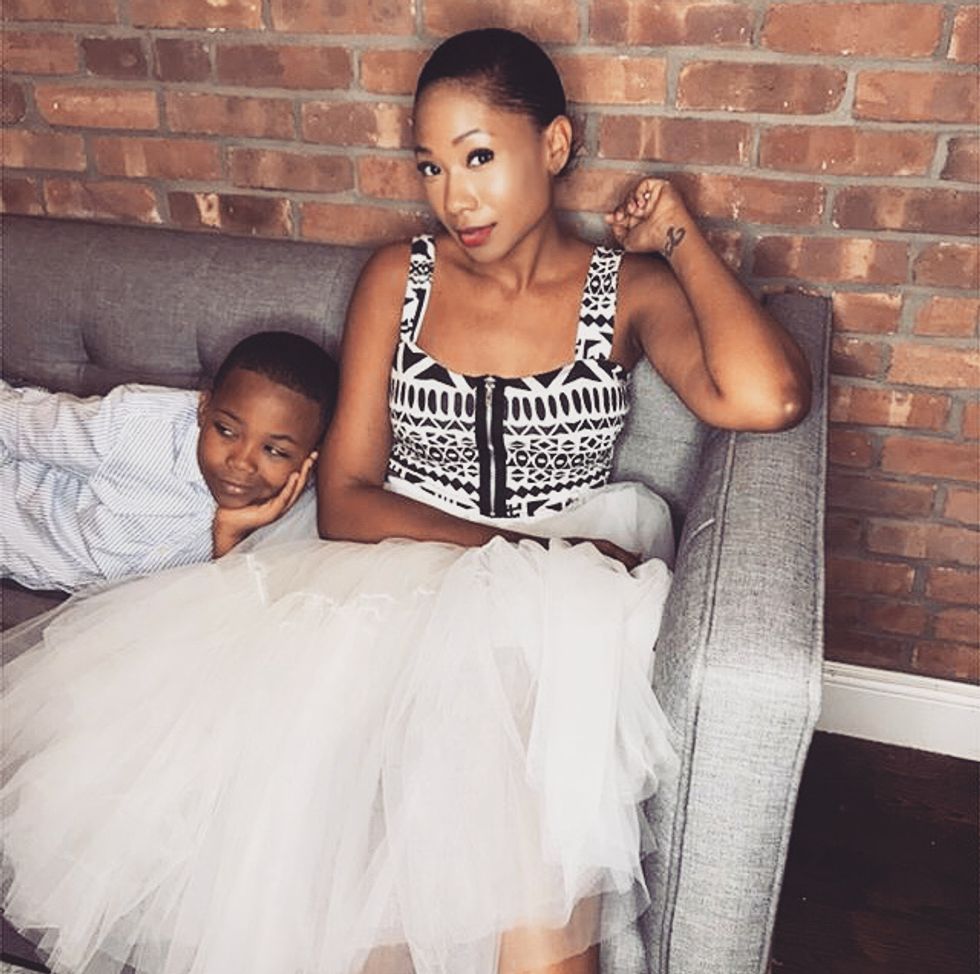 On the secret (but important) project that people don't know she's working on:
"I actually enjoy writing. I am finishing up my first book called "Confessions of a Rock-Mom: the One with the Messy Hair and Smudged Lipstick." It will be released later this year. Writing is therapeutic to me. I am able to release everything that I feel inside. I get to be unapologetically authentic and vulnerable when I write. Sometimes we think as mothers we have to lose our entire identities to become 'mom.' Well, that's false. If you stay true to yourself, having a child adds another layer of awesomeness to your passions."
"If you stay true to yourself, having a child adds another layer of awesomeness to your passions."
On the mothers inspiring her to become a better mother:
"There is a quote that says, 'Life doesn't come with a manual. It comes with a Mother.' I have so many phenomenal women around me who are Rock-Moms. From my loving mother and mother-in-law, to amazing sisters and close friends, I have learned bits and pieces from them all. Each has given me sound advice without saying a word. I believe it takes a village to raise a child."
For more of Joi, check her out on Instagram.
Want more stories like this? Check out the other mothers featured in our Moms Who Inspire series.