None of us are strangers to remote work at this point, especially after the nightmare that was the Great Pandemic of 2020. Working from anywhere—with my favs being at home, from a beachfront restaurant in Jamaica, or in a chicly decorated boutique hotel room—is a norm for me. That being said, wearing whatever I want during work hours has been a norm for me as well, even if it's wearing absolutely nothing at all.
---
So, when I found out that the first Friday in February is U.S. Working Naked Day, I thought, "Well, hell, I've been celebrating a holiday I never even knew existed in my own way all along!"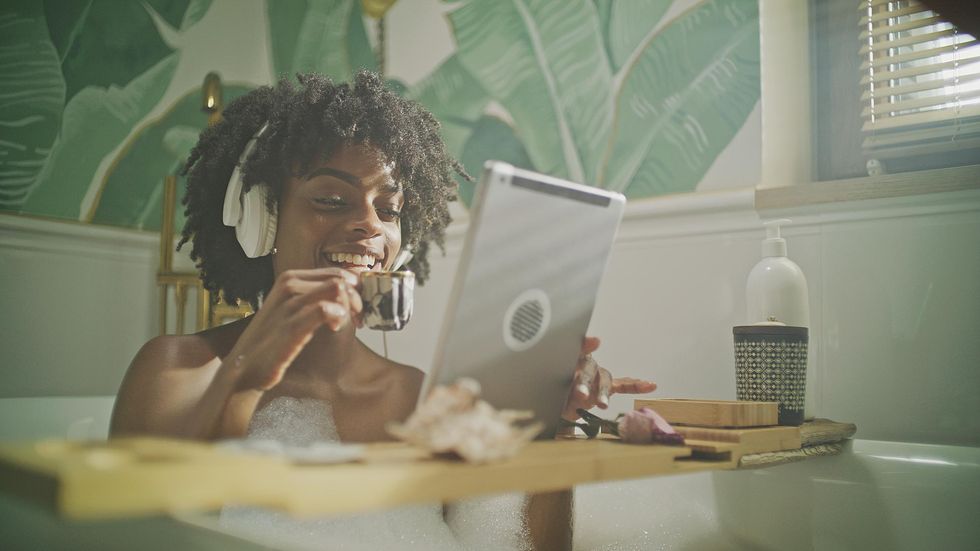 janiecbros/Getty Images
To be fair, the day is less about being in your birthday suit and more about empowering you to celebrate the benefits and feelings of "freedom and flexibility" you get when you work from home. Since I'm now aware that there's an official day for this, I finally get the chance to officially let the cat out the bag (pun intended) and admit that the girlies (i.e. my DDs) stay out when I'm working from home, almost every day of the week.
I've been a huge fan of the boldness and freeness of embracing nudity while home since the day I decided, 20 years ago, to sleep in the nude. I'd always read up on the benefits, for example, of not wearing panties in order to let your vagina "breathe," and how skipping the bra at bedtime could help alleviate body discomfort. After having a hard time with waking up in uncomfortable sweats during all seasons, I noticed that when I'd sleep naked, I'd wake up in a better mood, with no sweat or anxiety.
So you can imagine, with me working from home, especially for Work Naked Day, I'd simply just continue my day, in the nude, anyway.
I typically start my day with a cup of coffee, naked, while seated in my bedroom's velvet reading chair. I literally sit in silence, trying to get my thoughts together and just take time to just be. (I usually take a shower before bed, so they're not usually part of my morning routine, by the way, especially when working from home.)
After about 30 minutes of silence and prayer and maybe 30 minutes of some social media scrolling, I'll drink some water and begin prepping for my office hours.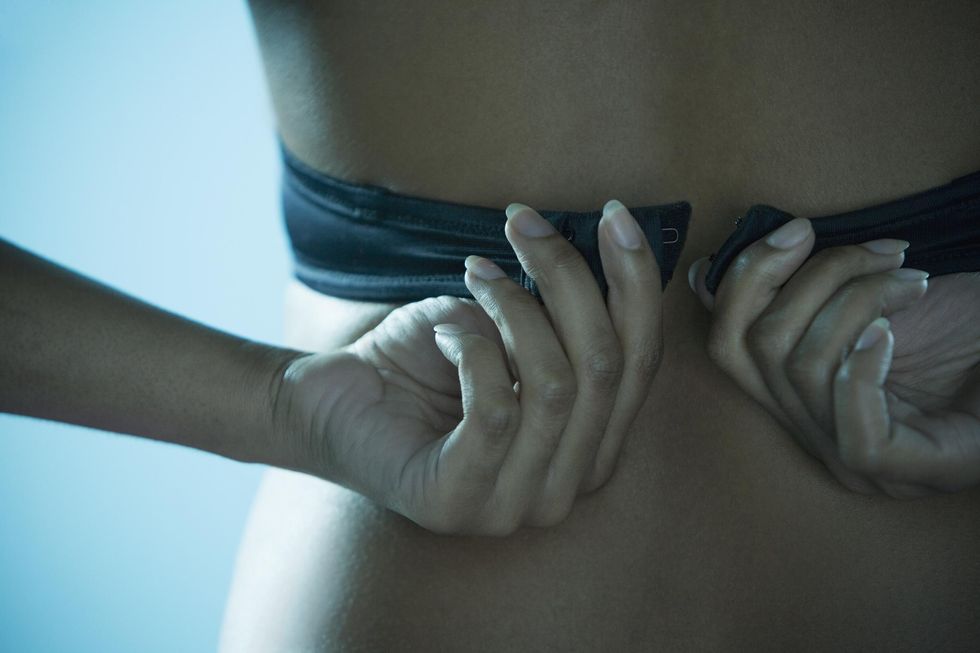 Terry Vine/Getty Images
Half of my work days are spent writing and editing, so it's not like there's a manager knocking on my door or back-to-back in-person meetings to be concerned with. On those days, I'm typically on my laptop, and if I'm not traveling, I'm seated at my home office desk (with a folded towel under my butt because, duh, who wants to sit their naked booty on a cold leather office chair?).
I keep the heat in my home on summer-in-Jamaica-hot during the winter, and again, since I travel a lot and prefer the digital nomad life to being at home, it's refreshing to sit, naked, imagining that I am indeed at an oceanfront eatery in nothing but a bikini top and a sarong. (Jamaica, in particular, has nude options for me to enjoy in public (on private grounds), but I digress).
After sending out emails to freelancers I manage for one publisher, finalizing assignments for another, and trying to keep to my office hour boundaries for both, I have to force myself to take a break and either order in or cook.
I often choose the latter and end up looking like a tall female version of Ving Rhames in that infamous Baby Boy kitchen scene. Lunch with a side of T&A, anyone?
I've been obsessed with veggie subs lately, so that would mean frying up broccoli, zucchini, and olives, adding some provolone cheese, Italian seasonings, oil, vinegar, and mayo, and toasting an Italian sub roll.
Then, I go back to work on my laptop until my obnoxious iPhone alarm goes off to remind me of the time-blocking boundaries I promised to keep to ward off freelancer burnout. (It's even worse than the burnout I'd experienced as a 9-to-5er due to the fact that, since my schedule is so flexible, I've often felt obligated to keep working and working until I'm annoyed, achy, and frazzled.)
I might even take a 15-minute break to have a naked stretch session, but nothing too strenuous because I don't exactly enjoy the pain that comes with jumping up and down as my huge geriatric-millennial boobs slap my chin and chest.
If I have a package delivery, I usually wait at my peephole to ensure nobody's still lingering about, crack the door, swiftly sneak it open slightly, push out a foot, and shuffle the boxes close enough to my foyer before quickly sliding them in and shutting the door. I find it thrilling and would do this for a food delivery if not for the fear of bae having a fit at the mere thought of some strange man getting an accidental flash of nip with his tip.
There was that time, during the first year in my current place, that the maintenance man used his key to enter for a repair I'd forgotten I requested. Yes, it was a work day. And yes, I was partially naked.
I was on a call, topless, and thought somebody was breaking in. The New Yorker in me prompted the dropping of the phone, the gathering of both breasts in my arms, and the one quick move, by sheer adrenaline and instinct, that took that guy all the way out. I charged him like a linebacker, all the way out my front doorway, and boldly slammed the door, only to hear him yelling, minutes later, "Maintenance! It's maintenance! I'm so sorry! I'm so sorry!" I told my man about it, in fact, and he damn near cussed me out, angry about the fact that I had hardly any clothes on, naming every emergency in the world that could happen in a condo, and commanding me to get a security bar for my front door (which I did).
So what about those days when I indeed have virtual meetings? Well, my cam would simply be turned off. I know that some folk find it odd to have a Google Meet or Zoom meeting with no video, but I don't see a problem with it. I actually loathe video calls, and my clients and network respect my preference.
Working naked, for me, is liberating and helps me in my mental health journey (especially after experiencing a real-deal nervous breakdown from being laid off at the last serious long-term publishing job I had). It reminds me that I am truly the master of my destiny, that I can create the life I want, and that I'm not a slave to any organization's rules but my own.

My experience with completing my work day in the nude is just what Work Naked Day is all about: truly tapping into all that makes you a talented, bad-ass, independent professional whose prowess and skills are only enhanced by the expensive power suits, the cool sneakers-tee-and-blazer combos, the Fashion Nova coordinated sets, the multicolored scrubs, the well-starched uniform—or whatever you wear to do your best at your job every day.
I hope that you, too, will find a way to celebrate freedom and flexibility today, whether you choose to spend the day butt-ass naked or not.
Featured image by Peter Griffith/Getty Images